5 Space-Saving Ways to Mount Your TV in a HDB Flat
Interior Design & Decor
4290 views
4290 views
Trying to figure out how to choose the right TV in your living room can be a challenging one. Since the TV is the cornerstone of many living spaces, it's perfectly normal to ponder the more efficient ways to place it so it does not occupy the already limited space in your HDB flat.

You'd think mounting your TV was a simple process, but the reality is that there are more different ways to do it to keep the limited floor space clear for your armless sofa or comfy softbed. In this article, we've compiled 5 space-saving ways to mount your TV in your HDB flat.
1. Mount your TV on the Wall
Image via Chris Snook Photography
Do you know mounting your TV on the wall allows you to retrieve extra living space?  A wall-mounted TV is the centerpiece of any wall unit. In this case, it's actually placed in the center of living room. The design is simple and includes a long shelf above the TV which frames the design beautifully.
Alternatively, you could opt for wall-mounted shelves, especially open back ones, to lend your living room a much lighter feel. It'd be even perfect if you prefer a minimalist décor as wall-mounted shelves complement very well with your TV to bring about a gorgeous composition to your living room.
2. Hang your TV on the Ceiling
Image via tvinstallationkaty.com

Hanging your TV on the ceiling will save space and give a sense of lightness that's essential in smaller rooms. It'd also keep it well out of the reach of your baby in case you need to baby-proof your living room.
When selecting a location to hang your TV, remember that televisions are best viewed above eye level. To hide the cables, choose a location where wires can easily connect from their source to the television. You'll also want to hang your TV near a power outlet. In this case, you may have to install a new outlet directly behind the TV for a cleaner look.
3. Place your TV within a Recessed Wall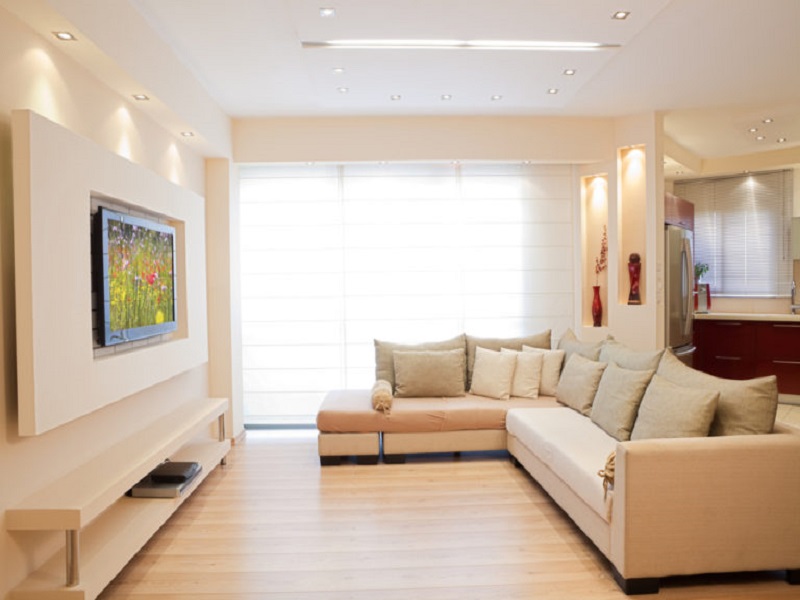 Image via homedit.com

Take advantage of the walls in your living room by placing your TV within a recessed wall. Without a doubt, it's a magnificent idea for a modern living room because the accent lighting really makes the whole design stand out.
However, you'll need to install a new outlet behind the TV and then frame everything for a stylish and sleek look. With such a creative design, your TV will be seen a lot flatter than it used to be, giving rise a spacious feeling to your living room.
4. Mount your TV with Multiple Shelves
Image via homedit.com
As mentioned earlier, a TV mount with multiple shelves could save space in a small living room.. Simply mount your TV on the wall at a comfortable height and frame it with a number of shelves.
In this way, your living room will feel airy and spacious. In addition, the shelves are great for storing and displaying books, DVDs and other things, keeping everything stored in one spot.
5. Hide your TV with Sliding Panels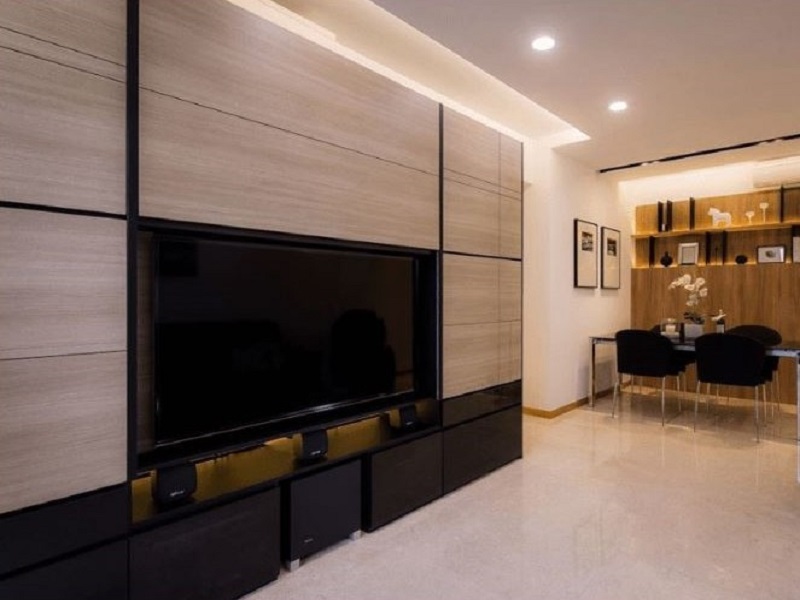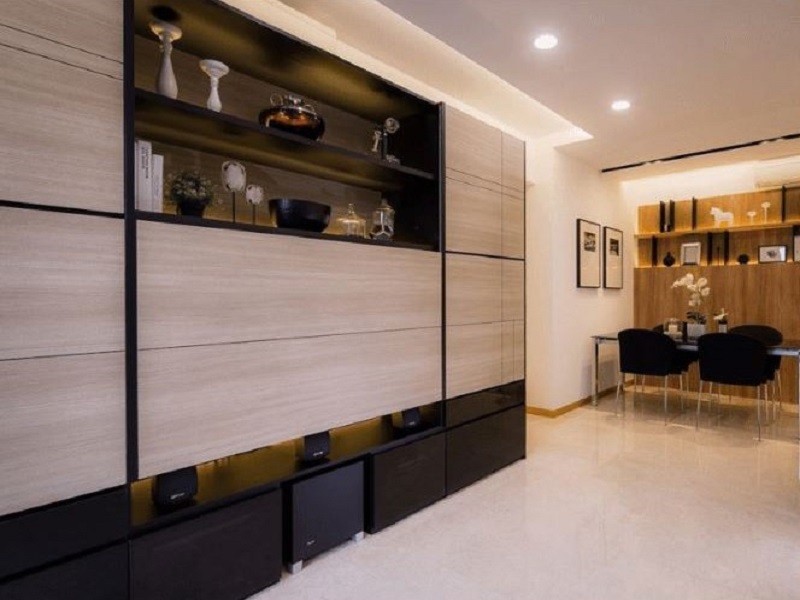 Image via Icon Interior Design
Just can't stand the sight of that ugly black box that takes up most of the space in your living room already? Why not consider some extreme ways like hiding your TV entirely? You could take things further with some sleek-looking sliding panels, whether horizontal or vertical, that completely conceal the TV in a brilliant manner.
You could even make an architectural statement out of them by turning it into an amazing feature wall when closed. This is especially recommended for those who want to keep their homes elegant, neat, and most of all, spacious.

All in all, we hope we've provided you with some practical space-saving ways to mount your TV in a HDB flat. Of course, we are also sure that your other television accessories will no longer be eyesores if you mount your TV in the above-mentioned ways as they also help maximize your space in your HDB flat.
Request for quotes and we'll match you with a selection of Interior Designers!
Previous
Kitchen Accessories People Buy When They Want To Impress Party Guests
Next
10 Ways To Beautify a Bean Bag