Audio House Singapore Launches in Ubi
Home Appliances & Tech
1907 views
1907 views
Audio House Hub has launched at Ubi!
Sporting a whopping seven storeys and over 100,000 square feet of space (including a high-tech Online-to-Offline (O2O) showroom, a warehouse, and office space), the building is a short cross-walk from Ubi MRT Station on the Downtown Line.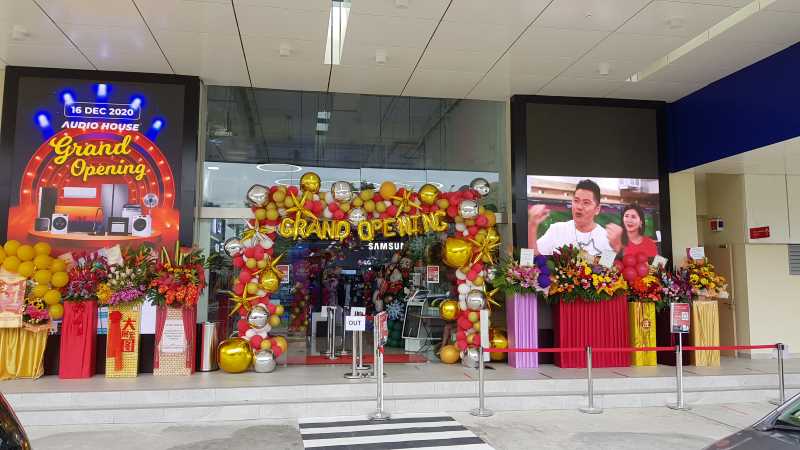 Photo taken by RenoTalk
It was on 16 December 2020 that Audio House officially opened its doors alongside an extensive line-up of deals. The popular local franchise delivers the lowest deals off household appliances from renowned brands, with up to $20 eCashback for every $100 spent.
This grand opening was a casual exploration and get-together of media attendees, who were treated to a tour of the premises, a mini-luncheon on the Hub's sixth floor, a traditional ice cream cart with free ice-cream sandwiches, and a live demonstration at Audio House's Smart Home set-up on the second floor.
LNX Global Artistes Li Nanxing, Constance Song, Kok Wei Le, and Julie Tan were also present to celebrate Audio House's grand opening.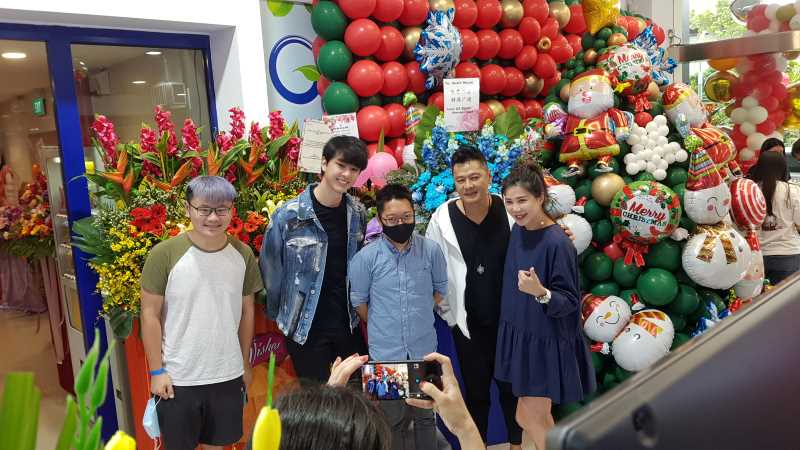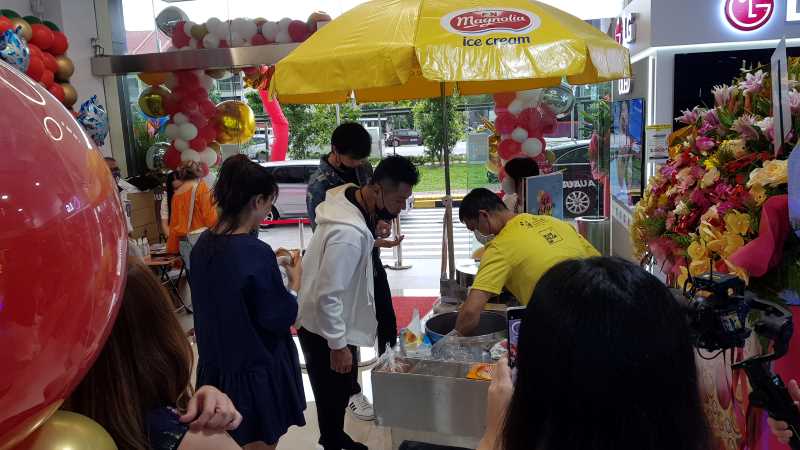 Photos taken by RenoTalk

What You Can Get There
What can you get at Audio House? Lots and lots of household appliances from many well-renowned brands, plus affordable prices and cashback promotions.
With the challenge to digitize especially during the circuit-breaker period, Audio House has moved most of its operations to its e-commerce platform to give shoppers the ease and convenience of shopping online.
This is just a sneak peek at the items you can get at Audio House:
Bluetooth Speakers & Sound Bars
Refrigerators
Television Screens
Washing Machines
Dryers
Vacuum Cleaners
Air-conditioning Units
Air Purifiers
Water Heaters
Cooker Hoods
Cooker Hobs
Fans
Irons
Wine Coolers
As we said, the above is just some of the things you can get from Audio House.
Photos taken by RenoTalk

There are also plenty of recognisable brands available at Audio House; the team works with them to keep prices affordable for customers. Brands you can find at Audio House include:
Samsung
Electrolux
Dyson
LG
Philips
Panasonic
Karcher
JBL
Tecno
Turbo
Elba
Bosch
Ariston
Rheem
And more!
Customers can enjoy a cashless shopping experience through QR codes at the showroom for faster check-outs and minimal social interaction; instead of cashier counters, QR codes are present on products for customers to scan. These codes then direct them to Audio House's website to find out more about the products and complete their purchase.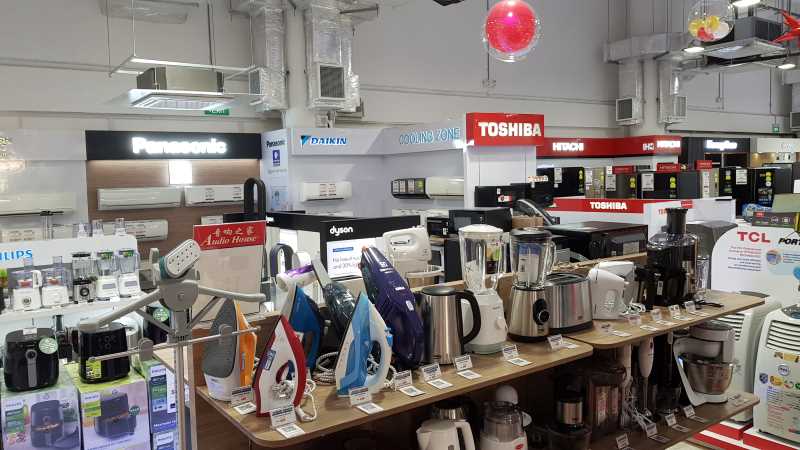 Photos taken by RenoTalk

Cost savings from these fully online transactions has helped Audio House keep prices low for their wares.
Customers can also sign up as members at Audio House's website for more exclusive deals and cashback benefits.
As mentioned before, the Audio House Hub has set up a mock Smart Home on its second floor to showcase how different household appliances can be connected through voice commands and smart home apps to make the Smart Home tick and offer convenience to homeowners.
Audio House is also offering interior design packages with Smart Home Features starting from $9288!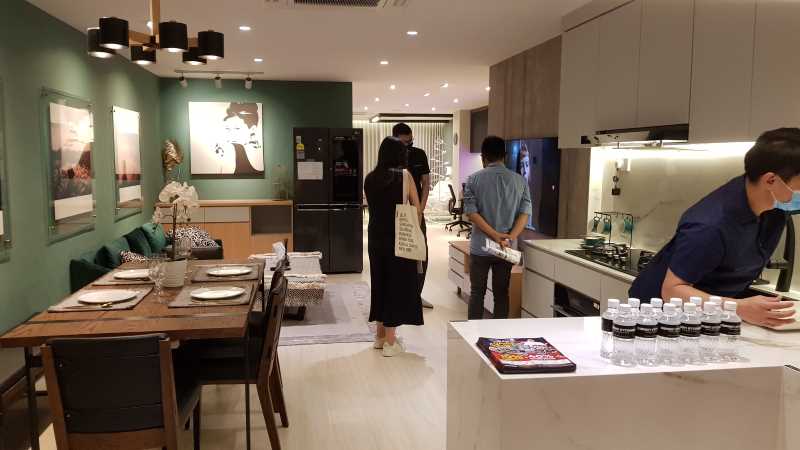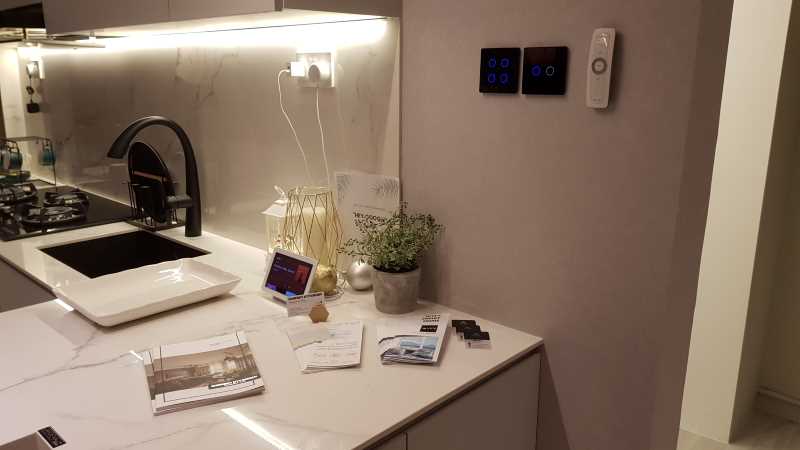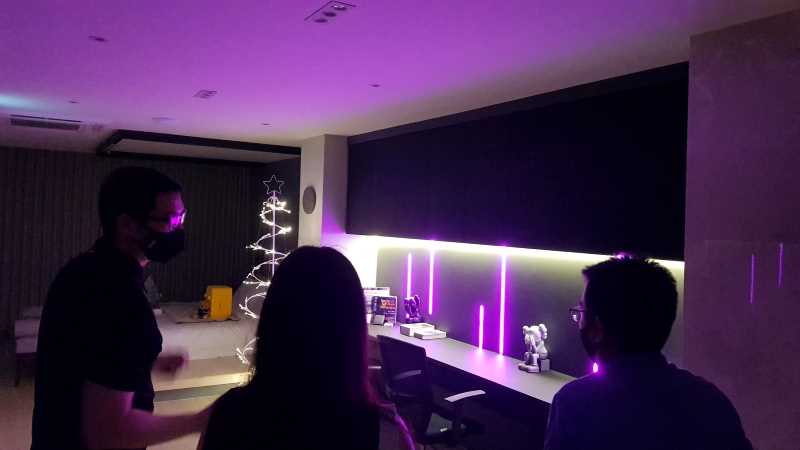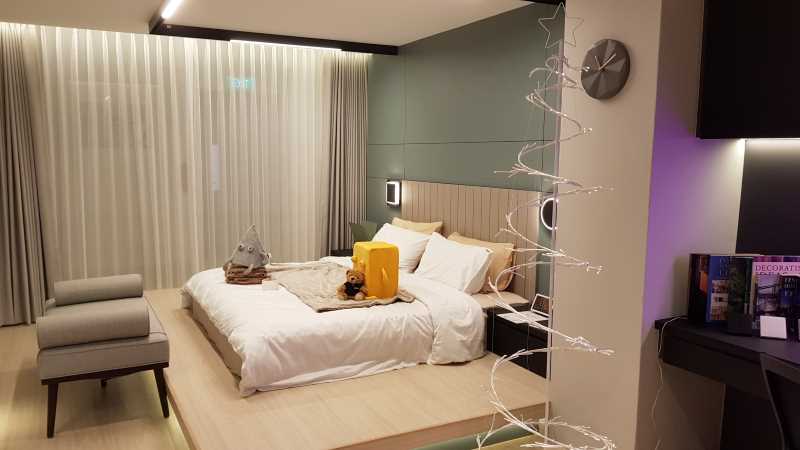 Photos taken by RenoTalk

In addition, Audio House's new central location gives it a delivery advantage; customers can have their purchases delivered to their doorstep in as fast as three hours for items in stock (or same-day delivery for larger items).
Grand Opening Sale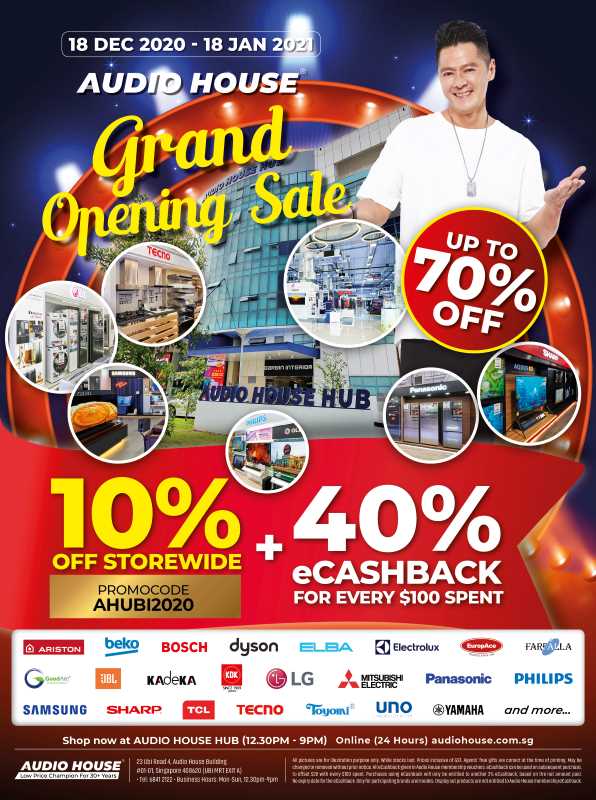 Audio House's catalogue cover for Grand Opening Sale
To celebrate Audio House's grand opening, the outlet is hosting a Grand Opening Sale from 18 December 2020 to 18 January 2021. It's up to 70% off storewide, with an additional 10% off if you use the promo code AHUBI2020.
Also, you can get up to 40% eCashback for every $100 spent on participating models and brands!
RSVP online at Audio House's Exclusive Grand Opening Sale site here so that you do not miss this sale!
How To Get There
The nearest MRT station is Ubi, on the Downtown line. After going through Exit A from the station, the building will be within sight after a pedestrian crossing.
Visit Audio House at 23 Ubi Road 4, Audio House Building, #01-01, Singapore 408620. Opening hours are from 12.30 pm to 9 pm daily.
You can also check out Audio House's social media.
Facebook: https://www.facebook.com/AudioHouseSingapore/
Instagram: https://www.instagram.com/audiohousesingapore/
Telegram: https://t.me/sgelectronicshotbuys
Request for quotes and we'll match you with a selection of Interior Designers!
Previous
2 Tips for Picking Out Kitchenware to Match Your Interior Design
Next
5 Efficient Cleaning Hacks That Make Spring Cleaning A Breeze