5 Best Bathroom Walls To Fit Your Home Design
Interior Design & Decor
1006 views
1006 views
If you intend to update your bathroom walls, you have to take note of the materials you will use for your walls. Unlike other spaces in your house, such as the living room or bedroom, which is a dry area, bathroom walls have to withstand the steamy air and the occasional splash of water from your sink or shower. Water can come from any direction.
You may be surprised by the material options for bathroom walls. You can create an entirely new interior design for your bathroom. But what is the best material you can use for your bathroom?
Besides finding one that suits your house design, you will also need a durable and functional wall. You will need to waterproof it with a thin membrane installed behind your bathroom wall material. If you are unsure which materials to use for your bathroom wall, we will cover some of the best options you can find in the market.

Factors To Consider When Choosing The Bathroom Wall Materials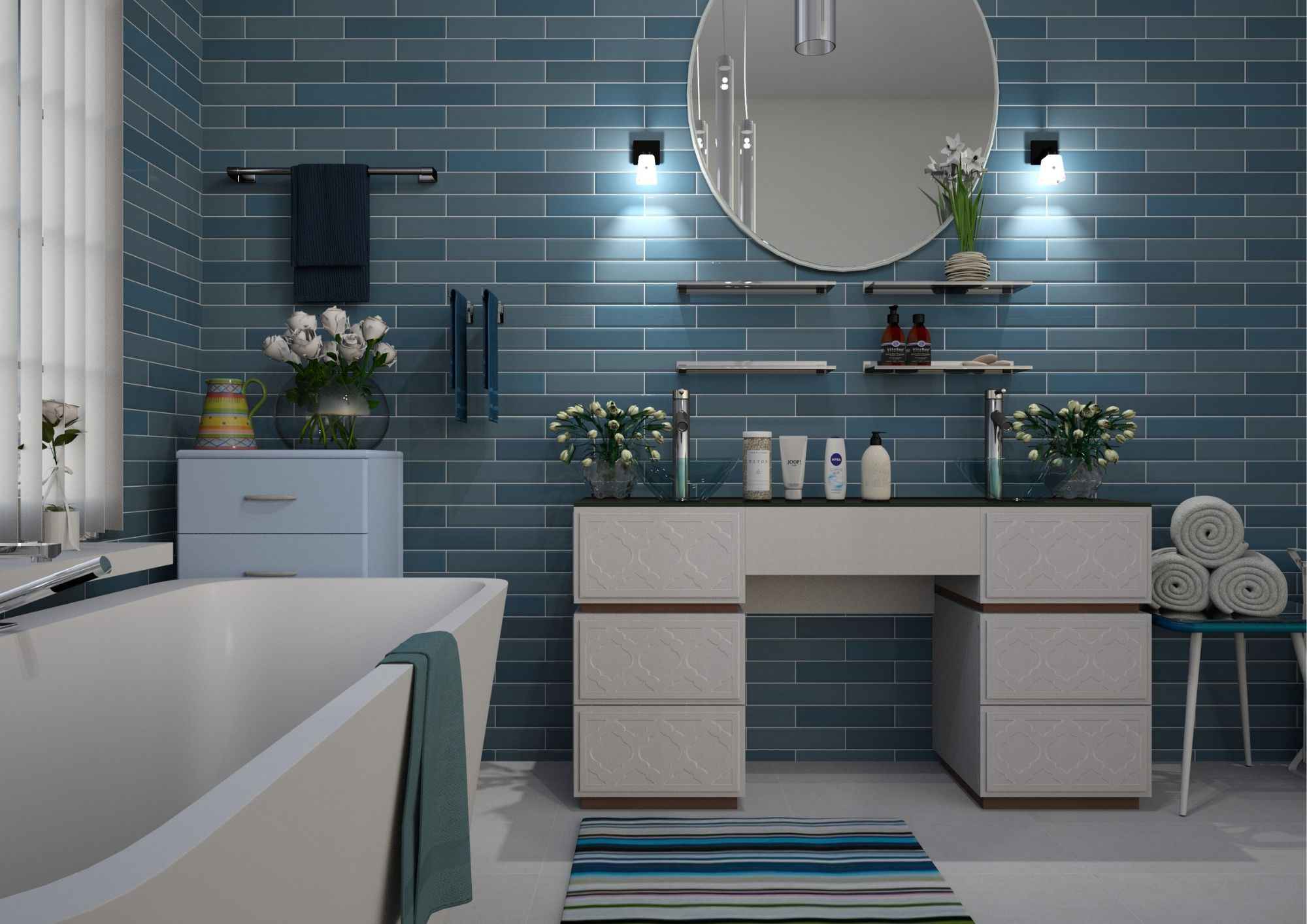 Bathroom walls come in constant contact with moisture in the air. The thin steamy layer of water you find on your mirror after a hot shower will also cover the walls. As time passes, the exposure to moisture will cause your bathroom to degrade.
Some homeowners will install bathroom vent fans to help remove moisture from the air. But is your vent fan ventilating the air properly? Without proper ventilation will still cause moisture issues in your bathrooms. Excess moisture can lead to leaks, mold, water damage, rot, and mildew problems.
You need to consider a few factors when choosing the material for your bathroom wall. Price is one of the obvious factors you need to consider. You must determine your budget, including the material and installation costs if you require a professional installation.
Also, check out the quality of the material. You get what you paid for. It is worth investing in a high-quality material if you are looking for a long-term solution.
The next factor you should consider is the appearance of the wall. The market has various materials, colors, shapes, and patterns. Ensure you have a clear idea of the aesthetic you want to get for your bathroom before heading to the hardware store.

Durability is another factor you should consider. Is the bathroom for your kids which will constantly be covered in splashes? Or a bathroom that you wouldn't be using much.

Best Bathroom Wall Option #1 - Bathroom Paint
Image Credit: This Old House
Bathroom paint is definitely an affordable way if you have a tight budget. It may look like regular interior wall paint, but its special properties make bathroom paint suit your bathroom.
Bathroom paint is created using resins that form a tight barrier as it dries and higher mildewcide levels. It helps your bathroom wall to prevent moisture absorption. The cost of bathroom paint will be higher than regular, but it is worth the cost. You wouldn't have to worry about color options as it is available in various colors. With this particular paint, you wouldn't have to worry about your wall having pesky bubbles, streaks, blisters, and peeling paint.
Best Bathroom Wall Option #2- Microcemenment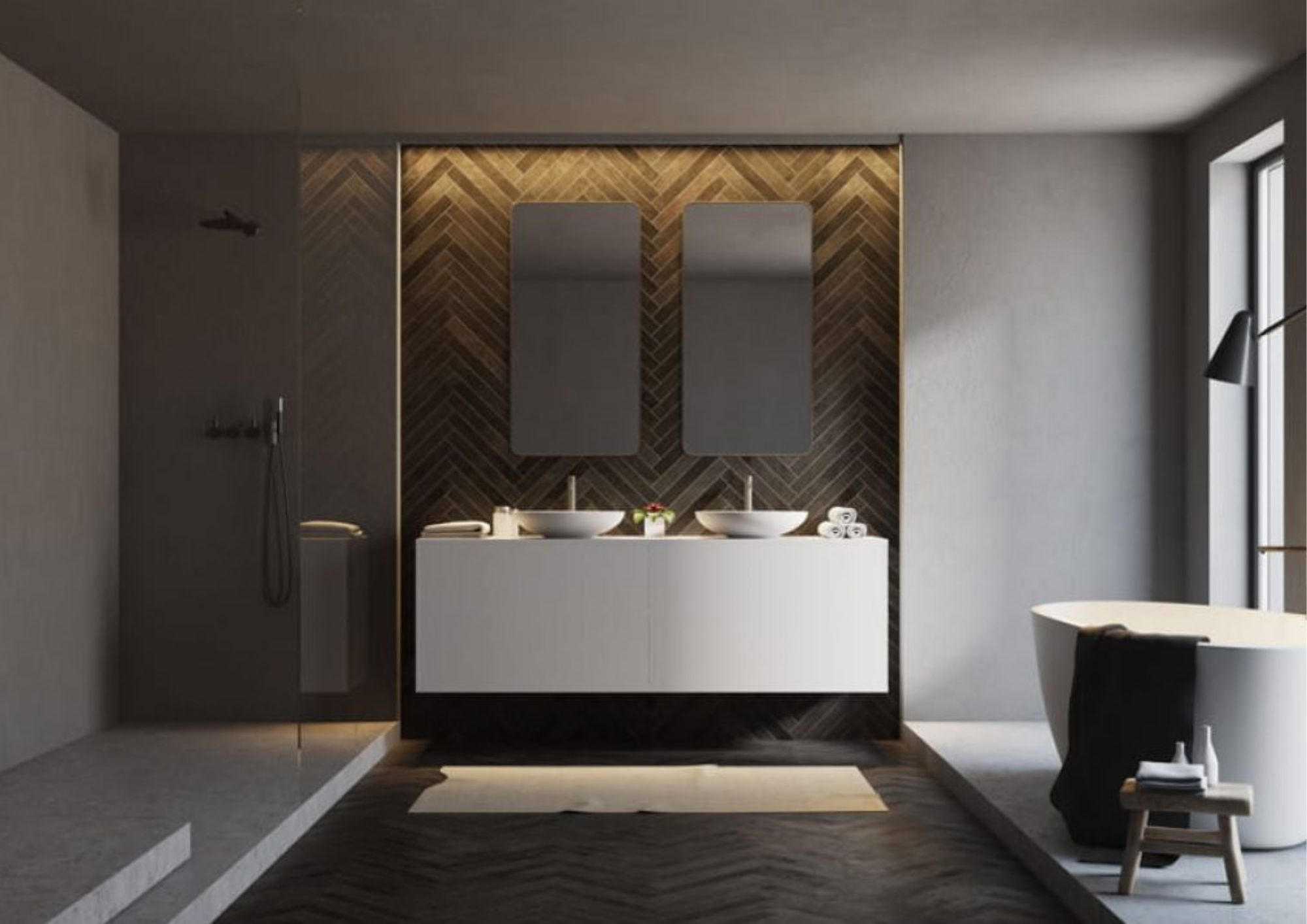 Image Credit: Architecture Art Design
If you love the natural look of real stone without paying the cost, why not consider using microcement for your bathroom walls?
Microcement is composed of cement and polymer-based coating that is used to decorate interior space. It can be thinly applied to the wall. The thickness can be as thin as 3mm. You will often see it for floors, ceilings, walls, and any surface you can imagine.
Microcement is waterproof and can withstand knicks and impacts without any damage. If you are updating your walls, you don't have to worry about removing the existing tiles as you can apply microcement over them. It is much easier to install than other materials. Let it dry after you spread the mixture over the wall before you use the bathroom.
Best Bathroom Wall Option #3 - Wall Panels
Image Credit: The Interiors Addict
A practical choice for bathroom walls within the splash zone of your shower will be the wall panels. They are made with plastic-based or PVC materials. It is resistant to water and moisture. You can find it in different colors and finishes that fit any design style.
Installation of wall panels is easy. You can install them over existing tiles. You don't want to worry about maintenance as it is easy to clean. Just spray the panels with a shower cleaner and wipe them clean with a damp cloth, and your cleaning job will be done. It will be a perfect choice for kids' bathrooms. They can be cut into any size.
Best Bathroom Wall Option #4 - Vinyl Wallpaper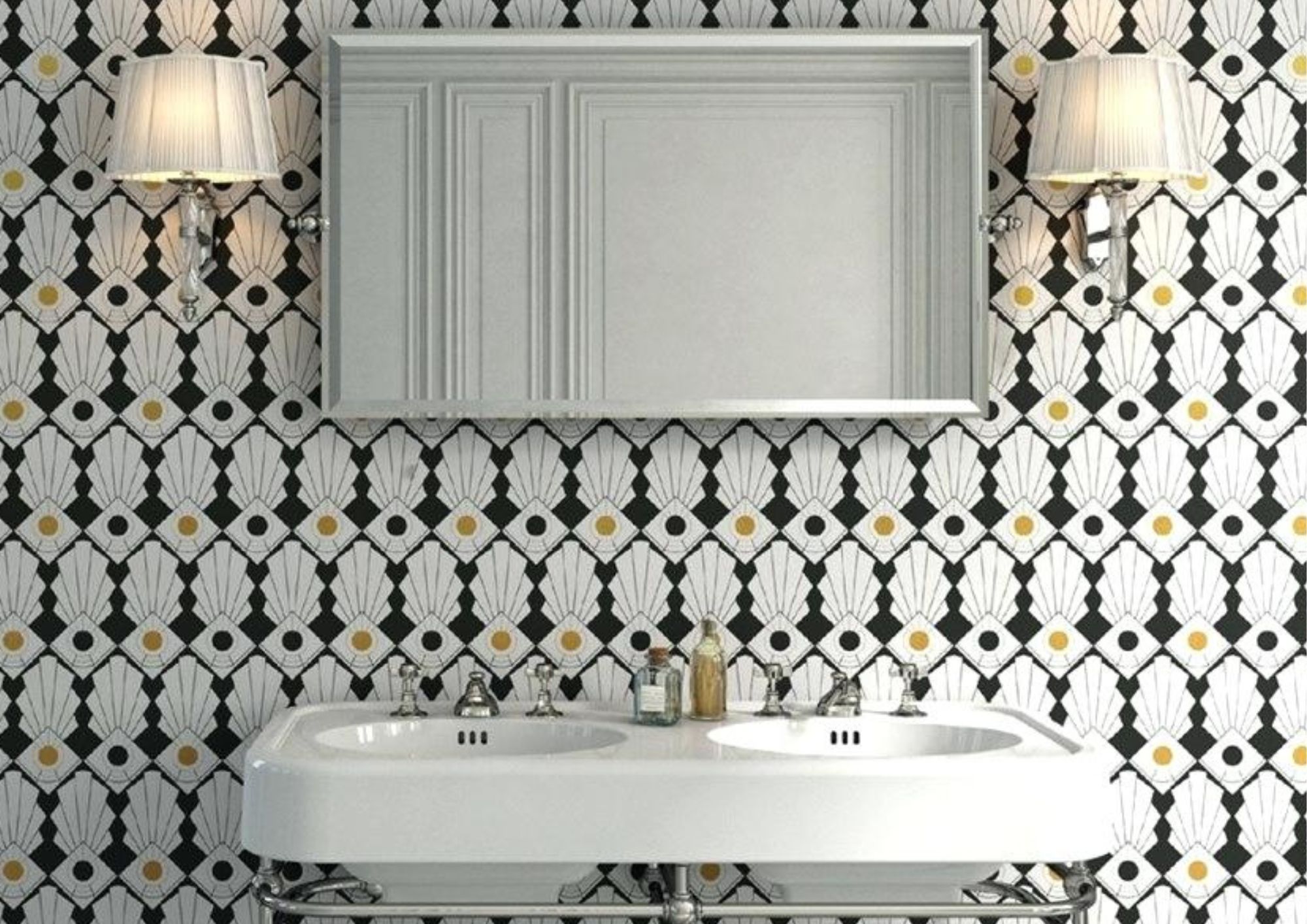 Image Credit: Teahub
Vinyl wallpaper is one of the best options for a bathroom when talking about functionality. A thick vinyl coating helps to prevent water damage and moisture absorption. Make sure your wall surface accepts peelable vinyl wallpaper, as it will not stick to flat, matte, or rough surfaces.
As vinyl wallpaper works well for indirect, ambient moisture, it is best to use it on a surface that covers the lower section of the walls. But some vinyl wallpapers can withstand direct contact with water.
With various designs, textures, and countless color palettes, you will find one that fits your bathroom design. One benefit of vinyl wallpaper is that you can try it out before applying it to your bathroom. Buy a roll and stick it on your bathroom wall to check the results.
Best Bathroom Wall Option #5 - Beadboard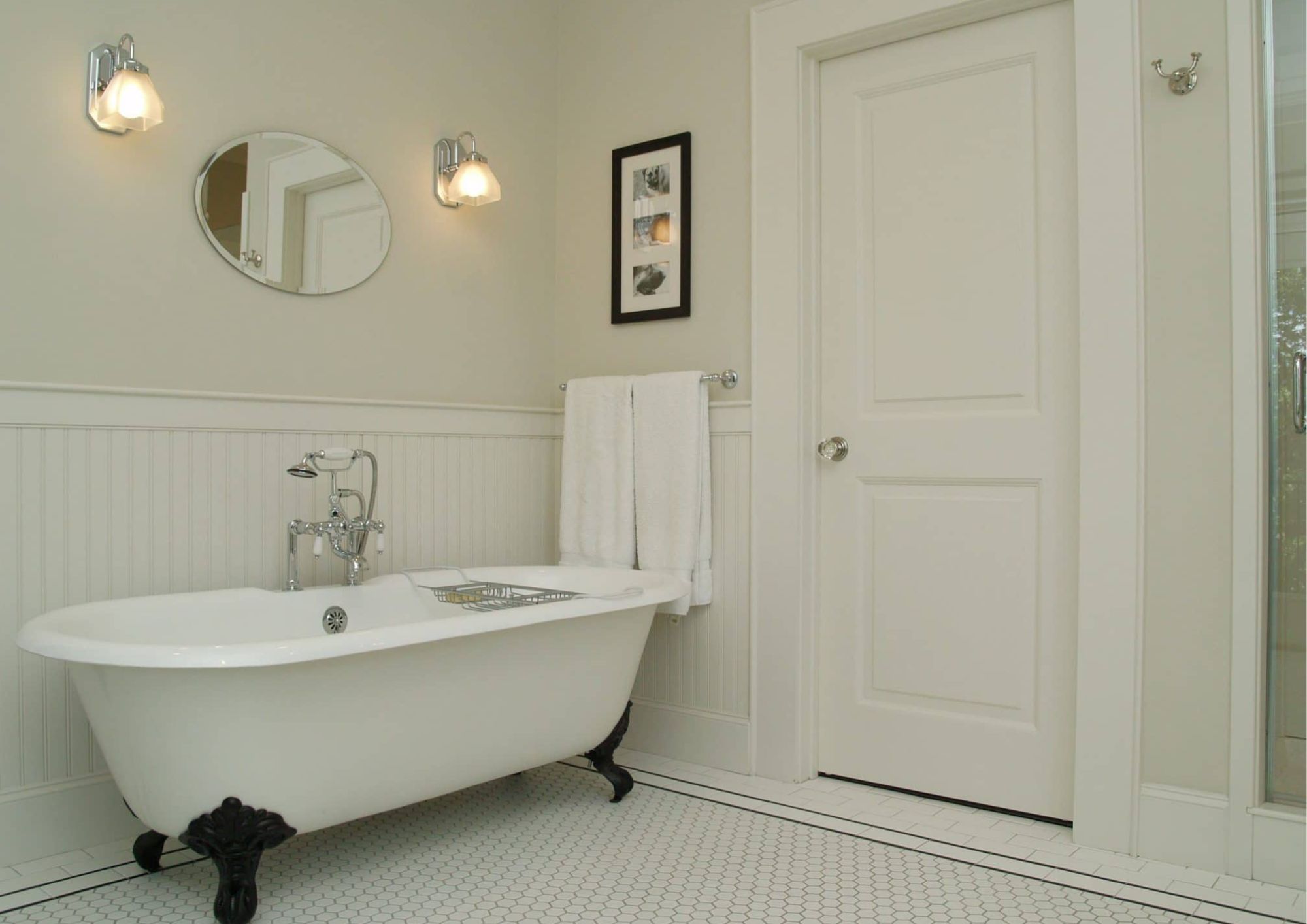 Image Credit: Wohomen
Another option for your bathroom wall is beadboard, which only covers the wall's lower half. Although it provides only partial coverage, the lower half is often the part that causes moisture problems. Beadboard can be painted with a glossy or semi-gloss paint. It can protect the lower part of the wall against moisture.
For easy installation, you can purchase beadboard panels eight feet long by four feet high. It can lay down quickly with construction glue and finish nails when installed lengthwise. If you want a more refined look in your bathroom, go for individual beadboard planks.
But beadboard may not fit into all kinds of design. It can fit well in a more traditionally styled bathroom, but it will look out of place in a modern bathroom.
Request for quotes and we'll match you with a selection of Interior Designers!
Previous
Need more space at home? 7 useful tips for choosing the right storage space provider
Next
Make The Best Of Your Living Room Flooring With 5 Top Materials