Stay Fresh and Store More With Electrolux's New Range of Refrigerators and Washing Machines!
Home Appliances & Tech
1273 views
1273 views
12 July saw Electrolux's centennial celebration of its innovative household appliances, as well as the launch of a smart washer dryer and two refrigerators - the UltimateCare(™) 800/900 Washer Dryer, the 421-537L NutriFresh®️ Inverter Fridge, and the 617L NutriFresh®️ Inverter Multi Door Fridge.
With these new products, Electrolux aims to give customers a convenient, controlled experience in washing clothes, and storing and handling food.
BETTER WASHES, BETTER CARE WITH ULTIMATECARE 800/900 WASHER DRYER
With the Electrolux's UltimateCare™ 700/800/900 collections of washing machines and washer dryers, users could do more than just wash and dry their clothes; they could also control their wash cycles and dry their clothes with minimal damage, regardless of fabric type.
With the UltimateCare™ 800 and 900 series, you can use the Electrolux Life app to customise your wash programmes (especially if you have different garment types) and look up guides via the Care Advisor feature if you need to wash certain fabrics or remove certain stains.
The new UltimateCare™ 800/900 Washer Dryer takes this up a wee notch, washing clothes with little to no leftover dirt or detergent residue post-wash and drying them regardless of fabric type, even woollen articles.
What else can you look forward to with this smart, slick combo, as well as the rest of the 800/900 series? Some features to look out for include:
SensorWash™ Technology - Intelligent sensors detect the level of dirt in the wash water and automatically adjusts the wash cycle to ensure a perfect wash that leaves neither dirt nor residue.
UltraMix™ Technology - Detergent is automatically premixed and fully dissolved for a deeper clean, even in a cold wash, leading to better colour care and less colour fading.
Vapour Care - A gentle whoosh of vapour concludes every wash cycle, reducing wrinkles by up to 22%. Working at 40℃, it kills 99.9% of allergens and germs to leave your clothes feeling fresh inside and out.
Vapour Refresh - Planning to wear your favourite work outfit two days in a row? Vapour Refresh freshens your clothes for another round of wear by tumbling them in vapour, getting them ready in just 35 minutes.
Woolmark Blue Certification - Your woollen clothes are safe with Electrolux's washing and drying appliances, with specially-tailor technology to take extra care of them.
With Electrolux, it becomes more than 'easier' to wash and dry your clothes; literally everything in a mundane wash cycle is how you want it to be. The 800/900 series is priced at SGD$1,299 to SGD$2,699.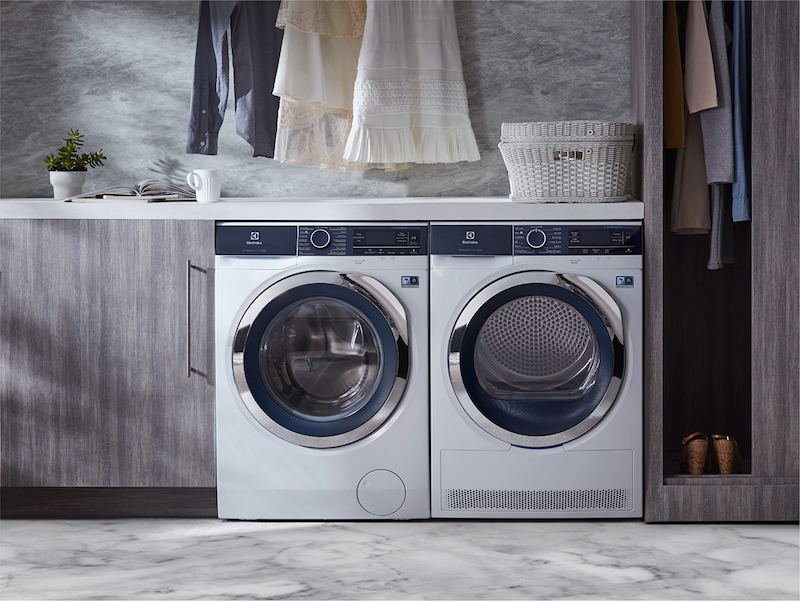 Image © Electrolux via AKA Asia

Image © RenoTalk Media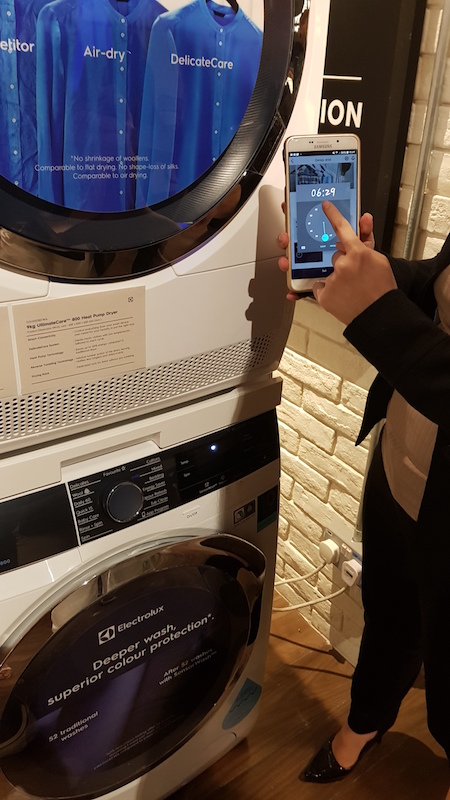 Image © RenoTalk Media


STORE MORE, MORE FRESHNESS WITH ELECTROLUX'S NEW REFRIGERATORS
Electrolux's latest line of refrigerators ensure extra storage and extra freshness for your favourite foods and produce. Meet its two refrigerators that will give you that - the 421-537L NutriFresh®️ Inverter Fridge and the 617L NutriFresh®️ Inverter Multi Door Fridge.
Both refrigerators have their technological traits designed to store and preserve the taste, texture, and nutritional value of any food.
First, let us look at the 421-537L NutriFresh®️ Inverter Fridge, priced at SGD$1,429 to SGD$2,199:
360 Cooling - Each individual shelf is cooled to maintain a stable temperature throughout the fridge, thus preserving the freshness and nutritional quality of food.
TasteLock Crisper with NutriPlus™ - This is no ordinary crisper; it does more than just store produce. This crisper comes with the NutriPlus™ filter to create an airtight, controlled, humid environment that locks in nutrients, keeping food fresh for up to seven days.
Enclosed Chill Room - An exclusive cooling space to keep certain items like fish, seafood, and meat at a slightly lower temperature than the rest of the fridge.
FlexStor®️ movable fridge door bins - FlexStor®️ door bins are exactly what they sound like; they are movable and easy to slide out for cleaning or food preparation. This makes them convenient to shift around to fit whichever storage layout you want for your fridge.
Taste Guard - This eliminates 99.8% of bacteria to keep your fridge clean, fresh, and odour-free.
Three Drawers In The Freezer - These three separate drawers in the freezer provide spacious storage to easily organise and store frozen items.
Automatic Ice Maker - This maker automatically makes cubed ice whenever you need it.
Image © Electrolux via AKA Asia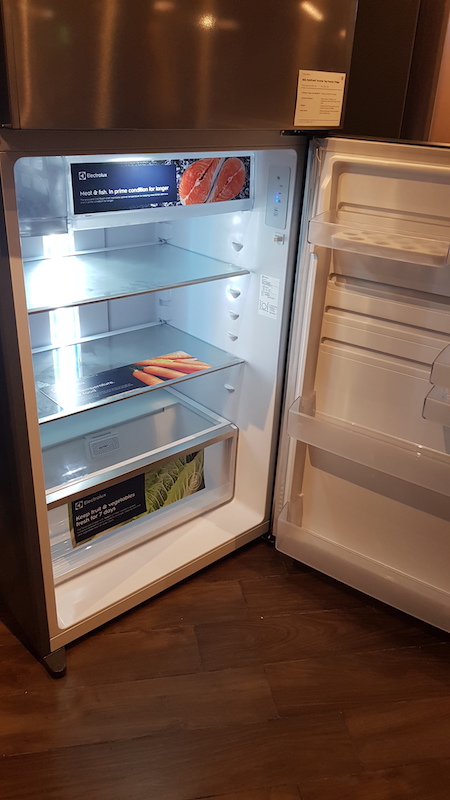 Image © RenoTalk Media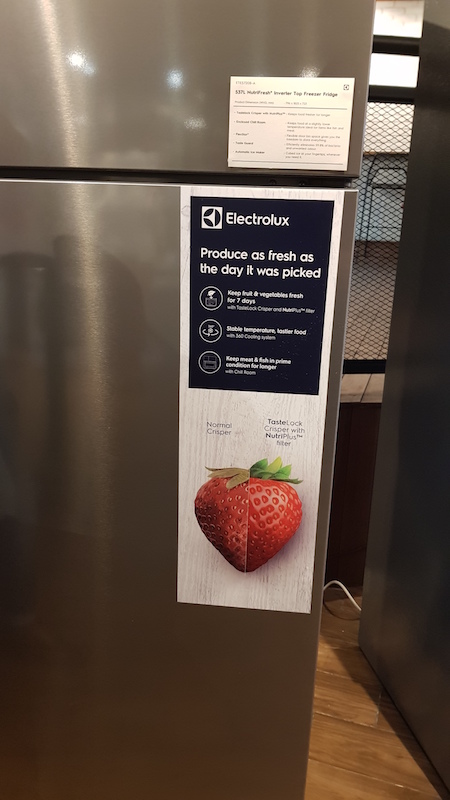 Image © RenoTalk Media
The 617L NutriFresh®️ Inverter Multi Door Fridge, priced at SGD$4,299, is a little bigger than its sibling, in more ways than one:

FreshAccess Wide Door With FlexStor - A bigger door, with extensive and customisable storage, equals a kitchen dream come true.
UltraChill - At -2℃, food is kept cool and fresh without being overly frozen, thus preserving food quality. This comes in handy for quick, easy defrosting.
FlexFresh®️ Drawer - A convenient middle drawer to store any food or drink in a temperature setting of your choice, through five preset settings ranging from -23℃ to +7℃. Keep all kinds of food, from cheese to frozen meat.
TwinTech®️ Cooling - The fridge and freezer compartments are cooled separately for long-lasting freshness and to prevent food smells from mixing.
Ice & Water Dispenser - Get water and ice instantly, along with more storage space thanks to the dispenser's slim design.
Also includes TasteLock Crisper, FlexStor®️ door bins, Taste Guard, and the Automatic Ice Maker.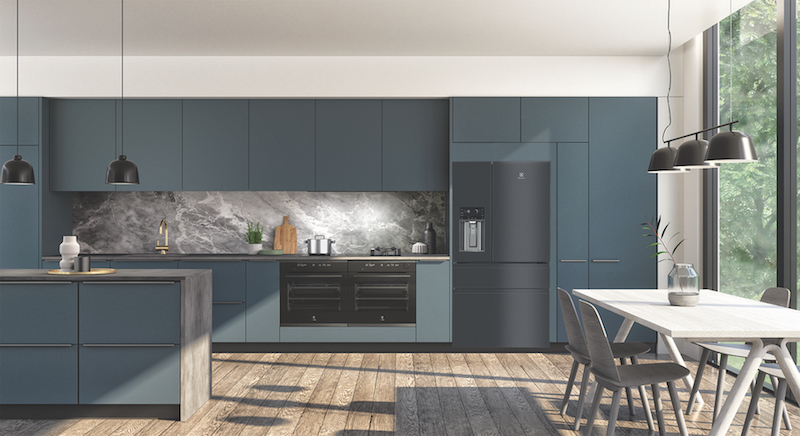 Image © Electrolux via AKA Asia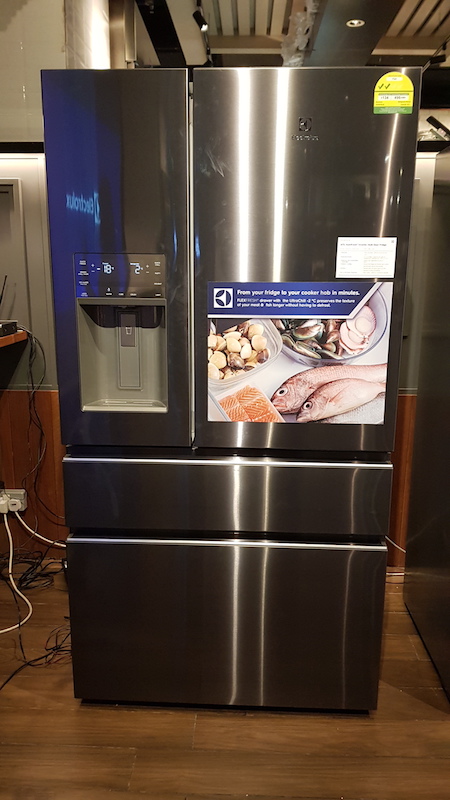 Image © RenoTalk Media

Image © RenoTalk Media

With today's lifestyles of us busy Singaporeans, Electrolux's new refrigerators could help alleviate any food fears concerning freshness, flavour, and storage space. The 421-537L NutriFresh®️ Inverter Fridge will be available end-July onwards, while the 617L NutriFresh®️ Inverter Multi Door Fridge will be available end-August onwards.

For more information on Electrolux's range of washing machines, washer dryers, and refrigerators, you can visit the brand's website at www.electrolux.com.sg. Electrolux's products are also available at all major retailers.
Request for quotes and we'll match you with a selection of Interior Designers!
Previous
Exstopod - Your Next Private Office Space
Next
Renovation Mythbuster: Can You Trust Result Photos on Contractor Websites?