Soccer Fans Seeking A Bathroom Makeover, Look Here
Interior Design & Decor
1994 views
1994 views
Soccer Fans Seeking A Bathroom Makeover, Look Here
You may have spent extensive potty time catching up with your late-night soccer matches. So why not have your bathroom wares designed after your favourite soccer team?
A partnership between Kohler and Manchester United (aptly called 'Kohler United'), currently in its second year, did just that, unveiling its 2019 Manchester United Bathroom Collection via a media luncheon and press conference at the Kohler Experience Centre on 19 July.
Manchester United legend and former player Bryan Robson, President of Kohler Kitchen and Bathroom APAC Angel Yang, General Manager and Commercial Director of Kohler Kitchen and Bathroom SEA Adam Quek, and Marketing Director of Kitchen and Bathroom APAC Charoenchipaisarn Kesinee were in attendance.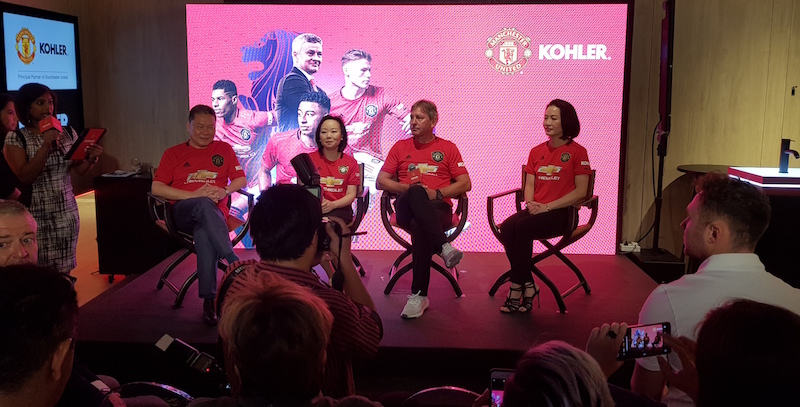 From left to right: Mr Adam Quek, Ms Angel Yang, Mr Bryan Robson, and Ms Charoenchipaisarn Kesinee. Image © RenoTalk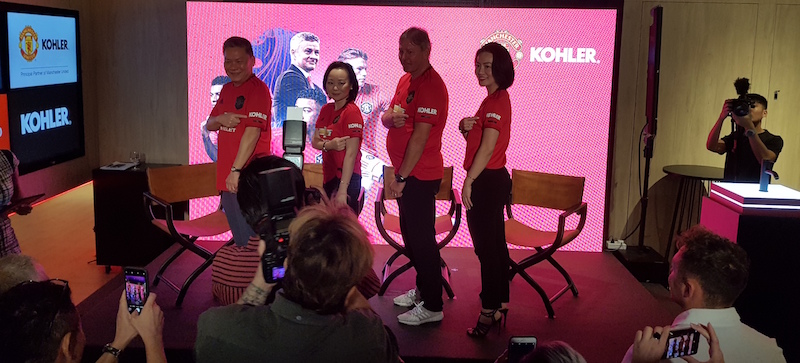 The four show off the new Kohler United jersey. Image © RenoTalk
This collection comprises sanitary wares in black and red, representative of Manchester United's brand. These wares were made in alternating layers of matte and gloss to evoke Kohler's luxurious vibe.
The highlight of this collection is Manchester United's logo, emblazoned on the collection's pieces, making each and every one a must-have for the club's fans.
"We have a professional design studio in-house, and we have many associate experts involved in the development stage," Ms Yang shared during our interview. "All of Kohler's products go through details in their design journeys, in their development journeys, particularly paying attention to the details through the consumer's eyes."
A DYNAMIC DUO
So what propelled a leader in luxury sanitary wares and one of the world's most renowned soccer clubs into this partnership? It was a common mission, a shared vision encompassing 'boldness, excellence, integrity and passion'. Over the past year, Kohler United organised events to celebrate the passion and diversity of their supporters.
"Kohler started in 1873, while Manchester United started in 1878," Ms Yang said in her opening speech. "So it is a very rich heritage. Also, we are very passionate [...] and we talk about innovations. So we came together as Kohler United [...] and people are super-passionate about this partnership."
She highlighted later on in our interview with her and Mr Robson, "Manchester United and Kohler are two super brands. And two super brands together definitely add a lot of new, exciting things to all of us, especially as both brands have global presence. That's very important, as we can leverage the platform to reach more passionate fans."
Mr Robson says, "For Manchester United, we like to work with the best brands in the country, in what they do. And Kohler is the best bathroom (firm) in the world. When you walk around here, and they explain all the gadgets and everything that comes with the bathroom, it's remarkable. For me, we like to see the companies we work with be really successful in their business, and hopefully we can get them more exposure throughout the world."
WHAT'S IN THE COLLECTION?
Bring the bold to your bathroom with the strong blacks and reds of the 2019 Manchester United Bathroom Collection.
Check out the faucet, taps, and showerhead in the photos below, provided by Kohler United:
Image © Kohler United
Image © Kohler United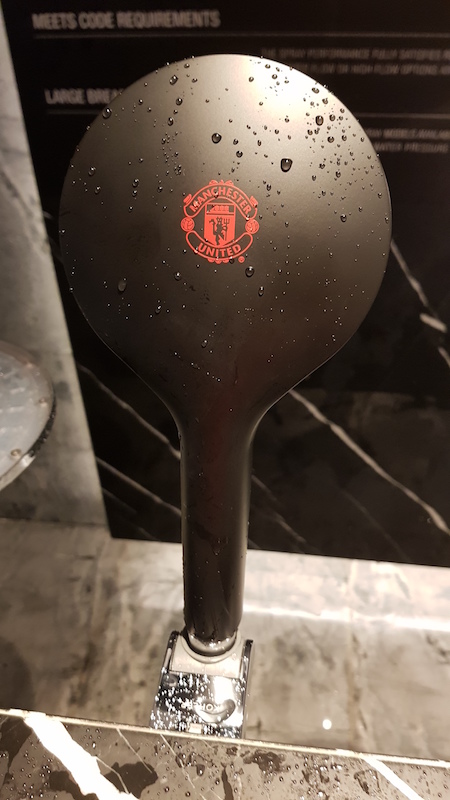 The Kohler United showerhead at Singapore's Kohler Experience Centre. Image © RenoTalk
Image © Kohler United

The Kohler United faucet unveiled at Singapore's Kohler Experience Centre. Image © RenoTalk
As stated during their press conference, the four chief guests in attendance see in this new collection the strength and success of Kohler United, the sophistication and intellect of Kohler's craftsmanship, and the passion and joy of Manchester United's supporters.
We hope you find that same strength and passion in this new bathroom line-up from this esteemed partnership. Find out more about the collection and Kohler's other products at https://www.kohler.com.sg/ and https://www.manutd.kohler.com/.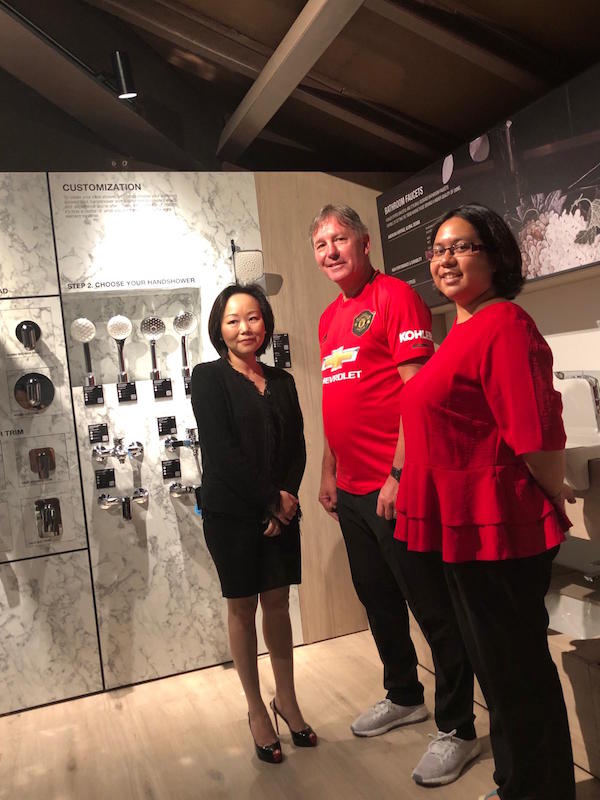 The writer with Ms Yang and Mr Robson. Image © RenoTalk
Request for quotes and we'll match you with a selection of Interior Designers!
Previous
Evoking the Arabesque: How to Bring the Moroccan Style to Life
Next
5 Ways to Make Your House Look Luxurious