The Living Room to Die For - Here's How to Do It
Interior Design & Decor
1987 views
1987 views
(Guest Writer for this post: Matt Attenborough)
Living rooms work for various purposes for different people. Some people get around in the living room most of the time, whereas others are only using it as a showroom when guests come over.
Either way, there are specific things to take into consideration when choosing the living room furniture. Scroll down for the most important ones.
1. Living Room Fundamentals
You can't just place anywhere it fits the furniture in the living room. Here's what to keep in mind:
Pay attention to the traffic flow. You need to leave enough room for the people to walk around the furniture. You don't want to struggle to get from one side of the room to the other.
It's best that you decide on a focal point of the room, arranging the furniture around it. an existing feature may work as a focal point. It can be a window, a fireplace or even a television.
You should use furniture to create areas that improve conversation. You want people to be able to talk to each other easily. You don't want them to stretch their necks or yell at each other. If the living room is really big, you can create several conversation areas.
Don't place the furniture close to the walls. Having your furniture backs touching the walls is one of the most popular mistakes to make in the living room. You should instead place several pieces closer together. This is going to create a more intimate setting. We can only assume that the backs of the pieces are finished, so there's no obvious reason for you not to show them off.
Image © Matt Attenborough
2. Furniture Sizes. How To Place Them?
In the case of living room furniture, size is so important:
Coffee tables are really practical pieces, and it's common to find them in the center of conversation areas. When you pick one, remember that its height has to be a bit lower than the height of the seats of the chairs and sofa around it.
Pay attention to its length too. It has to be one half/two thirds the length of the sofa.
You don't have to use a coffee table; a couple of smaller tables/benches are going to help you as well. You don't want them to be too small. You want people to be capable of leaning over to pick up/put down a drink without having to get up from their chair.
You should also leave enough leg room between seats and tables. 14 to inches is going to do the trick.
They're typically the most important items so make sure you choose right. Do all the measurements you need before buying any of them. They shouldn't be too small or too big so drawing a floor plan before buying may help you a lot. You should sketch your living room on a piece of graph paper, using the measurements. Try various settings for the sofa and the chairs. Which one is looking better?
More often than not, people forget about the side tables. The number you need depends a lot of the seating you have. You want everyone to sit down comfortably for a drink, without walking over to a table too often. You may place it on the side of the sofa and between pairs of chairs. You need to have enough surface space without suffocating the room. The tables need to be the same height (give or take) as the arm of the chair of the sofa they're next to.
You may define seating areas using rugs. One common mistake is for people to use area rugs that are too small. Keep in mind that all of the furniture has to sit on the carpet comfortably. If you don't have enough space, make sure that the front legs of any large upholstered pieces are placed on the rug.
Image © Matt Attenborough

3. Does The Living Room Need Accessories?
Now that your furniture is in place, you should also give a thought about the accessories. Chances are that you're going to want to display some pictures, artwork, Television or some sconces. Don't skip this step and take time for doing it right. You're not sure how to do it? Use an online room planner for designing the arrangement. You can try several looks to see what you like best. If you don't like to spend time on your computers, you should make a living room floor plan with some graph paper. Use all the similar measurements so you don't regret it later on in real life.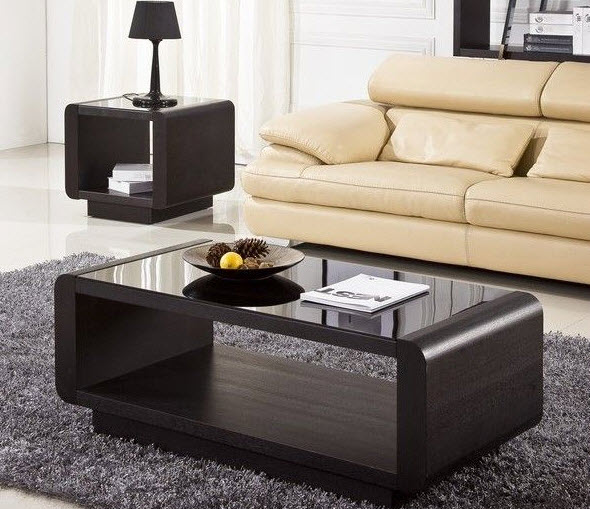 Image © Matt Attenborough

4. What Are The Main Themes To Try?
It's important that you have a theme for your living room and there are so many to choose from. As you want your living room to have a certain flow and the pieces to be coordinated, here are some hints on the main themes to try in your living room.
The sleek and clean lines of contemporary furniture are always a sure choice. The colours are typically neutral tones (whites, creams, and beiges). Glass, metal and black lacquer are also used.
Take a look at https://furnilly.com/. They sure give you some interesting options for furniture, but also lighting. You can find the elegant pieces that fit your modern living room, but also furniture items that make a great visual impact in any living room.
Most of the time, traditional furniture is formal and elegant and it may include amazing details. The rolled arms or the skirted bottoms give a living room the traditional feel you were looking for. The traditional furniture comes in rich and natural colors as well. A traditional half round table is going to give any living room a classy feel.
This category includes Spanish, French and Italian design. Antique pieces or rustic looking in nature are common for the Old World-Style living room decoration. Earthy and deep colours are the most popular choices.
Made to accomplish the highest quality standards, the wooden Amish living room furniture is handcrafted carefully. Amish fireplaces may become an amazing focal point in almost any type of living room.
The Amish tough wood furniture is popular for its durability, strength and astonishing craftsmanship. Even if the cherry wood and the red oak are popular, maple, hickory, white oak and walnut are also valid choices for your living room furniture.
Request for quotes and we'll match you with a selection of Interior Designers!
Previous
Wearable Tech For The Smart Home
Next
8 Best Practices to Fireproof Your HDB