Official Launch of GANI Singapore Showroom And Sustainable Design Forum
Interior Design & Decor
1825 views
1825 views
What is green design? What is sustainable design?
How can interior design and the environment go hand in hand for future projects?
These were discussed at the Sustainable Design Forum, which happened alongside the launch of Gani Marble Tiles' first showroom in Singapore, on 15 November 2019 at Luxx Newhouse.
Image © RenoTalk
It was an opportunity for interior designers, architects, and suppliers to network and learn more about the development of sustainable or green design in Singapore.
It has been estimated that USD$2B will be invested in the green design initiative in Singapore, building more structure with sustainable design techniques.
Mr Jimmy Tong, President of Luxx Newhouse Design Group, opened the double-event with an introduction to the forum's speakers and how Luxx Newhouse was excited to add Gani Marble Tiles to their line-up of surface materials for residential and commercial properties. The firm already carries Hi-Macs, Compac, and DiDio.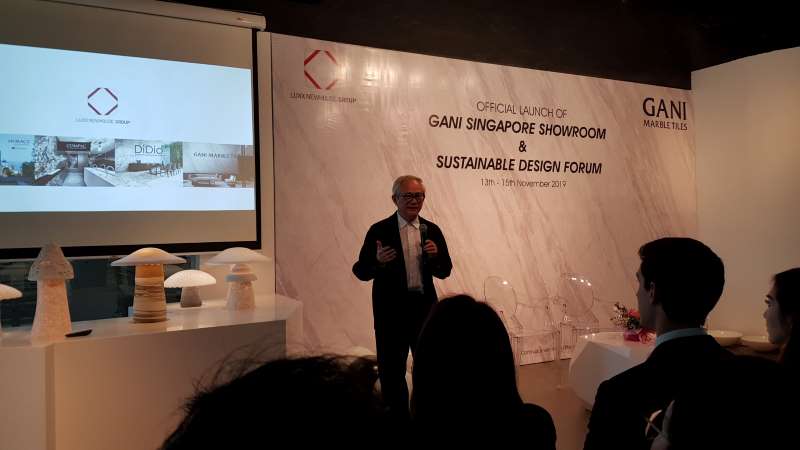 Mr Jimmy Tong of Luxx Newhouse. Image © RenoTalk

Two of the forum's speakers spoke about their sustainable design projects while sharing their portfolio:
Mr Mike Lim, Director of DP Design, used a social, inclusive approach to his group's design projects, believing that design can connect people. He raised the question of how environmental issues can shape interiors, and how interiors shape human behaviour.
A few of DP Design's projects which encompass that design philosophy are: 
A dance studio in Bugis + (which won a design award), which also served as a community space for others to watch the dancers at work and find out more about the art form. The studio is also available for public rental.
Our Tampines Hub, a five-storey community space with various facilities. The highlights of this project included a public library with a cooking studio, rest spaces for senior citizens, and levels designed for each targeted demographic.
Cinemaxx Junior, a family-friendly cinema in Indonesia which combines cinemas with playgrounds so that children can play to their hearts' content without disturbing theatregoers. 
Heartland 66 Mall, a work in progress located in Wuhan, China. DP Design pushed for green design for this project, shaping out each level with greenery and utilising the skyline for its natural light through implementing light rain. Expected completion is the 3rd quarter of 2020.
Mr Mike Lim of DP Design. Image © RenoTalk

The next speaker, Mr Keat Ong, the Managing Director of Nota Design Group (as well as the current President of the Society of Interior Designers Singapore), spoke about his environmental focus for his firm's hotel project - Zizai Resort Hotel Group.
The hotel is currently in development, with a few more phases to go until completion. It is located two to three hours away from the nearest airport, so it had to be designed in a way to make the long trip worth it.
Located in Pingjiang in a rural village meant that Nota Design Group faced the challenge of building the hotel without much disturbance to the natural terrain.
The group kept to two key ideas: 1) The architecture must embrace terrain and territory - 'to touch the land lightly without destroying the terrain'. 2) The interior must embrace and engage. 
The group used materials that are readily available nearby, recycling some of them to be used for building. Even abandoned sites were utilised for extra hotel structures.
Sky windows are used in place of electrical lighting, to wake vacationers up with sunlight during summer.
Public spaces in the hotel will use ceiling fans for natural ventilation to cut down on air-conditioning. Air-conditioners will still be available by choice in the hotel rooms, although ceiling fans are encouraged over them. 
The hotel is surrounded by untouched greenery, so matter which room you stay in, you will still be treated to a glorious forest view.
Low-budget shelters are located within the hotel grounds, where budget travelers can glamp over one of the hotel's lakes.
A nearby cave is used as a cave tea-house for the hotel; tables, chairs, and tea-serving facilities are set up with minimal to no impact on the surrounding caves.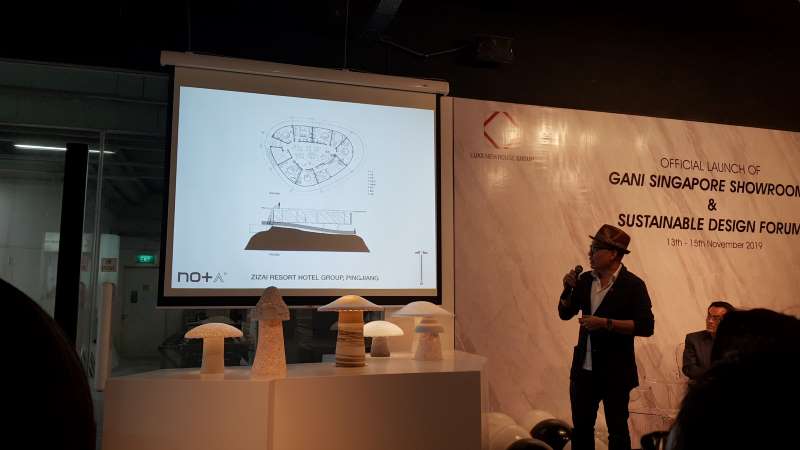 Mr Keat Ong of Nota Design. Image © RenoTalk

After a short Q&A with the speakers, Gani Marble Tiles made their debut through an introductory speech by Mr Stefano Trovato, Chief Designer of Gani Marble Tiles. 
He explained that environmental and social sustainability have to go hand in hand, observing that not only is marble not a sustainable resource, but its extraction process is tedious and difficult. 
So, how to keep marble sustainable and durable to meet rising demands?
Mr Stefano Trovato of Gani Marble Tiles. Image © RenoTalk

Thus, Gani Marble Tiles are fabricated to emulate marble, yet possessing advanced traits for an improved performance as a surface material. This helps to combat the sustainability problem while providing the same elegance to interiors as normal marble. 
At Gani, everything starts from research to collection to classification. It is a one-stop project service, running a smooth seamless process from design proposal to production.
Before using Gani Marble Tiles for an interior project, the team starts from the marble's design to see which type suits the proposed design, before running design tests to check the fit.
Gani's special traits include its zero-joint paving and connected vein patterns for high-end decoration; this is especially useful for huge cladding projects, where multiple marble tiles are placed side by side to form the illusion of one gigantic seamless surface. 
Gani Marble Tiles can be used in hospitality, commercial, and residential properties; the brand has already been used in various high-end hotels, institutions, and retail stores, including the Jinnan Academy in China. They come in 83 regular colours, with options for custom-made products. 
After Gani Marble Tiles' debut speech, the event concluded with the ribbon-cutting ceremony, followed by an exclusive tour of the new Gani Marble Tiles showroom on Level 3 of Luxx Newhouse.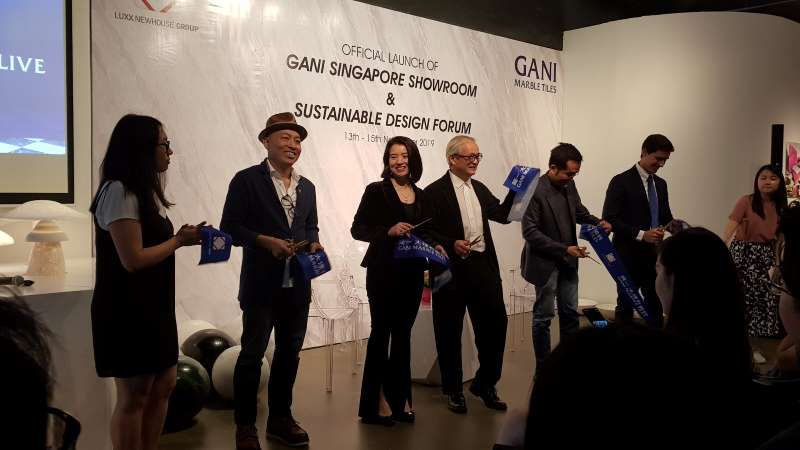 Image © RenoTalk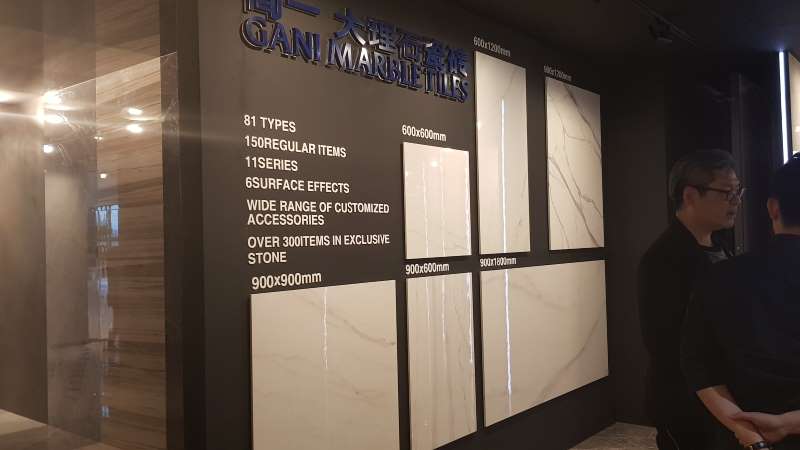 Image © RenoTalk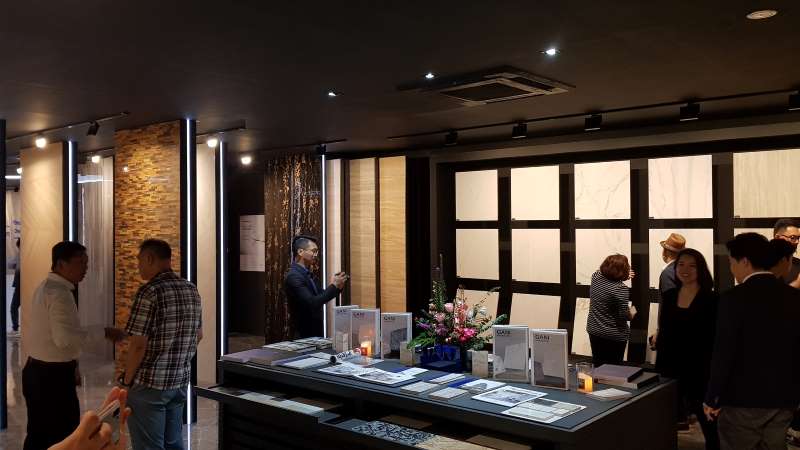 Image © RenoTalk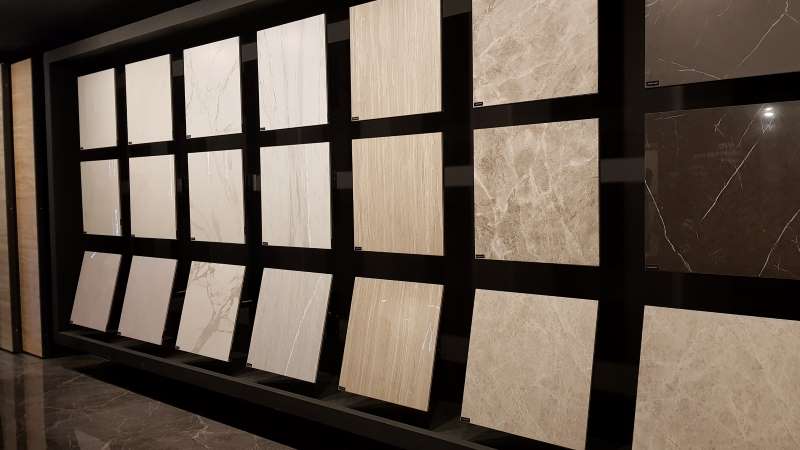 Image © RenoTalk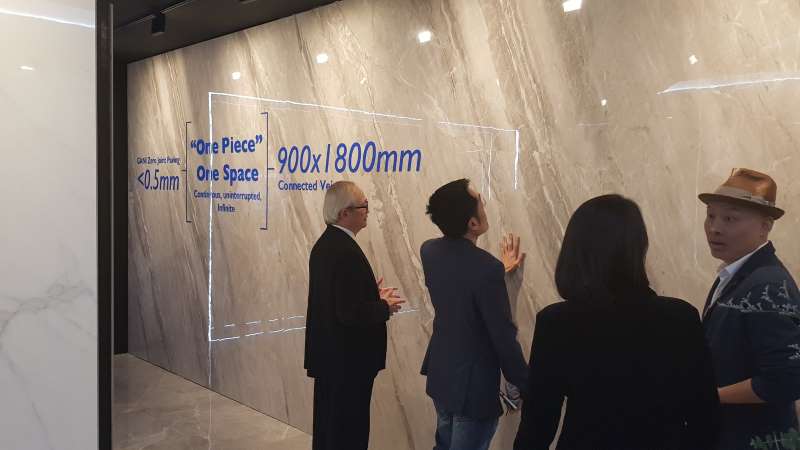 Image © RenoTalk
Visit or contact Luxx Newhouse at:
Address: Luxx Newhouse Design Center, 40 Sungei Kadut Street 2, Singapore 729246
Contact Number: 6324 6860
General enquiries: marketing@luxxnewhouse.com
Opening hours: Monday - Friday 10 AM to 6.15 PM
Nearest MRT Station: Yew Tee Station (North-South Line)
Request for quotes and we'll match you with a selection of Interior Designers!
Previous
How to Tell if Your Home Appliances Have Expired
Next
Tips on Designing a Home Workspace