RUHENS Introduces Singapore's First Multi-Temperature Water Dispenser with Icemaker
Home Appliances & Tech
1743 views
1743 views
In Singapore's sweltering heat, a cold drink of pure water is one of life's best little pleasures. On 12 May 2021, RUHENS, one of the top retailers for water dispensers in Singapore, launched RUHENS Ice, the first multi-temperature water dispenser in Singapore with an icemaker.
Li Nanxing with RUHENS Ice. Image © RUHENS
Here are 5 things that help the RUHENS Ice provide a refreshing and pure drink of water every time.
1. Multi-Temperature Convenience
The RUHENS Ice possesses tankless, multi-temperature capabilities. Get hot, cold, room temperature or warm water at the touch of a button, which offers five different precise temperature controls – at 4ºC, 27ºC, 40ºC, 60ºC and 87ºC – through a direct cooler and heating technology. These varying temperatures are convenient for a variety of occasions:
4ºC : For cold-brew iced-tea sachets, or to hydrate oneself on a hot day
27ºC: For hydration at room temperature throughout the day
40ºC: For perfect lukewarm temperature to make baby formula
60 ºC: For brewing hot tea
87 ºC: For sterilizing any kitchen utensils, or preparing coffee and cup noodles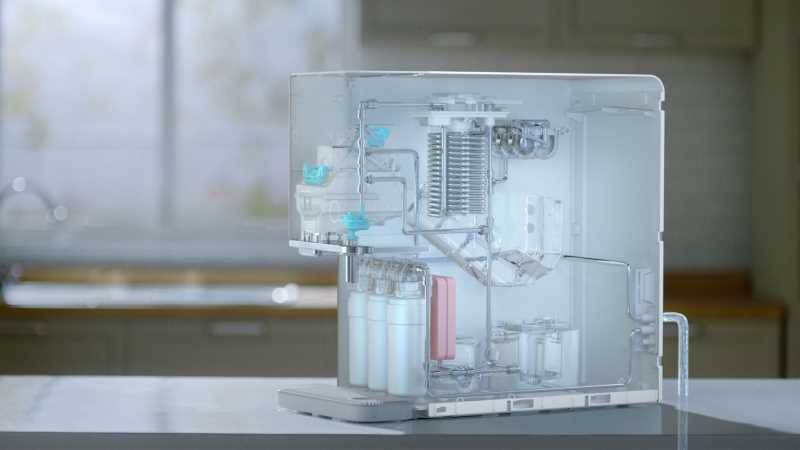 Image © RUHENS
2. Multi-Size Icemaker
While most of us enjoy drinking purified water, some may find it a hassle to make ice out of it. Adding to its versatility, the RUHENS Ice comes with an ice-making feature that makes ice from the same source of filtered water.
Choose from two sizes – Large and Small – to suit your drink-making needs from purified water. Whiskey and cold drink lovers will definitely enjoy this feature.
The Icemaker comes with an intelligent ice storage indicator that displays the ice storage status, marking when the ice supply is full and alerting you when it is running low.
It also has a smart feature called the Triple UV Care, which activates every two hours to sterilise the ice cube storage, ice outlet, and nozzle.
3. Tankless and Compact
The RUHENS Ice runs on a tankless hot and cold water purifier system. As no additional tank is needed in the process of cooling and heating the water, the risk of bacteria building up is largely reduced, while allowing the water purifier's design to stay compact. The slim profile of the RUHENS Ice makes it easy to place it on the countertop or table, fitting in seamlessly with any living space.
Here are the filtration systems inside this small body that keep your water good for drinking:
The 4-Stage Filtration System eliminates pollutants while retaining the primary minerals to maintain a healthy balance.
The Micro Carbon Filter eliminates harmful metals, such as iron, aluminium, mercury, and pollutants greater than 5μm.
The Nanofact Plus Filter removes water contaminants such as water-borne micro-organisms, bacteria, and viruses.
The Micro-Antioxidants Carbon Filter absorbs the remaining harmful organic chemicals such as chlorine. It also removes the bad taste and odour from feed water and changes it into mild alkaline water fit for drinking.
In addition, these filters are detachable for easy cleaning and replacement.
The intelligent design of the RUHENS Ice packs many automated features within it for utmost convenience, including an automatic sterilization feature that calls for little to no maintenance.
You also need not worry about dispensing more than needed, as the quantity control feature dispenses precise amounts of 120ml, 250ml, 550ml automatically.
Keeping the RUHENS Ice clean and well-maintained has never been easier with a detachable faucet that can be easily rinsed under the tap, so that any risk of contamination from dirt or dust particles from the surrounding air is also lowered.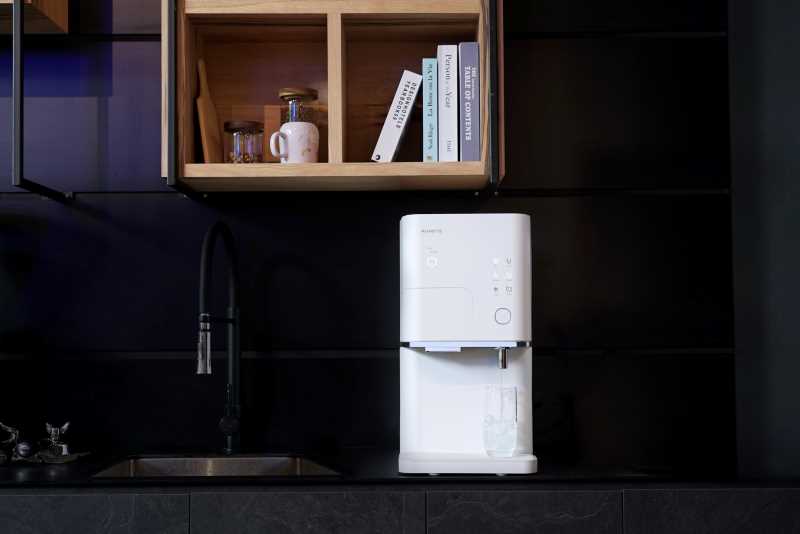 Image © RUHENS
4. Peace of Mind with RUHENS' Self-Cleaning System
The RUHENS Ice's cutting-edge self-cleaning system can be set to automatically self-clean every 24 hours or activated manually with a light touch of the button for more than a second. When cleaning is activated, it flushes the internal pipes to assure the best-tasting and cleanest of water.
For families with young children, the Child Lock function will restrict Hot Water dispensing and Ice Extraction for safety. For ease of use, there is also the Hold Function, which can deactivate certain functions that are not frequently used, like the Ice Indicator, UV Care, Self-Cleaning, Child Lock and Temperature Display.
5. Eco-Friendly
Recognising many modern households' emphasis on eco-friendliness and cost savings, the RUHENS Ice's eco mode helps reduce power consumption by 30%. With RUHENS Ice, enjoy clean, purified water that is better for the environment, and better for good health.
Getting The RUHENS Ice
The new RUHENS Ice retails at $3,499 before GST (inclusive of three years' worth of filters) at Ruhens' showroom. For more information, visit: http://ruhens.com.sg/
About RUHENS
RUHENS was awarded $7000 million 1st export tower for overseas export. RUHENS has more than 30 years of well-established water purification and filtration manufacturing technology.
RUHENS's long-standing reputation as a leader in water purification technology has brought it to the global stage. Now, RUHENS exports to over 60 countries worldwide. Every product delivered to homes is of the highest quality standard.
RUHENS places research and development as their top priority, and are making continuous efforts for safer, cleaner water. Investing in Wonbong's unique technology development, they are leaping forward as a global leading company that is leading the world's leading environmental appliances.
As a global leader in home-health technology and appliances, Ruhens' relentless focus on research and development has produced many cutting-edge home products.
Request for quotes and we'll match you with a selection of Interior Designers!
Previous
7 Modern Design Ideas For Small Apartments
Next
3 Colours That Foster Learning and Focus