Evolve Your Home With Singapore Design Week 2019!
Interior Design & Decor
1188 views
1188 views
Every year, local design takes a step forward, aspiring to do more for society than just come equipped with a combination of aesthetic and function. As our homes change, design techniques are employed to keep up with this evolution, whether it is seeking unique home themes or weaving in advanced technology in the mundane household. With smart technology on the rise, smart living is helping our homes become more than just living spaces, but also an space of high comfort and connectivity.
Singapore Design Week (SDW) this year, running from 4 March to 17 March, has several opportunities to discover the future of living and home decor.
Kicking off on Monday 4 March 2019 at the National Design Centre, this year's Design Week centres on four themes: Transform My Business, Empower My Community, Inspire My Everyday, and Reimagine My Future. The events of SDW 2019 incorporate these four themes to show visitors how the local design scene can change with the times, especially with new discoveries and technologies appearing every year.
So what happened at SDW's Opening Ceremony?
The day was dedicated not just to the launch of SDW 2019, but also the preview of SingaPlural, one of the many events you can catch at SDW 2019. The first floor of the National Design Centre hosted several exhibits designed around the concept 'Unnatural Phenomena' — design hybrids combining man-made and natural elements in tribute to our adaptability to change. These futuristic designs included a beautiful, sturdy, shell-inspired table called 'Graceful Fig', designed by Amperado and selling at SGD50,000 at Stone Amperor.
The 'Graceful Fig' table. Image © RenoTalk Media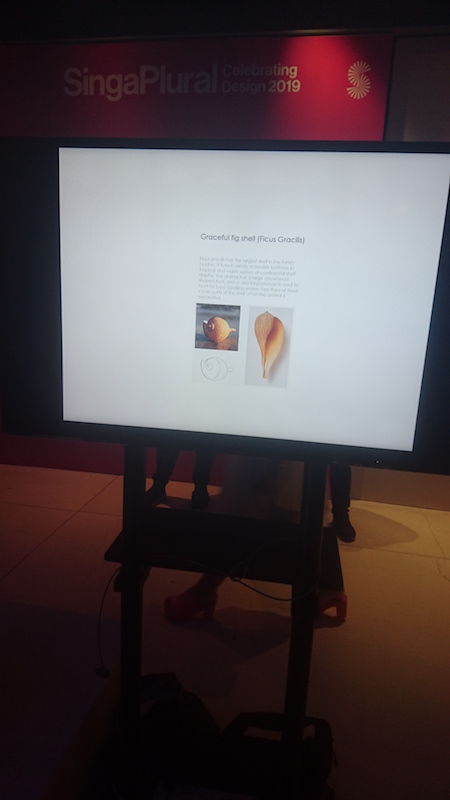 This is the shell that inspired the 'Graceful Fig' table. Image © RenoTalk Media

To kick off both SDW 2019 and SingaPlural, Senior Minister of State, Ministry of Trade and Industry & Ministry of Education Mr Chee Hong Tat gave an opening speech. He shared his optimism for Singapore's growing design scene here and beyond borders, seeing it as impactful on the lives of Singaporeans. He emphasised the 'critical role' design plays in 'transforming, empowering, and inspiring individuals and organizations', observing how businesses are now 'investing in design training' to enhance their competency for an 'increasingly competitive environment'.
After that, visitors were free to mingle and check out the SingaPlural exhibits, bantering with and interviewing the designers present.
Image © RenoTalk Media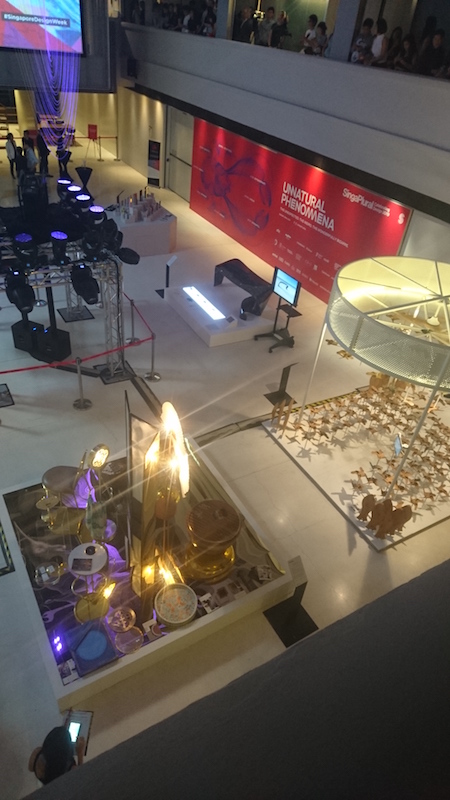 Image © RenoTalk Media

Smart Living + Us
With 'design' being such a broad range of disciplines, how are our homes changing to meet the future? Are smart homes truly the future of our homes? RenoTalk had the opportunity to speak to a few figures having their projects featured at SDW 2019 about smart living.
As smart living becomes part of our home, how are designers stepping up to the plate?
Mr Mark Yong, President of Singapore Furniture Industries Council (SFIC), states that it is all about looking at different angles, particularly the multi-functionality of furniture and customising furniture pieces for different users. "One angle is in terms of using smart materials - materiality - to transform furniture. So now we explore materiality or components that can make furniture more versatile. That's a way of becoming smarter."
"So some examples include transformable furniture. It is not a one-purpose furniture, it can be transformed from day to night, from work to play, from rest to work. For example, changing a table into a bed. Smart materiality can also be repairable furniture, self-repairing furniture. When a furniture is scratched, certain materials have a memory and can repair on their own."
On left, Mr Mark Yong, President of Singapore Furniture Industries Council (SFIC). Image © RenoTalk Media

Mr Michael Kuan, Director of Business Development for Space Factor, notes that while the market for 'home automation solutions' is still small, it is growing steadily. And Space Factor is making preparations to distribute quality smart products to meet this demand. "The most common requirements are smart cameras, smart aircon, and smart curtains," he observed. "Smart switches for appliances and lights are also gradually gaining popularity."
He also points out that Space Factor has services to convert existing homes into smart homes. "Depending on the client's budget and requirements," he explained. "We will propose products that meet their requirements of convenience (ease of use), technology-savviness (how much they know on the usage), control systems preferences (Siri or Android) and feature preferences."
Smart living centres on convenience and connectivity, so how will it impact a multi-generational household, particularly a space that accommodates mostly the elderly?
Mr Ernie Koh, Chairman of the International Furniture Fair Singapore, is optimistic that today's designers are able to meet the challenges of tomorrow. "Smart homes comprise many elements, including being tech-smart, live-smart, and silver-smart," he shared. "Designers need to embrace these, and collaborate with relevant companies from various technology industries to create tomorrow's homes."
Mr Yong pointed out that it all lies in the furniture's versatility, working for just not one family member, but the whole family. "The idea of play is important, having a piece of furniture that communicates not just to the elderly, but also to the rest of the family members," he explained, observing that furniture design has evolved to look less 'clinical' to appeal to all ages.
"It can be something that's comforting to be in and accommodates different users through transformability. For example, if you are an elderly person and you are watching TV, you can have an extendable table that comes to you rather than you approaching the table. It can also be used by a younger person, so it is a universal piece for the whole family."
Even with the benefits of smart technology in our homes, will we be able to keep up with potentially constant upgrades?
Mr Koh believes in our ability to adapt to the times, just as we had in the past. "Smart living encompasses sustainability, customisability, and synchronicity," he explained. "As technology advances, and with smart living becoming an all-too-familiar aspect of our lives, the issue is to manage it well, and embracing smart homes. Similarly, when internal combustion engines were developed for cars, there were initial teething problems, but over time, the use of cars (and the engines) is now prevalent across all societies."
Mr Kuan advises buyers of smart home technology to be wary of their needs and to research products they intend to buy before purchase. "Depending on the client's level of tech-savviness, it can be on two extreme ends of being very convenient or inconvenient," he explained. "It is then imperative that the clients evaluate their needs and the products they intend to purchase really carefully and not entirely believe the product manufacturer's words on a glossy brochure. They should research them by looking at product reviews, customer reviews and also the products' origin."
"Lastly, the internet is also a good resource for them to find out how to maintain and troubleshoot any issues they have, that is we assume the client has some level of tech competencies. Many sites also provide video-how-to to help and this gave them a good DIY option instead of running to an expert every time. Lastly, it is important for the client to know what is the product's warranty coverage and invest a little to extend it before purchasing them. It will then be well-worth it if they have done all the necessary."
If you are interested in the future of furniture and interior design, here are a few events you can attend:
Mind Your Home Journey @ Space Factor
16 March 2019, 12pm - 2.30pm
JustCo The Exchange @120 Robinson Road, #15-01, Singapore 068913
International Furniture Fair Singapore 2019
9 - 12 March, 9am - 5pm
Sands Expo and Convention Centre, Halls A to F, Marina Bay Sands
Millenia Walk Design Playspace
4 March - 14 April, 10am - 10pm
Millenia Walk
You can also visit the Singapore Design Week website to see which events you can attend!
Request for quotes and we'll match you with a selection of Interior Designers!
Previous
8 Best Practices to Fireproof Your HDB
Next
Bodega Living: Customising Your Very Own Little Wine Shop