Sports-Themed Interior Design
Interior Design & Decor
1395 views
1395 views
Do you like sports?
Unfortunately for many sports enthusiasts, the rise of COVID-19 in many countries have led to many sports activities being limited.
Interior design is a creative way to bring your favourite sports inside your home. So there are quite a few sports-themed interior designs that we will be sharing with you in this article.
1. DIFFERENT TYPES OF SPORTS-THEMED INTERIORS
BASKETBALL
Basketball represents every sportsperson's infinite desire for sports. This basketball-themed room will be attractive and temperamental to younger generations.
The

furnishings of the room complement one another

and the

floorings are designed with a natural log pattern

to make the basketball theme stand out. The

wallpaper is used to make the whole room look more vibrant and dreamy

.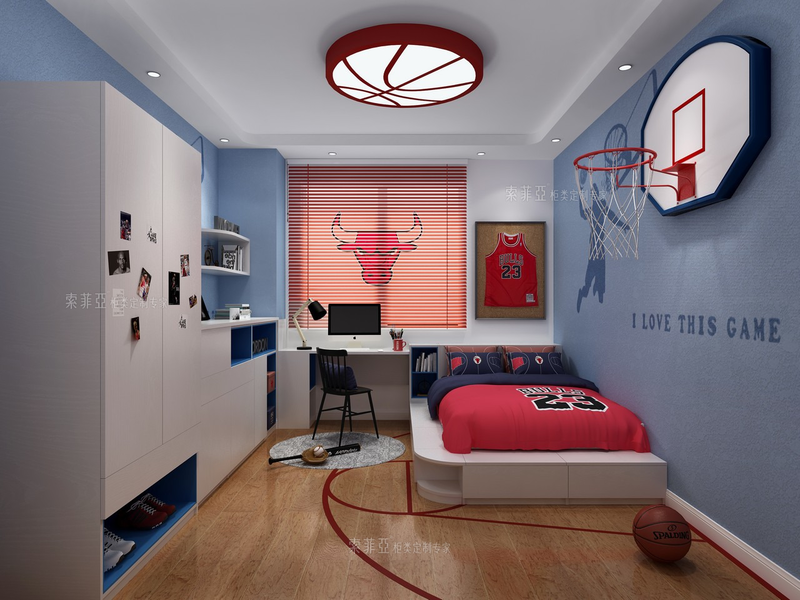 Image via SoFeiYa
SOCCER
The green grass field covered with passionate cheers from the crowd is the place where soccer players at any skill stage aspire to be.
The green grass wallpaper brings the scene of the football field into the room. To create a more realistic atmosphere, the floor is specially equipped with a lawn carpet.
Soccer elements such as the

posters of soccer players, soccer balls, and soccer net

are displayed in almost every corner of the room so that it will seem on-scene and according to the theme.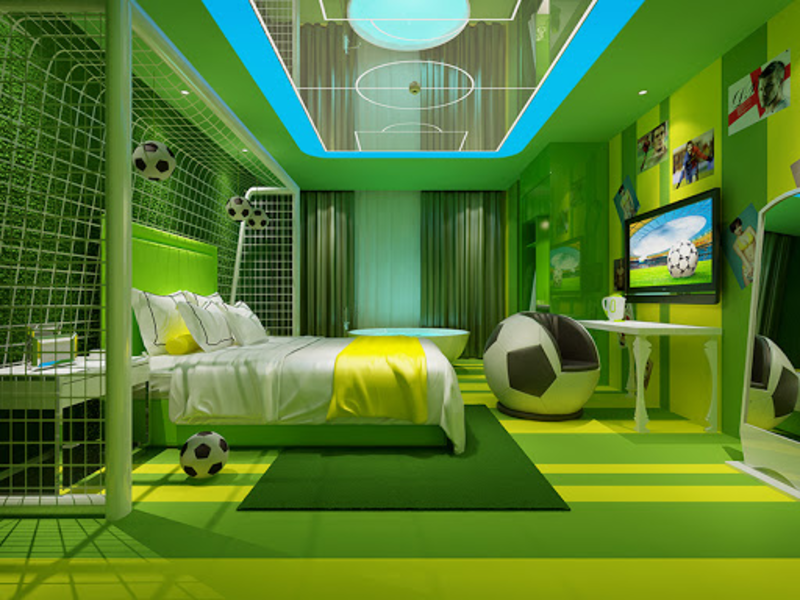 Image via BanJiaJia
TENNIS
Green is the best colour to freshen up the environment.
This tennis-themed room is thus mostly green. It

does not have many complex decorations

but still looks neat and clean.
Image via Free Document
BASEBALL
Take me out to the ball game, take me out to the park!
Look at the baseball cushion, baseball bat, and the red baseball camp, making this a nice room for a baseball player or fan. The wallpaper emblazoned with a simple yet sweet slogan makes this room more attractive.
Image via TheTurquiouseGiraffe
HOCKEY
Hockey has a long history dating back to ancient times, while ice hockey is its modern and trendier variation.
The hockey-themed bedroom

exudes both the playfulness and coolness of summer

, giving hockey fans a wonderfully surreal experience.

The

simple decors match really well with the hockey theme

.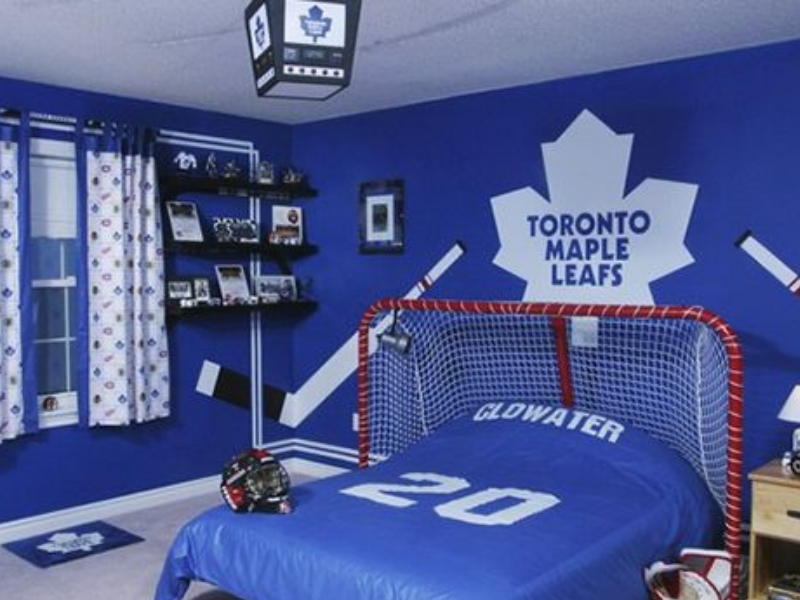 Image via YeHuaJiaJu
2. DIFFERENT TYPES OF SPORTS
BASKETBALL
Canadian-American gym teacher James Naismith created and brought this sport to Springfield, Massachusetts in the United States in 1891. Since then, basketball has evolved to become one of the world's most popular and widely viewed sports.
HOW IS IT PLAYED?
Two teams, commonly consisting of five players each, face one another on a rectangular court. Their primary objective is to shoot a basketball through their defender's hoop while preventing the opposing team from shooting through their own hoop.
BENEFITS OF PLAYING BASKETBALL
- Improves balance and coordination
- Burns calories (an hour of basketball can burn 630-750 calories)
- Develops concentration and self-discipline
- Builds endurance
- Helps you to make new friends and improve teamwork
- Can be played all year round as it is an indoor sport
SOCCER
While soccer is seen as mainly as a Western sport, records have traced its history to at least 2,000 years in ancient China. While Greece, Rome, and parts of Central America have claimed to have started the sport, it was England that fashioned soccer (or 'football', as called by many people around the world) into the game we know today. It is played by approximately 250 million players in over 200 countries, making it one of the world's most popular sports.
HOW IS IT PLAYED?
The game is played on a rectangular field called a pitch, with a goal post at each end. Two teams of 11 players each aim to outscore each other by kicking a ball (no hands and arms allowed!) beyond the goal line into the opposing goal post. The team with the higher number of goals wins the game.
BENEFITS OF PLAYING SOCCER
- Improves cardiovascular health
- Builds muscle strength
- Lowers body fat and improves muscle tone
- Promotes teamwork and sharing
- Anyone can play anywhere
- Increases confidence and self-esteem
BASEBALL
Abner Doubleday first brought baseball to Cooperstown, New York, during the summer of 1839. He then went on to become a Civil War hero, while baseball became America's beloved national pastime.
HOW IS IT PLAYED?
Baseball is a sport played on a field by two teams against each other. In baseball, a player on one team throws a small round ball at a player on the other team, who tries to hit it with a bat. Then the player who hits the ball has to run around the field. Players get points by running around in a full circle past three points on the ground called bases, then back to where they started, which is called the home plate.
They have to do this without getting caught by the players on the other team.
BENEFITS OF PLAYING BASEBALL
- Provides lots of Vitamin D
- Builds strength (especially for the arms and legs)
- Good for the mind
- Supports and strengthens attention span
- Builds a sense of community
- Improves lung capacity
- Fun to play
TENNIS
Modern tennis first started out as 'lawn tennis' or 'real tennis' in Birmingham, England during the late 19th century; it was mostly referred to as 'real tennis' though. It was also closely related to other field or lawn games such as croquet and bowls.
HOW IS IT PLAYED?
Tennis today is played on a rectangular court with a net running across the centre. The aim is to hit the ball with a racket over the net, landing it within the margins of the court in a way that prevents your opponent from returning it. You win a point every time your opponent is unable to return the ball within the court.
BENEFITS OF PLAYING TENNIS
- Lowers rest heart rate and blood pressure
- Improves flexibility
- Suitable for all ages
- Improves metabolic function
- Increasing reaction time
- Helps to relax and reduce stress
HOCKEY
Hockey has a long and interesting history that is still being studied today. Historial records have pointed to a primitive form of hockey being played in different countries in the ancient world before being modernised by England in the 18th century. It was a vital factor in the development of public schools, leading to the formation of the first Hockey Association in the UK in 1876. The original association went defunct after six years before being revived in 1886.
HOW IS IT PLAYED?
Two teams play against each other by attempting to move a ball or a puck with their hockey sticks into the opponent's goal post. There are many types of hockey such as bandy, field hockey, ice hockey, and rink hockey.
BENEFITS OF PLAYING HOCKEY
- Full-body workout
- Develops hand-eye coordination
- Boosts the brain
- Improves communication skills
- Enhances muscular strength
- Builds teamwork
Inspired to create your bedroom with a sporty theme? If you know anyone who loves sports and is planning to give their bedroom a makeover, why not share this article with them?
Request for quotes and we'll match you with a selection of Interior Designers!
Previous
Carpet Replacement Design Tips
Next
MEMPHIS STYLE: LIVELY AND PLAYFUL MINIMALISM