The Ceiling Fan Debate: 18 Stunning Ceiling Fan Designs
Interior Design & Decor
53452 views
53452 views
Whether you like it or not, there are people who are fans of ceiling fans. As the temperature starts to rise as well as the cost of electricity, there are just a handful of ways you can do to keep the inside of your home to stay cool. Having an energy efficient AC unit installed might not be even enough to sustain a comfortable temperature that can satisfy you and the whole family. Adding a ceiling fan is a fantastic idea you should consider to help circulate the cold air. Not only electric fans will allow you to control the temperature of the room, they're more energy efficient and can help lower down the cost of your electric consumption.
Ceiling fans are once considered as an interior design roadkill, but nothing is much worse than your guests sweating profusely on your very own home. And with a previous reputation for having a clunky appearance and outdated design, there are now a bunch of streamlined styles that can grab anyone's attention. With the influx of various design that suits any style of home, the fierce competition also allows for the homeowners with a tight budget to pick one that suits their decor. Depending on the style and architecture of your home, choosing the right ceiling fan can add a bold statement and functionality to your home.
With that in mind, check out some of our picks to give you an idea of what type of ceiling fan is right for your home.
Read more: Modern Ceiling Design


1. Above And Hazy
A ceiling fan with steel blades can boost the modern vibe of a small, hi-rise apartment. Pair it with stainless elements, like chrome finished vases and polished metal legs of your furniture to elevate the contemporary appeal of your home.
2. Open Yet Intimate
The visual presence of today's ceiling mounted fan gives emphasis on houses' utilitarian side. Most models nowadays come with a built-in light in various design that doubles as a functional chandelier to illuminate your space.
3. Grey Traditional
Ceiling mounted fans can also serve as a casual ornamentation to complement a wide range of design and color scheme. With different styles to choose from, you are sure to find the one that matches your taste and will blend well with your decor.
4. Colorful Attic
Look for unique designs with quirky personalities to reflect your character and the design of your interiors. Colorful models with one of a kind aesthetics will reinforce the playfulness personality of your room.
5. Twin Beds
Choose a rotating fan in neutral color or wood tone to echo a wooden bed frame finish. The oscillating function of most fan models makes a great accompaniment to multiple beds configuration in a single bedroom, like for a sibling or kids bedroom.
6. Updated Classic
Higher fan models can have crystal decorations you can incorporate into your living room or bedroom setting for that much-needed sparkle. When chosen correctly, it will crown your space and imbue it with a soft glow of light, perfect for creating a romantic mood.
7. Tropical Paradise
Opt for a propeller-style ceiling fan in a wooden finish to complement an island-type resort interior. Natural materials found in nature such as bamboo and dried leaves make a great material for a ceiling fan blade that will blend graciously with a wide range of home decor.
8. Spanish Garden
A palm leaf fan blade design, perhaps? Add a stylish, welcome addition to the ambiance of your airy abode with a tropical design ceiling fan. Flawlessly inject charisma and sprinkle your space with a striking visual appeal with little effort.
9. Simply Modern
A contemporary take on the unsightly ceiling fan is now a fashionable and multi-functional ornamentation. With oscillating motors that help spread air and a built-in light for illumination, style and function successfully marry into one splendid package.
10. Low Love Nest
For small room renovations with a low ceiling like an attic bedroom, a cage-type oscillating ceiling fan can work wonders to help circulate the fresh air or the air from the AC unit. Added bonus points: easy to reach, thus easy to clean.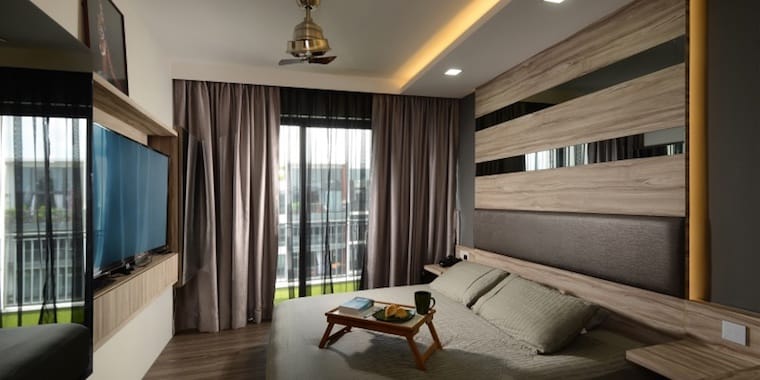 11. Vaulted Ceiling
For rooms with higher ceilings, on the other hand, rotating dual-head ceiling fans can help spread the air in bigger, volumetric spaces more efficiently. Install 2 or more depending on your needs and the size of the room.
12. Southern Modern
Also known as dual-motor ceiling fans, one single installation with two ceiling fan head can add to the contemporary charm of your space and complement the modern feel of your home.
13. Steampunk Nautical
Very rare, charming and beautiful, belt-driven ceiling fans make an interesting sight and when you see one, you know the homeowner is a person of style. Its custom-look aesthetic can be made to match the design of your residence.
14. Contemporary With A View
For a stylish and functional ceiling fan you can add to your space, a contemporary-style three blade fan is one stylish option you cannot miss. Opt for a steel polished blade to add a modern character to elevate the flair of your homey bedroom.
15. Musical Vandal
Minimalist interiors can also enjoy the benefit provided by ceiling-mounted electric fans. A fan with dual blades oozes out a restrained design that will add a sophisticated element in any type of room setting.
16. Cool Bachelor
Sleek and modern style ceiling fans can echo the allure of any room. Gone with the days with the bulky and noisy fan models. From different fan blades with a wide variety of style and color, today's homeowner has more flexibility and options to suit their decor.
17. Not So Shabby Chic
Punctuate the style of your home without sacrificing functionality. With some fan models offering remote controlled access, any type of home can easily install a ceiling-mounted fan with their preconfigured, electrical-ready ceiling.
18. Neutral Scandinavian
A ceiling fan can perfectly sum up what refreshing living is all about. Regardless of design, style, and add-on functionality, a quality and reliable ceiling mounted fan can make all the difference for a comfortable and relaxed afternoon with your family.
For more inspiration, visit Renotalk's blog.
Request for quotes and we'll match you with a selection of Interior Designers!
Previous
Designer Secrets In Creating Fabulous Interiors On Small Spaces
Next
Minimalist Furniture With Maximum Impact Episode #001