Work and Play - Assembling a Conducive Home Office
Interior Design & Decor
2192 views
2192 views
Work and Play
Assembling a Conducive Home Office
ARTICLE BY: DCRS – DECORATIONS
Today rapid technological advances has revolutionised the job industry as more people look for freelance work to allow them a work-from-home arrangement and more flexibility. However, constructing a home office is more than just setting up on an empty desk in a spare room or temporarily taking over the dining table.
As the same reason why we go to cafes for the ambience, the workplace should settle into the right groove for ideas to flow and work to commence without all the distractions that come within the comforts of home. We understand the allure of the kitchen and the beckoning of the comfy couch, and our guide on assembling a distraction-free workplace will help keep the distractions at bay and put you on the right track towards maximum productivity.
Step 1: Build a Cosy Nook
The open concept environment may be highly regarded at the workplace, but it may not have the same results due to the many distractions screaming out for our attention in the home. Opt for privacy with a room divider to keep the distractions at bay and ramp up the efficiency levels. Choose a lightweight divider that can be moved easily and yet be translucent enough to allow light and positive vibes to continue flowing through the room. Otherwise, sequester an area off with carpets or rugs to create an invisible division between your work area and the rest of the home.
Step 2: The Right Table and Chair
It is understandable that many who work remotely would take over the dining space to run through their work mails and letters due to the spatial concerns as compared to homes of the yesteryears. But a dedicated study area can be easily constructed even with a limited space. A common solution is the use of pull-out or fold-down worktables – regardless of size, the foldable worktable can be converted to a sturdy and reliable top to work on when called upon and maintain the sphere of space when not in use.
A tip to consider would be to avoid placing the table flushed against the wall. It is almost reflexive to do so as it maintains a spacious center but compromises the amount of light coming through. If it has to be done, share the wall space with windows or move your desk in the direction of natural light with the seat positioned towards the windows.
Elements ID Consultants has customised a pull-out desk top with storage beneath to maximise on the natural light. A sleek blind helps adjust light and a wall unit doubles and display and storage too.
Consider standing worktables too as medical reports have been racing against each other to prove the numerous advantages of standing over prolonged sitting. The common thread linking the various studies is that sitting for hours at a time contribute to posture problems and organ damage as excess sitting slows blood flow.
Commit to a standing routine a few hours a day with height-extendable tables that can convert from standard-height desk to standing desk in seconds.
Step 3: Bright Ideas
If the overhead light is too dim to generate a powerful glow to illuminate your desk, choose a study lamp to help you work more comfortably without overworking your eyes. Choose the right study lamp with a flexible arm and head to direct light to exactly where you need it or risk straining your eyes or ruining your posture. Work hard and smart!
Step 4: Documentation Organisation
Storage space in the workspace is often remembered only as an afterthought after one realises the clutter of papers stacked on the desk. What we should do with documents is to keep them organised in an accessible spot yet remain discreetly out of sight.
Bookshelves are an obvious solution but they may not offer the storage space needed for your big ideas – opt for wall units or bookcases that display your daily essentials in a clean and organised manner.
Singapore-based interior design company CAD Design Associates revolutionised the study by using adaptable storage pole systems that can be customised if more storage compartments are needed.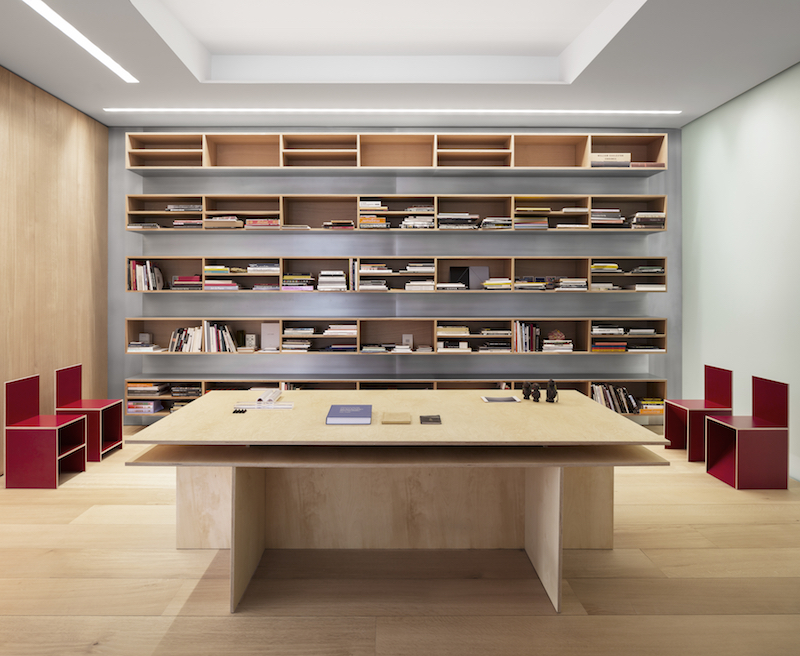 New York-based design firm, Desai Chia Architecture, was tasked with the project to create a serene live-work environment around a library/reception area. A grid-like wall unit in solid oak offers orderly storage for office supplies and reading materials. Photography by Paul Warchol.
GEEK CHIC GADGETS FOR THE PAPERLESS OFFICE
The best office gadgets help you increase productivity, create a more organized environment, and keep your equipment safe and clean. Look out for these smart helpers to a neat and functional workspace.
1. Voice operated speakers
Wireless speakers are the perfect union of stunning sound and chic style for the office or anywhere life takes you. Infusing the latest advances in technology with the Alexa voice service which allows you the freedom and ease of voice control to play music, check the traffic, control the smart home and more.
2. Cool and Steady
Fans are noisy, dusty and loud. ThermaPAK is the new revelation in laptop cooling and keeps laptops, iPads and netbooks up to ten degrees cooler with no noise, power use, or refrigeration.
3. Wireless printer
Perfect for a fuss-free home office, a wireless printer can also function as copier and scanner. The wireless network is a breeze to set up and a cable-free environment is a neater and productive too.
4. Charge and Go
Charge your ebook reader, smartphone and MP3player all at once on the Joy Factory Zip USB Touch-n-go Multi-Charging Station. It charges fast and is efficient. Simply connect your device to the charging station, cable-free.
Request for quotes and we'll match you with a selection of Interior Designers!
Previous
Top Tips when Restoring Antique Furniture
Next
Design Essentials For Your Home Office That Will Set You Up For Success