10 Space-Saving Furniture Pieces from the #extraIKEAcatalogue
Interior Design & Decor
3702 views
3702 views
Two IKEA catalogues in the same year? That's a first.

To celebrate space-saving painted with bright, bold colours, IKEA will be releasing two catalogues in the same calendar year, with the first already launched.
Some collections featured in this catalogue are washed with vibrant shades of blue, red, yellow, and green, inspired by the colours of summer. "This collection is inspired by the summer range," Mr Johnson Kway, Communication & Interior Design Manager for IKEA Alexandra, explained. "Just like with Christmas, we select a certain palette of colours based on the season. These colours come from the summer range, which is a global range you can find in all the stores." Other than these bright colours, Mr Kway observed that based on today's market, whites and neutrals remain ideal choices for furniture colours due to their timelessness.
IKEA keeps to its forte of easy-to-assemble, affordable furniture with various space-saving solutions, with a little glow-up with this latest catalogue. "IKEA has always looked at space-saving, especially for small spaces, since in the past" Mr Kway shared. "But now we are looking at multi-functional products." Like a sofa daybed with storage solutions, hmmm. 
Mr Kway went on to point out that certain furniture pieces like a sofa bed used to compromise comfort for design and functionality. He is optimistic that it will not be the case with this collection, and collections after. "Now, we have this sofa bed that is really both a sofa and a bed, something that does more than just look good...we have heard of people using our IKEA furniture in more ways than one, so we are also helping them with that."
Mr Johnson Kway standing next to some pieces from the new IKEA catalogue. Image © RenoTalk Media
The catalogue studies five homes inspired by small-space living in Singapore, so it has something for every household here. These five spaces are:
1. Open 24/7 - a family of five living in a small space with two bedrooms
2. Space to spend time with you - a mature single with discerning taste and values individuality in their space
3. A container called home - two millennial singles sharing one studio apartment
4. Old house, new life - a couple and their newborn child living in an older (or resale) flat
5. Big Dude & Little Dude - a single father (or mother) raising their child in a small flat
So what should you get from this special collection? Here's our 10 picks!
1. NORDLI BED FRAME W/ STORAGE AND HEADBOARD
$799
This set is one of Mr Kway's favourite pieces from the new catalogue due to its varied storage solutions. The bed frame alone is $599, but you can expand your storage options by adding on the headboard.
The bed frame by itself hosts a wide storage space underneath the bed's platform — with six large soft-close drawers, it can store enough things to keep your bedroom neat and tiny with minimal fuss and noise. 
Adding the headboard lets you store more stuff, as it comes with built-in sliding bedside tables to keep and protect your books, reading glasses, drinks, electronic devices, and so on. The headboard is adjustable, so you can fix its height to your preference, and its large grooves allow for hiding cables for charging your electronic devices.
With a size fit for two, the NORDLI set is a great fit for a couple living on their own or a small family.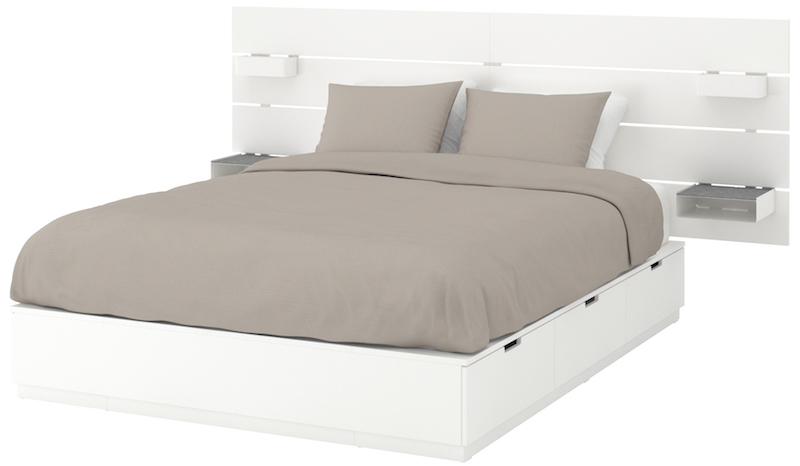 Image © IKEA Singapore
2. STUVA / FӦLJA LOFT BED COMBO WITH 4 DRAWERS/2 DOORS

$755
Big kid, small space? This combo from STUVA and FӦLJA keeps everything your child needs to do in a two-metre-square area — sleeping, studying, storing, playing, and relaxing!
Not only is this set compact and cosy, it also comes with storage space so that your child can keep their clothes, books, school folders, and toys in the same area for easy access. Not only does it keep the room clean, it also encourages independence in your child as they learn to pick up after themselves and organize their precious possessions. 
Plus, the study area can be easily pulled out to accommodate extra space under the bunk bed — a great bonus if your child is keen on sleepovers, reading nooks, or even pillow forts!
Image © IKEA Singapore
3. UTÅKER STACKABLE BED
$199 (just the bed frames)
$437 (with two mattresses)
These stackable bed-frames are handy for a live-in unit or a rental one. Whether you are sharing the space with another or having your own room, the UTÅKER bed-frames can accommodate up to two people thanks to its stackability.
Perhaps you have two children sharing the room. Or you are living with your partner or a roommate. You can place these bed-frames side by side, or with a storage solution in between, or any way you like. If you have your own space, merely stack the bed-frames on top of each other to create a single bed. Then unstack them to form two beds if you have a guest coming over to stay.
Once your children have moved out and gotten a place of their own, you turn the bed-frames into a sofa! Stack the frames on top of each other to form a simple two-seater, or lay them adjacent to each other for a chic L-shaped piece!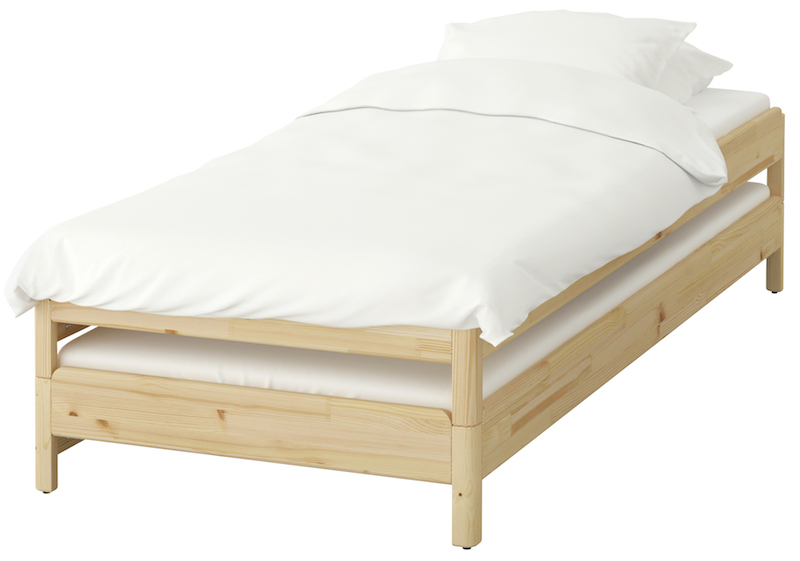 Image © IKEA Singapore
Image © IKEA Singapore

4. PAX SYSTEM
Prices vary according to customisation/combination options
A classic piece from IKEA's many storage solutions, the PAX system is well-loved for many reasons. Not only is it designed to keep items of any shape and size, it is also customizable so that you can create the perfect way to store and keep your clothes.
The combination options are endless — you can go for all cubes, or mix some cubes with columns so that you can hang your clothes on one side and keep your accessories in the cubes on the other. Just allow the photos below (kindly provided by IKEA) to speak for themselves.
Keep your PAX wardrobes free and open, or get an IKEA-made door to keep your clothes and accessories dust-free! Pair any PAX combo with KOMPLEMENT accessories to get your dream wardrobe!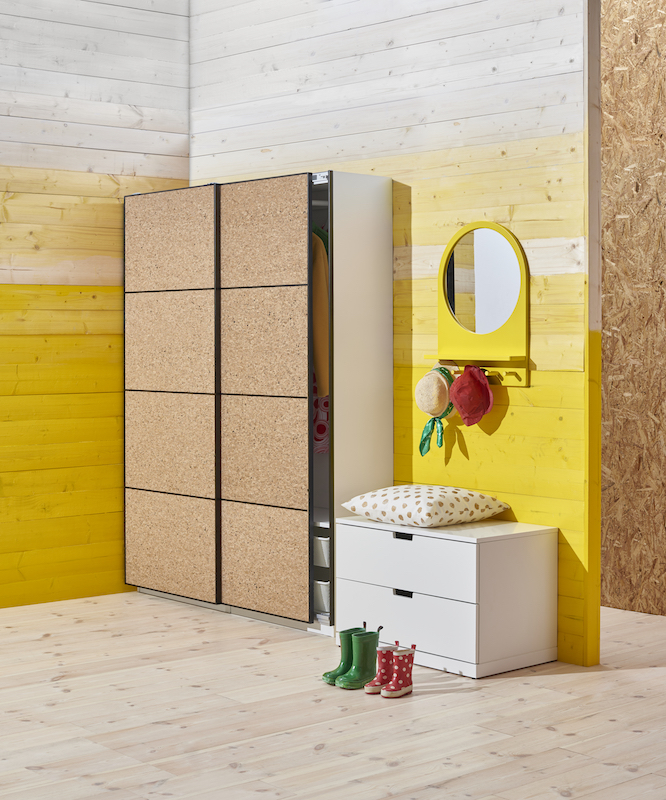 Image © IKEA Singapore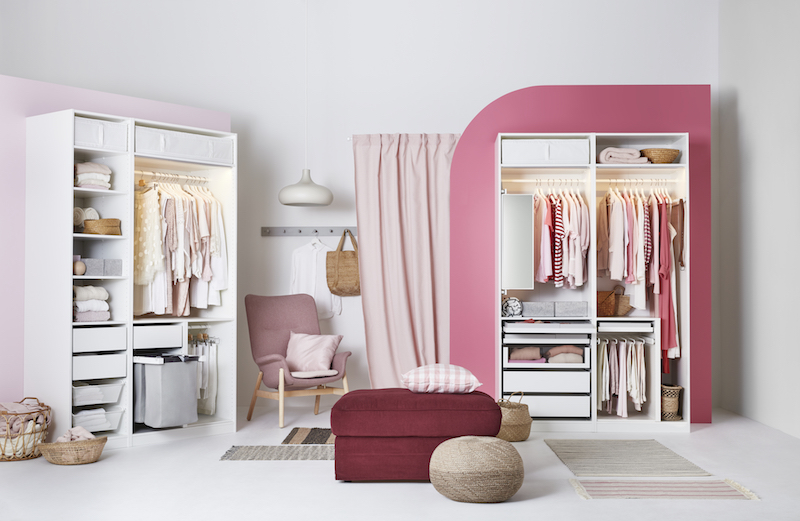 Image © IKEA Singapore
Image © IKEA Singapore
Image © IKEA Singapore
5. NORDMELA CHEST OF DRAWERS WITH CLOTHES RAIL
$399
If your space could only afford a storage solution of a certain size, we recommend this combo of drawers and a hanging rail from NORDMELA. It is handy if you are someone who prefers keeping a few items close to their heart, and especially so if you live in a small space either by yourself or with a (preferably like-minded) individual.
This NORMELA set comes with five roomy drawers to keep folded clothes, bags, and accessories. It also includes an open railing measuring a little under 45cm to hang your clothes, so that you can easily grab your work outfit off the bar and head out for the day.
This cool-blue drawers-railing combo can easily fit against a wall in a small room or hallway, yet possesses enough space to keep the clothes you love. However, if you enjoy shopping for and filling up your space with new clothes, be warned that NORDMELA may not be the best fit for you!
Image © IKEA Singapore
6. GODMORGON BOX WITH LID, SET OF 5
$19.90
Do not let these small sizes fool you. This GODMORGON set of five can keep your messy drawer organized. 
Just put them in your drawer and let them organize your tiniest trinkets, whether they be jewellery, make-up pieces, stationery, contact lens cases, toothbrushes...these little boxes can store anything, really. They help to keep your items in line, thus saving your drawer from messiness and your personal area from clutter.
Also, these GODMORGON plastic compartments are made from about 50 recycled PET bottles, making them waste-reductive and environmentally friendly. Small things can make a big impact, as the saying goes.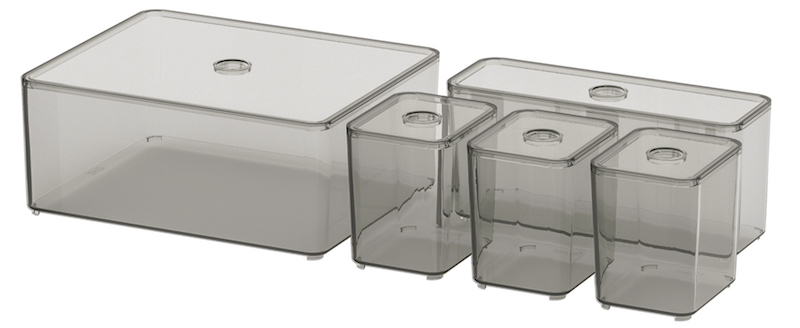 Image © IKEA Singapore
7. RABBLA BOX WITH LID/COMPARTMENTS
$24.90 (small, with lid)
$39.90 (big, with lid)
$19.90 (small, with compartments)
RABBLA boxes are both functional and aesthetically pleasing. With their soft neutral colour palettes and Scandinavian facades, they can fit right in any home of any design. 
Also, their lids can be easily pulled off to reveal wide storage spaces. Whether you go for a RABBLA box with compartments or just an open area under its lid, you can store items in it. This helps you save space, and keep your precious possessions safe and intact. 
You can then place the box anywhere you like, whether it is under your bed, in your wardrobe, or out in the open. Its warm, wooden look is a classic eye-pleaser to both homeowners and guests. So pick up a RABBLA box for a storage solution that does not compromise design for function.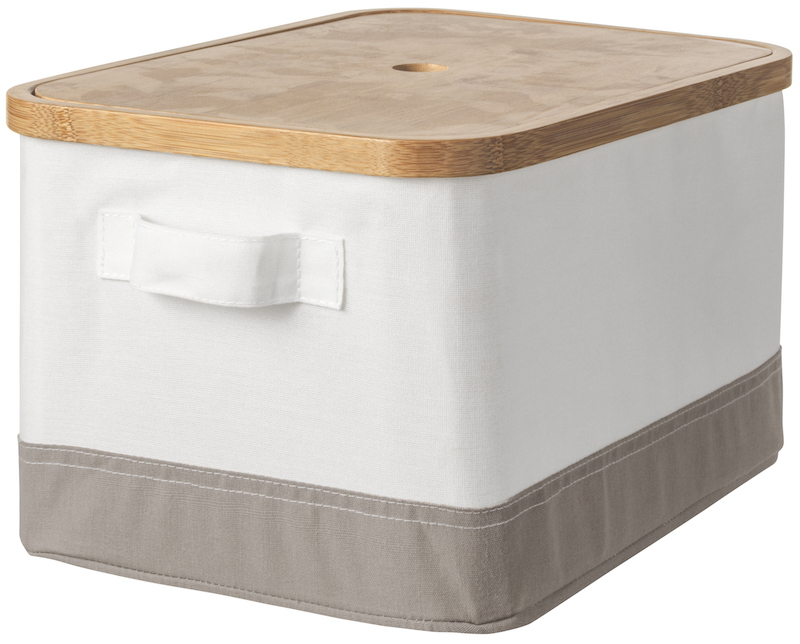 Image © IKEA Singapore
8. SKÅDIS PEGBOARD COMBINATION
$24.90 (smallest)
$94.90 (largest)
Love pinning stuff to cork boards? Say hello to the chic cousin of the quaint, humble cork board!
SKÅDIS gives you numerous pegboard sizes and combinations, so you can get a pegboard for a wall of any size. Because of its many holes and optional add-ons, you can pin a variety of stuff to a SKÅDIS pegboard.
Not only can you pin your favourite items on a SKÅDIS pegboard, its versatility allows you to mix and match it with other accessories to keep and display the things you love. 
You can use a SKÅDIS pegboard combination for your study area or as a headboard for your bed, especially if your space is small. Not only does it help you express your individuality, it also keeps your items organized and thus frees up space for other items of study, work, or rest.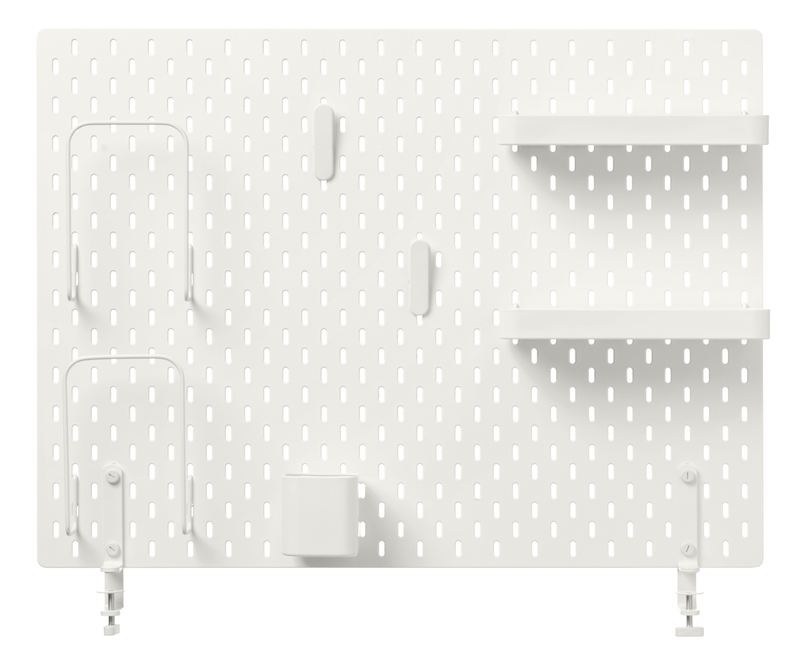 Image © IKEA Singapore
9. HAVSTA NEST OF TABLES, SET OF 2
$149
Slide it in, or slide it out! Keep it single, or spread out! These two tables from HAVSTA are made in sleek dark wood, making them a perfect match for a Scandinavian or Muji look. 
While the sliding functions help the tables save space, especially in a small living room, the bottom table comes with a lower shelf to keep useful items. Place your favourite book in the bottom table, and keep your drink on top for a cosy reading season. Or place your charger under the bottom table and keep your mobile device at hand.
This nest of tables are useful for having guests over, where you can slide in and out for serving snacks (which can be stored under the bottom table) or packing up. If you have small children, slide the bottom table out as a separate workstation for their activities, then slide it back in when done.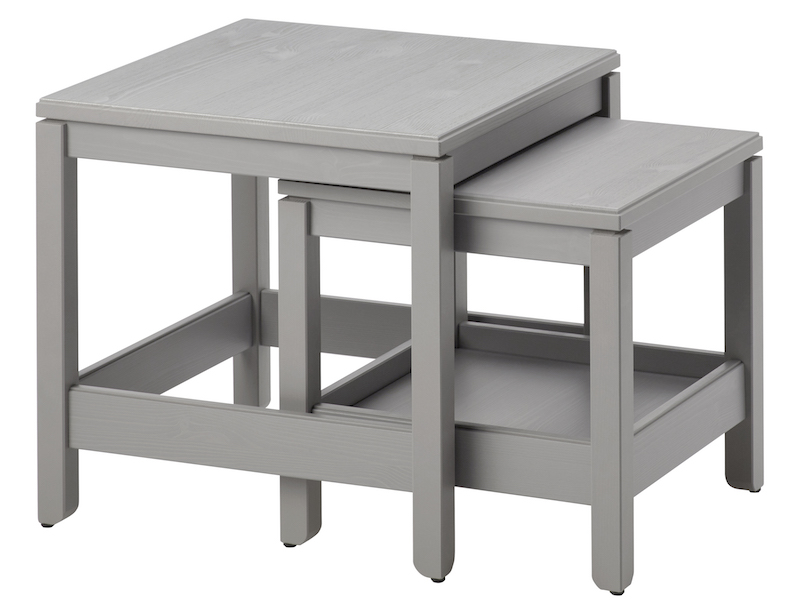 Image © IKEA Singapore
10. TRANARÖ STOOL/SIDE TABLE, IN/OUTDOOR
$35.90
While the TRANARÖ red stools will only be available in mid-May, there is no need to wait that long to start thinking about the many things you can do with them. 
At first glance, the TRANARÖ stool looks like nothing more than a niftily-designed seater with cool spokes. However, pair two of these stools together and you get a little coffee table. Hang them up or pin them to a wall and they become a display mantle with space for hangers. And when you are done, you can easily stack these stools on top of one another. 
With its multi-functionality, the TRANARÖ stools are handy when you are having guests over, or if your children are looking for little tables to do their homework. If you are short on wardrobe space, they can also suffice as railings to hang your clothes.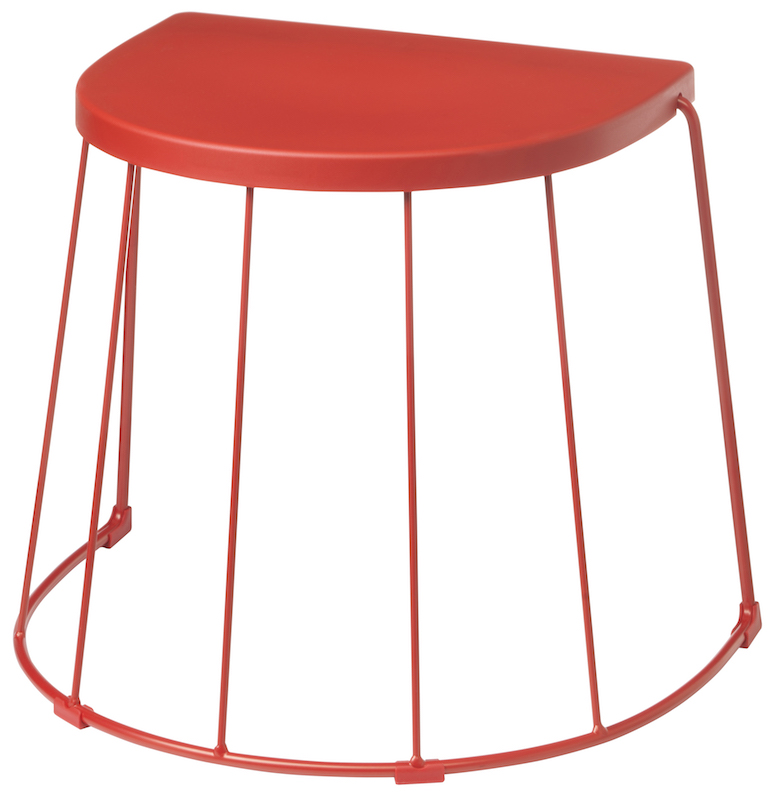 Image © IKEA Singapore
Image © IKEA Singapore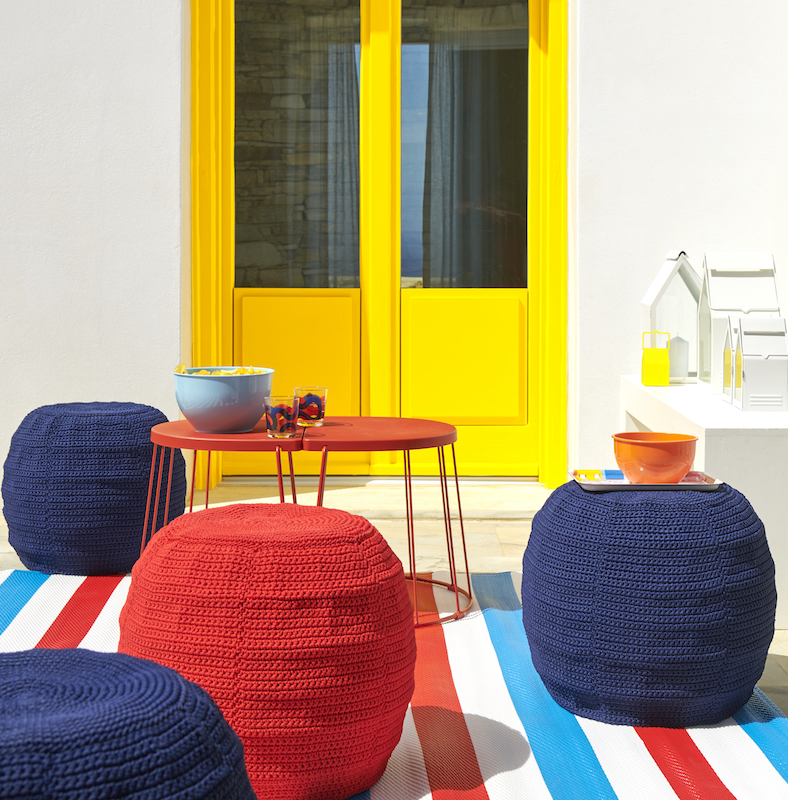 Image © IKEA Singapore
Image © IKEA Singapore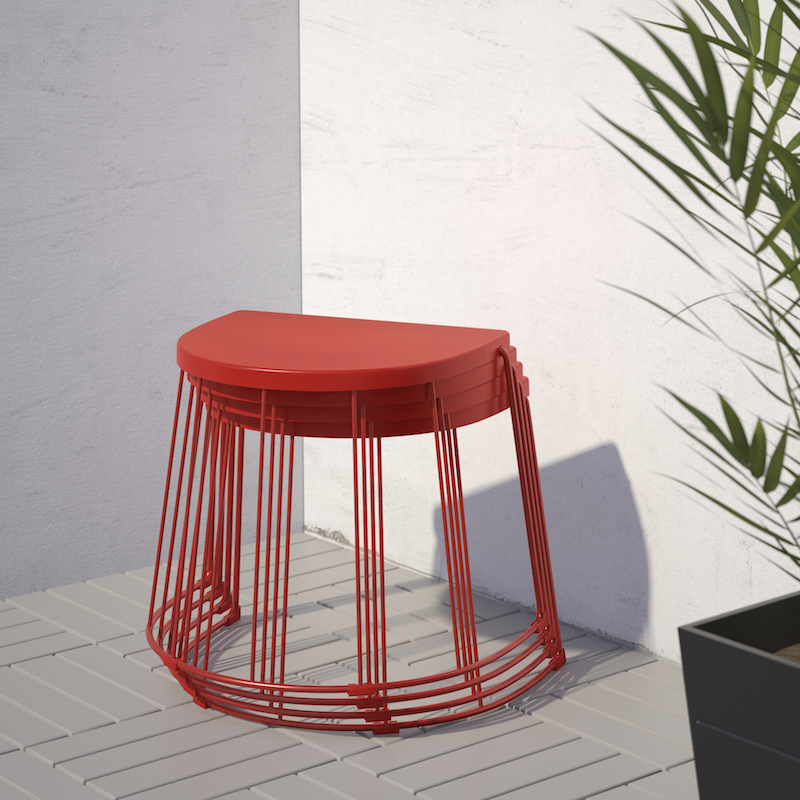 Image © IKEA Singapore
Come down to any IKEA outlet to browse and shop the new catalogue's collections!
IKEA Tampines: 60 Tampines North Drive 2, Singapore 528764
IKEA Alexandra: 317 Alexandra Rd, Singapore 159965
Request for quotes and we'll match you with a selection of Interior Designers!
Previous
The 3rd Annual SIDA Awards | A Whimsical Event
Next
Will Artificial Intelligence Be Your Next Interior Designer?