4 Design Tips for Kindergarten Interior Design
Interior Design & Decor
3475 views
3475 views
INTRODUCTION
According to the international 'Kindergarten Work Regulations', a kindergarten is an institution that provides care and education for preschool children aged three to six years old.
Research has pointed to the kindergarten system having originated from Prussian hundreds of years ago, with one of its first names being 'Mongolian Nursing School and Kindergarten'. 
The kindergarten provides a happy, healthy space to help children to develop their bodies and minds.
It is seen as the foundation of the education system and preparation for young children to cultivate their personality, good behaviour, and social skills. 
Thus, it is important to create an environment that properly fosters learning during those formative years. Its setup should be carefully planned and designed; while no two kindergarten classrooms are the same, they share several key features which we will address in this article.
KINDERGARTEN INTERIOR DESIGN TIPS 
- CLASSROOMS 
Include a number of classrooms and different play areas adapted to different ages. Keep in mind that each space has to be designed in a different style accordingly to properly define its purpose. For example, nap rooms can be painted in calming colours with little furniture while activity rooms may use bright, warm colours.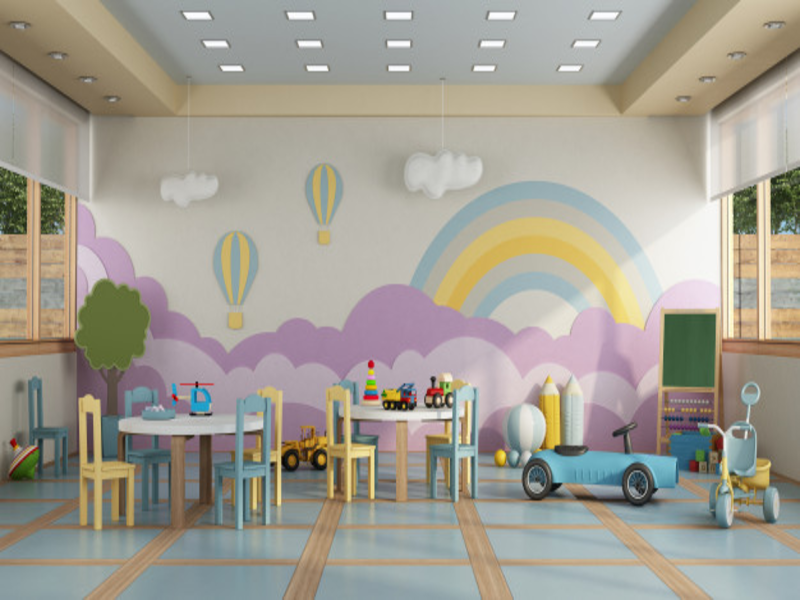 Image via Freepik
- FURNITURE 
Safety and environmental protection are the two main aspects that bear the brunt of the kindergarten's choice of furniture. Furniture that properly reflects these traits are the epitome of a kindergarten's responsibility towards children. 
Kindergartens should be eco-friendly to set an example for children and help them learn about saving the environment. It is thus recommended to use children's furniture made from solid wood as it is environmentally-friendly, durable, and formaldehyde-free. Other furnishing considerations include furniture made from boards and plastic. 
When it comes to the surface material for kindergarten furniture, especially solid wood furniture, environmentally friendly water-based paint and wood wax oil are the top choices for surface coating. 
To improve furniture safety, ensure that all furniture corners are lathe, sanded, smoothed, and polished so that children will not hurt themselves

against any edges, corners, and burrs. ensure that the furniture has no edges and corners and no burrs. 
As for selecting furniture hardware, go for round or arched elements. If you need handles, go for those designed with clasping hands to avoid potential safety hazards.
Image via Freepik
- LIGHTINGS 
Lighting fixtures need to be specially designed so that the entire space implies softness and relaxation when lit. Natural sunlight is also highly essential to helping kindergarten students stay alert and attentive.
- STORAGES 
Cabinets and shelves are a must, to properly store toys, teaching materials, and other items to keep the kindergarten neat and tidy.
IMPORTANCE OF KINDERGARTEN DESIGN TIPS 
- STIMULATES LEARNING
Each of the above tips for designing kindergarten spaces promotes learning and knowledge retention to help students grow and succeed in the future. So it is vital that the space created is not just aesthetically please, but also well-designed to promote learning.
- MORE SPACE TO SAVE & STORE 
A well-designed kindergarten will have more space for teachers and students to store their belongings. This will then keep the kindergarten nice and clean, for the students' safety. Also, students will be encouraged to keep their own things independently.
- SUIT CHILDRENS' NEEDS 
The condition of the kindergarten's physical environment greatly affects how children learn and grow, so the furniture being used should be designed to meet their educational needs.
Image via Freepik
CONCLUSION 
Kindergarten is a major influence on the development of children. Thus, any kindergartens being built in future should be designed with their comfort and learning needs in mind, so as to properly foster their education and prepare them for the future.
Request for quotes and we'll match you with a selection of Interior Designers!
Previous
6 Design Tips for Beach Vibe House Decor
Next
[POWER SAVING TIPS] 6 HABITS TO KEEP YOU COOL WHILE LOWERING ELECTRICITY USAGE. ARE YOU USING THE...