IKEA's Space-Saving Solutions for Your Dream HDB
Interior Design & Decor
3724 views
3724 views
Imagine yourself as a 4-room HDB BTO homeowner. You just collected your keys yesterday. If you could have any combination of IKEA products, how would you design your dream home to make sure it appears more spacious than it really is, given the fact that your main priority is to save as much space as possible.
In this blog, we get up close into the mind of IKEA's designers on how a HDB should be ideally designed to reach its maximum potential and show how you can save space in kitchen, living room and bedroom using IKEA products.
Kitchen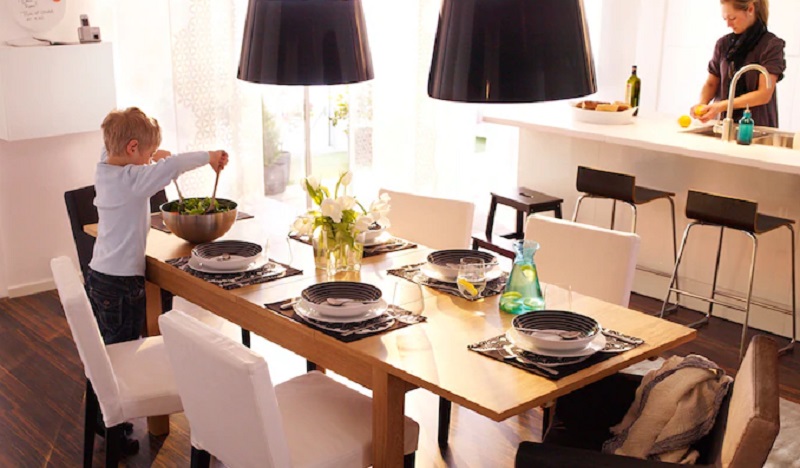 Extendable Dining Table (Image via IKEA)

When it comes to getting the right functional items for your dream home, IKEA always recommends HDB homeowners to use a combination of innovative furniture that are extendable, moveable and foldable.
Kitchen and dining area in HDB are normally shared so there is limited space available. In this case, homeowners are strongly recommended to consider an extendable table for the dining area to save space. It is particularly perfect for small and medium families because it can be extended up to a 6 to 10 seater.
As for kitchen, interior fittings would be suitable for all your needs and solutions. For instance, if you have an interior fitting to store all your kitchen supplies, you do not have to get shelves which are going to waste a lot of space.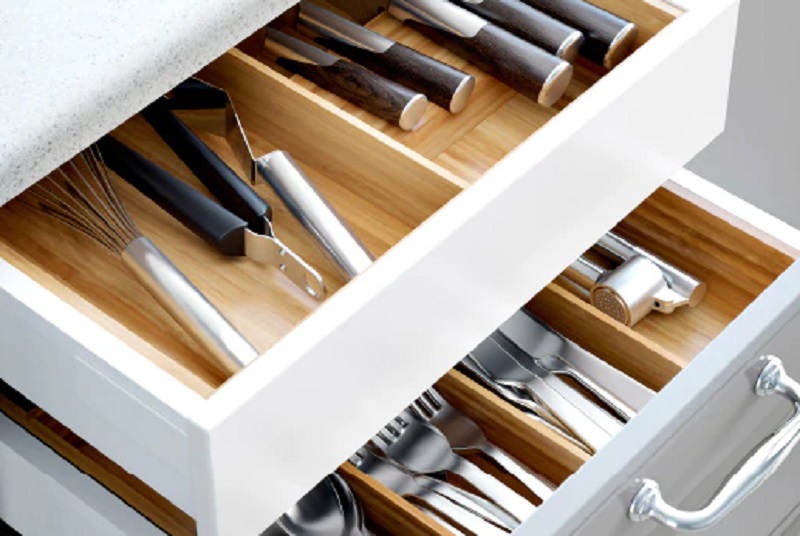 Interior Fitting For Kitchen Supplies (Image via IKEA)

Having interior fittings near your cooking area simply means you can get your plates, utensils and cutlery with ease. On top of that, it's soft-closing feature allows it to close smoothly while not making any sound. It is very convenient as you can easily move it to your dining table as well.
Living Room
Living room is where people will spend most of their time with their family such as reading and watching television. On the flipside, this indicates that living room will easily be a place cluttered with random stuff. Certainly, you wouldn't want your guest to find out your living room is in a great mess, would you?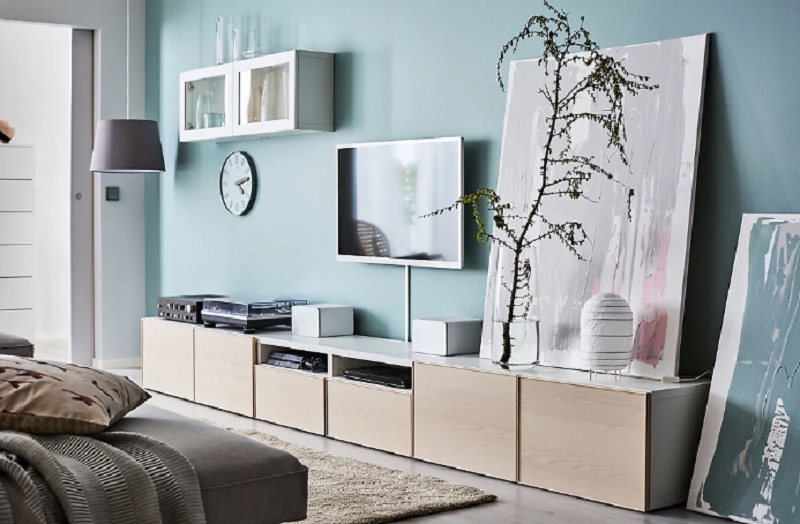 BESTÅ Storage System (Image via IKEA)

BESTÅ and EKET will be a good combination of storage solutions that gives you a peace of mind in this situation. BESTÅ is a TV console and also a storage that can evolve into a multi-purpose solution across the living room. EKET, on the other hand, is a versatile and functional storage furniture that can be stacked in multiple different possible combinations. Both of them take pride on their potential for customization that is unparalleled by any other storage solution.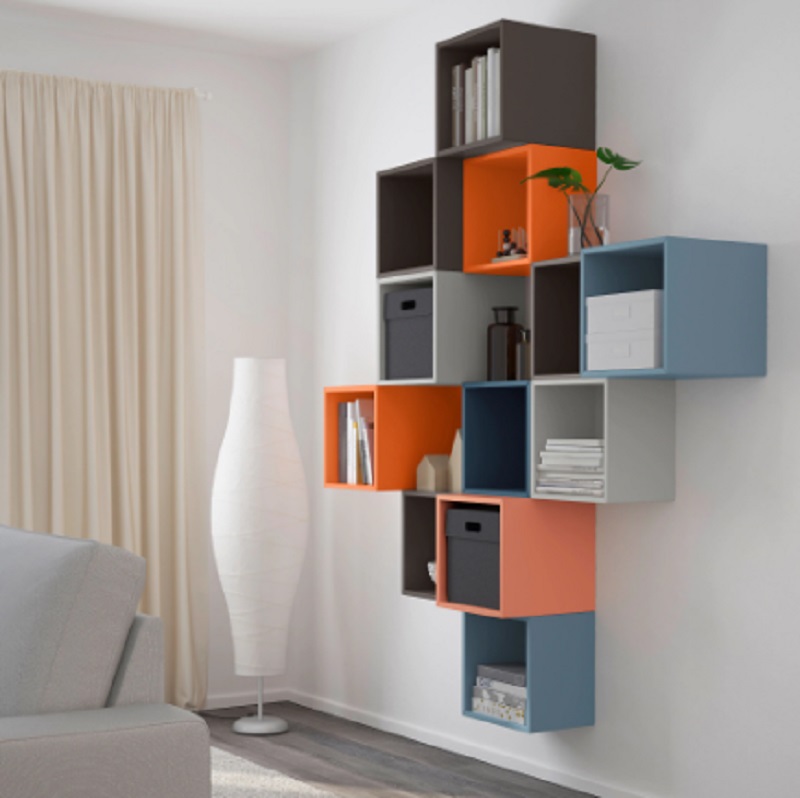 EKET Wall-Mounted Cabinet Combination (Image via IKEA)

Furthermore, homeowners may choose RÅSKOG trolleys, the IKEA's bestseller, as they are helpful and moveable. Whenever you have guests coming over, you can just put everything you need in the trolley and then move it around your house.
RÅSKOG Trolley (Image via IKEA)

With RÅSKOG trolleys, you do not have to move back and forth to get your stuff because everything is within arm's reach. The shelving of the trolley is adjustable that you can easily shift them accordingly based on your needs. Furthermore, the trolley is very versatile as it is usable in any part of the household where you can store anything inside.
Bedroom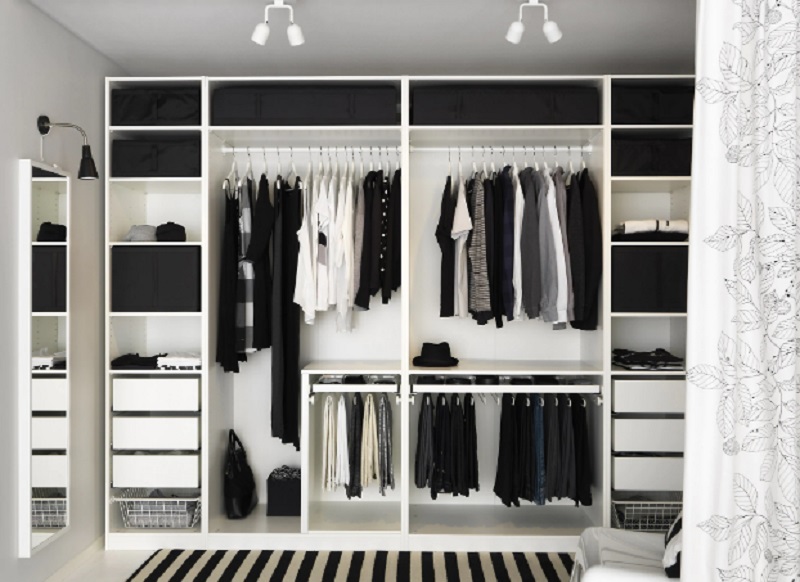 PAX Wardrobe (Image via IKEA)

Bedroom usually has limited space due to its short wall depth. However, homeowners do not need to worry about it because IKEA offers PAX wardrobe that will solve the space issue. It comes in two depths, 38 cm and 60 cm and you can choose between double doors and sliding doors as the wardrobe is based on its opening.
Double door is recommended if you want to maximize your freedom of customization. The shelves are adjustable and you can move the shelves wherever you want them to be, e.g. to different heights, according to your needs.

Sliding door is suggested if you wish to save a lot of space especially in HDB units. After all, you can combine as many types of wardrobe as you like according to the size of your bedroom and create your dream wardrobe.

Platform Bed (Image via IKEA)

On the other hand, platform bed is another great choice thanks to its versatility. It is not just a bed frame; it is a platform where you can just put any kind of mattress and there will still be extra space left. For example, if you use a single bed, you may reserve the extra space for your books or even a table lamp.  
So there you have it! That's some of the space-saving solutions from IKEA to include in your home. Of course, we always welcome HDB homeowners to get inspired by these innovative ideas when designing their dream home.
One thing to take note, nevertheless, is that homeowners should never underestimate small furniture. Some homeowners tend to think that small space corresponds to small furniture. In fact, this is a wrong concept. Even you have small furniture, once it gets too many and begins to pile up, your home will look very cluttered and overwhelming.
Not to mention that the colors of your walls and floors and the contrast between them play an important role as well! Nonetheless, homeowners should avoid too many colors in a room because it can be a little overwhelming when you see everything at a glance.
If you like this article, you might find the following interesting too:
Request for quotes and we'll match you with a selection of Interior Designers!
Previous
Singapore: Why It's The Greenest City in the Planet
Next
Apartment Design Ideas for Young Couples