Kitchen Countertop : At The Heart Of Your Home
Interior Design & Decor
3353 views
3353 views
There are many countertops options on the market. It can become challenging to make the right choice, but with the right advice and information, the decision to choose a countertop might seem more manageable.
Interior designers and homeowners alike have gone way beyond granite. They will use just about anything for island and kitchen countertops.
Granite might be the must-have list for many homeowners. However, engineered stone products such as quartz, are replacing granite in high-end design today. Their functionality as a durable, sleek-looking surface and stain-resistant qualities fulfill lifestyle and aesthetic perquisites for many.
In the case of a homeowner, the countertops will set the tone for their kitchen. Thus, choosing a material and maintaining a look that is in line with how they use the kitchen is typically reflective of their style.
Homeowners might feel overwhelmed by the number of choices when they shop for countertops. However, the truth is, once you go beyond brand names, there are just a handful of materials.
Kitchen countertops are expected to be stain-proof, scratch-proof, heat-proof, visually appealing, and economical. With all the options available today, it is no wonder choosing a countertop material is a daunting decision.
Within those materials; there are hundreds of colors, patterns, and textures. There are though the typical basic types, and there is just a few of them, and this allows for easier sorting and choosing.
Let's take a look at some of the questions homeowners, or you, should ask about countertops, and may these questions guide you in choosing your countertops.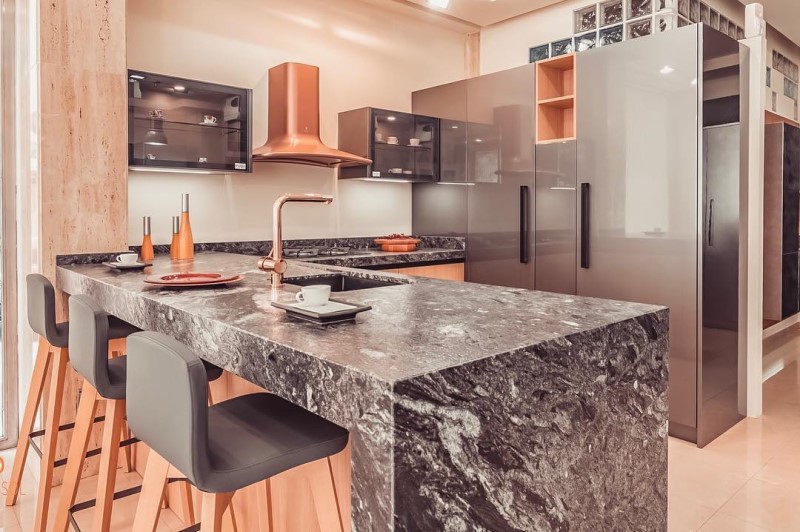 Image via: Stone Amperor      
So where should you start and how should you choose?
Firstly, determine your priorities and think about your needs and habits in the kitchen. Ask yourself, if you do lots of food preparation on the counter surface, for example. What is the 'look and feel' you are trying to achieve and what is the intended 'shelf life' of your kitchen design?
An attractive, long-lasting countertop can keep your kitchen, no matter how small it is, looking contemporary and fresh for years to come. One guide has it that, a beautiful pristine surface adds a sense of completion to the kitchen area. It acts as a reference point for the rest of the rooms' design elements.
Follow that up by reading up more on the specifications of each material. This will assist you in deciding – if natural stone countertops, like marble, granite, limestone, and soapstone; or butcher block countertop which is both accommodating and warm; or durable metal countertops that includes zinc and stainless steel, is the right one for you. And if you want to create a stunning wooden effect in your kitchen, then wooden countertops can achieve that warm ambiance for you.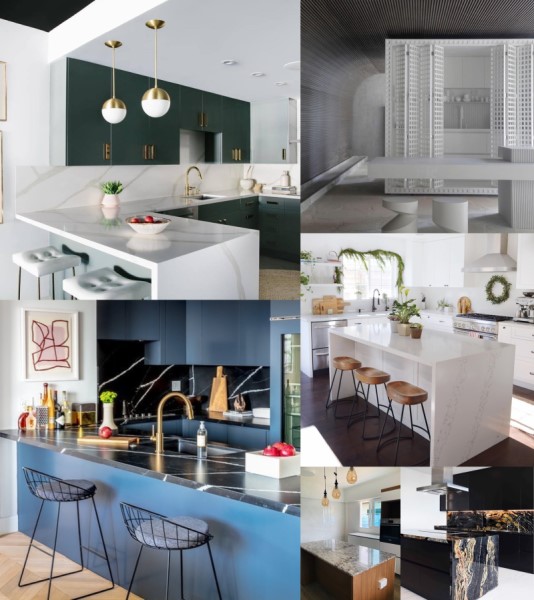 Image via: Stone Amperor   

For most of us, the most crucial factor before deciding on a countertop will be cost, and the total cost of your countertop will vary from one material to the other.
Let's face it. Working within a budget can be tricky. However, do note that investing in a surface is essential. The truth is, you would not be changing your countertop every year; thus, it makes more financial sense to invest in a material that can last for the next five or more years.
If you choose a material from the top of the range, then expect to fork out more than the lesser known brands. The cost difference might surprise you so shop around for various brands and materials before you make a decision.
For example; stone surfaces, if they are well-taken care, can last a lifetime. Melamine type surfaces and plastic laminate, on the other hand, cost much lesser than the former but, and it might be a costly but, they get damaged easily. These surfaces tend to require replacement sooner than you would like. While wooden countertops score lower in terms of durability, maintenance, and food preparation safety than other material options.
Now, when you have chosen your counter material, you will need to decide on the next two key factor – color and finish.
Countertops of a darker tone and hue will show crumbs, fingerprints, and dust, more accessible than the lighter colored ones. Similarly, polished finishes in countertops will not show marks as easy as one that has a matte finishing. Hence, it is wise to look for more polished countertops with more significant variations in patterns to hide those marks.  

Image via: Stone Amperor   

Do you know that you can bring back physical samples of countertops? Yes, that is right! Ensure that you bring samples home so that you can see the countertop in the lightings of your home. It will make for a pleasant view if your countertop choice compliments the other materials you have chosen for your kitchen.
Place the samples against the paint of your walls and tiles and decide if that is the look you want. Remember to take more than one samples so you can have a broader range of choice.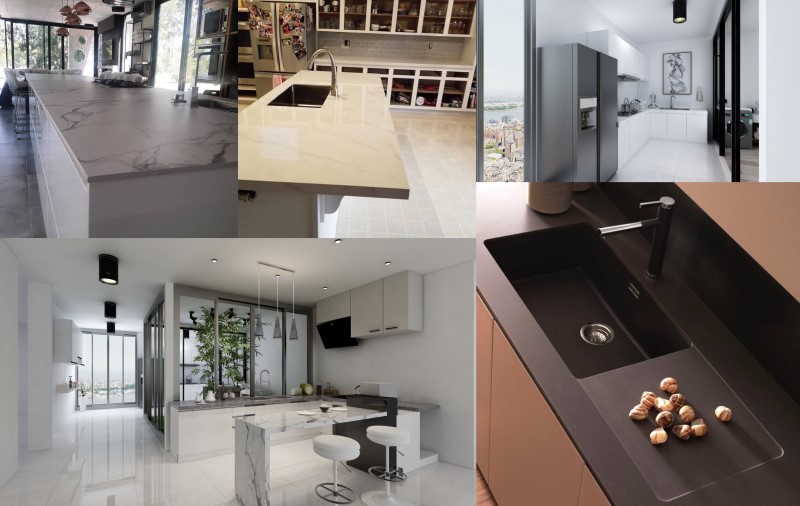 Image via: Stone Amperor   
Conclusion
The kitchen is the heart of your home – Your kitchen. From a Singaporean perspective, the kitchen is an area and space where everyone gets together for conversation and more importantly, for food.
This space can feel lackluster and outdated if you are to choose the wrong countertop. If that does not move you, then realize that kitchens have a significant impact on home valuations. An aesthetic investment such as the countertop will change the ways potential buyers view your house should you choose to sell.
So, if you are considering replacing your kitchen counters or thinking and looking around for a countertop, remember to have this guide in mind.
And, if you are looking for a friendly, knowledgeable consultant to guide you on your selection, then you might want to visit Stone Amperor to find out more.
Request for quotes and we'll match you with a selection of Interior Designers!
Previous
Doors - Arguably the Most Used Part of the House
Next
Granite vs Quartz - Which is better?