Modern Living Room Ideas
Interior Design & Decor
1908 views
1908 views
Are you having trouble figuring out which interior design style works best for your living room?
The living room is often seen as the highlight of home improvement, so many homeowners do not hesitate to invest generously in designing their living room.
So how to design the living room, especially a large one, to make it more atmospheric?
In this article, we have gathered some examples of large living room designs to give you design inspiration. A living room of around twenty to thirty square metres in size will be a great match for these designs. Keep reading and see if you fancy any of these living room designs!
MODERN MINIMALIST INTERIOR DESIGN
The modern minimalist style is derived from the western modernist style, advocating for function over form. That is, nothing can be more important than the furniture's functions, and thus overly fancy decorations should take second priority.
This design style maximises the simplification of the relevant elements, such as raw materials, colour matching, and lighting! These simplified home decorations will have good visual effects due to the thorough arrangement of interior designers. 
Also, the modern minimalist style is the most cost-effective interior design style compared to the other design styles available, so it is very popular and loved by the clients.
A minimalist interior means putting practicality as the top priority, and everything else should only be considered later. This means that the home decor should be carefully arranged according to the size of the room. Keep in mind that the style of your furniture and the colour palette used should also be simple.
Using light neutral colours such as grey, along with simple shapes and ingenious placement, can create a warm and stylish living room. Generally, the modern minimalist style starts from pragmatism and does not require many decorations. Most homeowners who like this style focus on healthy living and being thrifty.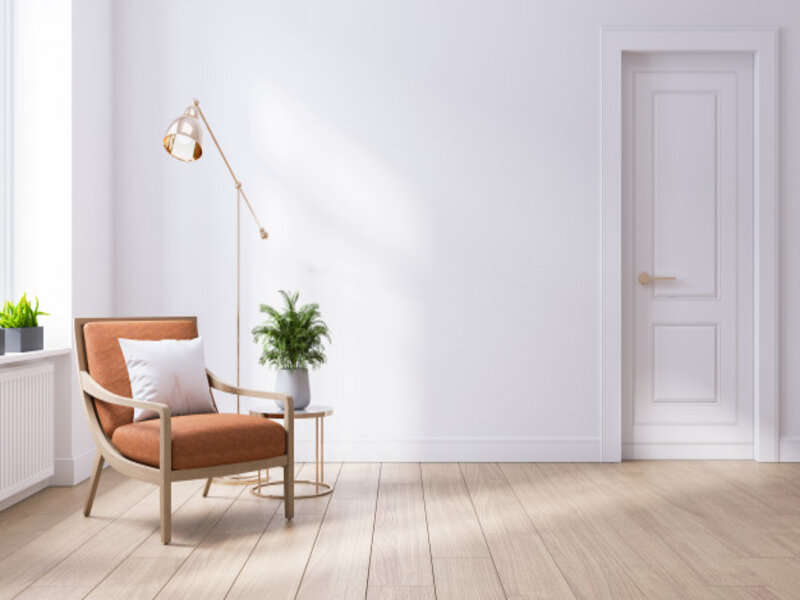 Image via Freepik
LIVING ROOM WITH BALCONY DESIGN TIPS
After planning the design of the main area of your living room, you may want to make the balcony near your living room look special too.
For example, you can turn your balcony into a stylish bar for you, your family, or your guests to have a nice chat and enjoy beautiful moments there. You may use the colours grey or black for your bar to amp up the beauty and elegance of the space, making it look as fashionable and relaxing as your main area of the living room.
LIVING ROOM FURNISHING
Beige furniture is a great choice for the minimalist interior. Beige is a pale sandy fawn colour so it can make a good contrast between dark colours. If you place your beige furniture near darker shades, the visual effect will make your living room look gorgeous.
Apart from that, carpets are also nice for the modern minimalist living room to bring out the calming atmosphere of the whole living room, which echoes with perhaps a full-featured ceiling chandelier. If your living room has a bay window, you can paint it white to let it reflect natural lighting, making your living room look brighter and more spacious. 
You can also include minor decorations on your walls, as long as they are kept to a minimal. Try to avoid bright colours for your walls; rather, use darker shades to match the other furniture in the interior.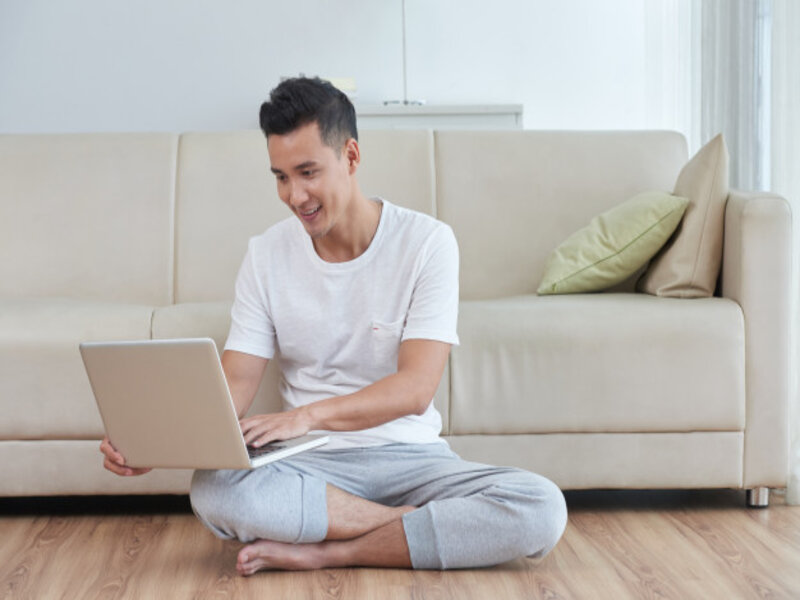 Image via Freepik
FENG SHUI TIPS OF LIVING ROOM
WEST IS BEST
As mentioned in the Feng Shui principles, the west side is related to the fortune of the descendants, especially the fortune of the young and the daughter, the fortune of wealth, and the strength and weakness of the body. Recommended colours are white, apricot, gold, and silver; these colours can be used more when decorating.
Metal furnishings such as sculptures, television sets, audio systems, and other electronic products are suitable for this position. In addition, because the soil in the five elements can produce gold, relevant home decor such as white vases, potted plants, or white crystals can also be displayed. These furnishings can help to catalyse the accumulation of wealth and enhance the fortune of future generations.
In conclusion, the living room is a very important space in the living room and we hope these tips have inspired you to create the living room of your dreams.
If you find this article interesting and useful, please share it with your family and friends.
Request for quotes and we'll match you with a selection of Interior Designers!
Previous
Zen Bedroom – 10 Ways to Create a Stress-Free Ambience
Next
Amazing Idea to Renovate Your Garage