Smart Home 101 - Must-Use Items For Your Futuristic Home
Interior Design & Decor
1291 views
1291 views
Have you ever wondered what the future will be like?
Have you ever hoped for an easy lifestyle which does not require you to do everything by yourself?
If the answer is yes, you are in luck, because we will be bringing the future to you in this article. 
Prepare to be amazed by the transformation of your home sweet home after using these items listed below.
FOR HOUSEHOLD CHORES
Household chores can really be a headache.
Here is what you need for completing necessary household chores quickly so that you can have more time to relax and be with your loved ones.
1. SMART ROBOT VACUUM CLEANER
Also known as the automatic vacuum cleaner, it is a household device which can automatically sweep all the floors in your room due to its in-built Artificial Intelligence(AI).
Brushing and vacuuming are used to absorb the debris into its own trash storage container, so as to keep the floors clean and clear.
The smart robot vacuum cleaner is definitely the best to resolve conflicts within family members and enhance happiness for one who is in charge of house chores.
Although this device is a must-use item which you will not regret purchasing, do pay attention to the placement of furniture pieces in your house to allow as much movement as possible for it; the fewer obstacles on the floor, the better its cleaning performance.
2. SMART MOP
To have a bright floor and a nice smell for your house, vacuuming alone is not sufficient. If you are afraid of the unpleasant task of mopping because of dirty water in buckets, it is time for you to get a smart mop.
The smart robot mop is pretty simple and convenient to use, as all you need to do is to fill up its tank and let them complete the mopping task for you. It depends on what kind of smart robot mop you are using, as some of them might be able to do vacuum cleaning as well. Some smart mops can even be controlled by your voice or smartphone.
Image via Google
3. SMART KETTLE
Need a coffee to start your morning but have to rush to work? You need a smart kettle so that you will have hot water always ready whenever you need it. Thanks to the arrival of smart kettles, you can not only heat the water to perfection but do so from anywhere in your home through your smartphone!
If you are worried about having to wait for the water to boil or gage a perfect temperature for your morning coffee or afternoon tea, fret not, as smart kettles can heat water to a preset temperature in just a couple of minutes.
Some smart kettles today even include fixed temperatures for green tea, warming of baby bottles, and French-pressed coffee. No matter the function or brand, all smart kettles will keep the water warm for you once the optimum temperature is reached.
Before purchasing the smart kettle, you have to first consider the size of your family. A 1.5-litre smart kettle will be good enough for a family of two.
Image via Google
4. SMART SLOW COOKER
Slow cookers are designed to accommodate long periods of cooking so you will not need to rush to switch it off whenever you need to leave the house. However, even with such useful functions, most people end up with a sloppy or overcooked meal when the cooking is done. This is such a waste for precious ingredients used and cooking time spent.
The smart slow cooker efficiently resolves this issue as it lets you adjust the temperature and the cooking timer through the accompanying smartphone application.
Whenever and wherever you are, you will be able to control and watch the entire cooking process so as to ensure that your meal will be in great taste and at the perfect temperature for you and your family.
Image via Google
FOR SAFETY & SECURITY
Home is a harbour for our body and soul to take a good rest. 
Since it is a harbour, it must be able to protect against strong winds and waves out there. Safety forms the firm foundation and prerequisite of a home that protects. 
Therefore, security-based smart gadgets are here to help homeowners protect their home and their family members.
1. SMART CAT'S EYE (PEEPHOLE)
When using a traditional peephole, it can be inconvenient to have to travel all the way to the door when you hear someone knocking on it. 
This is also problematic when you want to pretend that you are not at home when a stranger or someone you do not want to meet is aware you are checking on them through the peephole. 
In addition, the traditional peephole may increase the risk of robberies because it can easily be unscrewed, leaving a chance for burglars to unlock your door through the tiny hole.
In contrast, the smart version of peepholes will perfectly solve the problems mentioned above. When outsiders are close to your door, the smart peephole will take a video or photograph and notify you through your mobile phone immediately, and you can watch the video and chat remotely on your phone without going near the entrance.
In addition, people will not be able to see the light coming out from the smart peepholes when they are outside, so you can feel free to pretend that you are not at home.
Generally, the smart peepholes are designed with a strong metal shell and stuck with glue to your door. There are also heavy screws on both sides of the door connecting the peephole, which can only be loosened with a screwdriver to avoid your door being unlocked easily.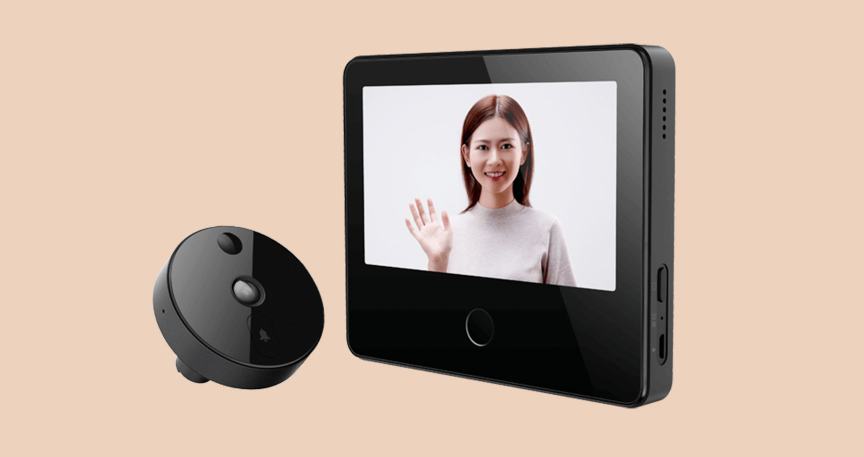 Image via Google
2. SMART SMOKE & GAS ALARM
The smart smoke-and-gas alarm will be a good companion for you if you have many electrical appliances at home. It will quickly notify you if there is a fire or gas leakage.
How does it work? Simple. The smoke that gets into the detectors of the device blocks the electrical current, which eventually sounds the alarm.
While this is handy in preventing any harmful incidents, we wish for enough safety in your home so that there will be no need to use it all.