Philips Hue Play - Lights To Immerse You In Your Entertainment
Home Appliances & Tech
3097 views
3097 views
Lighting plays a very important role in the definition of a space, from setting the mood to indicating the space's usage. It is vital to have the right lighting in any situation, whether you are planning a party or directing the next big action film.
So when it comes to the 'right lighting', one has to keep an eye out for the emotional and mental effects certain lighting fixtures and colours would have on them.
As Mr Fabian Choh from Signify (which was renamed from 'Philips Lighting' in May 2018) puts it, "Lighting impacts our biology in many ways [...] it can change the entire room at the click of a button. So at the click of a single button, what you see here is that the whole room is decorated. It's like make-up for your house."
Is it then possible, to have lighting that coincides with our moods?
Light Up Your Life
Enter Philips Hue Play, the latest phenomenon from the Philips Hue lighting line.
Its purpose? To immerse homeowners into their entertainment space via 16 million reactive colours to suit whichever media is playing then.
Philips Hue Play comes in the form of a rectangular light bar. These light bars can be purchased as singular pieces (the extension pack) or as a pair (the double pack).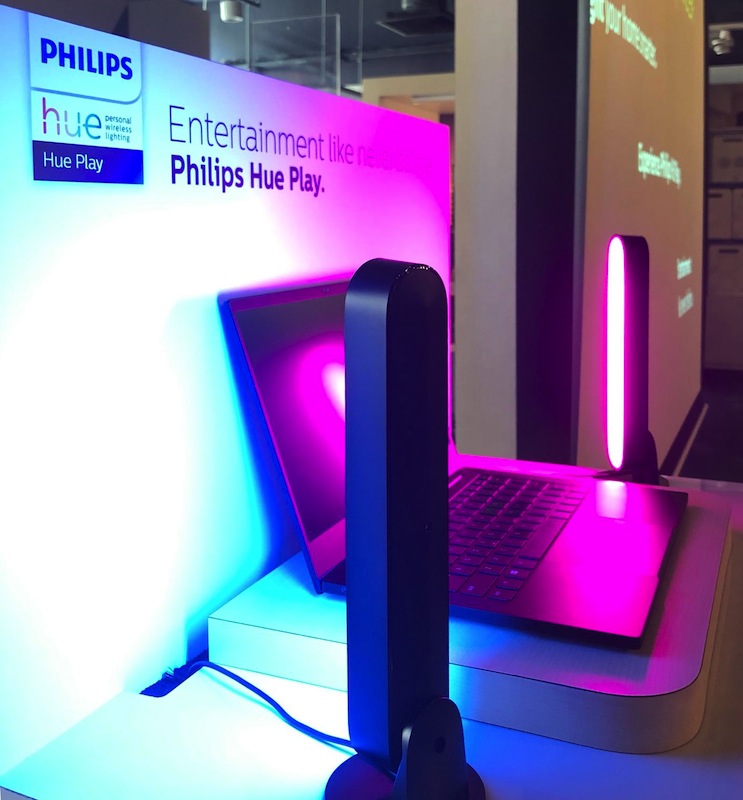 Image © RenoTalk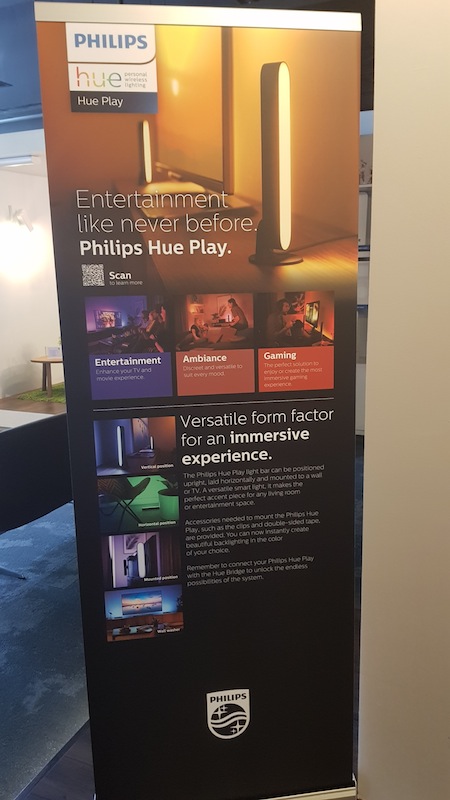 Image © RenoTalk

If you use a computer (a PC or Mac) for your media, you can download and use Philips Hue Sync to link these light bars with whatever is playing on your screen. You can also download the Philips Hue app onto your Android or iOS device and use it likewise.
The great thing about Philips Hue Play is not just its minimalistic design, but also its versatility when it comes to positioning those light bars. Here are a few ways you can place them:
Horizontally or vertically next to your TV

Mounted behind your TV as a backlight

On the floor

On a shelf
You can have more than one Philips Hue Play light bar to amp up the ambience in your entertainment space. There is no need to worry about wires cluttering up all over the floor as the accompanying sockets has three connectors, so three light bars can be clicked onto just one socket.
However, Philips Hue Play does require the Philips Hue Bridge (retailing at SGD89) to work, as this Bridge acts as a connectivity hub for you to control the Play light bars efficiently. Once Philips Hue Play is hooked up via Philips Hue Bridge, it can be commanded by several voice assistants, including Alexa, Google Assistant, Apple HomeKit, Microsoft Cortana, and Clova.
So once you set up one or two or even three Philips Hue Play light bars near your entertainment console, what comes next?
Well, prepare to have these lights interacting and responding to whichever media you are playing out loud, whether it is your favourite show on Netflix, a soccer match involving your favourite team, a music video on YouTube, or a playlist of your most beloved songs on Spotify. The lights have no glare, so they are safe to use around children and pets.
With Philips Hue Play, you can prepare yourself for a vibrant world of sound and colour as you dive right into your favourite media.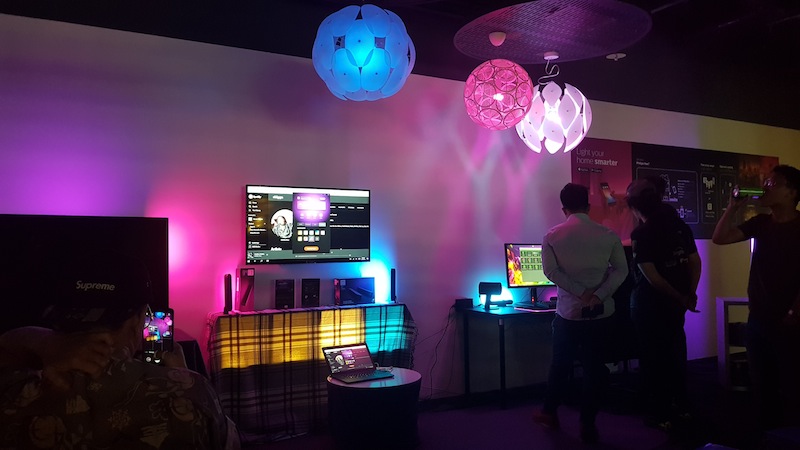 Image © RenoTalk
Image © RenoTalk
I Love Gaming, Does Philips Hue Play Work For Me?
Of course! Philips Hue Play can make your gaming experience more impactful as you let the light bars respond to every move you make on your devices.
If you have gaming equipment from Razer, especially its Chroma line, you can be fully immersed in your game as Chroma devices can sync to Philips Hue Play light bars due to being imbued with Razer's unique lighting technology.
This can be done via installation of the Philips Hue module in a Razer system to start the sync. This means that with Razer Chroma and Philips Hue Play combined, your entire gaming set-up lights up according to your in-game actions and experiences.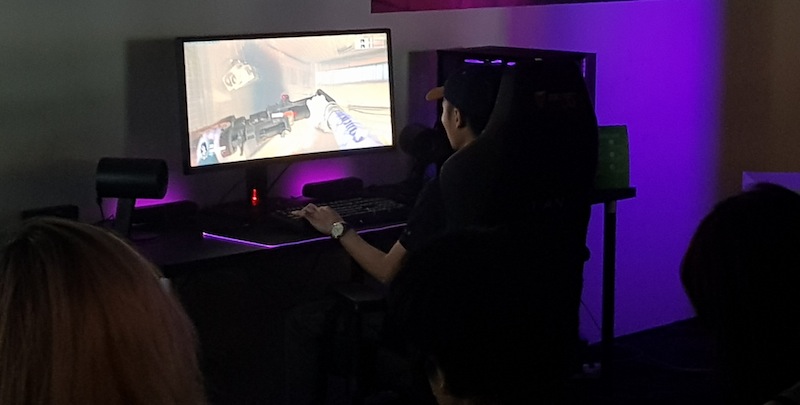 Image © RenoTalk
Facing explosions during a round? Bright flashes of red all around your gaming room!
Equipping your ultimatum in preparation for the next mission? Your gaming set-up lights up blue.
Need visual cues to start firing? Let Razer Chroma and Philips Hue Play light up together to give you that headstart.
What about just skimming through the menu, selecting an avatar? Various character theme colours will flash with each flip. Now you can match your gaming space with the colours of your favourite Overwatch or Fortnite player.
Image © Signify via Omnicom Public Relations Group

As Mr Kushal Tandon of Razer explains, "All of Philips' lights work with Razer Chroma. Razer Chroma, in a single line, is the largest lighting ecosystem for gaming devices in the world [...] Razer Chroma lighting is a unified lighting technology that exists across the length and breadth of all Razer devices. Four-sixteen-point-eight million colour-customized ability, right from my keyboard, to my mouse, to the Razer Blade, to a mouse Mac, to a speaker. Even the Razer phone has Chroma lighting on it."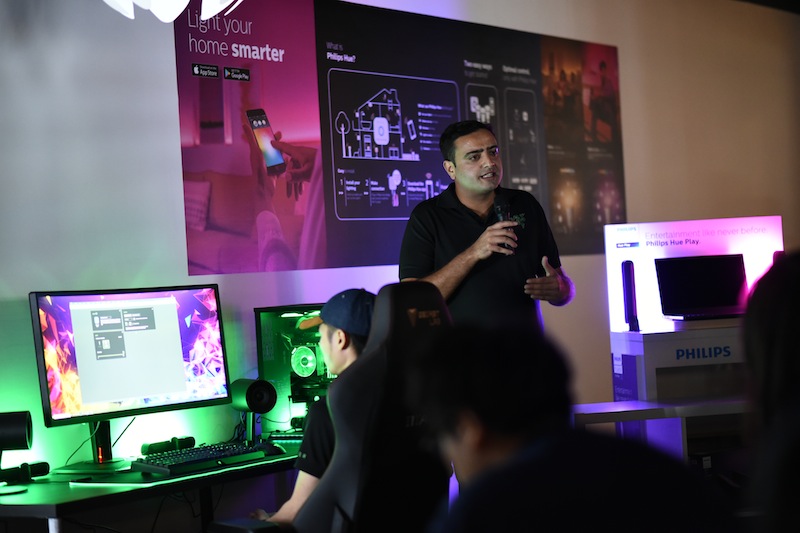 Image © Signify via Omnicom Public Relations Group

With 150 popular games registered under Razer Chroma, gamers are able to expand their experience with such a wide range of games.
As more gamers move to streaming, Philips Hue Play and Razer Chroma are preparing to develop their products further to meet this rising demand.
Here's a promo for you! Buy a double pack of Philips Hue Play between now and 15 September, and get a HD4130 Full HD 1080p webcam worth $69 FREE!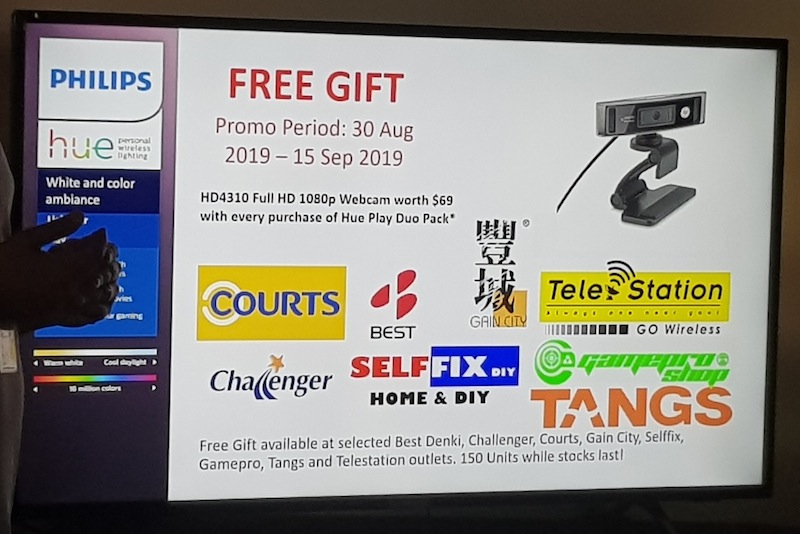 Image © RenoTalk

The Philips Hue Play light bars retail at SGD99 (extension pack) and SGD209 (double pack) respectively, and can be found at major retail outlets (Challenger, Courts, Best Denki, Gain City, Selffix DIY outlets, and GamePro at Marina Square) and online store Lazada.
Request for quotes and we'll match you with a selection of Interior Designers!
Previous
5 Ways to Soundproof the Bedroom
Next
Retail 2.0 – An Integrated Design Experience