Singapore's First Smart Blind Gallery mc2 Is Now Bigger
Interior Design & Decor
4510 views
4510 views
Your curtains and blinds just got smarter.

On 29 November, local curtains-blinds retailer mc2 saw the expansion of its smart blind gallery from 4,200 square feet to now 7,000 square feet, along with a new smart home experience centre on Level 2. This expansion announcement was a media event, with local celebrities Li Nanxing, Mark Lee, Chase Tan, and Henry Thia in attendance.
Image © RenoTalk

This extended gallery will host brands of smart curtains and blinds, which will give visitors a hands-on experience on these special smart home products.
The brands of curtains and blinds you can find at mc2 Singapore include:
The full line-up of ALTEX's smart indoor blinds, including 

ALTEX 100% Block-Out Blinds, ALTEX Top-Down-Bottom-Up Blinds, ALTEX Verti-Sheer Blinds, and ALTEX Duo-Sheer Blinds

Japanese brand TOSO's innovative 'silent' curtain rails, curtains, and blinds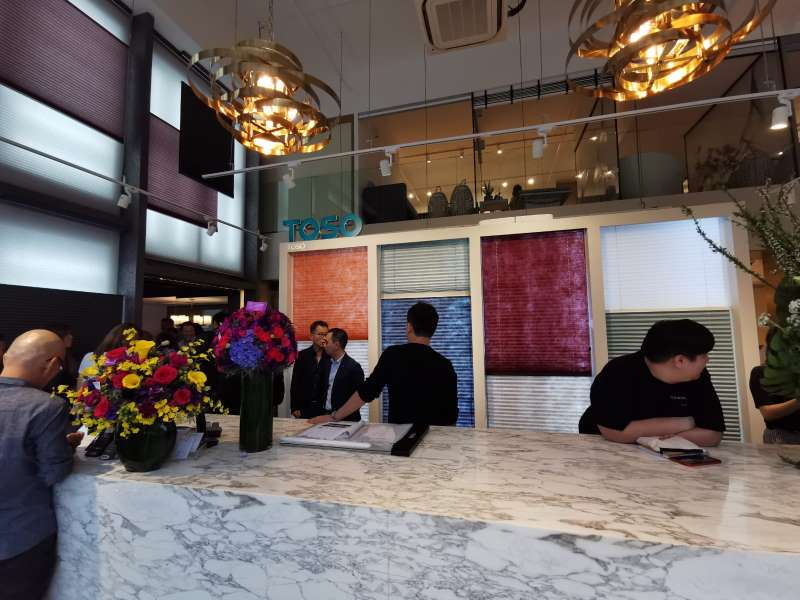 TOSO. Image © RenoTalk

Belgian brand Renson's Outdoor & Indoor Smart Blinds
Hunter Douglas's luxury fashion blinds
Hunter Douglas. Image © Brand Cellar for mc2 Singapore

Designer curtain fabrics from Jean-Paul Gaultier, Kate Spade, Perennials, and Maria Flora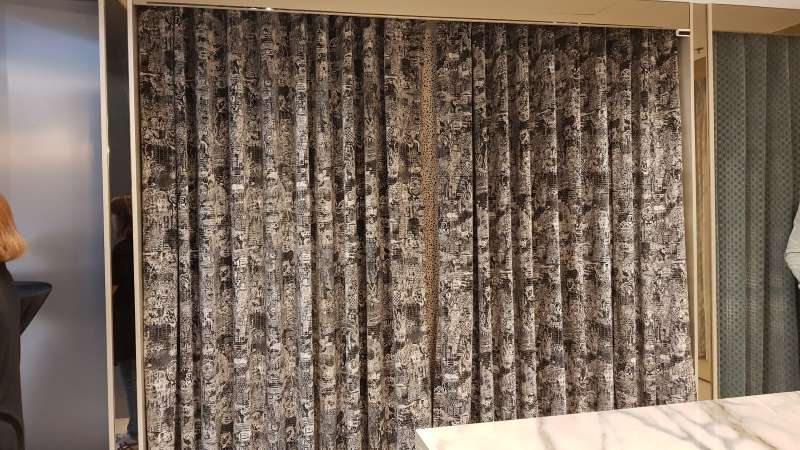 Jean-Paul Gaultier Designer Fabric. Image © RenoTalk

The new expansion also sees luxury modular furniture from OHMM, creating a typical home environment for visitors to lounge and play around with Renson's outdoor blinds in the new Renson Outdoor Blinds Experience Centre in the gallery space.
The Renson set-up also comes with LED illuminated ceiling of over 200,000 colour hues to emulate different weather settings.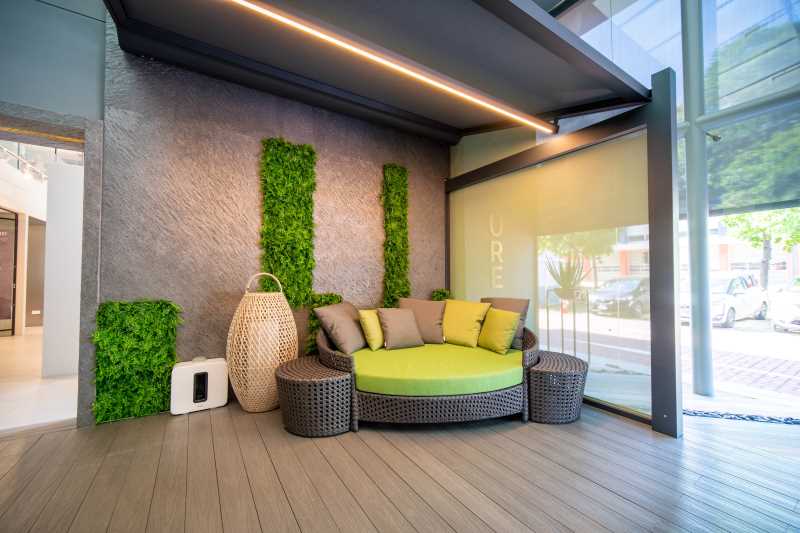 Renson Experience Centre with OHMM Furniture. Image © Brand Cellar for mc2 Singapore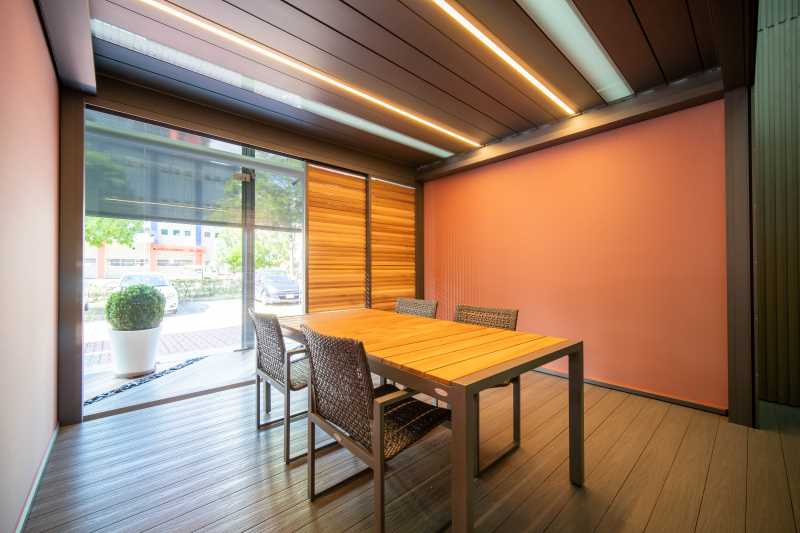 Renson Outdoor Blinds. Image 
© 
Brand Cellar for mc2 Singapore
~
The launch also saw the introduction of Home-A-Genius, a smart home system that brings all of your smart devices onto one control app, so you do not have to open multiple apps to control each of your devices.
That means you can group your Samsung TV, your Philips lighting, your LG smart speakers, and more onto Home-A-Genius and control them all at once via just a voice command.
You can visit the new smart home experience centre on Level 2 of mc2 Singapore to try it out for yourself; experience a smart home right at the ALTEX Solution Centre on Level 2, where mc2 has collaborated with renowned brands such as Philips Hue, Samsung, Somfy, and Sonos to bring in voice-enabled smart devices.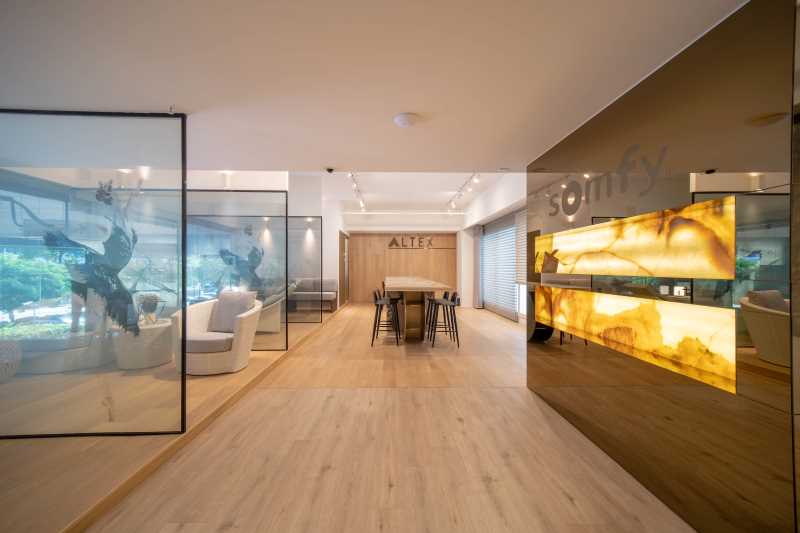 ALTEX Solution Centre. Image © Brand Cellar for mc2 Singapore

Play around with curtains, blinds, air-conditioners, TVs, speakers, lighting, and robotic vacuum cleaners - all of which can be synced with Google Assistant. Just say "Hey Google, I'm home" and all connected devices will be activated to start up your home.
You can also preset your preferences so that controls will automatically change the ambience of the environment.
Image © RenoTalk

---
So, if you are looking for smart curtains and blinds (and want to try out a handy smart system along the way), visit mc2 Singapore today to check out the extended smart blinds gallery!
Address: 33 Ubi Ave 3, #01-28 Vertex, Singapore 408868
Hotline: +65 6634 7333
Email: info@mc2.com.sg
Website: https://mc2.com.sg/

Image © Brand Cellar for mc2 Singapore
Request for quotes and we'll match you with a selection of Interior Designers!
Previous
Explore The Future of Lifestyle and Tech at SITEX 2019!
Next
Best Decoration Tips For a Stunning Home Office