7 Stylish Storage Solutions For Your Tiny Home
Interior Design & Decor
1597 views
1597 views
Storage solutions are a must if you live in a small home, from cabinets to shelves to concealed units in or under furniture. If built-in storage is not your thing, you can look to soft furnishings to keep your items secure and safe.
IKEA has plenty of those - they combine form and function and are affordable too, so you get home decor that works well, looks good, and is light on your wallet. This well-loved furnishing firm also provides solutions to help create a better home for all, offering adaptable storage devices that fit in various home settings and store a wide variety of items.
So we flipped through their online catalogue and pulled out 7 little solutions for your storage needs.
1. Hooks For Wall Storage
Wall hooks always come in handy, whether you are hanging pieces in the bathroom, kitchen, or bedroom. Check out the quirky KNOPARE Hook ($3.90); not only is it fun-looking and practical, but it is also eco-friendly, being made from 90% recycled materials.
To give your home aesthetic variety, mix different types of storage, big and small.
Image © IKEA Singapore
2. Storage Space in Unexpected Places
The larger and more multi-functional the storage solution is, the more beneficial it is for any home. But this is not always the case - sometimes, you can find handy storage spots in smaller, less obvious places.
For example, under small furnishings like the STOLTHET Chopping Board ($17.90) - this IKEA chopping board has space underneath for IKEA 365+ food containers (or any containers of similar sizes), so you can easily sweep your chopped ingredients below.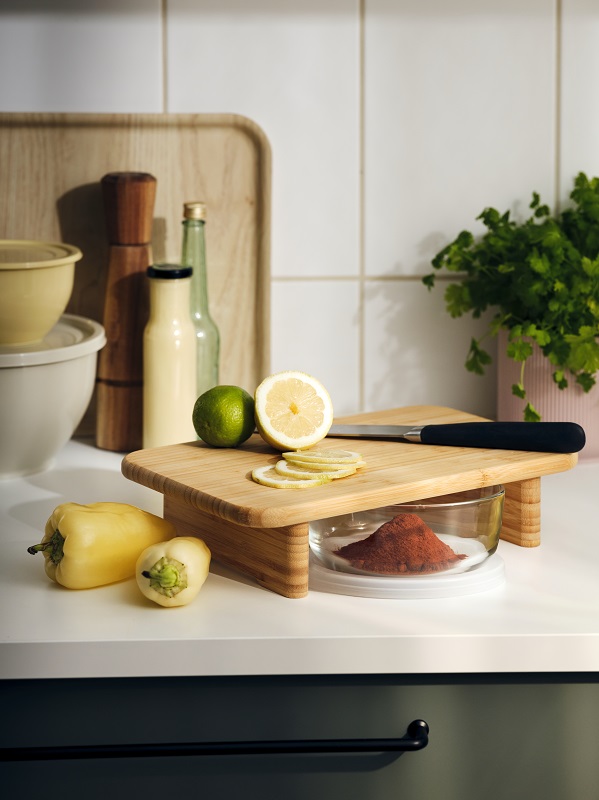 Image © IKEA Singapore

3. Statement Storage Piece
For cabinets that prioritise storage, design, and functionality, the FJÄLLBO furniture series ($39.90 - $338) is your best choice. This range includes a TV bench with an open back to easily manage (and hide) cables, and shelving units of different shapes and sizes for all your storage needs.
FJÄLLBO's signature look comprises black metal legs and solid pine wood walls, giving your home a rustic, contemporary feel.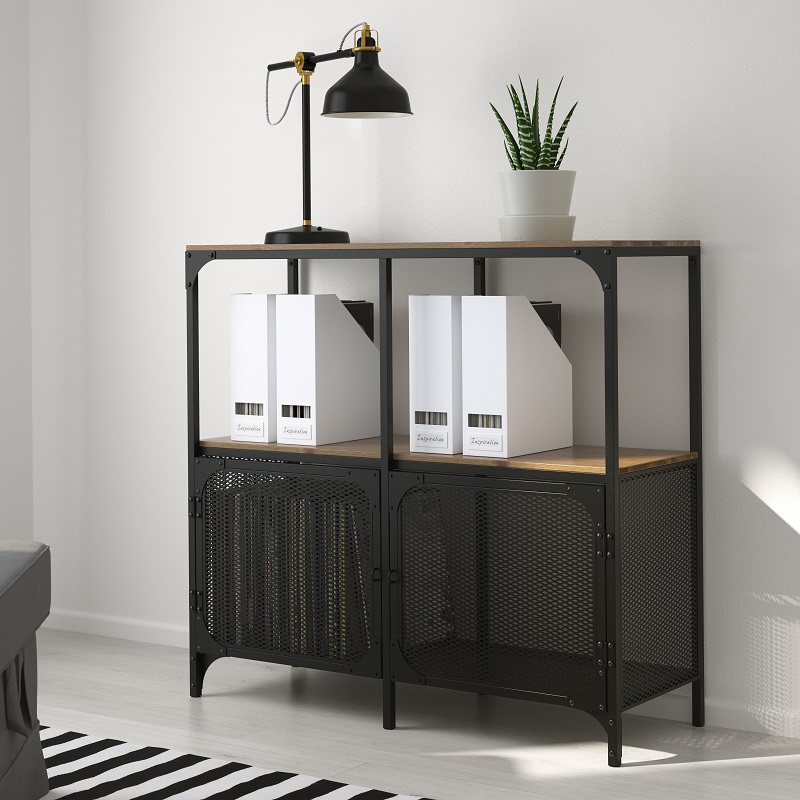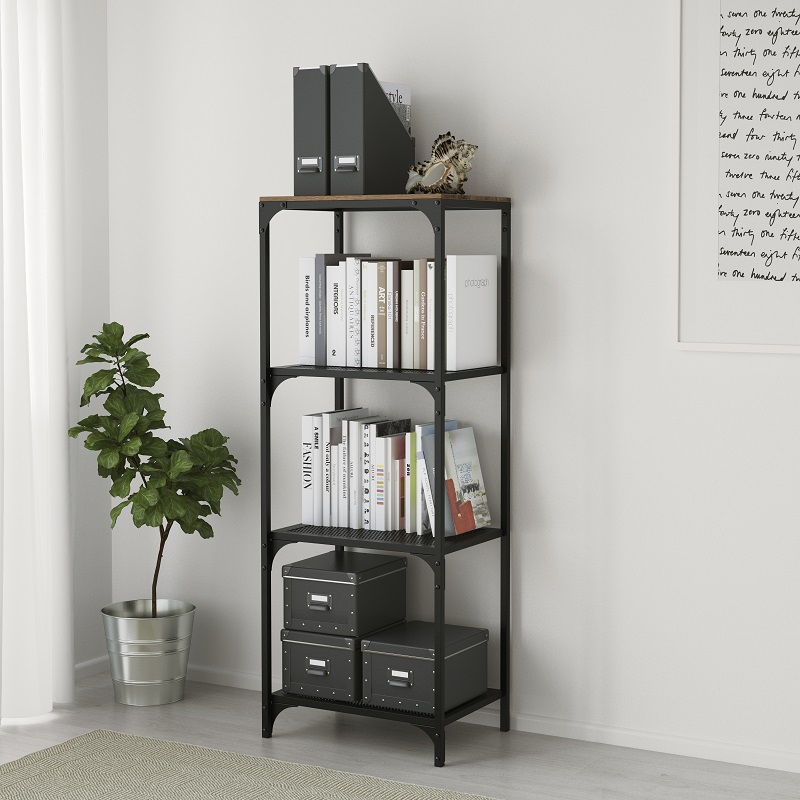 Images © IKEA Singapore
4. Sustainability Is Stylish
Storage solutions? Good. Eco-friendly storage solutions made from recycled materials? Great!
The KONSTFULL Vases ($6.90 - $24.90) are an aesthetically pleasing addition to any space with their sleek glass looks, good for holding fresh flowers, potpourri, sweets, loose change, or just being displayed as they are.
These vases are not just designed by British designer Ilse Crawford and mouth-blown by skilled craftspeople; they are also made with recovered glass, making them sustainability champs.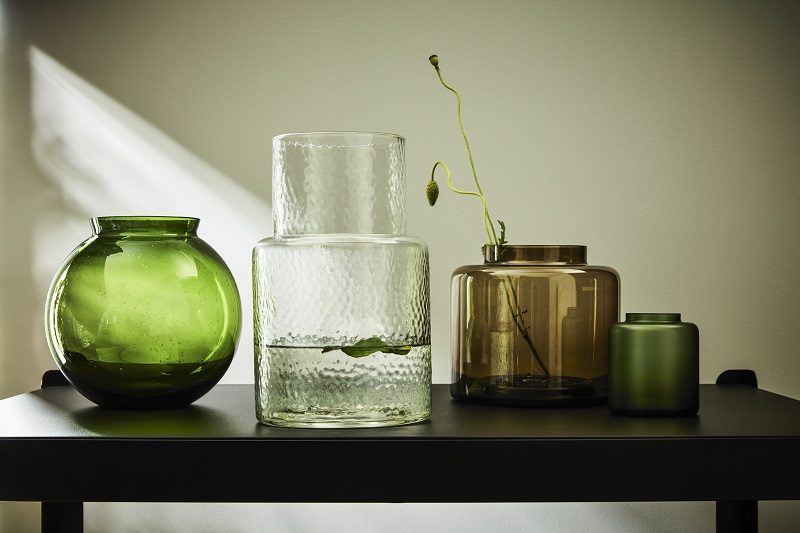 Image © IKEA Singapore
5. Roll It Around
Don't just store your stuff in one place; roll them around for easy access to what you need! The NISSAFORS trolley ($39.90) is a movable storage solution that can serve as anything you want - a tray for cooked food, storage for cooking ingredients, a makeup tray, a holder for your toiletries, and even a mini bar for your beverages! Just roll it around from room to room for storage on the go and a quicker reach for what you need.
Image © IKEA Singapore
6. Small With More
We love multi-functional items and storage solutions that can keep more than one item type. This is why we say: Get the DRÖNJÖNS wall storage with hooks ($14.90)! This is a unique wall-based solution that offers plenty of storage options for any small item you can think of. It comprises three parts:
A mesh basket on top for mail, notebooks and other paper items
A strap for cards, post-its, photographs, and pictures
Hooks below for your keys, jewellery, charging cords, and headphones.
Image © IKEA Singapore
7. Glass is Class
Because what you treasure deserves to be on display - why hide what you love? Get the FABRIKÖR glass door cabinet ($249) to show off your trinkets and knick-knacks!
Use glass-doored cabinets to show not just your collectables, but also functional items as well. Need your own little bar? Put in bottled and canned beverages. Parking it in the kitchen? Keep your snacks in there! Or better yet, put it in your home office or bedroom as your private snack stash.
Toiletries, ceramics, plants, figurines - FABRIKÖR will not judge you for what you decide to put on its shelves. Don't you love the versatility of the humble cabinet?
The FABRIKÖR cabinet is available in two soft neutral colours to match any interior - Black-blue and Light Yellow.
Image © IKEA Singapore
~
Perhaps you've already got some stylish storage solutions fitted in your home already - why not show them off?
IKEA also has an ongoing storage contest on their Instagram for people to share their IKEA Storage solutions, so if you know some IKEA hacks or want to showcase your pride for your IKEA storage furnishings, pop on over to IKEA's Instagram to get details on submission.
Request for quotes and we'll match you with a selection of Interior Designers!
Previous
10 Popular Kitchen Cabinet Design in Johor Bahru, Malaysia
Next
11 Tiny Homes To Stay In During Your Australian Vacation