What Education is Needed to Become an Interior Designer?
Interior Design & Decor
1756 views
1756 views
(Guest Writer: Pearl Holland)
Becoming an interior designer requires great expertise. Their goal is to make any place aesthetically pleasing. An interior designer plans and researches to manage a project.
It can be similar to how I plan to write my essay.
Without proper qualifications, one cannot become an interior designer. There are many responsibilities assigned to a designer.
Cater to the needs and preferences of a client
Create a blueprint for giving an idea of design
Calculate the total estimated cost
Use of computer software and tools
Face-to-face interactions with clients
All these tasks require skills and education. Many people get confused between an interior designer and an interior decorator.
The former needs to have an associate degree or bachelor's degree. The latter requires no specific degree and the role can be performed after getting trained. Interior designers have complex tasks and large projects.
Photo by PhotoMIX-Company from Pixabay
Required Qualification of an Interior Designer
It starts from a bachelor's degree in interior design to higher levels. Typically, a bachelor's degree takes four years and two years are needed for a Master's degree. Students can also join various courses and continue learning. It is a vast field that has tremendous scope in every sector.
Interior designers are highly paid due to their creative abilities. They perform burdening tasks with different other construction professionals. It includes architects, engineers, and the labour force to establish a building. It can be a workspace, a home, any hotel, etc. Learning is a lifelong process that does not stop completely.
You must observe which area has high demand in designing. Gather useful information and views from different communities. Many internships are also being offered that bring more excellence to your abilities.
Make the best use of whatever resources you have got. You can also get a doctorate degree in this profession. Visit different places and analyze how various spaces have been designed to fulfil the purpose.
What Courses Do Interior Designers Take?
They get licenses and diplomas besides formal education in interior design. Any profession can be practised on an advanced level by upgrading your skills. If you have a passion for designing, you can get the degree and certifications after completing various courses. They involve various topics like:
Design's history
Colour theory
History of furniture
Use of software tools
The designers must be technically proficient. You need to consider various aspects like lighting design, acoustics, etc. Any profession requires great knowledge and practice. You cannot claim to have mastered a skill completely. There will be new angles and techniques.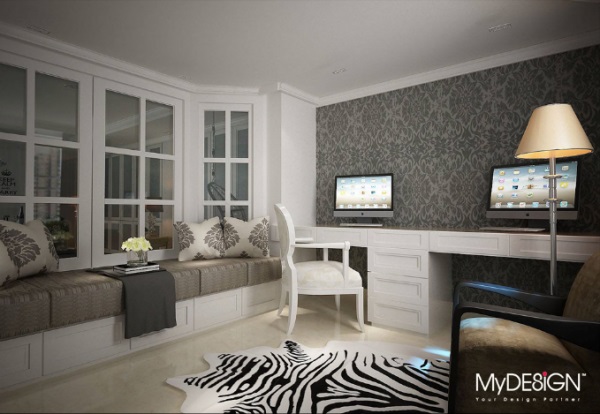 Office Space designed by MyDesign Interiors Pte Ltd
Effective Tips to Start Your Own Interior Design Business
A strategy used to design an educational institute will differ from an office space. Certain factors are noted including environment and location.
You can get expertise in your area of interest and make it your strength. For instance, the bathroom design has its own dimensions and requirements.
1. Practice Your Skills
Give your best efforts to apply theory to practice. You might have formal education but mastery comes with experience. Explore different industries and enhance your skillset accordingly. Be active in your field and conduct market research.
You will get plenty of information regarding the trends. It helps you get an insight into the client's preferences. You get to analyze all your strengths and weaknesses. It prepares you to train yourself as per the need.
2. Learn Use of Advanced Tools
With this modern era, new tools and software are being introduced every day. Businesses are hiring expert professionals to conduct the latest techniques. Those who are not competitive cannot strive in the market world.
Many technical areas should be considered. The use of computer-aided design software and 3D models is essential. You need to have good command over the usage of various tools for productivity.
3. Build a Proper Portfolio
The more experience you have, the better your portfolio will be. You can start by getting small tasks done. Discover different ways where you can apply your skills. Display your work with high-quality photography. Design your website with attractive visuals.
You can generate maximum organic traffic through the website. Create blueprints to give clients an idea about the final product. Help them imagine it in all aspects (a virtual reality tour may help). Give a brief review of the project from start to end. You can add videos and interesting digital content.
4. Volunteer Your Services
You can advertise your services at a local level. Share your work with friends and non-profit organizations. Practice your craft for free first. This will generate leads and help people identify your portfolio. 
Creativity cannot be limited to a particular area. You can blend adverse cultures in creating designs. This convinces prospective leads easily as most people love to see their cultures being applied on a mega level.
5. Deal with Clients Professionally
You should possess all the knowledge related to your field. Your expertise is not defined by your qualification solely. You must have hands-on practice and samples of work done. A brief visual representation of your work can win you an order.
Dealing on a professional level means effective interaction with clients. You need to get a better understanding of their needs. Many interior designers are approached by clients online (like here on RenoTalk.com), so your first impression (especially if it is via a Zoom meeting) should be perfect.
Scope of Interior Design
China, the USA, Japan, Britain, and Italy are best known for interior design. These countries are known for their exceptional artists and projects, like smart houses. The scope of interior design ranges from a residential area to industries.
Many businesses want to bring innovative strategies to get a new direction. Clients have enhanced exposure to a variety of design services. They look for reliable and eco-friendly designs. The job profiles in this profession are rising each day.
It is not just about a chosen area; various related matters are explored. The choices of people, their needs, location, infrastructure, etc. Thus, it involves detailed research. Interior designers have a great imagination to transform ideas into reality, using a lot of effort to do so.
Conclusion
Interior design requires the acquisition of education and practice. You must attain great skills to provide professional services. You will learn lots of new things by working in different industries.
~
Author's Bio: Pearl Holland is an experienced essay writer with great knowledge on various topics. She bears a very supportive attitude towards her fellow beings. She writes well-researched and meaningful essays. Her devotion to work can be witnessed through her set of accomplishments.
Request for quotes and we'll match you with a selection of Interior Designers!
Previous
[Renovation Case] 500 sq ft flat Fit for Both Pet & Human
Next
8 Nice Ideas to Decorate and Organize a Nursery: Walls, Room Layout, and Accessories