Samsung SEAO Forum 2019: Enabling Next Level Experience of Connected Life
Home Appliances & Tech
2128 views
2128 views
Samsung Electronics showcases
the latest in the consumer electronic products and
digital appliances for the region
at the Samsung SEAO Forum 2019 in Singapore.



Samsung, the 2nd largest tech company of 2018, showcased its latest innovations as well as outlined its vision and strategy for the intelligent Internet of Things (IoT) experiences at the 2019 Samsung Southeast Asia and Oceania Forum (SEAO).
This year's Samsung Forum took place at the picturesque Resorts World Sentosa, Singapore and attendees were treated to the latest range of Samsung's products. The RenoTalk team were in attendance and, we put Samsung's Smart product to the test.
Does connected home solutions deliver simplicity? Will it make our lives easier and simpler? Can Smart be Smarter? Read on to find out.


Unlocking Potential




Presentation by Daren Tay Image Credits:
RenoTalk
Marking its 10th anniversary, the forum started with presentations by key executives who outlines the latest ability of Samsung products that promise a seamlessly connected consumer experience across its devices.
The new range of products includes the 2019 QLED TV Lineup, the Frame, the next-generation Family Hub refrigerator and the revolutionary washing machine technology QuickDrive™.
One of the highlights of the presentation was the suave introduction of the POWERstick Jet200™. Mr Daren Tay, the Regional Head of Digital Appliances Samsung Electronics in Southeast Asia and Oceania, shows off the powerful handheld vacuum cleaner in a fortitudinous manner that draws applause from the packed auditorium.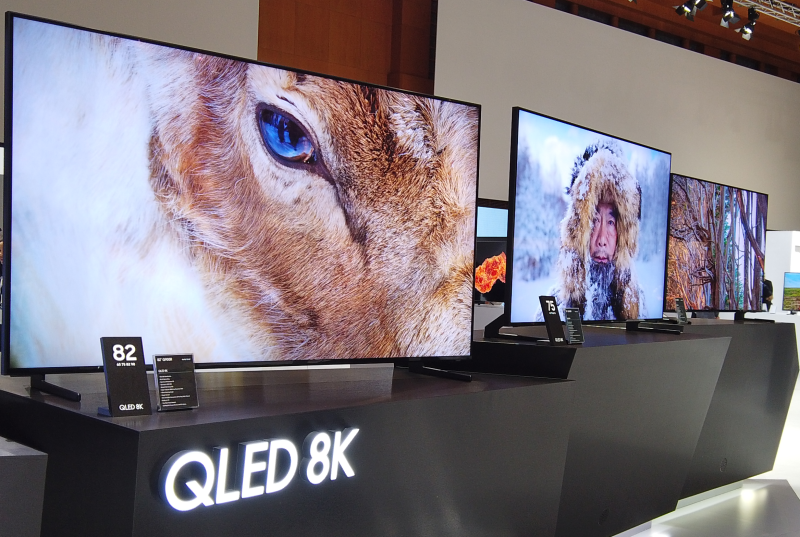 Image Credits: RenoTalk
Seeing is definitely believing! As we stepped into the exhibition hall, we were welcomed by a huge QLED display aptly named, The Wall, and as we take the next few steps into the arena, we were caught in a brilliant revelation of Samsung's latest TV models.
As a market leader in the TV industry, Samsung's 2019 QLED lineup ranges from 65-inch to an enormous 98-inch screen size. These ultra-large TV models will give you a mind-blowing immersive experience.
The Samsung QLED 8K TV will feature several 8K-ready enhancements to bring 8K-quality images to life. 8K has four times more pixels than 4K models, measuring 7680x4320 pixels, which equates to a total of 33,177,600 pixels.
According to Mr Steven Koh, Director, Consumer Electronics Business of Samsung Electronics Singapore, "… the introduction of our QLED 8K TV with 8K AI Upscaling is an integral component as we look towards the future of displays." He further reassures that, consumers will experience nothing short of brilliance in colour, clarity, and sound in the new 8K models.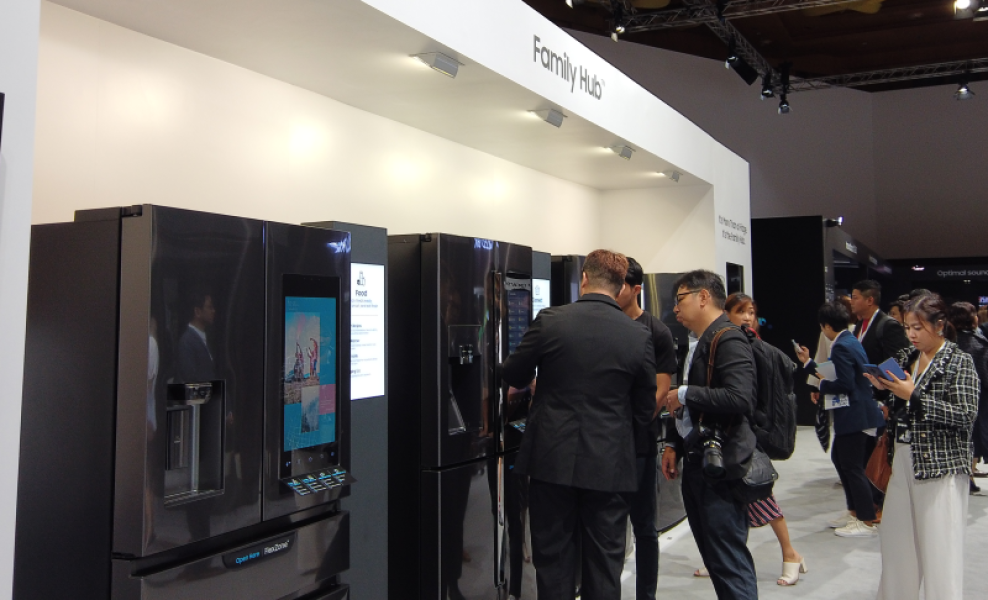 Image Credits: RenoTalk
Another product showcase is the Next Generation of the award-winning Family Hub Refrigerator. The new Family Hub is packed with enhanced Artificial Intelligence (AI) and Internet of Things (IoT) capabilities and as well as the new Family Board – a communal screen that allows household members to interact in a personalised way. In today's fast-paced world, the Family Hub sets a new standard for connected living by bringing the family together in the kitchen while freeing more time.
Samsung's commitment to making lives more comfortable and more straightforward for consumers revolves around the 'New Bixby'. This intelligence platform offers seamless control on Smart home IoT devices just by using one's voice.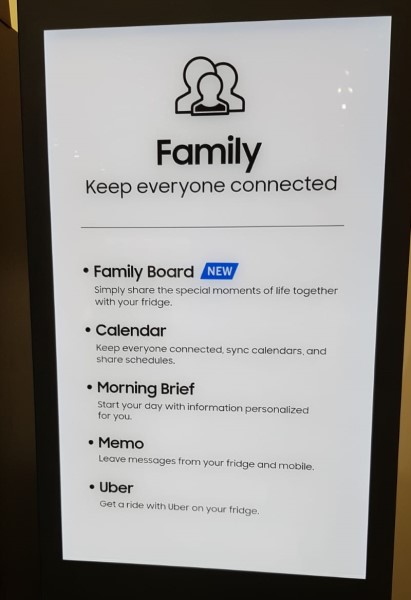 Image Credits: RenoTalk
The Family Board is something to be excited. It mimics the days gone by where one will write down a note on the fridge for someone else in the family. Messages include, "No more egg. Please buy. Mum" to the more serious nature, "DON'T EAT THE KIT KAT! IT IS MINE"! As you might have guessed, the board allow family members to share countless memories, giving the refrigerator's screen a familiar, nostalgic feeling.
The dedicated Home Screen on the fridge allows users full customisation features. From sharing photos and stickers to having an overview of relevant information and applications. So the next time, you come across a note that says not to eat that last piece of Kit Kat in the fridge, just reply, "But I deserve a break!" Moving on.
Image Credits: RenoTalk
The new QuickDrive™ Technology speeds up laundry chores without compromising washing performance. Equipped with faster wash time and enhanced smart capabilities, Samsung's new washing machine takes the guesswork out of doing laundry.
Image Credits: RenoTalk
On its Super Speed setting, a daily load of laundry completes in just 39 minutes! This offers consumers the time-saving solution they always wanted but never had, without compromising energy efficiency, fabric care and durability.
The performance of QuickDrive™ is guaranteed with over 150 durability and functionality tests. These tests are intended to ensure optimum performance and exceptional quality assurance in the home. To further ensure its effectiveness, the technology was also independently tested by Intertek, the world's most extensive testing and inspection organisation.
Image Credits: RenoTalk
Each invitee to the forum is given a folder filled with collaterals listing the information and specifications of the items that are displayed in the hall. But there is one particular information that was unmistakably missing – the POWERstick Jet200™.
The catchy tagline, 'Powerfully yet effortlessly cleans your entire home,' describe the vacuum cleaner succinctly. With maximum suction power up to 200W, it is capable of cleaning any floor effectively.
With the HEPA filtration system, it captures 99.999% of fine dust and allergens, and no we did not make that figure up. See the picture below. On top of that, the vacuum cleaner comes with a removable and a long-lasting battery that provides up to 60 minutes of cleaning time.
Image Credits: RenoTalk
Desired Results


Together with various media outlets from the regions, we receive access to an
interview
session with Mr Daren Tay and Mr Simon Sim who is the Regional Head of TV for Samsung Electronics Southeast Asia and Oceania.
Mr Simon Sim reiterates that from the latest TV technology that Samsung has to offer, the main aim is to deliver the best and the most premium picture quality available to the customers.
And, if you are still wondering about Jet200's missing information from the folders, Mr Daren Tay revealed, "Jet200 is newly launched, the first country globally would be domestic Korea. … There are no concrete dates yet but rest assured we are bringing this product into Southeast Asia."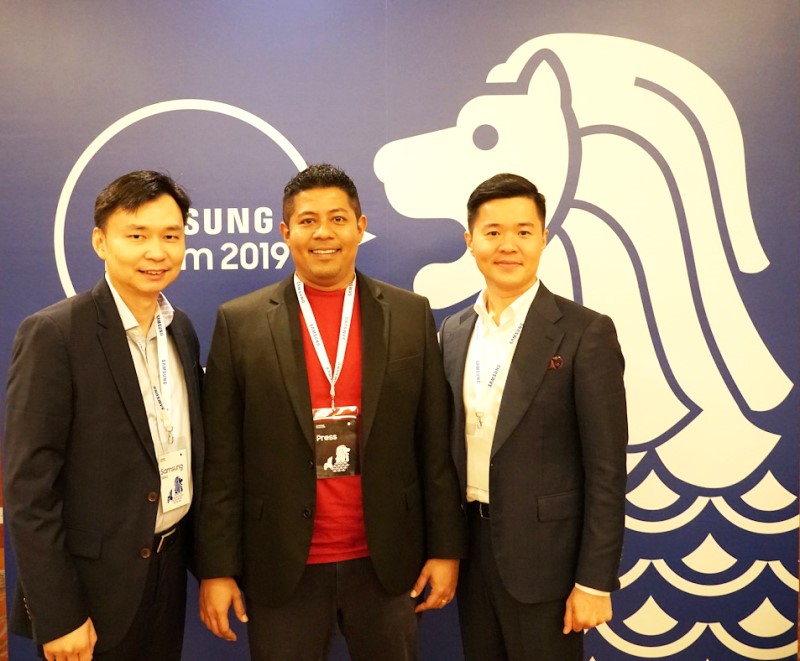 L to R: Mr Daren Tay, RenoTalk Editor, Mr Simon Sim
Image Credits: RenoTalk
Request for quotes and we'll match you with a selection of Interior Designers!
Previous
Top 5 Smart Home Devices
Next
Light Makers: More Than Just A Lighting Store