What Your Home Might Look like in The Years 2020, 2030... And Beyond!
Living & Lifestyle
3455 views
3455 views
The future is here!
Well, it will be… Right now! Or how about… Now!?
Time indeed waits for no one. What we thought was a distant and faraway era is now on the horizon. And we are now ever closer to the fantastical future we've envisioned all those years ago. Think about it, we are merely less than a year away from the year 2020!
On the home-design front, we've already seen plenty of technology incorporated into our daily lives. Smart homes and devices have crept into our homes and our lives, to our benefit, of course.
The home of tomorrow is here today and it might not be what you expected it to be.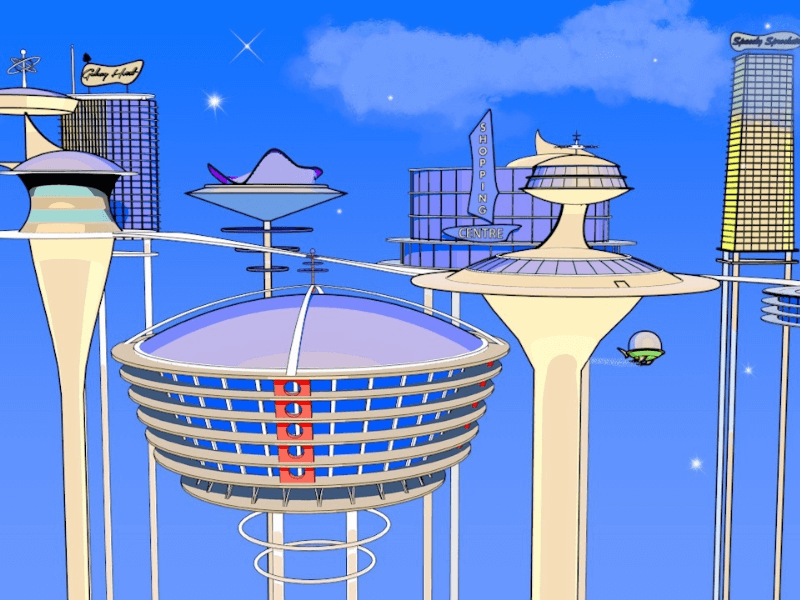 Image via french.fansshare.com
Spoiler alert: The homes of the future will not look like The Jetsons or Futurama nor will they look like anything out of your favourite Sci-Fi shows. Let's be real here. You are more likely to move into an underground bunker than to move into a hovering home.
With that being said, allow us to do this fun exercise with you. Here are our predictions on how your homes might look like in the future. Specifically, we'll be taking a look at homes of the years 2020, 2030, and beyond.
Homes From the Year 2020 Onwards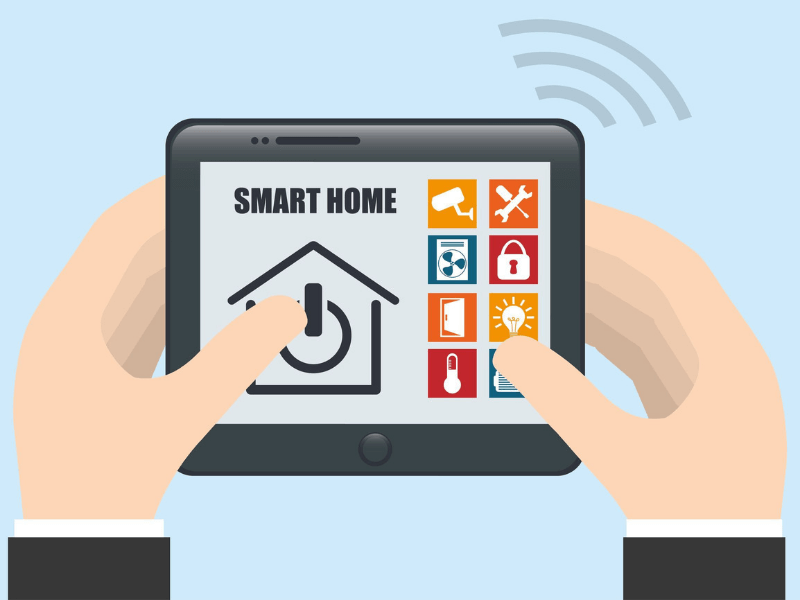 Image via enterpriseiotinsights.com
Smart homes, 'nuff said.
Homes from the second decade of the millennia will feature a whole host of technological wonders. These technologies will defo make our home lives a whole lot more comfortable. And we've already seen multiple devices being equipped to the modern home today.
Smart Devices For The Smart Home
Image via claimsjournal.com
Off the top of our heads, smart devices are present in almost all basic home starter packs of late. Things like environmental control, surveillance and the like are now a necessity, rather than a luxury.
Image via smarthomeworks.com.au
For instance, smart thermostats offer control over your home's interior environment like never before. Come in out of the heat or cold into a cosy atmosphere. Or cool a room to just the right temperature in the sweltering summer. Moreover, the absent-minded among us will love the ability to remote control their AC, even after leaving the house. No more backtracking to your home to check if you've turned off your AC!
Image via fortune.com
On the other hand, lighting also plays a role in your overall comfort levels. The right lighting can make a huge difference in your quality of life. For example, dim lights can increase creativity and blue hues increase alertness. And red or pink lights make sleeping an easier affair.
With the latest tech, you can have it all at the tap of a button. Some programmable lighting systems will even allow you to schedule automated lighting to make it seem like you're at home while in reality, you're partying it up in Bora Bora.
Last but not least, chores, the bane of every homeowner will be a non-issue with smart devices.
Image via lawnmowersdirect.co.uk
Weeds growing uncontrollably on your lawn? Robots will help to maintain your lawn with finesse.
Robotic mowers will be a worthwhile investment here. Train the mower to recognize the size and shape of your lawn, then head inside and wait for it to do its thing. Moreover, smart sprinklers are also helpful and can be controlled from your couch.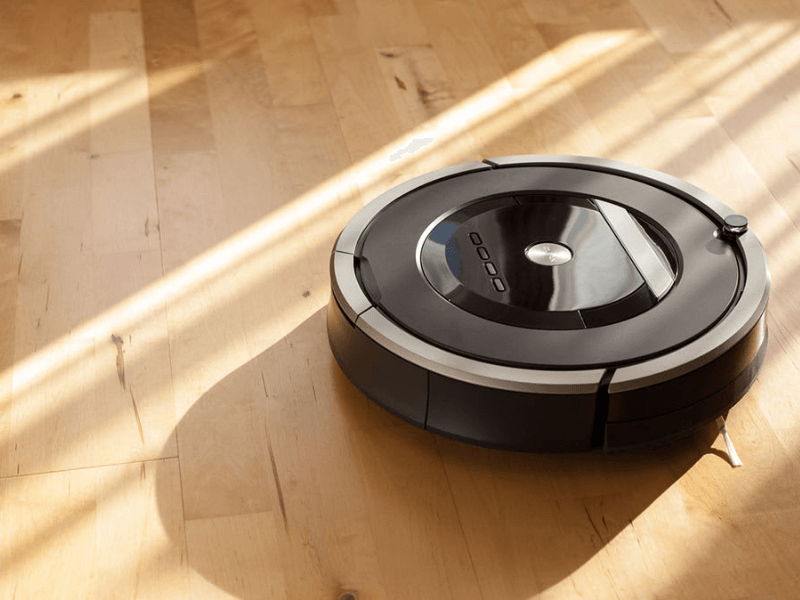 Image via consumerreports.org
Don't own a lawn? And what about the chores inside the house? Not to worry, technology has not forgotten your struggles.
Modern robotic vacuums are a godsend, to say the least. Newer models make it possible to control your vacuums remotely. And you can even schedule cleanings while you're away from the home. That means you get to come home to clean floors and one less thing on your to-do-list after a long day's work!
Easier Surveillance & Smarter Security For Your Home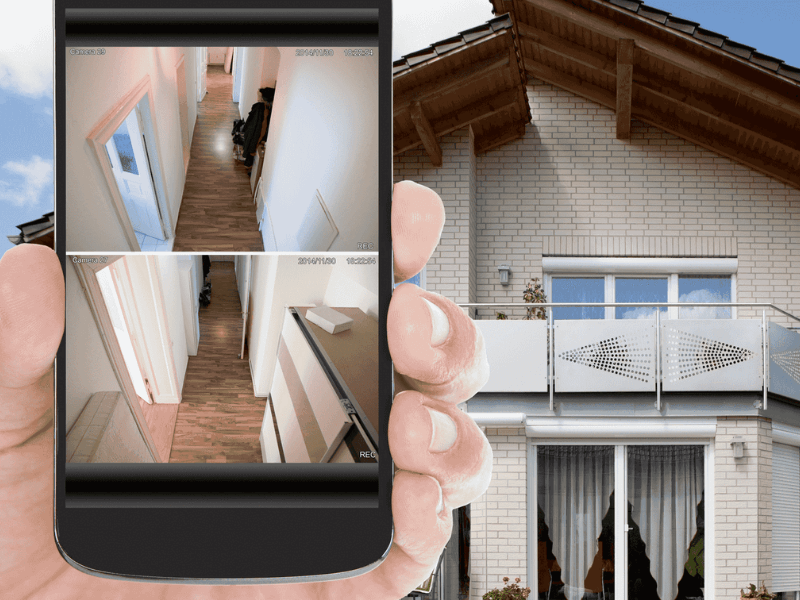 Image via tecom.com.tw
Monitoring your home will also be a breeze in the years to come!
Easy surveillance will be a perk you can expect in your home from the year 2020 onwards. You may want to know what your cat does all day. Or you could have an inkling suspicion that your neighbour has been sneakily picking your tangerines from your tangerine trees.
Whether inside or out, home surveillance has gotten a lot smarter in recent years. Today's cameras can be operated remotely via your smart devices. And you can even stream a live feed of your home to your smartphones wherever you are. In other words, you'll have your very own cat channel!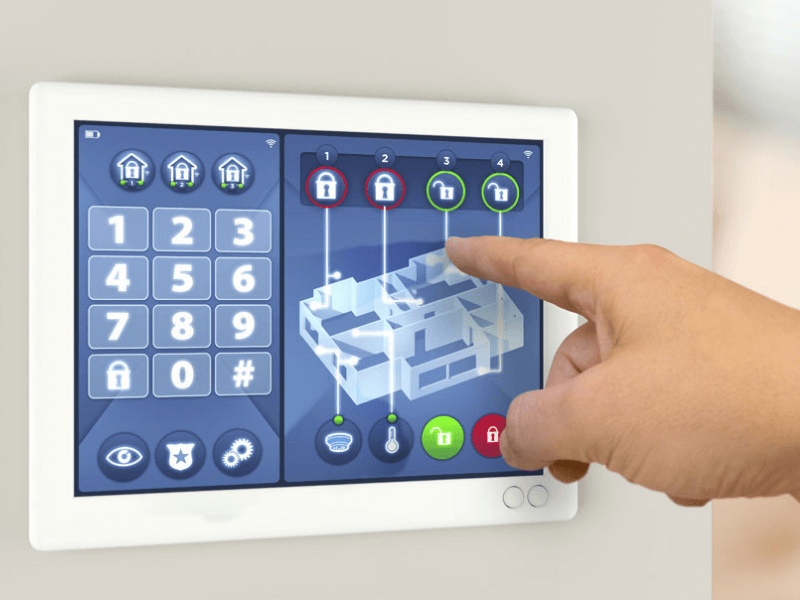 Image via travelers.com
And speaking of surveillance, putting your mind at ease is a privilege not many of us can afford. That's where smart security systems come in.
Imagine a security system that would make a supervillain green with envy. Security systems of the future will allow remote monitoring and control of locks, cameras, and alarms. And they're also customizable to fit your needs.
Say goodbye to shoddy security and say hello to peace of mind!
Homes From The Year 2030 Onwards
Image via visy.com.au
Now, moving on it's worth noting that homes from the year 2030 onwards will be stylistically similar to the previous decade. Most of what you'll get in the years 2020-2029, you'll also find in 2030 and onwards, albeit in a more advanced version.
However, certain things are bound to change for better or worse. After all, a lot of technology can be developed within a period of a decade.
You Will Still Need Your Garage/Parking Space At Home
Image via valisedesign.com
'Member the flying cars we were promised by TV shows and movies back then? Realistically speaking, those aerial, hovering vehicles are an impossibility at the rate of our technological advancements.
Therefore, you will still need a garage or parking spot for your vehicle in 2030. Just like you, our dreams of soaring through the skies (and getting stuck in air traffic jams) have been dashed. But, futuristic vehicles are still awesome, surely?
Expect smart vehicles to be present in most homes, as well as being fully electric. At this point, you can also expect a charging point for your vehicles at the back of the garage. And this is where you'll find a sleek battery pack that manages the energy requirements and storage for the entire home.
Your Home Will Produce Its Own Energy
Image via elemental.green
Speaking of energy, homes of the 2030s will no longer be reliant on the grid. Instead, you can expect your own home to be its own energy generator. Imagine a whole host of energy-drawing devices installed strategically around your home.
Take the traditional-looking roof tiles. In the future, each of these tiles will be a solar cell that will gather energy from the sun. At first, they would be costly but that will soon change once China has begun to mass produce them.
Image via solarroadways.com
Think that's not enough power for your home? Look down and you'll find your driveway paved in translucent panels made of toughened glass. And don't worry about slipping because these panels are covered in a slip-proof, rubberised layer. These glass panels are also solar cells that will generate power for your home.
Your Home's Paint Will Last Longer & Look Better
Image via trendir.com
The outer walls of your house are worth looking closely at. The painted walls may look like any run-of-the-mill paint. But upon closer inspection, you can tell that it's a technological marvel on its own.
Expect wall paint in the future to be infused with nanoparticles that will melt and knit together when heated. In short, your paint will be able to self-heal whenever any cracking or ageing happens. Just apply a little heat and voila!
Getting Into Your Home In 2030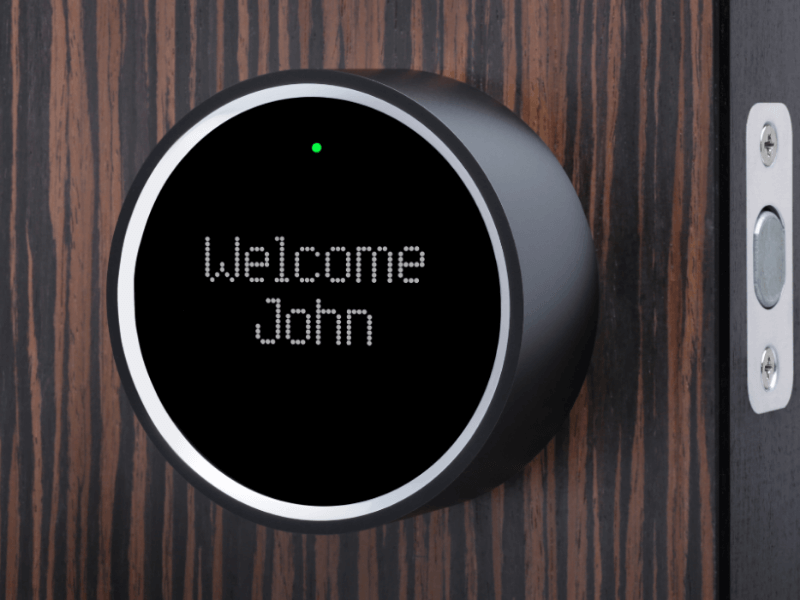 Image via livabl.com
Now, allow us to continue our guided tour into the homes of 2030.
Keys? A purposeless relic of the past. Your front door will recognize you and unlock as soon as you come within range. You will also be able to add multiple welcomed parties to your list of friendlies. For instance, family members, friends, frenemies, and the like.
Likewise, you'll also be able to deny entry to the people you deem unwelcomed. Frenemies, salesmen, and tax auditors (?) come to mind.
Also, home security will be at such an advanced state, bad guys won't be able to break in at all. Electric-lined windows and sturdy shutters will adorn almost all access points in our homes. And HD surveillance will provide unprecedented peace of mind. Imagine the luxurious security systems in The Purge movies, but better.
Whether biometric or password enabled, one thing is for certain. Your home will be properly secured come 2030.
Skynet Has Risen: Managing Your House In The Year 2030
Image via digitalhrtech.com
From 2030 onwards, do expect your homes to be fully managed by Artificial intelligence (AI).
AI will now control the environment of your house including lighting and room temperature without any need for personal human input. As a result, you won't be needing light switches and remote controls anymore.
If you want something, just ask for it from your home's AI.
Want some music to listen to while taking a relaxing hot bath? Just ask.
Need a new recipe to cook or want to turn off the oven? Just say it out loud.
Evidently, the home automation movement began with the introduction of Google Home and Amazon Echo in the present. But in 2030 the house itself will be one big voice-activated personal assistant.
Gadgets Galore In Homes Of The Future
Image via askmen.com
Take a look around your home. You'll notice that there is already a slight dependency on technology when it comes to living our lives at home.
But, in the future, you can expect to have even more gadgets at home. Things like smart devices that regulate your living habits. Or entertainment systems of the future will likely dig its way into our lives by the year 2030.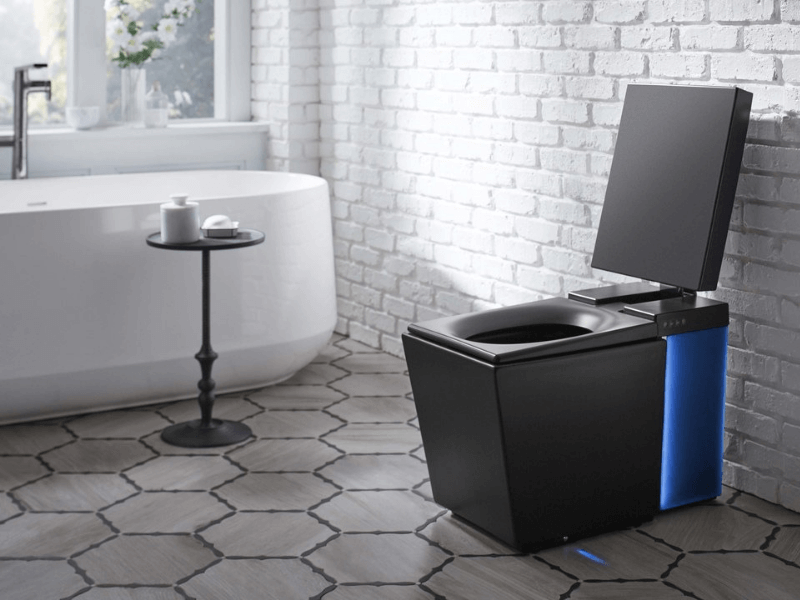 Image via architecturaldigest.com
For those that require special needs, you won't find a shortage of smart assistive devices to make your everyday lives better. Take, for example, a smart toilet that reads your body temperature, checks your sugar levels, and looks for signs of diseases.
And, of course, there are bound to be several new and revolutionary high-tech exercise machines to gather dust in your home from 2030 onwards.
Oh, and in case you were wondering, you will likely not have a humanoid robot companion. You'll still have to stack the dishwasher yourself. Sorry for the disappointment...
And Beyond
Image via dailystar.co.uk
Okay, so listen. Here's a little secret we'd like to share with you - we don't have precognition. Disappointing, we know. But, we'll still attempt to take a stab at predicting home predicaments in the far future.
Ready? Here we go.
Living quarters beyond the 2030s will be expanded to include outside the Earth, underground, and under the sea.
Image via Pinterest
Always dreamt of being an astronaut? Living in the cold confines of outer space will be a possibility in the far future. More specifically, living arrangements could include literal spaceships, space stations or floating homes. Visualize the spacecraft from the Wall-E movie and you'll get a decent idea of homes in space.
Image via Pinterest
Or perhaps you'd prefer to stay rooted on the (under) ground? Underground shelters are already a reality at present. These safety bunkers represent the possibility of humans migrating underground when it becomes too hostile to live above it. Bleak, we know but living underground isn't all that bad. For one, you get to avoid sunburns and/or nuclear burns.
Image via boredpanda.com
But if being underground is not your idea of a good time, then maybe living under the sea is as good as it gets. Undersea homes will be a reality once the polar caps fully melt and all land is submerged under water. Imagine a Bikini Bottom-esque town underwater and you'll have a decent idea of what it could be like living down there.
Image via space.com
Alternatively, living in an alternate dimension could also be one option to look out for in the future. Preposterous and farfetched? Unless you are a psychic who can see the future, you will never know if this was a possibility.
That said, living in an alternate dimension could be an awesome experience. Think of it as having your own personal pocket dimension. Done with work for the day? Skip all the traffic and just open a portal to your home. Also, imagine all the logistics that go into an otherworldly home. Sounds like a fun mental exercise but we'll leave the imagining to you.
Final Word
And there you have it. Our predictions on what your homes might look like in the years to come. From the smart homes of the 2020s to the smarter homes of the 2030s, you will find that technology has fully settled in our daily lives. Controlling your home through your smartphones was an impossibility in the past, but it is a norm now.
So before you dismiss our predictions, think hard about all the prior predictions you've dismissed that have now come true. If most of them have indeed come true, then who's to say that our prediction might not?
Snarkiness aside, we really, really only want our very own pocket dimension home to live in.
Request for quotes and we'll match you with a selection of Interior Designers!
Previous
Pros and Cons of Artificial Intelligence in Interior Design
Next
The Drinkworks drinkmaker is my bartender.