Pet-Friendly Ideas Good to Have in Your Home
Interior Design & Decor
1824 views
1824 views
Pet-Friendly Home Elements You Need To Have
If you are reading this, you probably are an animal lover who are looking for pet-friendly home designs. You have scoured many online websites and material for ideas. Here at Renotalk, we have a quick list of pet-friendly home ideas for you.
Do keep in mind if you are living in a HDB flat, you have rules to follow. You are allowed to keep only one dog in your HDB flat. Even then, it has to be a specific kind of breed. You are not allowed to keep cats due to its "many issues", ironically when it was thought to be more suited to keep in homes.
Image via Pixabay 
If you live in a landed property or a condominium, you are allowed to keep up to three dogs.
You are allowed to keep other smaller pets such as fish, turtles, guinea pigs, and whatnot. Refer to this list for more info. Also, your dog's size matters too. According 99.co, your dog breed has to be the size of 50cm tall from shoulders down, and weigh 15KG or less. Remember to have your dogs licensed too at least at 3 months old and up.
Just follow the rules and make sure your pet don't cause nuisance to your surroundings, you'll be good.
1.

     
Consider having fur-free upholstery
Pets shed their fur like crazy, it's no big news. If you do intend to keep pets indoors, you will have to compromise having any kinds of upholstery that catches and retains fur easily.
Image via Pixabay
Some upholstery material are a nightmare to clean out if you have pets in your home. Material such as velvet, mohair, corduroy, velour, or chenille, are material that will latch on to your pet's fur like crazy. Yes, that translates into material that you should avoid having in your home.
Instead of having upholstery that attracts pet fur, opt for the kind of material that doesn't. Choose material such as tapestries, leathers, and synthetic fibres. Invest in quality textiles that can withstand pet claws.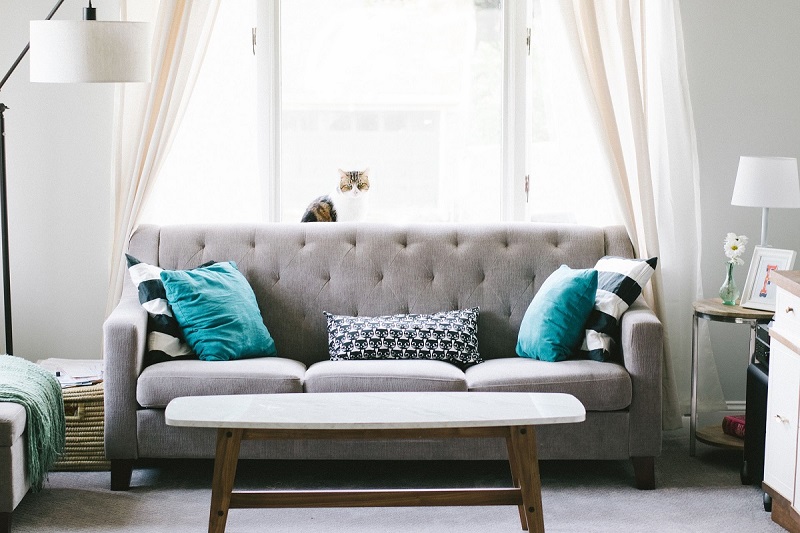 Image via Pixabay 
You can choose to have ceramic tiles for floorings too, instead of having carpeted floors. Wooden floors work to an extent, but may most likely leave claw marks in the long run.
2.

     
Avoid wooden furniture and floorings
You may like wooden furniture and flooring a lot, but you keep pets in your home. Between your wooden floor and furniture and your pet, which would you choose?
Image via Pixabay 
Well, you gotta compromise and choose one. Either your pets gotta go, or anything wooden in your home has to go.
Exposed wood on your furniture excites your puppy, as it sees it as its teething toy. Avoid having furniture with exposed wicker, rattan and sisal material. Choose metal and chrome furniture instead.
The reason why you should opt for ceramic, or other non-wooden floorings is because it's easier to clean after your pets' "toilet mistakes". Or just in case during one of those rainy days where your pets run in to your home and smear mud over your wooden floors.
Image via Pixabay
To avoid those mistakes, opt for non-wooden floors so it makes it easier for you to clean up after your pets' mess. Hardwood floors dent and scratch easily and needs immediate cleaning when a puddle appears. They stain quickly too, so to speak.
If you still are not able to part with you "oh-so-precious" wooden floors, use harder wooden floors. Choose mahogany or oak.
 


3.

     
Include a Mud Room or Mud Area
Pretty sure you will take your pets out for a walk, especially if you have pet dogs. What if, half way through your walk in the park, it rained? You'll have to run home with your dog.
Image via Pixabay
Once you stepped into your home… Before you know it... Your pet is drying in the middle of your living room. You can see mud caking the floor and fur everywhere on your furniture and the ground. It will be a nightmare of a mess to clean up after.
To avoid letting this happen, have a mud room or mud area in your home. Preferably at the points of entry of your home. Utilise this space to dry off and wash down your pet dog before they can enter the home. Store pet wipes, pet treats, and other pet essentials in a cupboard here. Keep it tidy too.
4.

     
Fence your landed property
If you live in a landed property or house, make sure your yard is fenced. You won't want your pets running out of your property area and having to chase after it. If it isn't too much work, use mesh to cover any openings your pets can slip through.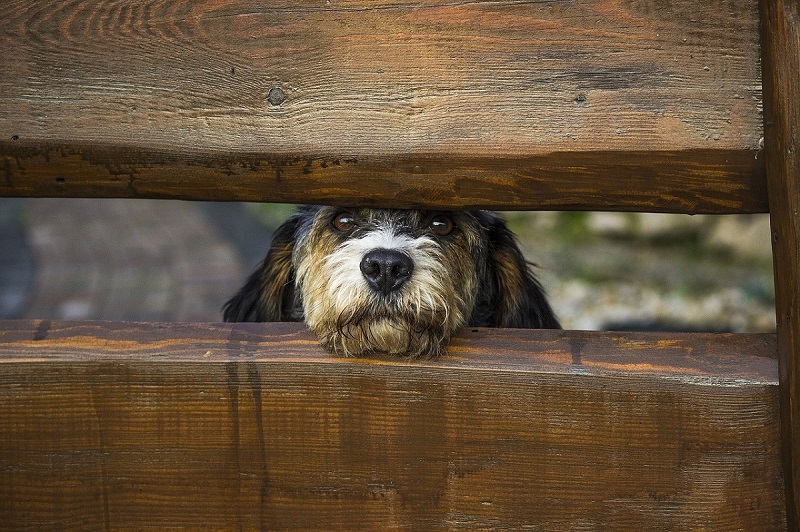 Image via Pixabay
Your other alternative is to construct a cage outside your home just for your pets. Building a cage outside your home means you don't have to go through all that a HDB owner does. It also means you don't have to spend too much energy having to clean your home interior. Instead you only have to clean your pet's cage and that's pretty much it.
Also, if you have a swimming pool, get a cover for the pool or have a security gate installed around it.
5.

     
Home Location
This isn't a home design but it is an element you should take into consideration if you have pets.
Image via Pixabay
More often than not, you will have to bring your pets out for exercises, for walks, and whatnot. Pets like dogs and cats need exercises every now and then. If it's small pets like birds, guinea pigs, and hamsters, there is not much need for you to take them out.
Consider the location and amenities surrounding your home. Are pets allowed? Your surrounding neighbours, can they accept a neighbour who keeps pets? Are there parks nearby that allows for pets so you can take your furry friends over frequently?
You don't want to reside in an area where it simply isn't pet friendly. It can be very difficult for you and your pet to adapt in the long run.
Image via Pixabay 
Do a bit of research on home designs and location. Speak to an interior designer who can help you with renovating your home into a pet-friendly one. Survey the location of your home, if you are looking to move into a new place.
If you need interior designer needs, do not hesitate to contact us for further assistance.
Articles That May Interest You
Tips on How to Design a Home With Pets in Mind
6 Things You Need To Know Before Keeping a Pet in Your HDB Flat
Pets in HDB Flats: What You Can and Cannot Keep
Request for quotes and we'll match you with a selection of Interior Designers!
Previous
Modern Living Home Expo 2019
Next
Artificial Intelligence In Interior Design