You Must Read These 6 Tips on Kitchen Remodeling
Interior Design & Decor
1593 views
1593 views
(Guest Writer: David Huner)
Kitchen remodeling does not need to be a complicated thing. It also doesn't have to cost too much money. If you're wondering how's this possible, the answer is that it needs only a little bit of planning. To help you deal with your kitchen remodeling worries, here are some tips that you're bound to find useful.
1. Set Up a Makeshift Kitchen
Image © David Huner
Kitchen remodeling is a process that can last days or even weeks. So, the big question is 'what are you going to do during that time'? Where are you going to prepare your meals? If you don't have any answers, perhaps it's wise to listen to our advice. And our advice is to set up a temporary kitchen!
Setting up an alternative kitchen while your kitchen no.1 is unavailable till allow you to cook meals, wash dishes, and do anything else you would do if the circumstances were completely normal. Otherwise, without a makeshift kitchen, you would probably have to struggle a lot to keep up with your regular daily activities while the remodeling works are being done.
This is why our advice is not to throw away your old countertops and cabinets, but instead, save them, at least temporarily. You can use them until the kitchen remodeling work is done, after which, you can just throw away everything you don't need. Even if your kitchen items are old and ugly, you will still be able to make use of them. Remember, this setup is just temporary, so functionality is the key.
2. Think About the Kitchen Stuff You'll Need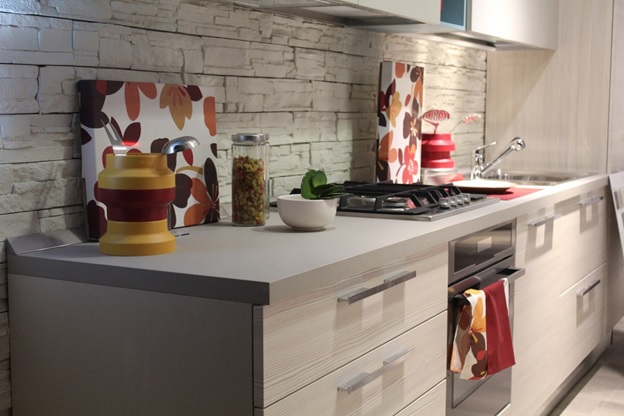 Image © David Huner

Before you get on the remodeling job, you need to think thoroughly about the items you will need in your kitchen. Sure, everyone wants their kitchen to look fancy, but do you really need some high-tech appliances that take too much space and cost a lot of money, while not being too useful? For instance, do you need a large ice machine or would a fridge with a built-in ice machine suffice?
Our advice is to put everything on paper. Make a list of all the appliances you will need in the kitchen, as well as write down their specifics. Whether you want to use gas or electric stove plays a big part in deciding where to put this appliance. And there's also the difference in the price tag. Only when you have a clear insight into how much money the kitchen remodeling is going to cost you will you be able to decide which items you need and which aren't necessary.
3. Make a Full-Scale Kitchen Model (and Try It Out)
There are many tools online which you can use to design your kitchen. You can type in the measurements of your kitchen, as well as dimensions of every item you wish to install there and the program will create a model of your future kitchen so that you can see how it would look like if you decided to go with it. And the best thing is that some of these tools allow you to make 3D visual tours of your design.
The problem is that we're all humans, after all, and what we see on the computer screen doesn't give us enough insight as a real-life model would. So, why not make one? You can use cardboard boxes and panels to serve as models of your future kitchen items. Find the dimensions of the fridge, the oven, the kitchen island, and all the other things you wish to have in your kitchen and make cardboard versions of it. This way, you will be able to test it out whether the kitchen design you have in mind is really going to work.
4. Be Careful Not to Mismatch Appliances
In the best-case scenario, all the appliances you get would be manufactured by the same brand. Furthermore, it would be ideal if they were from the same line of products, in the sense that they're all designed in the same style. Of course, it's not a big deal if you buy appliances made by different manufacturers, as look as they don't mismatch.
By this, we're not thinking only about their colour, but also their size and the way they fit in with your kitchen countertops, cabinets, and bits of furniture you might plan to keep in there. If you're going to go with a standard kitchen counter depth, you need to be careful not to buy appliances that would stick out with their size and ruin the harmony of your kitchen.
5. Make Use of Contrasting Colours
When it comes to remodeling your kitchen, it's not just about making it better; it's also about making it more beautiful. Sure, a kitchen is the place where you go to prepare meals, but while you're doing it, you need to feel good about yourself. And that's exactly what a beautiful design can do for you.
And the best thing is that you don't have to be Andy Warhol to be able to design yourself a beautiful kitchen, in which you'd love to spend hours. One good piece of advice is to choose contrasting colours, e.g. one bold colour and one neutral shade. A black stove next to a cream-coloured countertop will not be an eyesore, but rather will keep things interesting.
Also, don't forget about the power that colours have on our mind. Orange, supposedly makes us feel more focused; the colour blue creates a feeling that the temperature is lower than it actually is. And the colours green and red suggest to our subconscious mind that food is nearby. So, if your kids are picky-eaters, this might be a good trick to make them crave for the dishes you make in your new kitchen.
6. Don't Throw Away Existing Cabinets
Cabinets and all the other kitchen items that are made of wood can probably serve you much longer than you might think. If they're made of wood of good quality, there's really no need to replace them. Instead, you can just give them a facelift.
By that, we mean that you could add new doors and drawers, as well as change the fronts and sides. Or, if you want to save even more money, instead of replacing parts of the cabinets, you can simply re-laminate them or do a paint job.
Not only will this save you a nice amount of money, but it will also allow you to express yourself artistically. You will be able to create a kitchen design exactly to your measure, rather than simply buying stuff that you find in a furniture store.
Final Word
Hopefully, after reading these tips, you will get inspired to come up with your own ideas on how to make your kitchen remodeling project even better. Whatever you do, just remember that this is a sort of work that takes time.
And we're not just talking about the actual work in the kitchen; we're also talking about planning and deciding on the design and layout of the kitchen. Do not rush – this is the best advice you can get when kitchen remodeling is in question.
Request for quotes and we'll match you with a selection of Interior Designers!
Previous
BamcoFlor®: Leading in Sustainable Flooring Innovation
Next
Protect Your Home With Tiq Home Insurance by Etiqa!