Aurastone Gives You 8 Terrific Terrazzo Colours!
Interior Design & Decor
1965 views
1965 views
Terrazzo has been around for quite a while.
You may have seen this flooring type in schools, community centres, offices, and even airports. You may have even walked on one in your childhood home.
First created in Italy over 500 years ago by combining marble chips with earth-based materials (though archaeologists have discovered it in millennia-old ruins in Turkey), terrazzo was considered a frugal alternative to marble and made via a combination of marble chips and cement.
Over the years, terrazzo slid in and out of popularity before making a recent comeback as one of the most demanded flooring materials today. Modern materials such as epoxy resin are now frequently used to bind the material chips together to create this age's terrazzo.
Aurastone is one of the top suppliers in Singapore for countertop materials and surfaces, and the firm recently released eight terrazzo colours to bring that quaint charm and stylish chic into your living space.
With many firms picking up this flooring type, what sets Aurastone's terrazzo from those of others?
Features And Benefits of Aurastone's Terrazzo
Aurastone's terrazzo colours are manufactured via compacting through a vacuum-and-vibration process at a high compressive strength of 109MPa and approximately 15809 PSI.
This makes the terrazzo highly resistant to heavy pressure caused by foot traffic or heavy machinery.
What makes this manufacturing process more unique is the lack of resin used, although resin is present in traditional terrazzo. As a result, Aurastone's terrazzo has a high resistance to ultraviolet rays, fire, and chemical spillage compared to other terrazzo, and is thus suitable for even outdoor use.
Aurastone's terrazzo colours come in slabs sized at 2,500 millimetres by 1,300 millimetres, with a thickness of 18 millimetres. Its sturdiness is backed by its hardness of 4 to 6, making it relatively harder than traditional terrazzo. This allows the terrazzo to be durable and long-lasting, with minimal maintenance besides daily cleaning.
Due to its design versatility, architects and designers can use Aurastone's terrazzo not just for countertops, but also for shower stalls, feature walls, staircase cladding, and wall cladding.
Aurastone's Eight Terrazzo Colours
Let us have a look at these lovely eight terrazzo colours, and see how you can match them in your kitchen or bathroom.
1. 8111 Sweet Glassa

Image © Aurastone
'Glassa' is Italian for 'icing', and this terrazzo colour does have a sweet and sprinkled creamy look to it. Kitchen cabinets in black, white, cream, or grey will match well with a countertop with this surface.
2. 8112 Dolce Delights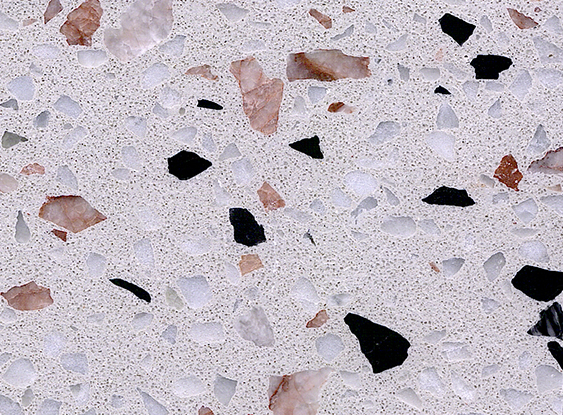 Image © Aurastone
This is another terrazzo colour with a sweet-sounding name, and it is a little more 'milk-chocolate' in hue than Sweet Glassa. White or cream-coloured kitchen cabinets could be the perfect complement to this colour.
3. 8113 Vivace Prisma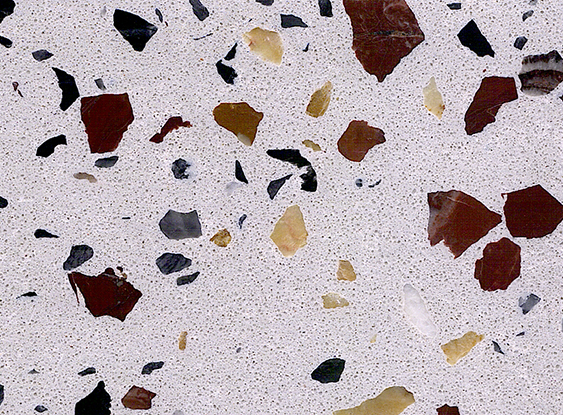 Image © Aurastone
Think of dancing sparks of light against a rising or setting sun; after all, this colour's name can be loosely translated as 'active light'. This is a lighter colour compared to the above two, so browns, blacks, dark greys, and whites can be paired with it.
4. 8114 Sakura Fubuki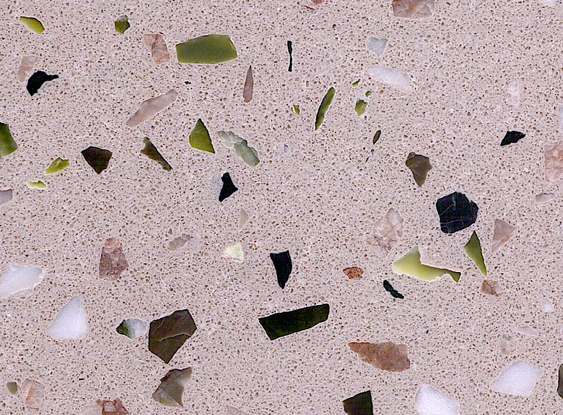 Image © Aurastone
Do you see bits of matcha and red bean in cherry blossom milk? We do! This colour is unique due to the bright green chips mixed in. Brown cabinets are good for an 'ice-cream sundae' feel. If you are seeking a fun feel for your kitchen, why not matcha this colour with dark green kitchen cabinets?
5. 8511 Patata Dolci

Image © Aurastone
This is a greyer shade, reminiscent of earth, ash, and concrete. If you are seeking a grungy or industrial look for your kitchen, this could be the right colour for it. White or black kitchen cabinets will go well with this.
6. 8512 Poco Chichi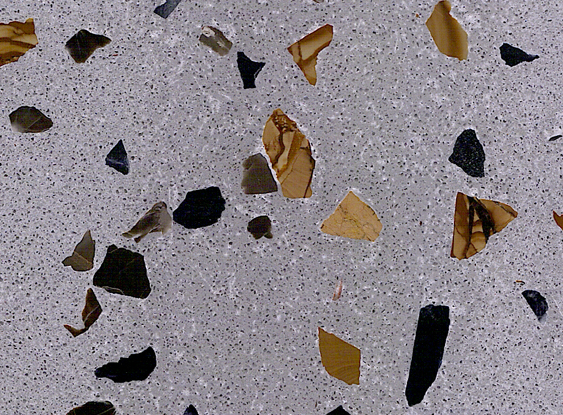 Image © Aurastone
We love the golden chips in this colour, making this the colour of luxury and sophistication. After all, this colour's moniker means 'a little elegance'. Whites or blacks are the way to go for this terrazzo. If you want to be extra dramatic, you can opt for yellow shades for your kitchen carpentry.
7. 8513 Berreti B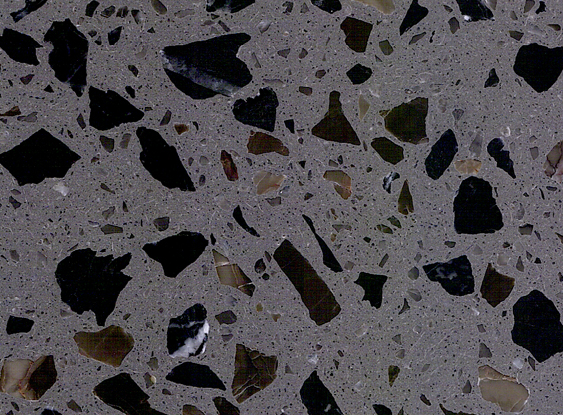 Image © Aurastone
Black is one of the best colours, especially when complemented correctly. This terrazzo colour is bold, dark, and evokes power and prestige. You can go extra dark with your carpentry, or let in some light with whites and neutrals.
8. 8515 Sesame Treats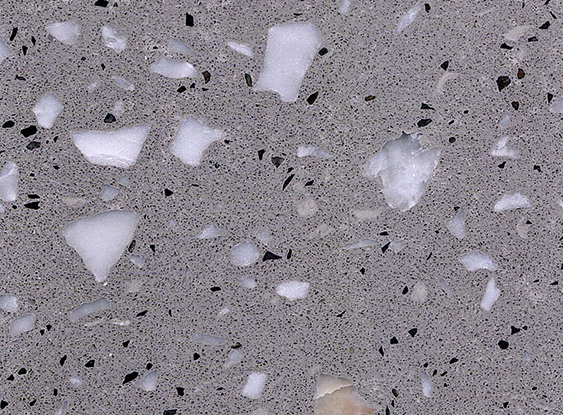 Image © Aurastone
Imagine soft chewy mochi-white rice balls bathed in sweet sesame cream. This colour's minimalistic grey palette will pair it well with light-coloured cabinets for a kitchen that is both divine and delicious to behold.
These terrazzo colours are not the only recent developments in Aurastone's line-up; there are now options to give your countertops a smooth golden edge for that extra sleek chic.
Image © Aurastone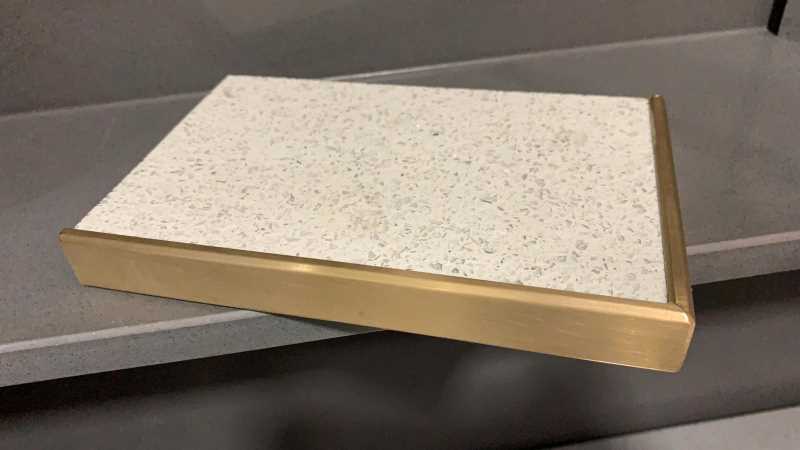 Image © Aurastone

Interested in Aurastone's Terrazzo? You can contact Aurastone via:
Hotline: +65 6363 099
Email Address: info@aurastone.com.sg
Address: Blk 12 Marsiling Industrial, Estate Rd 9, #01-20, Singapore 739169
Website: https://aurastone.com.sg/
Working Hours: Mon – Fri: 8am – 5pm, Sat: 8am – 12pm, Sun: Closed
Request for quotes and we'll match you with a selection of Interior Designers!
Previous
The Curtain Boutique - Protecting Your Windows and Balconies
Next
Atelier Architecture - What 8 Buildings From Famous Paintings Would Look Like In Real Life