Designing A Homestay Interior
Interior Design & Decor
977 views
977 views
During this Covid-19 pandemic, most outdoor activities, including travelling, have been limited.
Although we are unable to enjoy our trip across the borders freely, for now, we can turn our home sweet home into a relaxing homestay. Here are some awesome ideas for you in designing a homestay interior.
1. ATTRACTIVE HOMESTAY INTERIOR DESIGN THEMES 
a. BEACH THEME
The sun, sea breeze, sandy beach, breath-taking sea view, and the carefree laughter of children; all diving blessings. The question is, how can you recreate those elements in a well-designed beach-themed homestay for you and your family?
A beach-themed homestay interior is usually decorated with rich traditional elements, exquisite lines, and wall panels, thus recreating the realistic experience of being on the beach. You can even imagine the slow sea breeze, forget all the troubles you are having, and just indulge in the relaxing and comfortable atmosphere which you have created.
Any approved collectables you may get from a walk on the beach (remember: don't take shells or starfish as the beach is their home!) can be used as decorations for a beach-themed homestay interior. They will not just give your home a refreshing look but also highlight the summer beach theme.
The cute footprints of the children on the sand, the half-glass of cold beer you drank on the coffee table...these details may not be luxurious or elegant, but they are some of the most beautiful parts of the summer times you spent on the beach.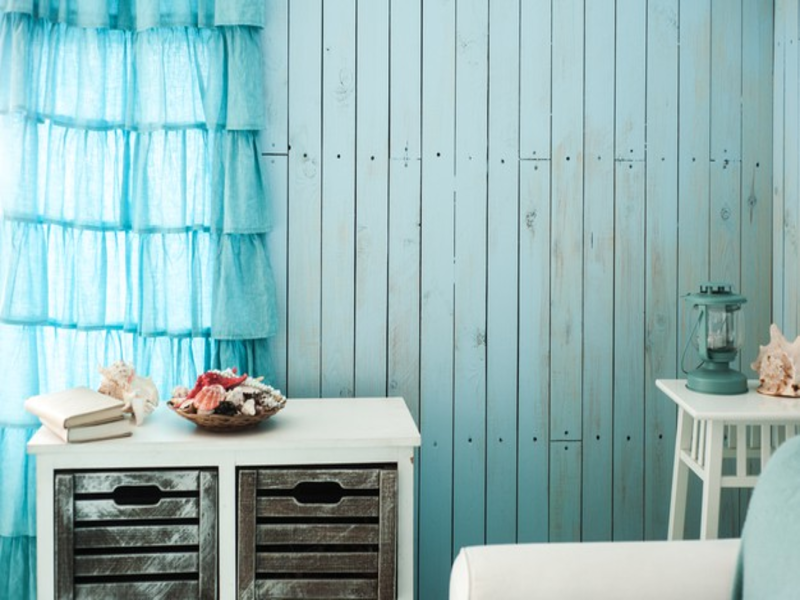 Image via FreePik
b. COTTAGE (KAMPUNG) THEME
The cottage (kampung) theme is not about maximalism and luxury. It is all about comfort and being experimental with different styles. It emphasizes 'return to nature', making this themed interior feel more relaxed and comfortable.
Create an earthy look and feel for your interior by going for browns, greens, and wooden textures. You can choose richer and warmer colours for furniture and paint. While you can use a carpet in the bedroom, natural wood flooring is recommended for the living and dining areas.
You can also use colourful carpets and wallpaper or wall paint in warm colours to create a warm and comfortable feeling. 
When choosing artworks or decorations for the kampung-styled homestay interior, you can use motifs such as horses, trees, rivers, or jungle animals. Old kampung tools, trishaw pieces or other vintage trinkets can be decorative. Old crates can be turned into stools, and you can also use horseshoes hung on the wall as coat racks.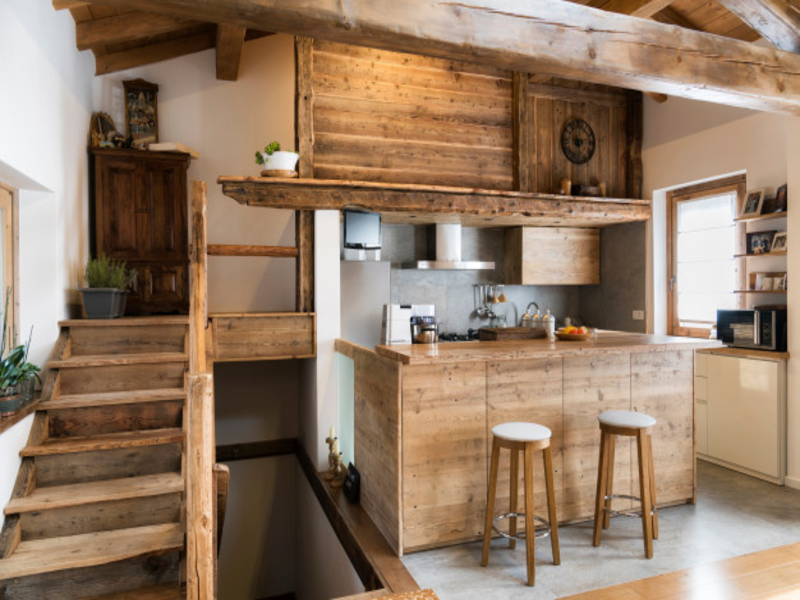 Image via FreePik
c. TROPICAL RAINFOREST THEME 
A small hut surrounded by trees in the rainforest might be your ideal holiday destination.
Tropical rainforest or Balinese themes can work quite well for a homestay interior. The tropical-styled interior should incorporate decorative carvings such as tropical trees, fruits, animals, wooden patterns, and plants. 
Furniture made of natural materials such as rattan, teak, sugar cane, seaweed, water hyacinth, and banana leaves can create a relaxing and cool tropical atmosphere. Add some tropical plants to the bathroom, living room, and foyer. You may also expand your balcony or service yard to create a small garden with sculptures, lanterns, and lush tropical plants.
EXAMPLES OF TROPICAL PLANTS:



● BIRD OF PARADISE
● ORCHIDS
● HOYAS
● FERN
Image via FreePik

d. CARTOON / COMIC CHARACTERS THEME
This theme will definitely suit cartoon and comic fans.
If you are feeling stressed, why not get this theme for your home? Cartoons can provide a peaceful environment where people can enjoy watching cartoons without expecting anything bad to happen.
Also, cartoon themes can bring nostalgic happiness to people so that they can rest and relax by temporarily escaping from the real world.
In addition, the bright colours presented in the cartoon themes can improve people's moods and make them feel better.
Image via FreePik

2. HANDY HOMESTAY INTERIOR TIPS 
a. FURNITURE 
It is worth spending a little money on durable furniture, fixtures, and accessories. Such furnishings have longer lifespans, saving you money in the long run as you will not need to replace them frequently.
Choose furniture that is easy to clean, such as a leather sofa, so that any spills can be easily wiped off.
b. FLOORINGS & DECORS 
Ensure that the floor can be cleaned quickly and easily. Keep decorations to a minimum as they tend to be dusty after some time. Remember to choose cushions with removable covers for easy cleaning.
3. CONCLUSION
To conclude, a homestay interior is all about comfort and relaxation. They can have your favourite themes while being equipped with durable furnishings and awesome decorations to give you a comfortable and relaxing living environment.
Request for quotes and we'll match you with a selection of Interior Designers!
Previous
Which Curtain Fabric Suits Your Home Best?
Next
TRIBAL CHIC: MODERN TRIBAL STYLE FEATURING AFRICAN MOTIFS AND ELEMENTS