The Sofa Diaries
Interior Design & Decor
1619 views
1619 views
Sofas have existed for longer than we could imagine. Millenia ago, thrones were created for the sultans of ancient Arabia, leading to the creation of our modern-day sofas. The ancient Egyptians had also created similar seatings but these were less comfortable.
The sofa is the star of every living room, which we can't live without in our daily lives. We can do almost everything on the sofa, such as watching TV shows, eating snacks, and so on. So it is not just a piece of simple furniture but it is also essential and capable of giving good memories to people who use it.
The sofa is decorative and functional. It is also the first thing that would be used by your guests when they come to visit, and a place to enjoy and relax with our dearest family members.
In the market, there are many sofas to choose from, with a variety of upholstery materials, shapes, sizes, and brands. In this article, we have listed out the differences between the most commonly seen sofas.
MATERIALS / TEXTURE
1. WOODEN
Different types of wood will produce different outcomes. Sofas made with high-quality wood are normally priced higher than those made from wood of lower quality.
The unique benefit of a wooden sofa is that it provides complete support for your back

, making it the best choice for patients with back problems. It can also help to relieve sprains so most doctors will advise the patients to sit on a wooden sofa or chair to relieve the pain.
While selecting wooden sofas, we must ensure the stability of the sofa so that it will be safe for us to sit on. We can check the sofa for its smell, appearance, and surface quality. If the smell of the sofa is strong and pungent, avoid buying it as it most likely has excessive paint (which may contain formaldehyde) on its surface which may harm our health. We can also touch the sofa to make sure its main body and legs are stable and tight.
A wooden sofa can give your home a natural and traditional look. Other than your living room, you may also place this sofa in your garden so that you or your guests can enjoy afternoon tea while admiring the beautiful scenery there.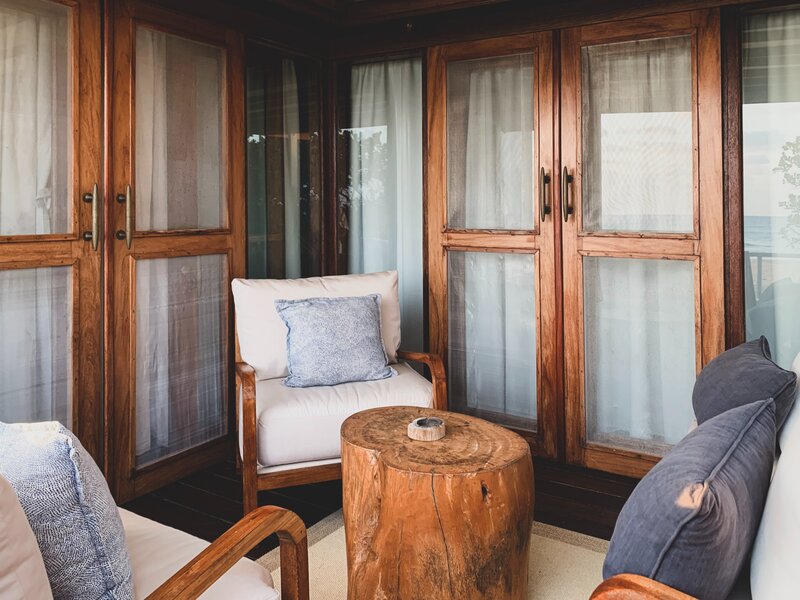 Image by Edvin Johansson via Unsplash
2. LEATHER
This type of sofa is made from leather, which is produced through a special process using animal skins such as pigskins, cowhides, and sheepskins.
Due to the materials used for making the sofa, it is

breathable, soft, and functional

. Therefore, you will feel very comfortable sitting on it and it will not get dirty easily.
Like the wooden sofa, leather is also differentiated between those of high quality and those of low quality. Of course, genuine leather will cost more than leather of lower quality. Some manufacturers tend to combine different types of leather to reduce the cost of making a single sofa.
A set of fashionable leather sofas will give your living room a vibe full of nobility, elegance, and beauty. But after using the leather sofas for a long period of time, the internal grease will start to evaporate and harden so leather sofas need extra care. Regular maintenance is always the best choice to prevent unwanted wear-and-tear of your leather sofa.
Image by The Creative Exchange via Unsplash
3. NATURAL FIBRES
We can find natural fibres in our clothes and also on sofas. Sofas made with cotton, wool or silk are considered 'sofas made from natural fibres'. If you want your sofa to be safe of synthetic chemicals and dyes, make sure you get a sofa which is certified as 'organic' or 'natural'.
Sofas made from natural fibres can provide you and your family with

warmth and comfort

.
Keep in mind that the natural fibres must be kept away from direct sunlight and moisture, as damages may occur and your sofa will not look as good as new.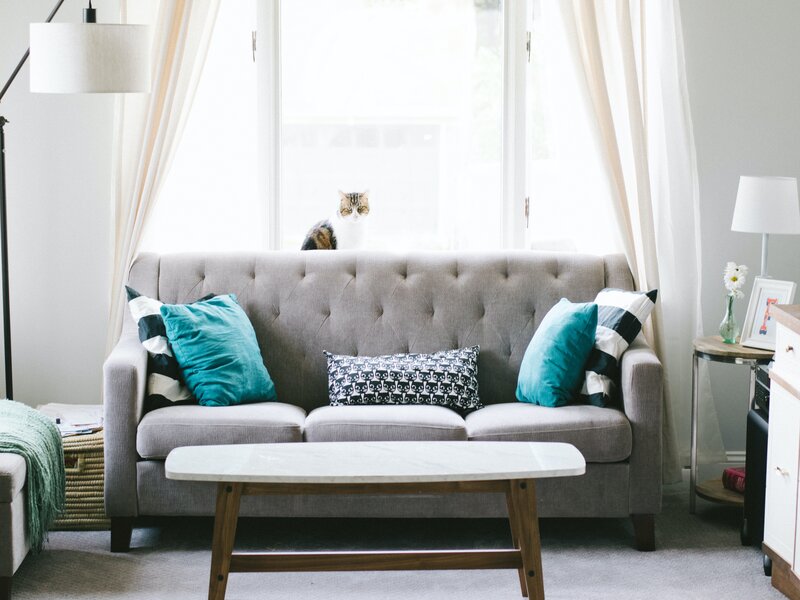 Image by the Nathan Fertig via Unsplash
SHAPES / SIZES
The shapes and sizes of the sofa have to be considered carefully.
We can reasonably

adjust the layout of the sofa according to factors such as the size of the living room, the space of the living room, the number of our family members, the installation of a TV feature wall, and so on. This is to maximize the functionality of the living room.
Common placing methods of the sofas include:
L-shaped

Horizontal

U-shaped

Round
These ways can save space for your living room and give you the utmost comfort and relaxation for your daily activities and movements.
While placing your sofa, remember to maintain a certain distance (around 40-45cm) from the coffee table or the next sofa. Also, avoid strong lightings in your direction when sitting on your sofa. For the protection of your privacy, try not to position your sofa directly in front of your main door.
In conclusion, different sofas suit different tastes depending on their styles, materials, colours and sizes. Why not get a comfy and elegant sofa to relax on?
We hope each of our readers will be able to have a sofa that is perfect for you, your family and your guests after getting some insight from this article.
Request for quotes and we'll match you with a selection of Interior Designers!
Previous
6 Tips for Writers to Equip Their Working Room
Next
CLEAN THE TRAP TO PREVENT CORONAVIRUS. U-TRAP, P-TRAP AND BOTTLE TRAP CLEANING INSTRUCTION