Tips on Designing a Home Workspace
Interior Design & Decor
2151 views
2151 views
(Guest Post From: AkzoNobel)
Working from home has a lot of perks – better work-life balance, zero commute time, and an opportunity for comfort as well as efficiency. However, designing an effective home workspace is tricky. If you are not careful, it can go from a place of serenity and productivity to a disorganised mess.
Here are five design tips for a productive home workspace from the experts at AkzoNobel – the manufacturer of Dulux paints that will help you stay on top of your game.
1. Free Up Your Space
Gone are the days where home workspaces are confined to dusty, small rooms tucked away at the back of your house. These days, it's all about utilising open multi-purpose spaces that allow you to get the most out of your working day – this means creating workspaces from bedrooms, living rooms and any other open areas available.
Once you have decided on a space, the key to staying productive is to ensure a tidy and organised workspace that is free from clutter – keep wires and cables to a minimum, and store bulky printers, scanners and files in cupboards. Decluttering will not only make your workspace look more inviting, but also make cleaning your workspace a breeze.
Source: Dulux UK
If you are working mostly from a computer, don't forget to clear away any digital clutter as well!
2. Think Functional
If your workspace is situated in the bedroom or living room, be deliberate with the furniture you choose as it should be both functional and complementary to your other furnishings.
A wide and sturdy work desk will ensure sufficient space for your computer and files, while a comfortable chair with proper back support will allow you to sit comfortably for long periods of time. Multi-purpose storage options are also a great a way to keep your things tidy! Other ideas include, making use of your walls and installing open shelves or drawers with wheels that you can pull out from under your desk.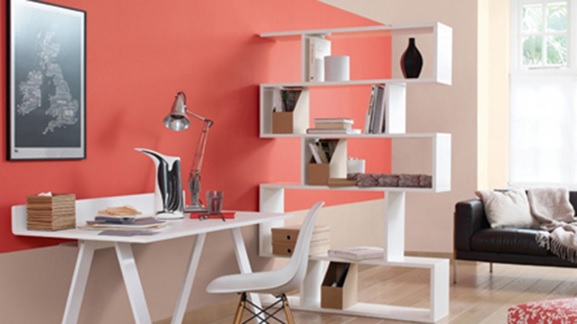 Source: Dulux UK
Although natural lighting is the best for productivity, don't forget to invest in quality home lighting like desk lamps, ceiling lights and floor lighting. Just be sure to avoid dimly lit spaces, which will lead to squinting and cause strain on your eyes.
3. Divide Workspace From Personal Space
Defining your workspace is another tip to staying productive while working at home. A curtain is an inexpensive and easy option which helps to separate your workspace and block out any other distractions while you work.
If extra furnishings are not for you, consider painting a visual divider, which is a simple way to switch up your room interior and separate your work-space! Areas for relaxing, play and dining generally have a broader colour scheme. For workspaces within a room, go for a focused accent colour that will make your workspace more contained, help separate your focus and better allow you to zone in on your work.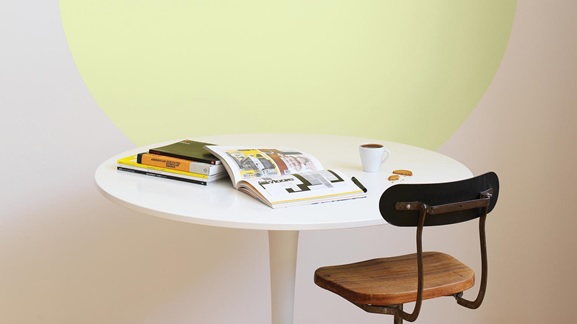 Source: Dulux UK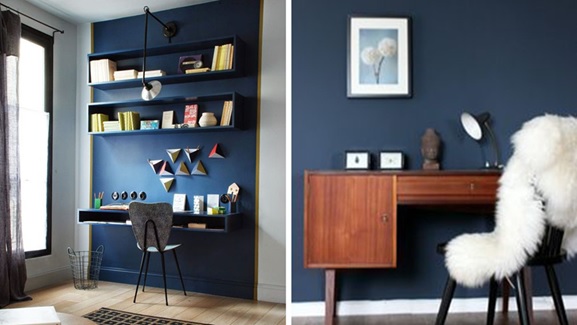 Source: Dulux UK
4. Keep it Playful with the Details
We work best when we are constantly stimulated; look towards the details which can be constantly switched up to make your workspace feel fresh!
Plants are a fun way to add some life into your dreary working hours. You can also personalise your workspace thoughtfully by framing up photos and mementos that will motivate and cheer you up! Just be sure to avoid cluttering your workspace unnecessarily.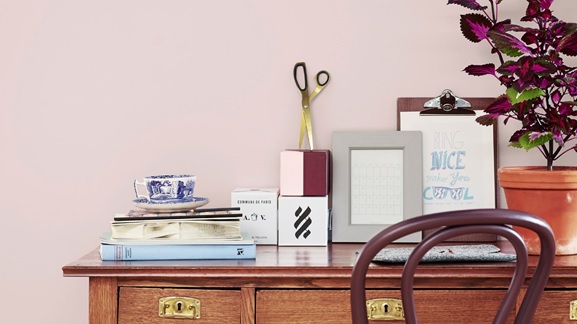 Source: Dulux Malaysia
If you want to spice things up, consider painting striking aesthetics such as two-tone walls and geometric shapes. You could even highlight your shelves or window frames with inspiring accent colours like a bright red.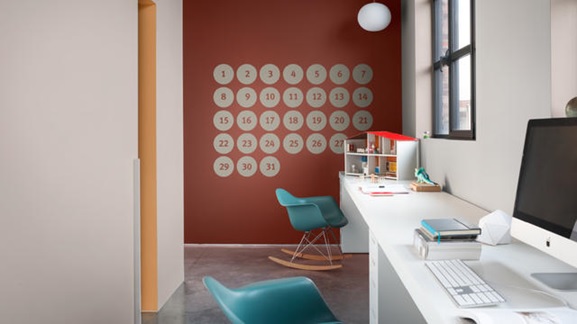 Source: Dulux Hong Kong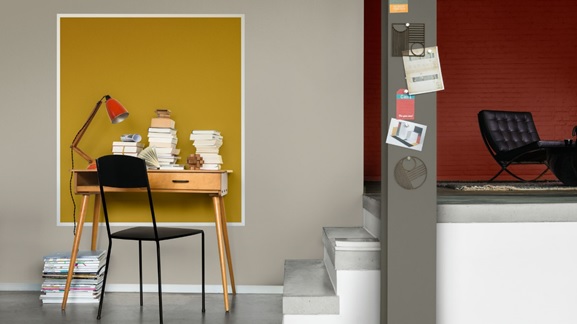 Source: Dulux Malaysia
5. Set the Tone for Success
Colours impact our mood and energy levels, hence playing a major role in determining the overall look and feel of any workspace.
In general, warm colours – reds, yellows, oranges, are energetic and stimulating. However, using them as the dominant colour in your workspace may be too distracting, overpowering and could even cause a degree of anxiety. Instead, use them as accents against neutrals like white, grey and tan. Not only are neutrals versatile, they are comfortable and do not distract!
Similarly, cool colours – blues, greens and violets, evoke feelings of peace and relaxation. Blues in particular are commonly used to lull people to sleep and should thus be used cautiously. Greens and violets on the other hand foster concentration and may even stimulate imagination.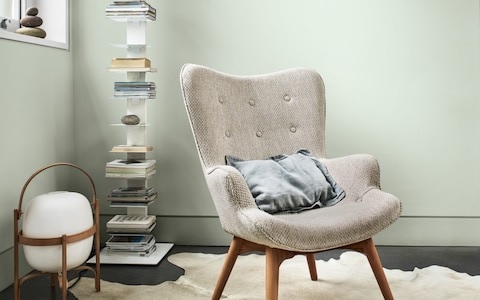 Source: Dulux Singapore
Dulux's Colour of the Year 2020, Tranquil Dawn, also known as Grey Jeans (45GY 55/052), is a hazy pale green hue that reflects "the space between the land and sky" and is a calming and harmonious colour that is intended to counter the increasingly digitalised and inter-connected world. Creating a comforting environment with Tranquil Dawn can not only increase your concentration and productivity but also benefit your mental health.
Tip! If in doubt, try out the award-winning Dulux Visualizer app that allows you to see the final result before you paint. Using augmented reality, the app gives you a realistic impression of how your room could look like instantly. Download it for free from the Apple App Store or Google Play Store.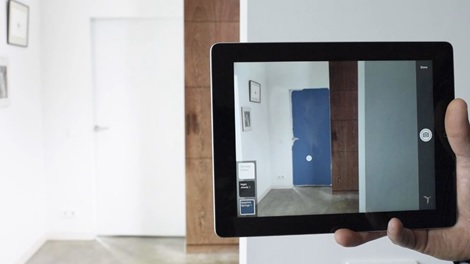 Request for quotes and we'll match you with a selection of Interior Designers!
Previous
Official Launch of GANI Singapore Showroom And Sustainable Design Forum
Next
Cheap Ways To Design Your Apartment