Top 5 Frameless Wall Mirrors Shapes For Your Home
Interior Design & Decor
1397 views
1397 views
(Guest Contributor: Fab Glass And Mirrors)
Frameless wall mirrors come in many unique shapes and sizes. They are a beautiful and minimalistic way to display your reflection in any space around your home, especially if you are using mirrors to enhance your interior.
Let's go over some of our favourite frameless wall mirrors and why you should choose a frameless mirror.
Why Frameless Wall Mirrors?
Image © Fab Glass And Mirror
Frameless wall mirrors are sleek. They provide the functionality of viewing your reflection without having to be over the top. Frameless mirrors don't overdo it, and can effortlessly pull a room together with that minimalist and modern feel.
It is also a lot easier to put a frameless mirror into any room around your house. You don't have to worry about matching the decor or the colours in the room because there isn't an accompanying frame style.
Another key reason that frameless mirrors are great is you don't have to worry about frame maintenance. Most mirror frames are either metal or wood, and they need to be cleaned regularly. These materials are not ideal for bathrooms, considering the moist and humid air within the room.
5 Famous Frameless Wall Mirrors
There are many different types of frameless mirrors you can choose from. Here are some popular options to get you inspired.
1. Round Wall Mirror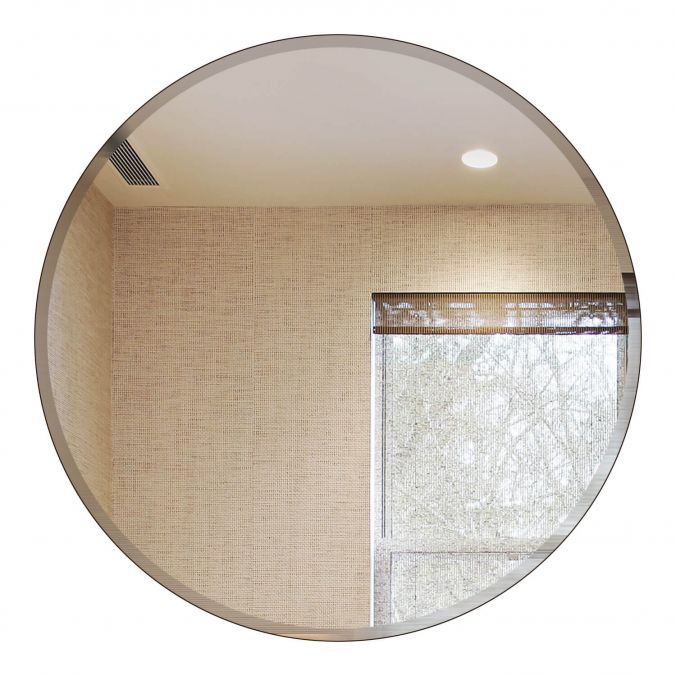 Image © Fab Glass And Mirror

Round wall mirrors are perfect for viewing your reflection, especially on your face since the mirror's shape is ideal for that. The stylistic appeal of a round frameless mirror makes them perfect for any room, so you can check out your face anywhere in the house. Think of the bathroom, the bedroom, and even the hallway.
Small frameless round mirrors can be a subtle addition to any room in your home, but they can make a big difference. The roundness of the mirror can help soften the hard edges and corners of the room, making it more inviting and visually appealing.
2. Rectangle Wall Mirror
Photo by Max Vakhtbovych from Pexels
The rectangle frameless wall mirror is the second most popular option among homeowners. It isn't popular because of its shape, but because of its functionality. Since the rectangular shape has a larger area than a round-shaped mirror, it allows for two people to fit their reflections in at the same time.
Rectangle mirrors can be used in a number of different areas around the home. They can be great for living rooms and dining rooms, considering they are easy to glance into for guests and anyone living in your home.
They are also great for bathrooms, fitting in right over any sink. If you have a double vanity, you can opt for a larger rectangle wall mirror or two separate ones for each sink.
3. Octagon Wall Mirror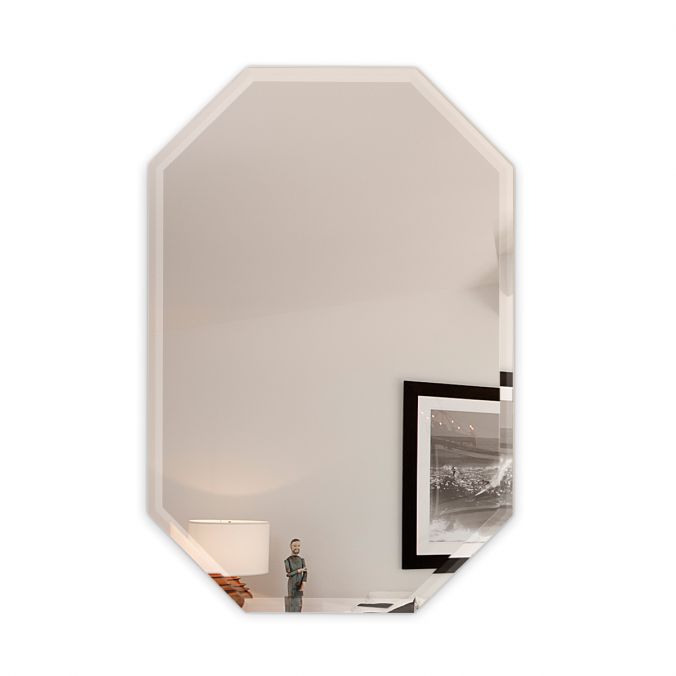 Image © Fab Glass And Mirror

An octagon frameless wall mirror is a more unique option than what we've already discussed. If used correctly, they can make a statement in the room you opt to use them in. Octagon mirrors resemble more of a modern and contemporary look, so if you are going for that look in your home you should certainly consider such a mirror.
One popular look that interior designers have experimented with is stacking multiple octagon frameless mirrors since their edges are straight and they create cool shape patterns.
4. Arch Wall Mirror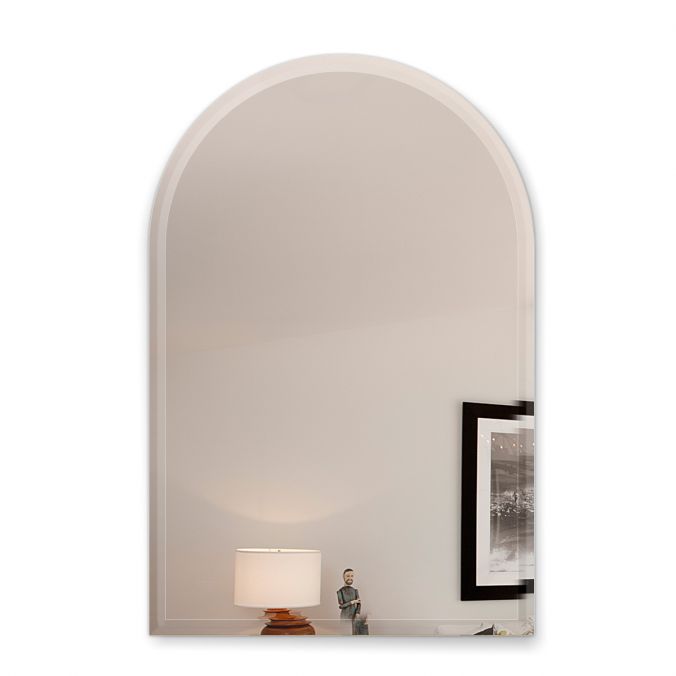 Image © Fab Glass And Mirror

The arch wall mirror is a combination of a half-circle on top of a rectangle. They are perfect for viewing yourself in the mirror, as the shape resembles the upper body and the head.
Since they're great for viewing yourself, they go perfectly in the bathroom and the bedroom. An arch wall mirror can fit perfectly over a single vanity sink in the bathroom to give the room a modern and elegant feel.
5. Oval Wall Mirror
Photo by Christa Grover from Pexels
The oval wall mirror is a great middle-ground between the round and rectangle option. If you're having trouble deciding between one of those, it's safe to go with the oval shape.
You get a large surface area that isn't compromising much from a rectangle-shaped mirror, but you also get the round shape that is great for looking at your facial reflection.
Which One Should You Install in the Bathroom?
Rectangle frameless wall mirrors are the most popular option in the bathroom. They fit perfectly over a bathroom sink, allowing you to look at your reflection when you're getting ready.
Whichever shape of mirror you end up choosing, it will undoubtedly be better for your place just for the fact that it's frameless alone. As we mentioned, the humidity within the bathroom can harm the frames on traditional mirrors since they are typically wooden (though you can take measures to care for them) or metal.
Request for quotes and we'll match you with a selection of Interior Designers!
Previous
5 Fun Ways to Camouflage Eyesores Around the House
Next
FortyTwo - Enjoy FortyTwo's First Great Furniture Sale in June 2021!