Silestone Ethereal - Ascend Your Countertops!
Interior Design & Decor
1186 views
1186 views
What do you think the colour of Heaven is?
If Heaven is your kitchen or bathroom, what will it look like?
Should a white countertop or marble-looking wall be on your must-haves for your home renovation?
You can wonder no more with the new Ethereal collection from Silestone® by Cosentino!
What Is Silestone® Ethereal?
The new Silestone® Ethereal range comprises four marble-resembling white-based surfaces, inspired by the divine, enigmatic beauty of the sky during different times of the day - think dream-like patterns in the sky rippling across a pure white canvas and reflecting its varying moods through colour and light.
To give your kitchen or bathroom countertops a luxurious look, you can pair any of these lovely whites with bold dark colours (black, dark greys, dark neutrals) and metallic accents.
1. Ethereal Dusk
Reminiscent of the sky at both sunrise and sundown, Ethereal Dusk is a soft and peaceful design with bluish veining. Just like the sky going to rest after a long day, it will bring serenity and tranquility with a touch of high art to your home. Dark greys and blues can complement Dusk's peace and softness well.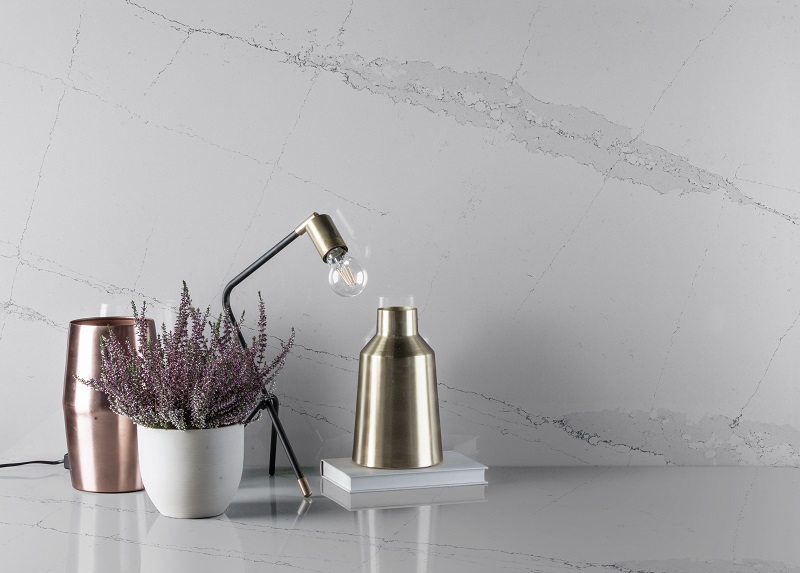 Images © Silestone®
2. Ethereal Haze
Ethereal Haze is dynamic in its veining, carrying the personality and playfulness of wind-fluffed clouds. Think of looking up a mountain on a nice clear day and seeing the clouds being blown here and there around its peak. Brings a smile to your face, doesn't it?
Who says you can't be daring with the luxurious look? Try experimenting with pastels or warm colours to bring out Haze's character.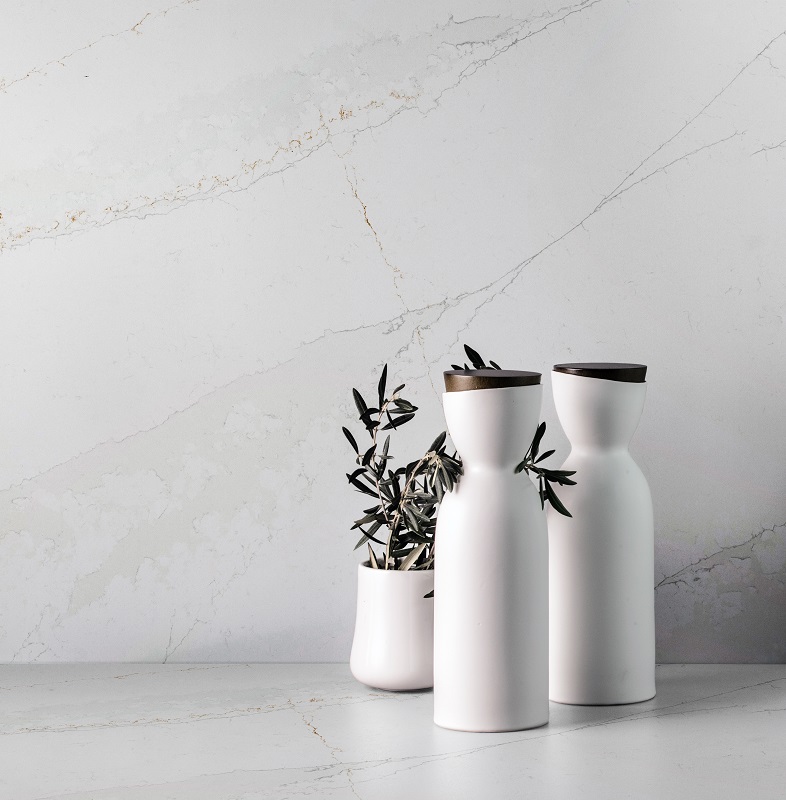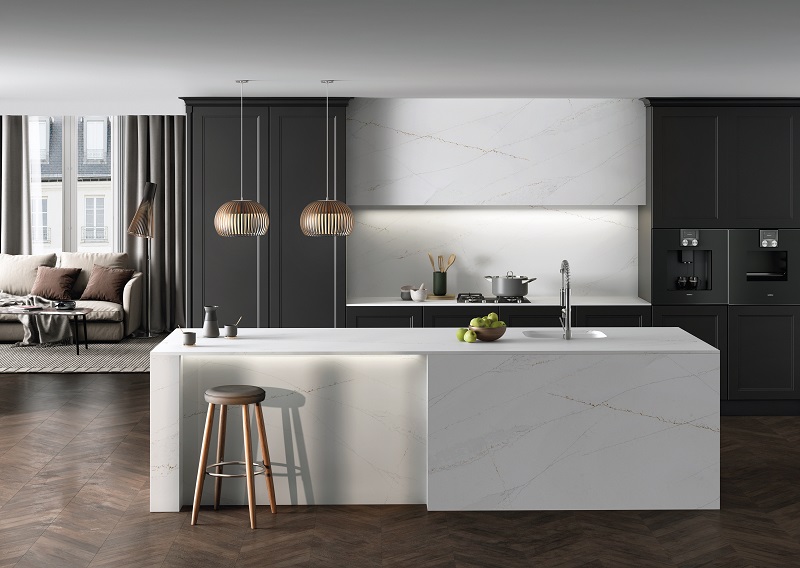 Images © Silestone®
3. Ethereal Glow
Just like its name, Ethereal Glow is captivating and elegant. Its golden and grey veins strut along a tinged white surface, giving a pop of colour that demands attention.
No surprise that this design is inspired by the sunset; how many of you have scrambled for your phones to snap a shot of a striking sunset and share it on social media?
Ethereal Glow can conjure that same reaction, and you can complement it with gold or metallic accents on a white base.
Fun fact: Ethereal Glow is a glow-up of one of Silestone®'s most popular designs - the Eternal Calacatta Gold colour.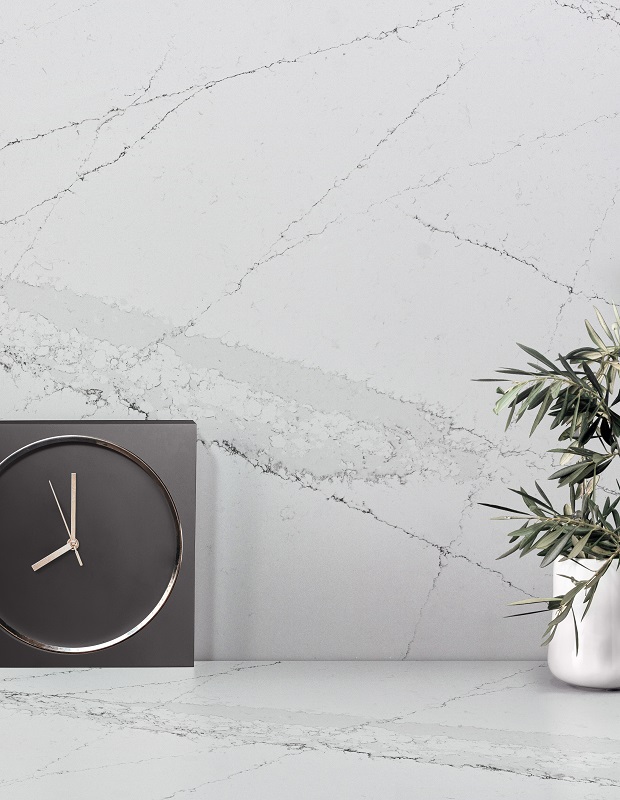 Images © Silestone®
4. Ethereal Noctis
Mysterious and bold, Ethereal Noctis is a design kissed by the night sky after sunset. One can call it the 'goth sister' of the Ethereal band, with short grey and black veins against its white foundation. This gives a strong and sophisticated vibe, and you can pair it with black for a classic, modern look.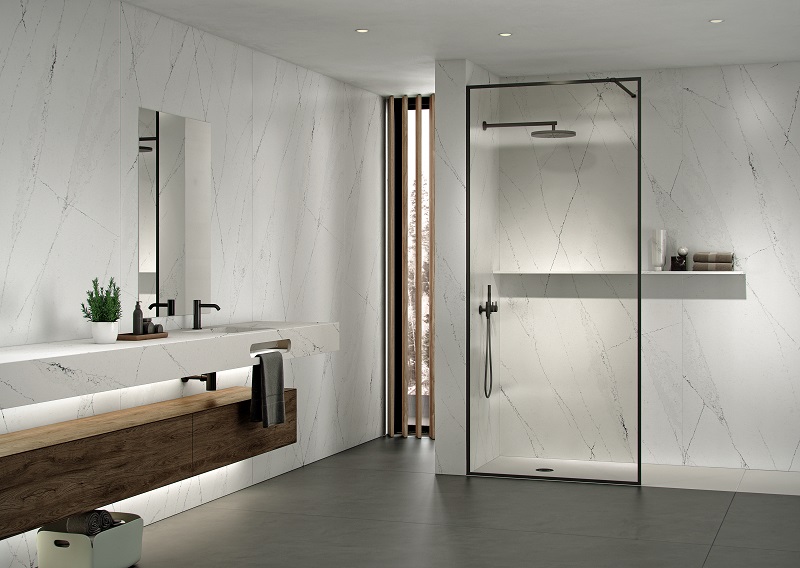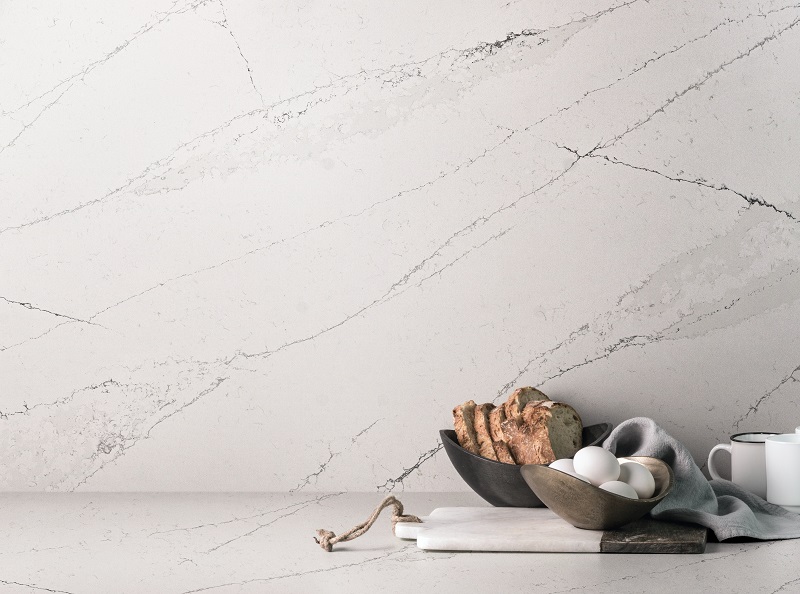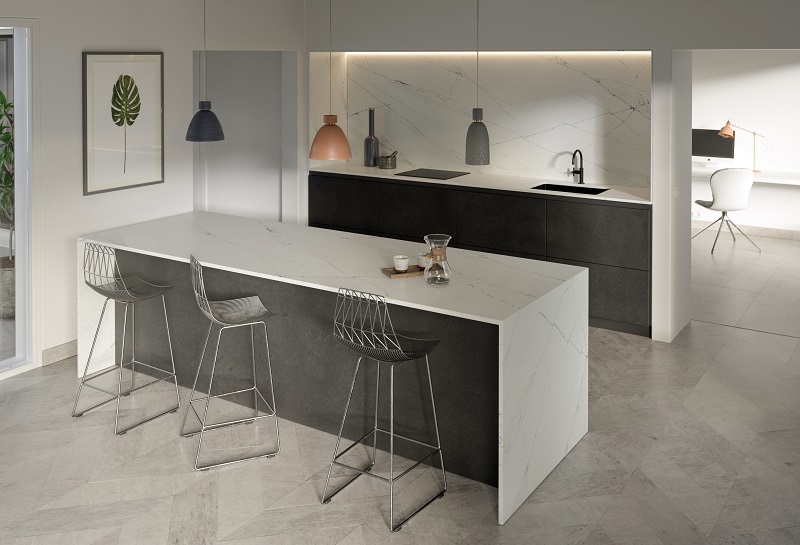 Images © Silestone®
The collection does not just look good; true to Silestone®'s brand, they are fabricated using the unique sustainable eco-friendly HybriQ+® Technology. They are manufactured with high-performance capabilities, making them durable, easy to clean and maintain, and resistant to stains, acid, shock, and scratches.
You can use Silestone® Ethereal for kitchen countertops, bathroom countertops, tabletops, and wall cladding.
For more information on Silestone® Ethereal, visit https://www.cosentino.com/en-sg/ethereal/.
Silestone® Ethereal & HybriQ+
Like all of Silestone®'s collections, the Ethereal line was created using Silestone®'s exclusive, eco-friendly, pioneering HybriQ+® technology. It was formed from Cosentino's goal to stay true to the environment, the circular economy, and sustainable management.
HybriQ+® technology uses 99% reused water from the production processes, 100% renewable electric energy, and a minimum of 20% recycled raw materials. Its composition reduces the presence of crystalline silica, instead creating a hybrid formula of mineral raw materials and premium materials of a recycled origin.
Thus, Silestone® surfaces retain both their outstanding mechanical and technical performance and timeless beauty.
For more information on Silestone's collections, visit https://www.cosentino.com/en-sg/silestone/
Request for quotes and we'll match you with a selection of Interior Designers!
Previous
How Building and Design Firms Can Do Their Own Digital Marketing
Next
[Maintenance tips] Air con is not cold enough? 3 steps for testing out