8 Tips For A Beautifully Black Kitchen
Interior Design & Decor
1022 views
1022 views
Black is in. And it does not have to cramp your style.
Homeowners today enjoy a spacious, bright feel to their homes, opting for either white or bright colours good at reflecting natural light. So why black?
There's a little wave in the design industry where all-black spaces are becoming a trend, and this does not have to sacrifice that spacious, uncluttered feeling that's highly desired in today's homes.
Go Black
Denise Tan, Head of Business Builder, ASEAN, BSH Home Appliances, shares her insight on why black kitchens are the in-thing this year: "Black has always been the colour of choice across various industries. In fashion, we continue to pay tribute to the iconic 'Little Black Dress' that, over the years, remains an undisputedly classic piece that has yet to go out of style."
And it's not just for fashion too, she points out. "Automobiles and audio equipment also began to adopt an all-black aesthetic a couple of years back, with more consumers showing a greater appreciation for a minimalistic look – something that was then carried over to furnishing and interior design."
She is not just referring to aesthetics here; the colour black can have a positive impact on one's mental health. Who says black is bad?
"While black was, in the past, perceived to be an 'unlucky' colour," Ms Tan explains. "Customers today, with their hectic schedules and long to-do lists, tend to see the colour as a practical and stylish choice that makes appliances both easy to maintain and easy on the eyes."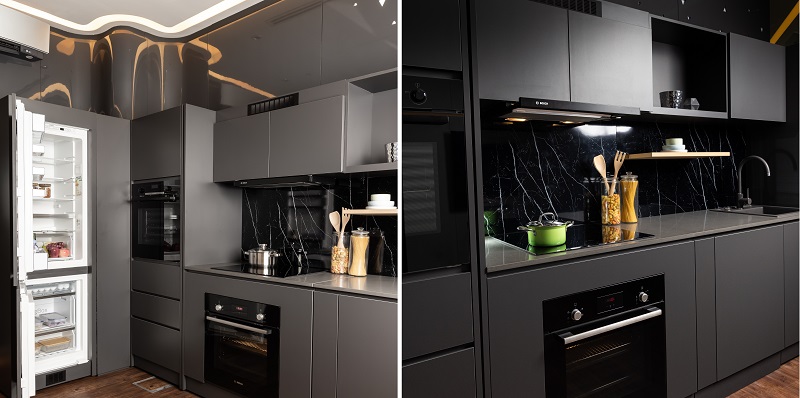 Image © Bosch Singapore
"For homeowners today," she continues. "Incorporating black into their rooms allows them to achieve that same bold and modern flavour captured in their all-black outfits or that sleek, black set of headphones that they own."
A home that feels luxurious, classy, and bold, with a touch of simplicity - that appears to be the drive behind incorporating lots of black into a home renovation.
With the kitchen being the top priority (next to the bathroom) when renovating a new home, we compiled a gallery of beautifully black kitchens done by various interior design firms here in Singapore.
So, how can you create your own little black kitchen?
1) All Black
It's just as the title says; go all out. A monochromatic space will add visual cohesiveness to your entire interior so that your attention can breeze over the area without any unnecessary breaks.
"Black adds not only character, but also depth, to a compact kitchen," Ms Tan says. "With the help of a few simple adjustments, homeowners can enjoy the best of what black appliances have to offer, along with the same feeling of spaciousness that one would expect from a brighter-coloured aesthetic."
Varying shades of black and dark greys can add some nice contrast without breaking visual focus. Just be wary that your kitchen does not get swallowed up, especially if you decide to use the same shade of black throughout the space.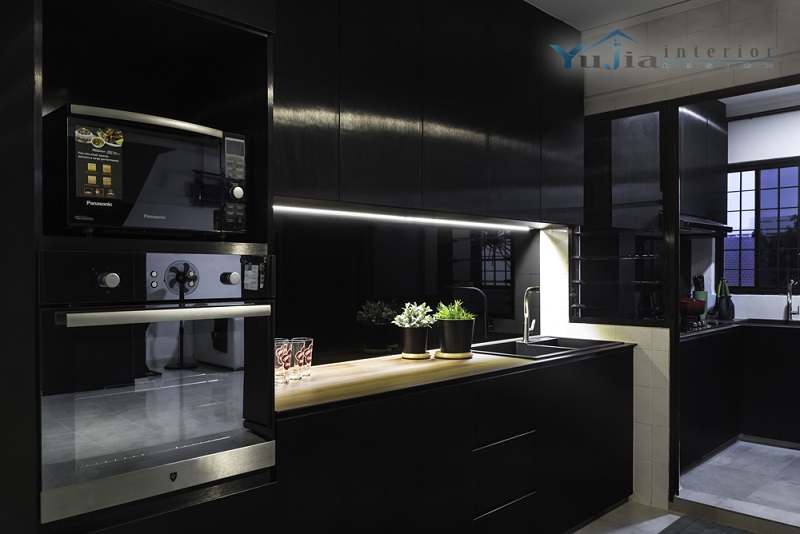 Kitchen done by Yujia Interior 
2) Throw In Some White
Nothing wrong with a classic black-white colour scheme; it may even elevate the elegant ambience of your kitchen. You can go for white tiles (for the floor, or the wall, or both), white cabinet handles, and/or a white backsplash.
Why not a mix-match of black and white kitchen cabinets?
Even Ms Tan pointed out that some kitchen elements in lighter colours can do a black kitchen some good: "One could also add contrasting pieces, like a quartz countertop or a sink fixture in a slightly lighter shade, to add an extra level of dimension to the room."
Kitchen done by Hamid & Sons Interior Design
3) Play With Textures
Your kitchen cabinetry is your design canvas; once you've put on the black, why not go further with textures?
Scuffy or ripply surfaces make good textures for your black kitchen; like with varying shades of black, they can give visual contrast without throwing off the entire look. If you found such textures too rough, you can also go for a smooth, satin gloss.
A glossy black surface for your cabinetry can reflect natural light well, bringing some brightness into your kitchen. However, it can be harder to maintain due to the risk of smudges from oily ingredients and fingerprints.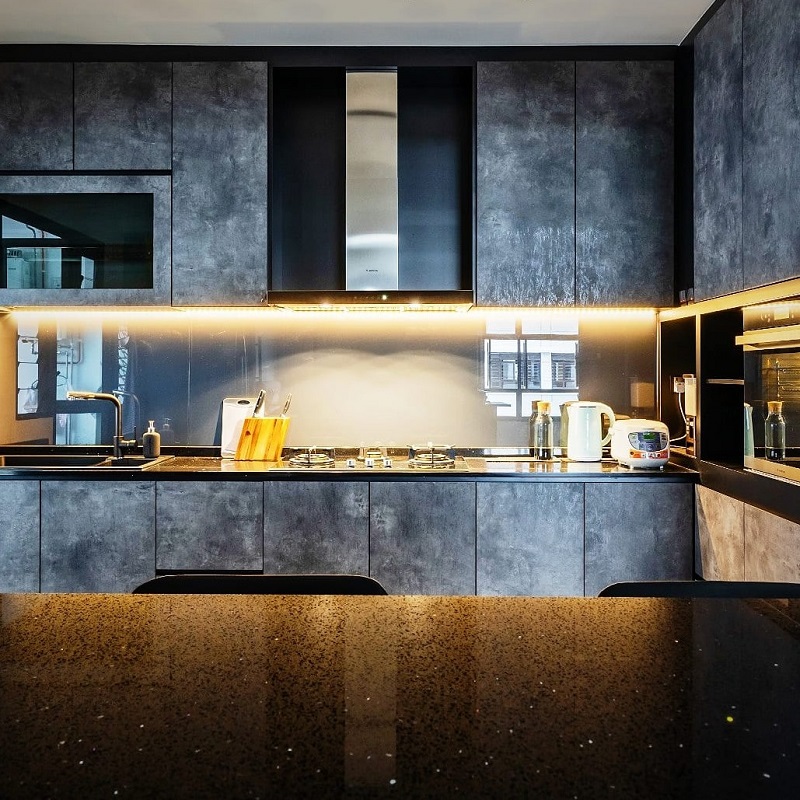 Kitchen done by The Wooden Platform

Kitchen done by The Safe Haven Interiors
4) The Right Accessories
Handles, sink faucets, appliances, lighting fixtures - these little things contribute to how your kitchen looks. Accessories and accents, in the right colours and materials, can add some colourful pop or elegant chic to your kitchen.
"Brass-coloured objects, like a bronze, matt-finished tap fixture or a string of pendant lights over an island counter, can add a beautiful glow that effortlessly complements the sleekness of an all-black kitchen," Ms Tan recommends.
If you are looking forward to cooking in your beautiful black kitchen, this suggested accessory from Ms Tan can impact that: "You can also add a small touch of nature with an indoor herb garden can make a world of a difference in your culinary sanctuary."
Black refrigerators, black ovens, black dishwashers, black baking ware - you can browse the market for black kitchen appliances to complement your kitchen.
Kitchen done by Design 4 Space
5) Remember The Lighting
A well-lit space is a good space since you do not have to strain your eyes, so you MUST utilize lighting fixtures for your little black kitchen.
Ceiling lights can cover the whole area in brightness, while gothic black chandeliers or pendant lights are good choices for amping up the ambience.
Ms Tan also suggests these lighting types - cove lighting or in-built under-cabinet LED lights. "Positioning warm-coloured LED lights under wall-mounted cabinets can help to create a glow that deepens the illusion of a larger space," she advises.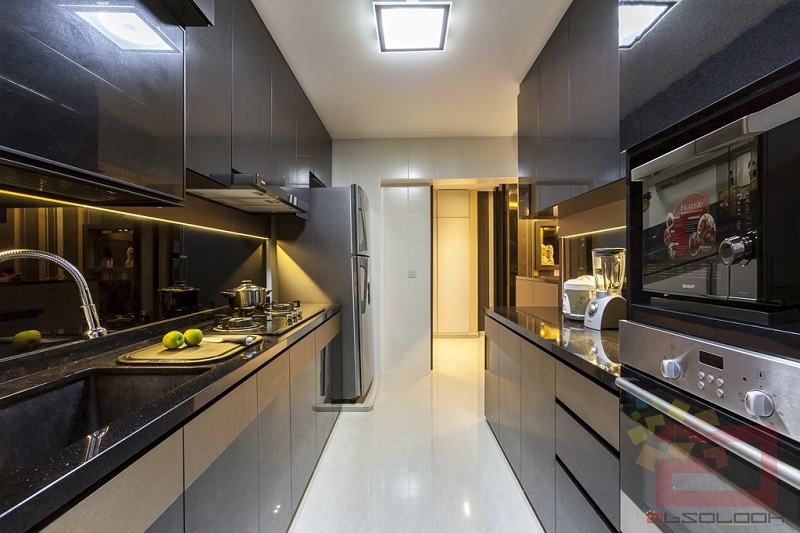 Kitchen done by Absolook Interior Design
6) Next To A Window
If your kitchen is next to a window, especially a service yard window, you can bank on that; windows let in lots of natural light, so you can let the light stream in over your little black kitchen.
That way, even with a lot of dark colours being used, your kitchen can remain well-lit even during the day.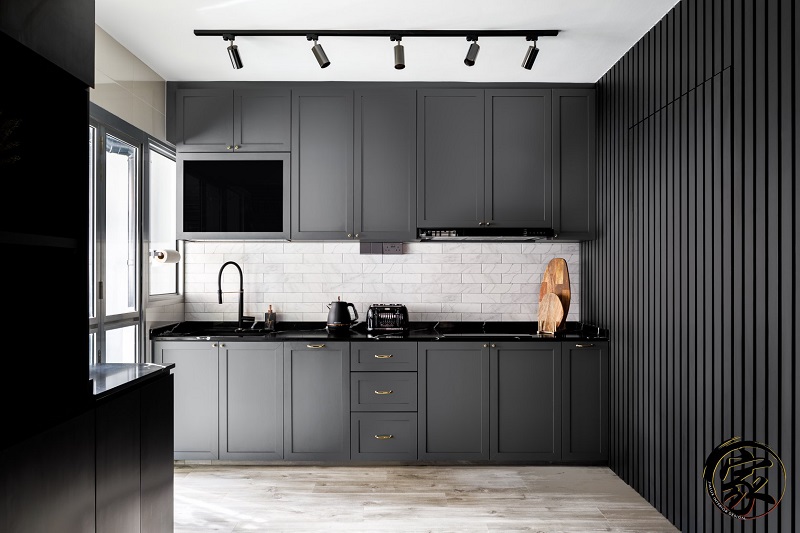 Kitchen done by Jialux Interior
7) Attention To The Backsplash
The backsplash, Ms Tan advises, should be coloured to properly accommodate your black kitchen. "Homeowners can also consider backsplash walls to further spruce up the dark aesthetic."
Go for a purely black backsplash, or even a light-coloured one for a visual contrast that is easy on the eyes yet does not break the overall colour scheme. A mosaic backsplash with black-white patterns can also work well for a black kitchen.
It seems yellow is becoming a popular colour for backsplashes due to the vibrant spark it gives a monochromatic-coloured space.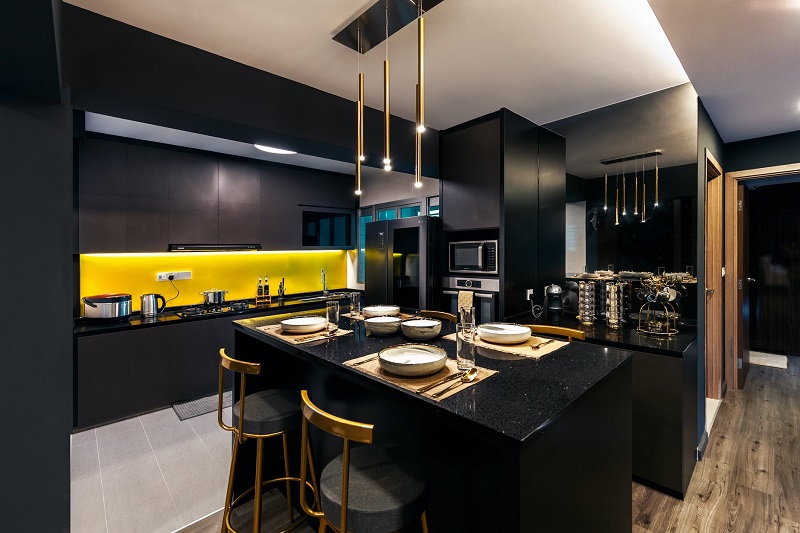 Kitchen done by Darwin Interior
8) Countertop Surfaces
The countertop is another visual element that can make or break your little black kitchen. You can either pair it with your backsplash's colour and pattern or make it a complementing colour to the rest of the kitchen.
If your countertop has veins, like with a marble or a quartz one, it can add a luxurious feel to the kitchen. "The right countertop can imbue a whole new level of flavour to your all-black kitchen," Ms Tan points out. "Materials like marbled quartz, dark-coloured composite stone and granite make exceptionally stunning additions."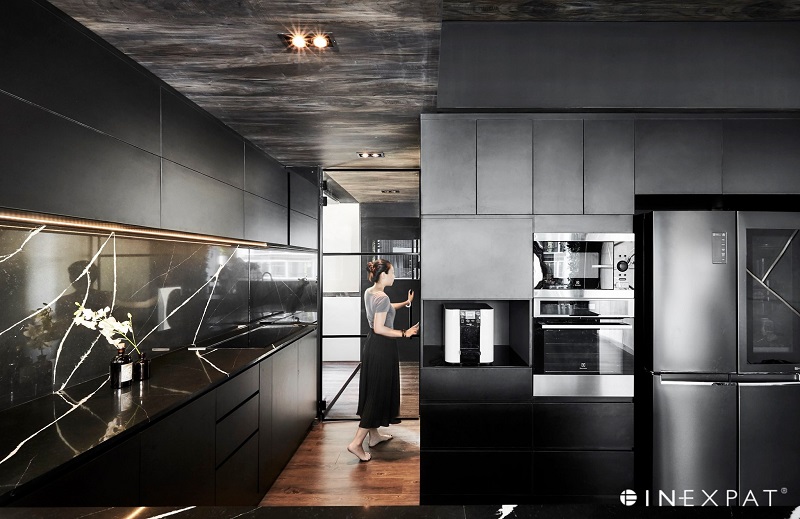 Kitchen done by IN-EXPAT
Win A Black Kitchen Makeover From Bosch!
Does a black kitchen appeal to you? If you are renovating your kitchen or moving into a new home, Bosch Singapore has recently unveiled its Bosch Black Collection - a darkly elegant full kitchen suite comprising cooker hoods, gas and induction hobs, ovens, dishwashers, and freezer-fridges.
Here's the best part; Bosch is giving away a Bosch Black Collection (worth up to S$7699 purchase rebate) kitchen bundle to ONE lucky homeowner in Singapore.
To enter the giveaway:
1) Purchase a Bosch Black Collection kitchen bundle between now and 31 January 2022 from Bosch Kitchen Dealers
2) Fill in this Google Form to submit your proof-of-purchase
3) Open up or create an Instagram account
4) Post a photo on Instagram of your kitchen with the Bosch Black Collection
5) Tag @boschhomesg on Instagram and include #boschblackcollection in your Instagram post
The Bosch Black Collection is available in official Bosch Kitchen Dealers in Singapore.
Artisan Furnishing Pte Ltd
BI&L Collections Pte Ltd
Eldric Marketing Pte Ltd
Fide Living Pte Ltd
Fresh Look Interior Design
Mansion Appliances Pte Ltd
P5 Pte Ltd
Rina Electrical Pte Ltd
The Museum Squad Pte Ltd
Unique Kitchen Fusion Pte Ltd
Vivant Concept and Contracts
W.Atelier Pte Ltd.
Request for quotes and we'll match you with a selection of Interior Designers!
Previous
The Ultimate Guide to Kitchen Cleanliness
Next
What makes CrownLivin different from its competitors?