5 MUJI Furniture Sets to MUJI-up Your Home
Interior Design & Decor
16661 views
16661 views
MUJI stores are rather distinct, their facades similar to other lifestyle outlets such as Miniso and Uniqlo. One only needs to stand outside and recognize this Japanese household name from its open shelving, wooden textures, and storewide usage of earthy tones. One may also remember the much-acclaimed MUJI huts, mini-houses released for the Japanese market just a couple of years ago.
MUJI Singapore recently opened its 12th branch on Levels 2 and 3 of Jewel Changi Airport, and it has got plenty to offer those passing through. Level 2 holds lifestyle and fashion items, while Level 3 hosts household accessories, furniture, and MUJI's exclusive eatery Café&Meal MUJI.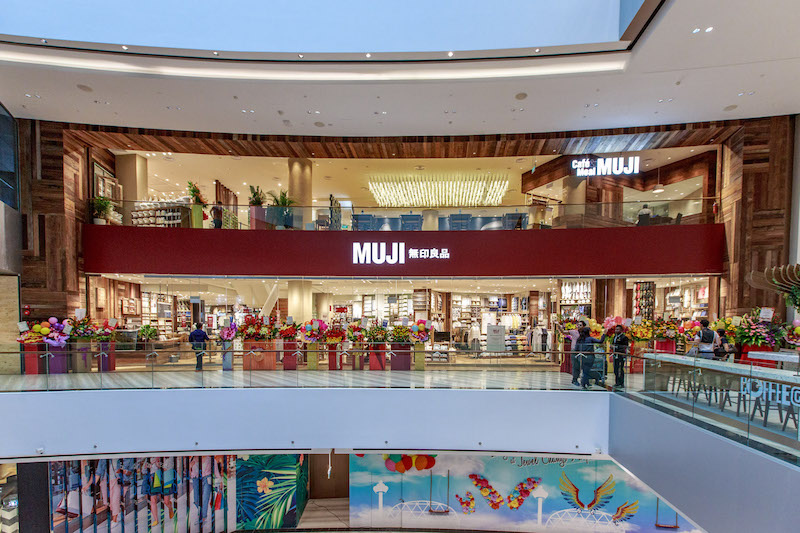 Image © PRecious Communications

Where does MUJI's appeal lie? As mentioned on its website, the MUJI name stems itself in simplicity, universality, and quality, giving us eco-friendly, affordable goods that work well with today's lifestyles without commercial grandeur.
MUJI's influence is so widespread that its look has made its way into our homes. One of the good things about the brand is that you can buy separate pieces (which reduces environmental wastage) and assemble them to create your own personal space.
So, what can you get to bring MUJI into your home? We recommend these 5 furniture sets from the brand to MUJI-up your home:
1. WARDROBE SET
$609.00 (Oak shelf set - Wide/Large, W86cm × D41cm × H175.5cm)
$33.00 (wardrobe bar - Wide/Large)
$26.00 (back panel to prevent swaying - Wide/Large, 2 Compartment Type)
$39.00 (back panel to prevent swaying - Wide/Large, 3 Compartment Type)
Like we mentioned, MUJI offers plenty of customisation options when it comes to planning your storage systems. You can opt for how tall and how wide you want your cabinet to be, plus the additions you can go for — wardrobe bars, back and side panels, steel rods for extra support, height-adjustment brackets, corner shelf options, and shelf boards.
Here, we are looking at the widest and largest wall-less wardrobe MUJI can offer. This wardrobe would stand at 175.5 centimetres tall and 86 centimetres wide. Depending on how much stuff you need to store, you can go for two or three compartments for your wardrobe.
Also, you can turn your wardrobe into a standard cabinet by removing the wardrobe bar, and vice-versa. If you are worried about your hanging clothes flapping here and there, you can put in a back panel to keep them in place. These separate panels also make good partitions if you plan to have another cabinet right behind this one.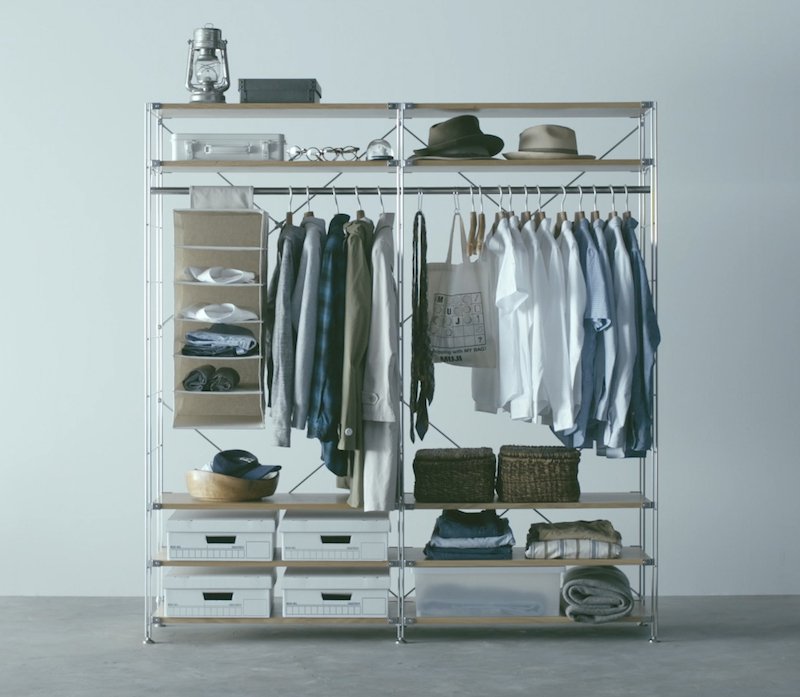 Image © MUJI's Website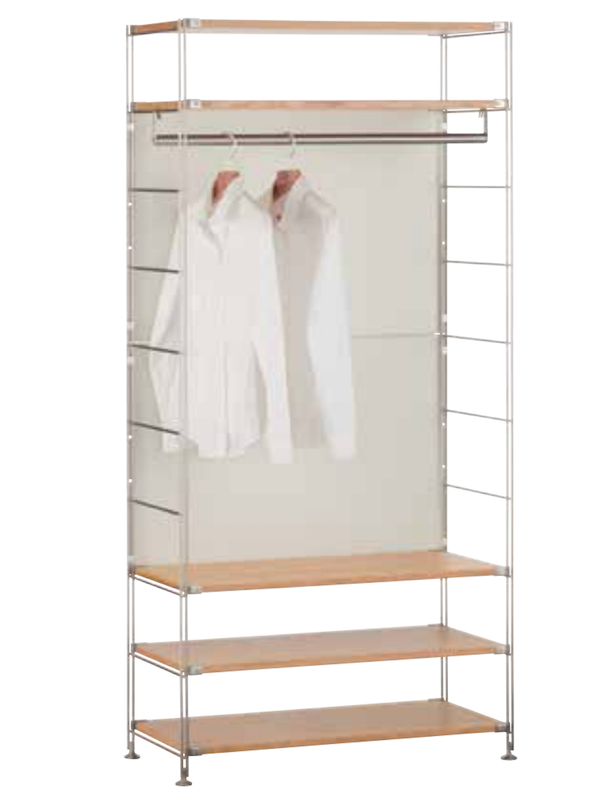 Image © MUJI's Online Catalogue
2. STORAGE BED SET (DOUBLE) IN OAK
$719.00 (double-size bedframe)
$259.00 (headrest)
$179.00 (additional storage box)
Mattress sold separately
This thick double-sized platform bed is another item from MUJI where you can play around with customisation options. Let the platform stand alone as a simple square bed-frame, or you can add the headboard for a more traditional look.
You can also get additional storage through the storage boxes, which you can fix to the front of your bed-frame. You can use these additional storage boxes to keep your favourite books, your work folders, your accessories, or even your alarm clock to motivate you to get up in the morning and crawl to the front just to turn it off.
Having storage space right under the platform is a standard of MUJI's bed-frames, so you always have space to store things underneath your bed-frame no matter which model you get. For this double-sized bed-frame, the storage space is built-in and can carry up to 10 kilograms of stored items.
Mattresses are also available from MUJI, but you can always go for mattresses from other suppliers to get that comfort you deserve.
Image © MUJI's Website

Image © MUJI's Online Catalogue

3. LIVING ROOM SET
$889.00 or $649.00 (table - W150cm x D80cm x H60cm)
$439.00 (long bench)
$259.00 (single-seater bench)
$439.00 (single-seater sofa chair)
$16.00 (connecting plates for sofa chair)
$49.00 (separate armrests for sofa)
$549.00 (AV rack - W150cm x D35cm x H36.5cm)
Combine all the items above to get this chic, cosy living room set from MUJI. It mixes the warmth of wood with the soft comfort of cushions, creating the perfect space for communal relaxation.
The benches add a clean touch to the set, where family members and guests can lounge around the table in comfort. The table featured in this set comes with a singular rack underneath for storage space, so that you can store books and magazines there for some reading time in your living room. Throw in the AV rack for extra storage and bonding time in front of the telly from the comfort of your benches.
If your space is small, this living room set can double as a dining space, with the television and AV rack parked near it so that you can catch up on your favourite series while having your meals.
However, if you got enough space in your home, read on to the next item on this list.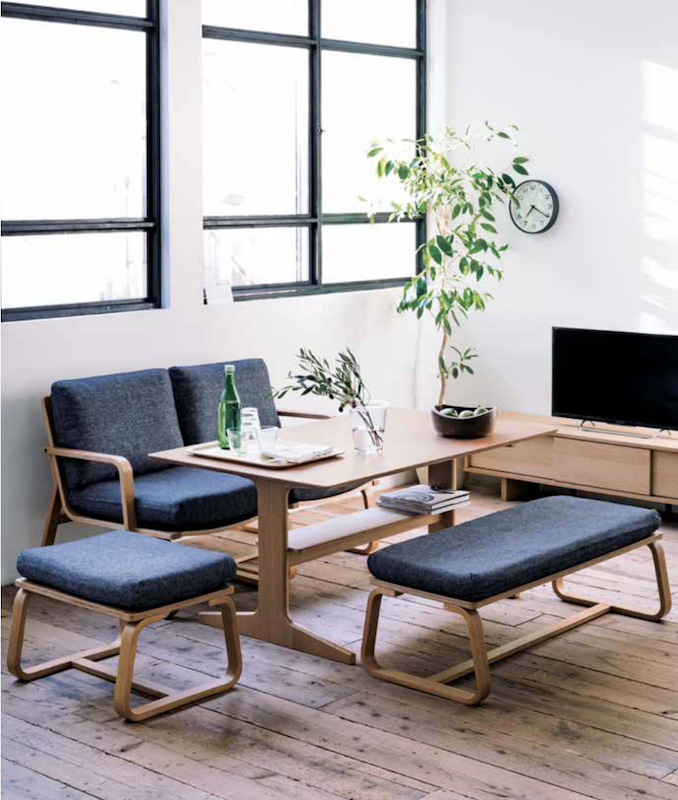 Image © MUJI's Online Catalogue

4. DINING ROOM SET
$1899.00 (table with round legs - W180cm x D85cm x H72cm)
$699.00 (armchair with round legs)
$309.00 (bench with rectangular legs)
$159.00 (side table bench with rectangular legs)
Like with the living room set mentioned in the previous point, we recommend getting all the pieces stated above to complete this traditional, earth-toned dining room set.
The chairs in this set may be made out of wood, but there is no need to worry about lack of comfort. Slight concave bowls have been carved into the chairs, so that your bottom can rest easily for extended periods without feeling fatigued.
If you want to mix things up a little, you can swap out a few chairs for a long bench for extra relaxation; you can even toss on a few cushions for added comfort especially during meal times (and if you are susceptible to post-meal food coma).
As for the table here, its round legs are reminiscent of a traditional English home in days gone by. But if you seek a more modern look, you can always go for a table with rectangular legs to match the benches here.
Image © MUJI's Online Catalogue

5. STUDY-WORK SPACE SET
$398.00 (desk top panel in Oak + desk legs - W150cm x D60cm x H2cm)
$358.00 (desk top panel in Melamine White + desk legs - W150cm x D60cm x H2cm)
$289.00 (oak desk cabinet)
$309.00 (compact steel cabinet)
$89.00 (partition for desk)
$33.00 (L-shaped shelf with magnet for desk)
$199.00 (working chair)
$43.00 (separate armrests for working chair)
You can decide how you want your personal workstation to look, right down to the tabletop! Go for either Oak or Melamine White for your desktop panel depending on your aesthetic of preference. The desk legs for this MUJI workstation set come in two heights — 120 centimetres and 150 centimetres, so that your desk can accommodate you no matter your height. The accompanying office chairs are also adjustable to suit any height.
Once you have assembled your table, you can add on various solutions to perfect your working space; these add-ons comprise of armrests for your chair, an attachable desk partition to display your notes, and a magnetic L-shaped shelf to hold your accessories.
If you need extra storage under your table, you can bring in either a standard or a compact under-desk cabinet to keep your files and papers safe.
Image © MUJI's Online Catalogue
Love the MUJI look? Happy to see this list? Then keep your eyes peeled for further MUJI news, because this big brand plans to add Singapore housing to its growing list of interior design projects. MUJI Singapore also has interior planning services to help you incorporate the look into your home.
Would you like a MUJI interior design for your own home?
Request for quotes and we'll match you with a selection of Interior Designers!
Previous
Soaring Temperatures: Smart Ways to Escape the Heat
Next
Society of Interior Designers (SIDS) 2019 Symposium 1: An Exploration Into 'Designing Spaces,...