How To Create The Perfect Playroom For Your Kids
Interior Design & Decor
2531 views
2531 views
It can be quite challenging to create an exclusive space for your children's playtime, especially if you do not live in a large space. But that should not stop you from turning an area of any size into your children's next big thing.
Whether you want to transform an entire room or assign a decently-sized corner to your children's after-school activities, here are 7 tips on creating the perfect playspace for your little ones, no matter their age group.
1. Halve That Wall
If you have limited space in your homes, consider hacking down the top half of a wall. It then forms a sort of enclosure for your child's playroom, so that you can look over the half-wall whenever you need to check on your child. That way, you can easily keep an eye (or an ear out) on your little ones while they are playing in their own space.
For added privacy, you can also add windows on top of the half-wall.
If hacking is daunting or unaffordable for you, consider installing dividers or partitions to divide large spaces in your home. These dividers or partitions could come in bright colours and patterns to amp the playful vibe for your children's playspace.
Alternatively, you can hack down an entire wall and replace it with a stationary or sliding glass panel for surveillance and spaciousness.
Image © ZL Construction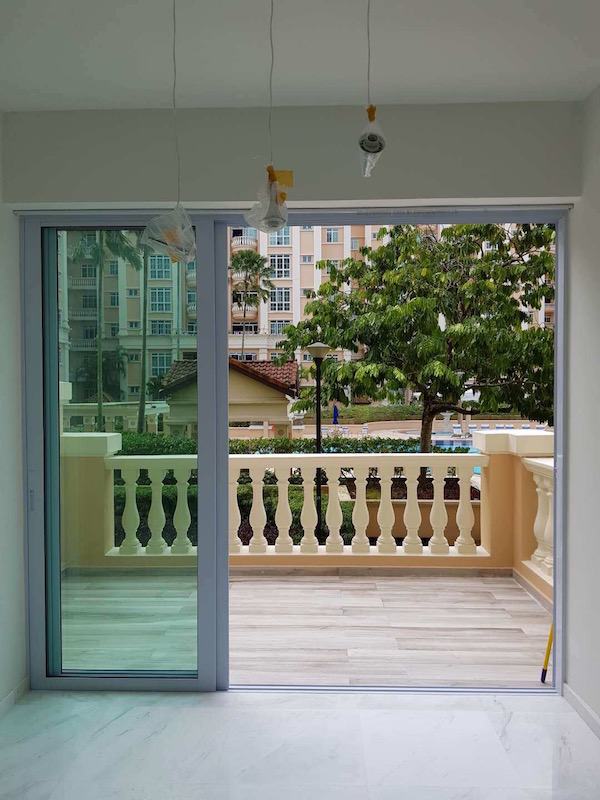 Image © Seven Konzept
2. Easy-To-Clean Flooring
No matter how messy or clean your children's activities are, cleaning the floor is an important part of maintaining a healthy environment. The list is endless when it comes to things that can and will leave stains and messes on your floor.
Thus, you have to consider the type of flooring you need for your children's playroom, and ensure it is a surface that can be cleaned easily.
Ceramic tiles or wooden flooring (think parquet, not laminates) are good options for flooring, as they are easy to clean. Spills and messes can be easily swept and mopped away from such surfaces.
Laminated or natural stone flooring would be harder to clean due to their absorption of seepage, so if your children enjoy getting their hands dirty, such surfaces would not be ideal for their playroom.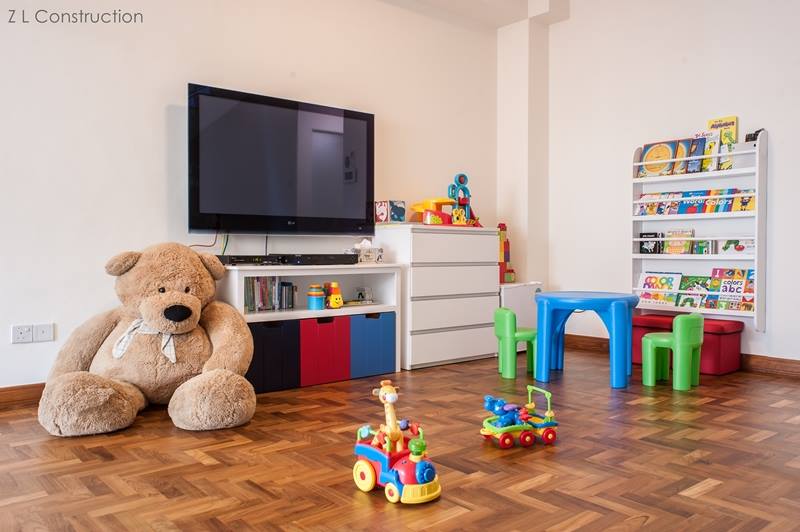 Image © ZL Construction

3. Lots of Storage Space
Nobody likes clutter, especially when clutter is littered all over the floor and creating a playground for unwanted trips and falls. No matter the size of your children's playroom, storage space is essential in keeping the area neat and their favourite toys in good condition.
Have a row of low cabinets or open shelving to keep your children's playthings. You can also invest in carpentry with drawers, so that your children can easily pull out and put back their stuff. A larger cabinet (just one is fine, especially if your playroom is small) is also useful for keeping bigger toys, or for when your children becomes teenagers and they need a space to keep their fondest childhood memories safe.
Having lots of storage space would also give you opportunities to teach your children on cleaning up after themselves. Give them a bonding experience that is both memorable and educational.
Image © Seven Konzept

4. Decorate Your Walls
Bold colours and pastels are common in playrooms, so go crazy with them when it comes to your own playroom's walls. Paint all four walls, or just paint one should you want to change the colour later.
Or perhaps neutrals and monotones work better for your playroom? Consider a chalkboard wall (or two to four, if you can afford so) to amp up your child's creativity — now you can allow them to scribble on the walls. Alternatively, for a more minimalistic or hipster look, go for white walls with memorable quotes or graphics painted on them in black.
Don't let solid colours hold back your child's creativity - let them be experimental in how they want their walls to look. Do they like murals and paintings? Put a mural or a giant painting on just one wall to draw attention without the clutter.
If the space is intended to follow your child to maturity, opt for wall decals - unlike paint, they are easy to remove and thus can be changed according to your children's development. If your growing teenager still loves bunnies and tutus, swap the decals out for edgier designs or leave them as they are.
Image © The Wall Story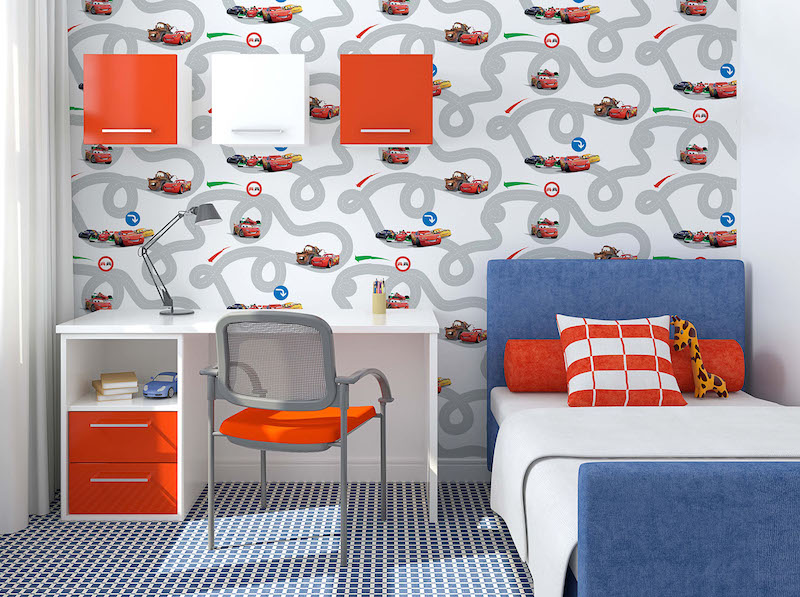 Image © The Wall Story

5. Make It Safe and Soft
If your children are fiesty and constantly on the move, accidents are bound to happen no matter the size of the space. How many times has your heart dropped whenever your child trips and their face hits the floor hard?
By utilising soft materials for your playroom, you can minimize the number of such accidents. Use playmats, cushions, bean bags, carpets, or rugs to create a safe, soft environment for your children's playspace. This helps to reduce the painful impact on your child's form whenever they collide with a hard surface in their playroom.
These soft seaters (or makeshift beds, depending on how your child sees them) can also be the perfect places to rest or nap after playtime, especially your child's bed is not in the same room as their playroom.
Image © ZL Construction

6. Make it Educational
Your child can both play and learn in their playroom. Got a wall or two to spare? Put up some posters that are both educational and easy on the eyes. Charts detailing the alphabet or basic mathematical equations are a good start.
You can even paint these educational bits on your wall if posters and charts are not your thing. Spend time with your children and use these special wall decorations to conduct little school lessons with them.
Does your child love arts and craft? Opt for activity books or kiddy craft kits, and invest in some storage space to keep them after your child is done. It could be a great bonding experience with your child (and a great creative outlet for you!) if you do the activities with them.
Think plushies, dolls, and figurines are ineffective? Not really. Studies have shown that role-playing with such toys encourage creative thinking and social skills. You can use them to teach your child moral values.
Just be sure to plan your storage space carefully if you are looking to make educational toys and activities a huge investment for your child.
Image © Seven Konzept

7. Compromise With Your Kids
You want to dedicate a wall to visuals that teach your child addition and subtraction. Your child wants pizza-themed wallpaper on all the walls in their playroom. You may think their idea is extreme and impractical. Your child may think your idea is boring and stifling. Why not have pizza-themed wallpaper or murals that weave in basic arithmetic?
If your child is old enough to have discussions with you, talk with them about planning their playroom. Be warned however, for their ideas may sometimes clash with what you have planned for their playroom. Be open to their ideas, and listen to them.
At the same time, gently point out to your child on why their ideas may not work for their playroom, no matter how interesting they may sound. Posters of their favourite cartoon everywhere sound nice, but may lead to a cluttered and cramped space. Painting the walls in bright neons lose their novelty once they become too glaring to look at.
Come to a mutual agreement, and compromise on a few ideas. If possible, combine suggestions into a space that will make both you and your child happy.
Ultimately, the space belongs to your child and they will be benefiting the most from it, so there are times you may have to step back a little and let your child decide what they really want for their playroom.
Here's to a successful and happy playroom for your children! What other tips can you think of in creating the perfect playroom?
Request for quotes and we'll match you with a selection of Interior Designers!
Previous
Top 8 Themed Bedroom Designs Your Teenager Will Love
Next
4 Interior Design Tips for a More Energy Efficient Home