How to Brighten Up a Window-Free Bathroom?
Interior Design & Decor
1389 views
1389 views
(Guest Writer: Lisa Roberts)
Let's be honest - nothing can beat natural light. It inevitably makes any room look more spacious, while a windowless room can seem quite dark and uninviting. However, with some creativity and the right design, you can easily brighten up a window-free bathroom.
Lightning up a bathroom will not only improve the ambience but is important for safety reasons, too. You don't want to slip over wet tiles, and you want to be able to groom yourself properly.
Although this might seem impossible, there are actually some simple and smart ways to achieve this, either by yourself or by hiring a designer. If you feel a creativity rush, you can even look into online interior design courses for beginners. You might find a new passion, too.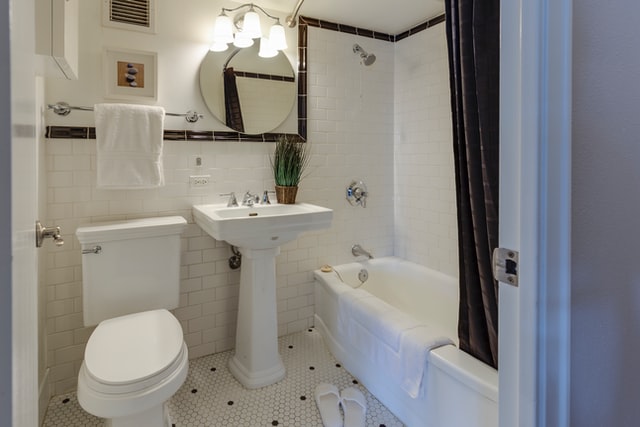 Photo by Francesca Tosolini from Unsplash
Preparing For Renovation
Before you start renovating your bathroom, make sure to thoroughly plan every detail. Regardless if you hired professionals or you are remodelling your bathroom by yourself, pre-planning is the key to having good results. Even if you are only renovating your bathroom, delays can happen but with proper organization, everything will go smoother and be much easier.
Photo by JESHOOTS.com from Pexels
After you've set the budget and created a plan of how your bathroom renovation will look, it's time to do the prep work. You must prepare everything in advance; otherwise, you risk potential damage, injuries, and delays. Below we've listed three important steps:

Clear out the space - take everything out of the bathroom. To make everything easier, put things in the labelled boxes.
Remove everything that's hanging on the wall
Unscrew the electrical outlets - as you will most likely be painting the room, you shouldn't skip this step.
Choose The Right Colour
One of the easiest ways to brighten up a window-free bathroom is to use white colour for walls and furniture. A great trick to make space look wider and airier is to paint the walls white.
On top of opening the space, white will reflect the artificial light, adding to the brightness effect. You can even add white furniture or accessories to make your bathroom even brighter.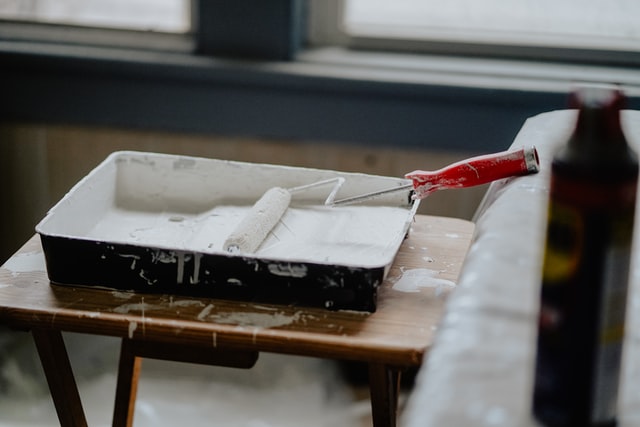 Photo by KJ Styles from Unsplash
You might feel that using too much white is boring. Therefore, you can choose a bright colour and add different details to your bathroom. For example, you can combine colourful tiles, or even a shower curtain with an interesting print can do the trick.
Wall Decoration
When you have a windowless space, there are plenty of opportunities to enrich it with some great details. There are various wall decoration ideas you can look into and choose from, depending on the style you've selected.
As a window-free bathroom can feel dark and uninviting, adding interesting pictures can really improve the impression. You can add wall stickers, murals, even cover an entire wall with interesting wallpaper. This will make the room feel more cheerful and won't harm the brightness effect (if you painted your bathroom in a light colour, of course). Combining mirrors and artificial light can also make your bathroom brighter.
Photo by Max Vakhtbovych from Pexels
Use Mirrors
As you won't have any natural light coming in, you will need to find smart ways to amplify the artificial light you have inside. One of the best ways to achieve this and brighten up a window-free bathroom is to add mirrors.
Using frameless mirrors is a great way not only to enhance the light but to add width to space. Mirrors can really add layers to any closed space! You can even choose a mirror door for your shower or even create an entire mirror wall. This can only enhance the brightness and make your bathroom light up.
Good Lighting
Focus on light fixtures as they are crucial to making your small and windowless space look bigger and brighter. Given that you need to compensate for the lack of natural light, picking the right light fixtures is really important. Choosing poorly can do more harm than good to windowless space.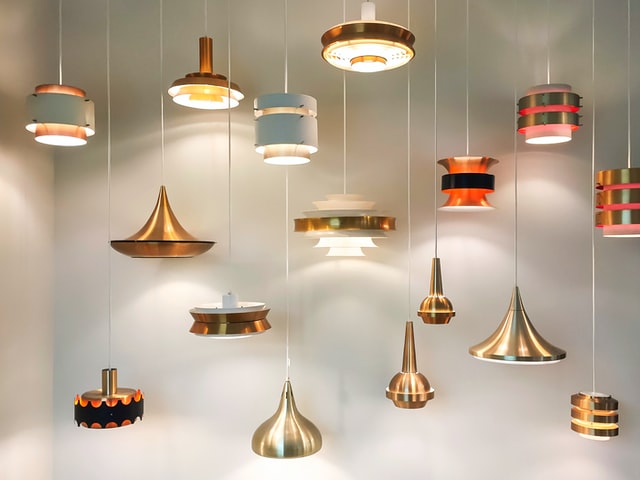 Photo by Etienne Girardet from Unsplash
Look into finding fixtures with clear or seeded glass as they maximize the light. Don't stop at just getting a bright overhead light - add wall-mounted sconces or spotlights on different levels. This makes your space brighter as it imitates the natural light flow.
Another good idea is to add a vanity light that gives you light where you need it the most but reduces shadows.
When it comes to light bulbs, try avoiding yellow ones as they can make your bathroom seem smaller. Focus on getting ones that are the closest to the natural light colour.
Reflective Surfaces
We already talked about adding mirrors and how they can reflect and amplify the artificial light in your bathroom. However, adding mirrors is not the only way to achieve this effect.
Many materials don't absorb light and can be used in your bathrooms, such as polished metal or Lucite. For example, you can accessorize your bathroom with different details made with these materials. They will not only look good but also have the function to reflect the light and brighten your bathroom.
Selecting the right tiles can make a difference and make your bathroom seem lighter, too. Light and glossy tiles will help to illuminate the room more.
Invest In Glass Or Transparent Furnishings
Choosing the right furniture can influence the sense of space in your bathroom. If you choose correctly, your bathroom will not just seem wider but lighter, too.
The key to achieve this is to use glass or transparent furnishings. Using glass or transparent furnishings can help to reflect artificial light sources and make your bathroom seem brighter. Not just because of their reflective properties, but by using them, you will avoid overcrowding the space.
Do not focus only on shower enclosures or shower screens. For example, you can look into getting glass shelves. If your bathroom is big enough, you can use glass walls to divide the space, too.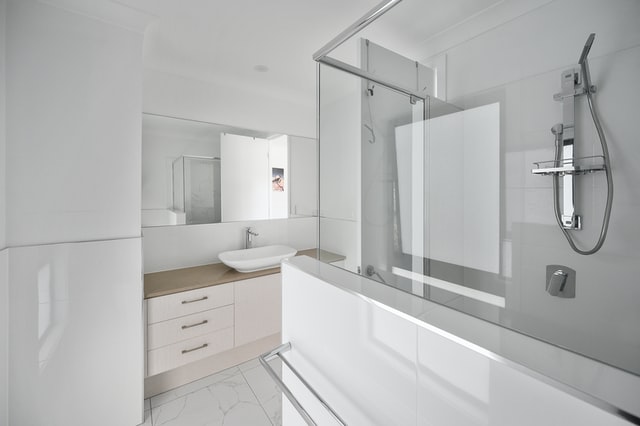 Photo by Filmreal Studio from Unsplash
There are many ways to brighten a window-free bathroom. You can use different techniques such as painting the room white or adding more mirrors.

On the other hand, you can trick the mind into seeing what was once a dark and uninviting room as a cheerful space by using different decorations. Whatever you decide, we hope our advice was helpful and wish you the best of luck with brightening and transforming your bathroom!
Request for quotes and we'll match you with a selection of Interior Designers!
Previous
8 Home Improvement Ideas For Sports Enthusiasts
Next
4 Uniquely Singaporean Dishwasher Myths, Debunked