Renovating Your Bathroom Cabinets: All You Need to Know
Interior Design & Decor
885 views
885 views
(Guest Writer: Dan Martin)
Renovations, in general, are a long and exhausting process. In most cases, it is also costly. But it helps revamp a space. Renovations help in utilizing any given space in households. Before you start renovations in any part of your home, it is important to be knowledgeable.
In family homes, one of the most common targets of renovation is the restroom. Aside from the aesthetics, renovating the bathroom also provides cleanliness.
For aesthetics, homes incorporate new trends like a modern freestanding tub. For additional aesthetic points, there is a wide variety of bathroom cabinets included in renovations today.
We will talk about what to consider when renovating your bathroom cabinets. This will help you find the perfect match for your bathroom. So, here are the things to look out for during this process.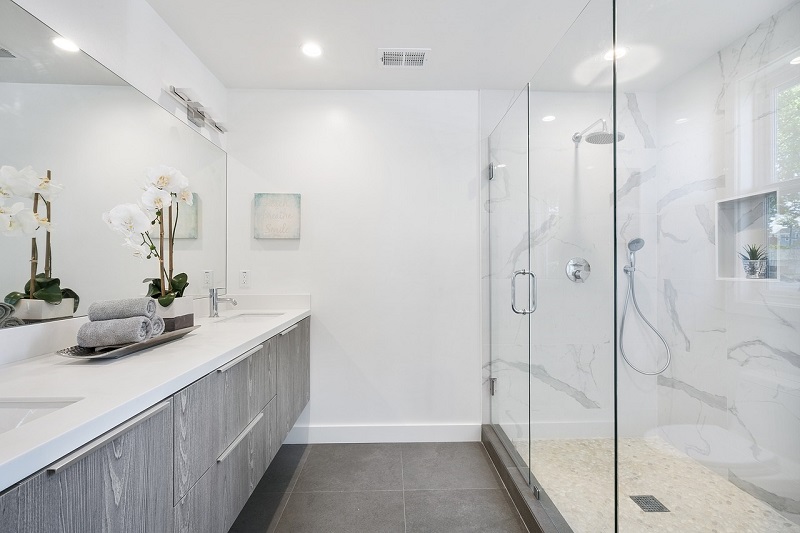 Bathroom done by Stone Amperor
Things to Consider When Choosing a Cabinet
Choosing the Style
Various bathroom furniture has different styles.
For example, there is a wide selection of modern freestanding tubs that you can choose from. They vary in material, shape, size, and colour. Finding one that will suit your bathroom is important because chances are, you'll be having the tub for a long time.
The same goes with cabinets. Find ones that you'll be able to use and appreciate for a long time.
One of the cabinet styles that you can choose from is the standalone vanity. This type of cabinet usually contains the sink and countertop. Another style is over-the-toilet units. These kinds of cabinets usually have linen storage and a built-in hamper.
When choosing the style of your cabinet it is important to take note of your renovation goal. The choices may be overwhelming so sticking to the main purpose of the cabinet is important. Make sure that you are choosing a cabinet that will serve its function. This way you will not only have a pleasing cabinet but also a useful one.
Cabinet Storage
Regardless of the style, the cabinet must have well-constructed drawers. These drawers must be at least ⅜-inch to 1/2 -inch thick, most especially at the bottom drawer.
Like the style, the perfect cabinet storage is relative. This would depend on the goal or purpose of your renovation. Some household owners want to increase storage capacity. So, choosing a cabinet that offers a lot of storage is more appropriate.
Perfect Size
The renovation process is like a blank slate. You can work on a room and consider it a blank canvas. This means that you have the power to completely change the look of your bathroom. A new cabinet or putting a modern freestanding tub is on the list of the things that you can put.
However, it is always important to note the size of the room that you are working with. As mentioned above, the choices may be overwhelming.
Choosing a new toilet, cabinet, or something as big as a modern freestanding tub should be done carefully. This process should be well-planned to fit the space you are working with.
The size of your new bathroom cabinet shall go well with the other new things that you will put in it. At the end of the day, the perfect cabinet size is the one that will allow you to comfortably roam around your bathroom. You should be able to enjoy this space while using the other functions of your furniture.
Bathroom done by New Chapter Design.com
Choosing the Material and Finish
It was already mentioned that renovation is costly. So, it is important that you purchase sturdy furniture. Buying a high-quality bathroom cabinet means you are getting your money's worth.
Ready-to-assemble or RTA cabinets are the cheapest. But, purchasing this kind of cabinet means possibly compromising the material used and final quality.
Another type is stock cabinetry. This kind is considered affordable but limited in style variations.
Semi-custom cabinets offer more style variety. That is because you are given the freedom to tweak some parts.
The most expensive is custom cabinetry because it is made uniquely for you. You can choose the material that will be used. You can also choose the colour, design, and other specifications that you want to incorporate.
Costs
Lastly, you should always consider your budget during this process. There are many cheap options that will still give you the same kind of cabinet quality. You don't have to sacrifice your set budget to get expensive furniture.
These days, there are many manufacturers and suppliers that offer relatively cheaper items. Just like a modern freestanding tub, there are a lot of cabinets suppliers. These suppliers will help you procure the best fit cabinet at an affordable price.
General Tips About Renovation
Make a Plan
When you have fully decided to renovate your bathroom you must make a plan. This plan includes the following: your goal, the blueprint, and your budget.
This is where your whole renovation process would revolve around. Are you renovating for space? Are you renovating for storage? Or are you renovating for aesthetics?
These are just a few of the questions that you have to answer during the planning stage. Deciding whether or not you will be putting a new cabinet or tub should also be done in the planning stage.
When these are answered, creating a blueprint is your next step. The blueprint is a physical copy of how you would want your bathroom to look. This would help you visualize the kind of things that you want. Where will your new cabinet and modern freestanding tub be placed?
Lastly, always remember to set a budget. Creating a budget would help you decide along the way.
Research the Market
It is also advisable to research the market before purchasing anything. Proper research would help you find more affordable items. Knowing your options would even help you stumble upon better choices.
For example, there are different kinds of cabinets in the market. But, the quality, style, and price may vary. Before you make your purchase, make sure to check all available options. This way you wouldn't be wasting your money on frail purchases.
Bathroom done by Eight Design
Consult a Professional
Getting a professional opinion on renovation is also recommended. Professionals can help you find high-quality items, from a modern freestanding tub to high-quality cabinets.
They can also help you come up with a better floor plan. Due to their experience with household space, they can help you achieve a better bathroom.
Find the Perfect Fit
Renovation may be tiresome, but it sure brings satisfaction in the end. You must create a plan and stick to it to achieve what you want. There are tons of choices in the market, so carefully choosing your furniture is advisable. When it comes to your bathroom cabinetry, the one that is in style and serves its purpose is a perfect choice.
Request for quotes and we'll match you with a selection of Interior Designers!
Previous
Does Your Bedroom Have What It Takes to Be Your Safe Haven?
Next
9 Ways To Design the Perfect Nook Space for a Writer