Start Up Your Smart Home With Domo7!
Home Appliances & Tech
1736 views
1736 views
With smart home systems being in trend today, there are many retailers offering products that will wire up your home for the future. Whether it is through weather-sensitive sensors, lights that activate on command or home decor that responds to a tap on an app, more homeowners and commercial workers are utilising such systems to improve the convenience of access and control in their homes.
Domo7 is one of many retailers offering smart home solutions, and they have a wide range of products to turn your home, be it existing or new, into a smart one that will ease up today's hectic lifestyles ­­­­­­­— and especially so with the coronavirus out and about.

About Domo7
The company is proud to be one of the leading retailers for smart space solutions, be they for the home or for the office. They work hard at studying your space to create a personalised, seamless, and connected smart system according to your preferences.
As the demand for smart home systems rises, Domo7 acknowledges how essential they are and believes that they should be made available to everyone. They thus aim to install smart home automation in local homes while educating homeowners about them.
Domo7's vision is to 'improve the life of every home to be more convenient using assistive technology', and that includes ensuring that every smart home system installed works smoothly without worrying about maintenance.
This is done via constant development of key platforms via the Internet of Things (IoT) and exploration of technological trends to make home automation stable and connected.
Domo7 also works directly with interior design firms and electricians to provide the best service from purchase to installation.
As a result, Domo7's home automation is:
Affordable
Suited for any lifestyle
Energy-saving
Convenient
Getting A Smart Home System From Domo7
Domo7 offers two smart home packages, designed to fit any home, preference, and budget:
Starter Package
15 Smart Wall Switches
3 Air-condition Control
3 TV and Home Entertainment Control
Dedicated Router
Premium Package
15 Smart Wall Switches
3 Air-condition Control
3 TV and Home Entertainment Control
Dedicated Router
3 Voice Control (Google)
2 x Motorised Curtain Tracks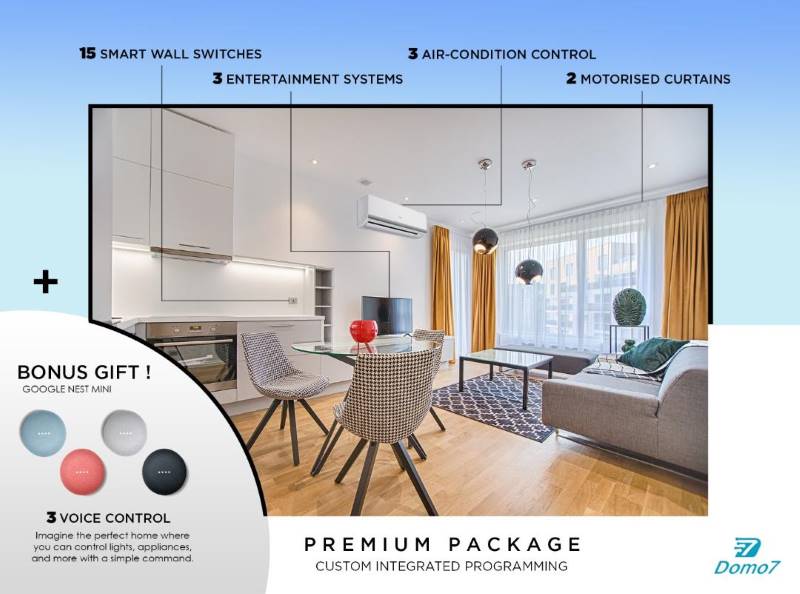 Image of Premium Package © Domo7

Other smart home products you can get from Domo7 include:
Smart Switches that can be controlled via voice, apps, or manual clicking
Smart Motorised Curtains
Google Nest voice control hubs

Image ©
Domo7

Image ©
Domo7
Contact Domo7 to get smart home solutions for your home:
Website: https://domo7.sg/
Address: 1093 Lower Delta Road, #06-20 Singapore 169204
Opening Hours: 9am - 5pm
Hotline: +65 8778 7388
Email Address: admin@domo7.sg
Facebook: https://www.facebook.com/domo7automation/
Request for quotes and we'll match you with a selection of Interior Designers!
Previous
10 Ways To Decorate Your Dorm Room
Next
Partnerships app BEAMSTART lets renovation industry connect with business owners