Why Co-Living Will Trend in 2022
Living & Lifestyle
2217 views
2217 views
You may have heard of places popping up all over Singapore comprising fully furnished bedrooms with shared facilities like kitchens and bathrooms. Some of these bedrooms may have their own kitchenettes and showers.
While this may sound no different from sharing your home with your family, co-living involves sharing your space with (most of the time) a complete stranger, if not an acquaintance or a colleague.
As Singaporean singles move out earlier and foreigners scour for places to stay, there is a rising demand for co-living spaces.
Is it here to stay? Will it be in trend as 2022 rolls in?
Coliwoo @ Keppel. Photo © Coliwoo
Why Is Co-Living on The Rise?
Ms Chong Ching Yeng, the Senior Regional Marketing Manager of co-living group Coliwoo, shared that in the past, co-living spaces were more likely to be used by "young professionals and digital nomads who are unable to afford expensive rental apartments in big cities" and could benefit from these flexible living arrangements.
However, the co-living market has developed, and the recent COVID-19 pandemic had a role to play in that.
As observed by Ms Chong, it has "led to many of us reinventing or rethinking how we live, work, and play". This, she notes, has contributed to "reshaping the co-living industry through various developments of the COVID-19 situation".
With the pandemic's advent, both personal and working lifestyles underwent drastic changes. And with those changes came new behavioural patterns and needs that call for certain environments - environments that co-living companies like Coliwoo can provide.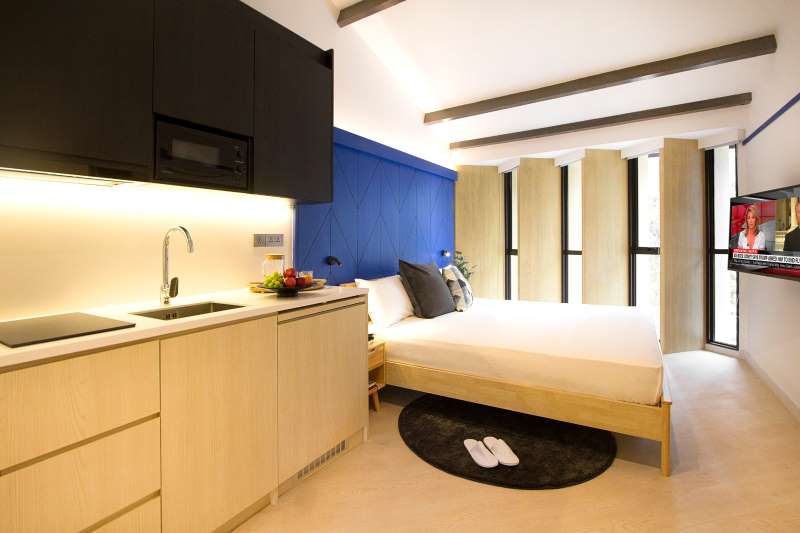 Coliwoo @ Keppel. Photo © Coliwoo
For Coliwoo residents, Ms Chong saw an increase in:
Local working professionals, who prefer to have a comfortable combined living + workspace for improved productivity and minimal to no distractions
Young millennials, particularly singles, who want a place of their own to attain independent living, productivity, and privacy
Singaporean couples seeking a temporary stay while waiting for their flats to be completed, particularly amid BTO delays due to the manpower crunch
Foreign expatriates whose housemates have left Singapore due to the pandemic, and can no longer afford to rent a whole unit by themselves
Singaporeans who have returned from their overseas stint and need a temporary residence due to being unable to travel (no thanks to the pandemic)
As a result of this new intake, LHN Group (the team behind Coliwoo) has worked hard over the past year to provide "affordable and flexible co-living spaces at reasonable rental rates" with "working areas conveniently located close by the CBD area".
Also, to cater to the growing number of working professionals living the co-living life and the scaling-down of offices, Coliwoo's units offer ad-hoc working areas across their integrated developments.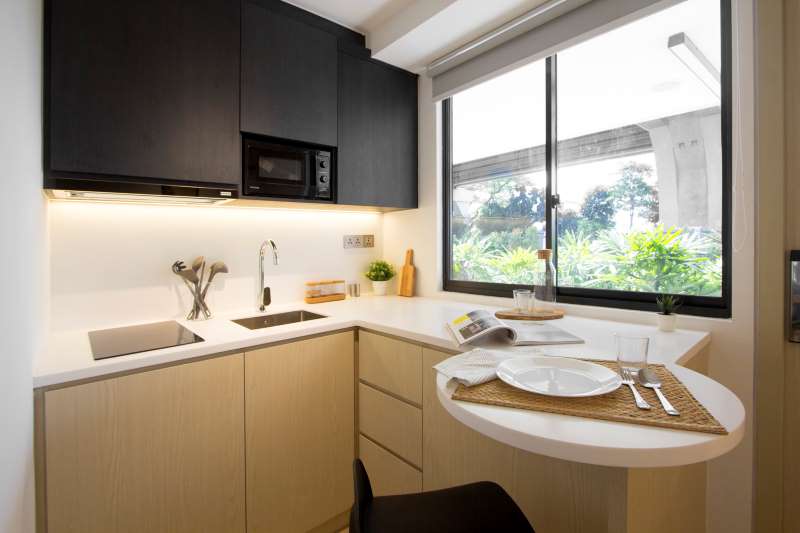 Coliwoo @ Keppel. Photo © Coliwoo
Ms Chong sees this as more than just a trend; co-living can combat pandemic-induced isolation and anxiety by bringing together "like-minded individuals through thoughtfully designed, functional spaces for great city living within a community".
"Co-living spaces are now also a means for individuals to meet new people from all walks of life and build new connections," she explains. "It fosters a sense of community among residents, many of whom may newly arrive in an unfamiliar city."
"This is particularly so as people long for human connection and support of the community during times of loneliness and uncertainty amid the pandemic."
Coliwoo's future plans include the launch of a new location at 320 Balestier to cater to students, expatriates, locals and millennials. They, with their JV partner, will also introduce their new Coliwoo Hotel concept at the end of 2021, starting with the first property at 40/42 Amber Road. This hotel is also suitable for small families.
Design Tips From Co-Living
One of the great things about co-living spaces is the design elements they come with. As they are in the same vein as rental apartments and communal facilities, they are made smaller and compact to accommodate their ever-changing residents. That makes them similar to the residential HDBs and condos we know and love.
Mr Kelvin Lim, the Executive Chairman & Group Managing Director of LHN Group, gives insight into the design process - analysis and identification of key living features are conducted first to create quality accommodation. Feedback is also collected from co-living members to improve certain interior features and look out for possible design trends.
As a result, most co-living spaces utilise design elements that can be applied to any home interior for a comfortable and convenient stay.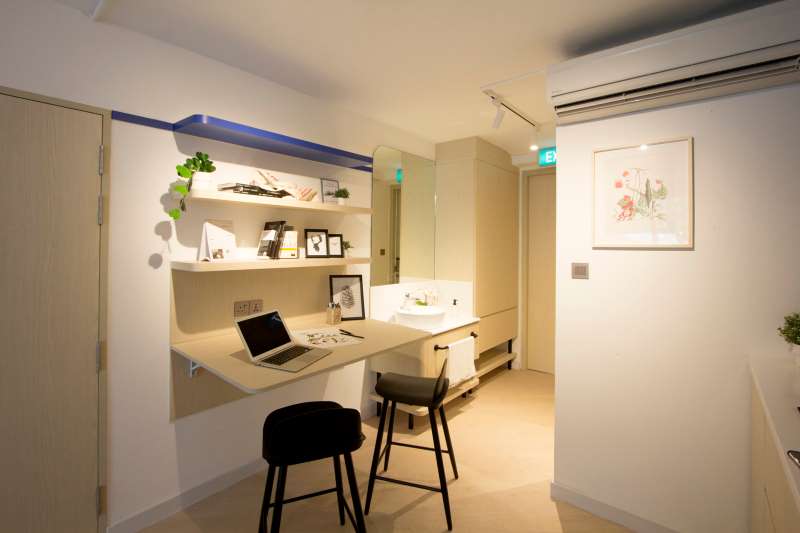 Coliwoo @ Keppel. Photo © Coliwoo
Living Large in Small Spaces
If someone chooses co-living, what can they expect from their stay?
Lorenzo Mariani, the Creative Director of LHN Group, talks about the co-living layouts, saying that they were inspired by "soho/studio units" to provide "a self-sustainable environment with everything one needs inside a room."
"Our approach follows the aim to recreate a micro-apartment through a checklist of functions which we feel are essential to Coliwoo," he explains. "After we have identified the room sizes, we study the layouts in-depth so as to maximise the space and provide the best experience possible that meets functionality."
Home And Office
Mr Mariani agrees with Ms Chong that the new norm brought about by the pandemic will turn work-from-home life into a "permanent fixture for the foreseeable future." He points out, "It is not just about function and size."
Thus, to create conducive working + living environments for their co-living residents, Coliwoo's interior design focuses on "lighting, ergonomic furniture, and an environment conducive for long hours and virtual meetings".
Mr Mariani also brings up an important point most homeowners in Singapore can agree on: "As houses get smaller, space-saving solutions are required to overcome the lack of space."

Green Living
Also, with green technology and sustainability making waves in the local housing scene, LHN Group also "foresees the rise of wellbeing-related and health-conscious solutions, where natural elements cohabit with artificial fixtures in the most sustainable way".
Other than using "sustainable solutions and climate-conscious fixtures" for carbon-free, quality, comfortable co-living, reusing and repurposing old materials are handy ideas for eco-friendly, affordable home decor.
"Reusing and repurposing buildings with minor but significant improvements have always been at the forefront of what we do," Mr Mariani shares.
A Smart Home
It has also been observed that in the near future, nature will coexist with smart home technology, as smart home automation takes precedence in new homes.
"The adoption of technologies will be commonplace and new trends of living will be in constant transformation," Mr Mariani predicts. "Very soon we may be interacting only with smart controls, AI-driven appliances, and robo-furniture."
So, design ideas one can pick up from co-living include:
Ergonomic furniture
Lighting fixtures and home office decor
Space-saving/multi-functional furniture
Natural, eco-friendly, sustainable, green home decor
Recyclable and reusable materials
Smart home technology
Is Co-Living Here To Stay?
Considering the above benefits and elements of co-living, one could say that yes, co-living will be a trend for both lifestyle and interior design in the near future. It does not just keep up with urban trends, but also provides social benefits for residents.
In fact, the interior design solutions used for co-living spaces are already being used in Singapore homes. Perhaps it is more of a lifestyle trend rather than a design one, one brought about by an abruptly, unpredictable era.
In 2022, will co-living be on your list for homing options?
Request for quotes and we'll match you with a selection of Interior Designers!
Previous
[Hong Kong Renovation Case] 350 sq. ft. Public Housing Transformation With Warm and Simple Interior...
Next
Christmas Gift Guide - 15 Gift Ideas For A Cozy Merry Christmas