8 China and Cutlery/ Flatware Sets That Will Leave Your CNY Guests Green With Envy
Interior Design & Decor
1554 views
1554 views
CNY is just around the corner and you know what that means. It's party season. You'll be busy entertaining guests and enjoying festivities. So, is your home ready to entertain?
You may have already prepped and got your home revamped with new decor and furniture. But, have you checked if your dinnerware and flatware are guest ready? You may not have thought about that.
So, if you realize it's been a while since your last dinnerware and flatware update, fret not. This article has you covered. Here are 8 China and cutlery/ flatware sets you need in your kitchen that are sure to leave your CNY guests green with envy.
Exquisite Fine China Sets You Need

Every special occasion deserves the best dinnerware you have. What better to have for entertaining guests than a fine China set? It's definitely a must for every guest entertainer. Here are a few fine China sets your home definitely needs this CNY for entertaining guests. 
These dainty pieces are of Lenox finest handcrafted bone China. This Garden Grove range features an exquisite toile style painting. The motifs in rich blue have 24K gold accents. The combination of gold and blue is classic. It gives the impression of prosperity, good fortune, and regality.
The motif features tiny leaves sparkling with gold. Which, seems as if touched by dew glistening in the sunlight. The dainty flowers and leaves breathe an air of Orientalism into the fine China.
Get exquisite design, superior craftsmanship, and guaranteed quality. This set also has excelling chip resistance and dishwasher safe convenience. Guaranteed to make any guest jealous.
You can get matching serving dishes, soup/pasta bowls, serving plates and tea plates too.  Have it to go with your set and blow guests away.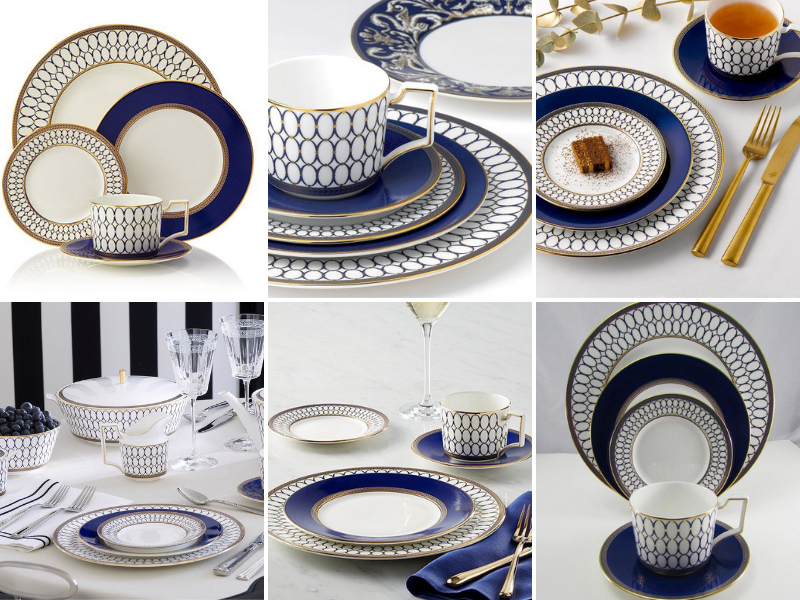 This beautiful fine bone China set is modern, yet classic at the same time. It combines elegant motifs with staple Wedgwood oval patterns. Topped off with bold Florentine accents to provide scale and impact to any guest.
Of royal blue tones accented with bold gold banding for the utmost regal and exquisite feel. It'll make any guest wish they had your China set.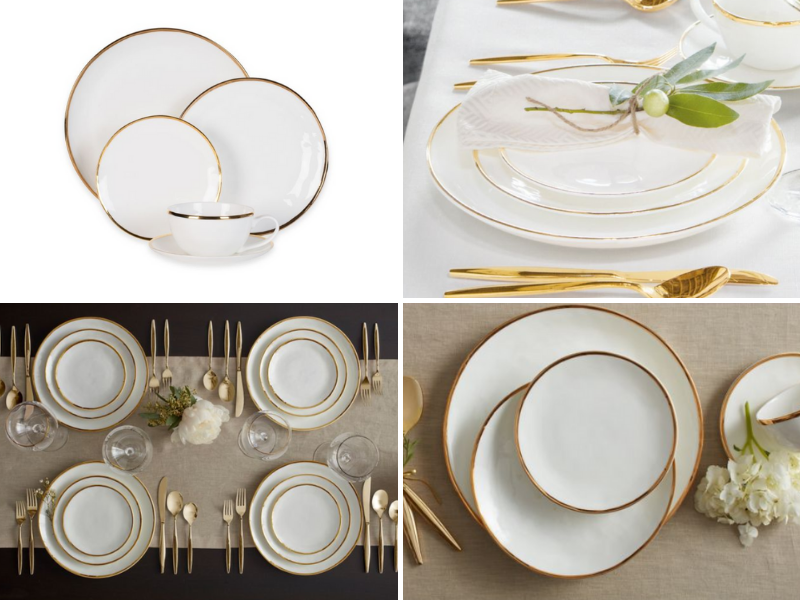 Want a traditional and simple China set with a touch of decadence? Then you definitely need a white gold banded China set. This set is a staple and timeless set that any household needs. Be it for everyday use or special occasions. Worry not about them going out of style as they have a look that will never.
Made of durable, yet delicate fine bone China, these are sure to add a gorgeous finish to any CNY tablescape. Without seeming too busy or distracting.
They're dishwasher safe too to make cleaning after many guests a breeze. Definitely apt for special occasions.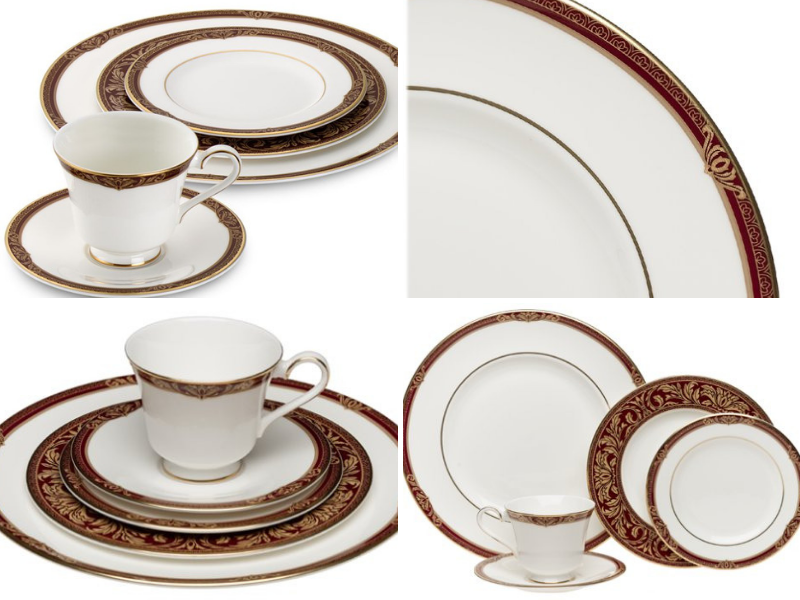 Crafted by best in the game Royal Doulton, you already know this set is one of the finest pieces of China in the market. Get fine bone China with lavishly floral patterned burgundy rims. Then, top that off with burnished 22K gold details.
Because what is CNY without red everywhere? What better China set to have than a red one for CNY guest entertaining? The warm burgundy tones and gold pair harmoniously. And, create a traditionally elegant look.
Go all out with serving dishes, sauce boats and platters to match. All are dishwasher safe to guarantee swift cleaning after all of your CNY guests. You'll make any guest wish he/she had this set for themselves while at your CNY party.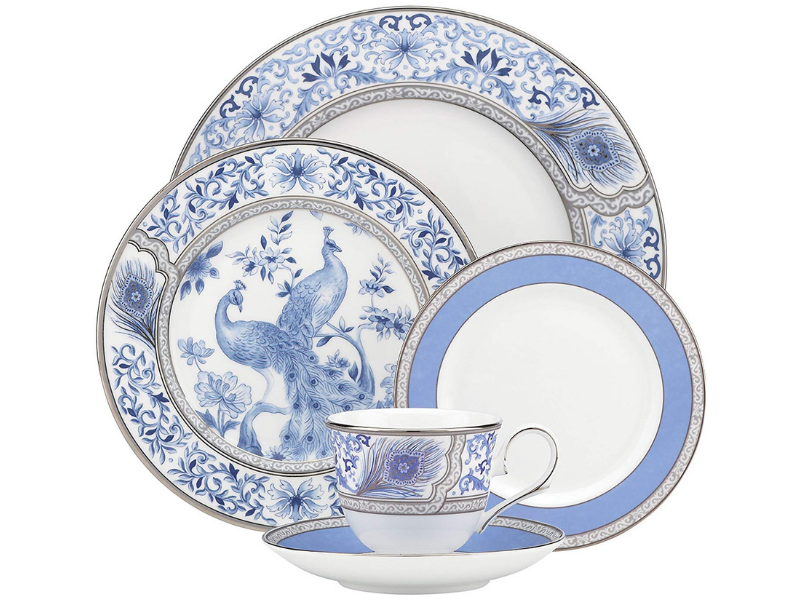 What better way to show off than with peacock motif China? This set features an exquisite motif and soft tones for ultimate elegance. Get elaborate vines, blooms, and peacock plumes all in stunning shades of Star-of-India sapphire blue.
The platinum banding is the icing on the cake. This fine bone China set also by Lenox will sure make your guests' CNY meal memorable and provoke envy.
This exquisite set is dishwasher safe for utmost convenience. So, serve your CNY guests with exquisite China then clean up easily after.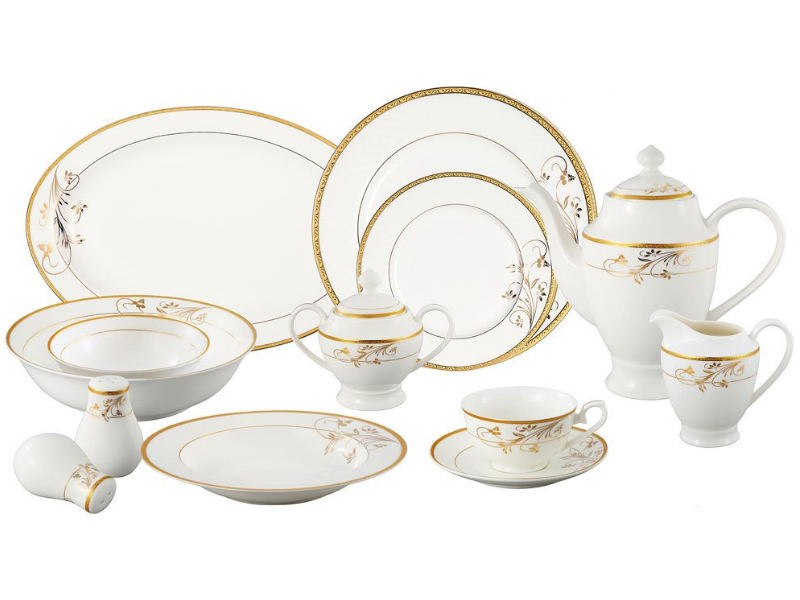 If you have more feminine taste, a floral china set is for you. This set is a high-end bone China set with soft floral motif and a 24K gold embossed border.
The motif is simple to avoid seeming too busy on your exquisite China. The gold makes the set look all the more decadent and apt for special occasions.
This set is dishwasher safe for easy clean up after serving guests on CNY. It's also lightweight yet highly durable for something that looks so delicate.
The set comes to serve eight with dinner plates, soup bowls, salad/bread dishes, cups, and saucers. It also includes dessert bowls, a platter, serving bowl, shakers, a teapot, and a creamer and sugar bowl.
This elegant and exquisite set is what you need to stand out this CNY.
Sleek, Functional Cutlery/ Flatware Sets To Go With Your Fine China
Special occasion or not, every house needs functional flatware. Since you're sure to be entertaining the masses this CNY, you definitely will need more flatware to accommodate guests. Don't know what flatware is great for guests and sure to leave them envious? Here are two suitable sets for entertaining guests.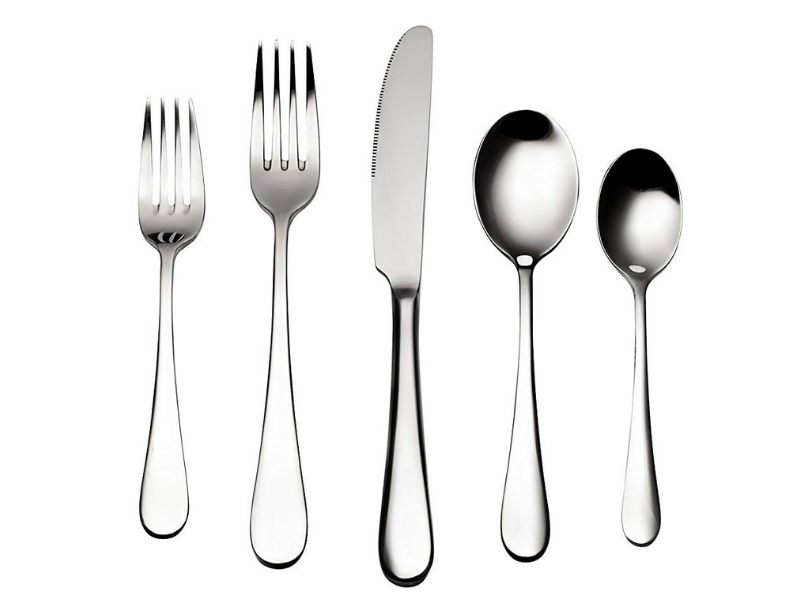 If you want timeless and simple flatware, this is the ideal set for you. It comes complete with dinner forks, tablespoons, knives, salad forks, and teaspoons. Get timeless elegant design appropriate for formal events or everyday meals.
Its luxury mirror polish requires no re-polishing so worry little about upkeep. It holds its sheen and won't dull. It's also dishwasher safe for utter convenience during cleanup after CNY festivities.
Its made of durable 18/10 stainless steel to provide heft and long lasting use to you and your guests. Therefore, it's sturdy enough for everyday use. But, also beautiful enough to grace fancy tables during special occasions.
Get this set that will match harmoniously with any China or crockery set. And, leave your guests wishing they could bring your cutlery home.
If you're looking for a hefty yet sleek and affordable flatware set, this is for you. Get affordability, quality and high functionality in this #1 Amazon bestseller.
This rust-resistant stainless steel set is sturdy enough for everyday use. And, apt looking enough to use on special occasions. This flatware is made for comfort with its proper thickness and weight.
Its mirror finished surface has only smooth edges and no rough spots. Pair that with its dishwasher safe quality to make cleaning an absolute breeze.
This simple, classic set will bode well with any China or crockery set. So, worry not about matching or coordinating.  The set comes complete with knives, table forks, salad forks, tablespoons, and teaspoons.
This is the perfect set for entertaining guests this CNY. Guaranteed to make your guests wish they had it.
So, what are you waiting for? CNY is creeping in on us real soon. Go on and finish up your last minute preparations to be ready for all the CNY guests you're expecting this upcoming festive season.
With any of these China and cutlery/ flatware sets, you're guaranteed to be the envy of your guests.
Request for quotes and we'll match you with a selection of Interior Designers!
Previous
10 Things To Get From IKEA's SOLGLIMTAR Collection For CNY 2019!
Next
How to Decorate For CNY | Top 5 CNY Decorations for an Auspicious Home