Designing A Junkyard-Industrial-Styled Home
Interior Design & Decor
840 views
840 views
Heard of the junkyard-industrial style interior design? 
Are you a fan of vintage or junk items? 
Ever dreamt of making a wonderful space for your precious antiques? 
Ever wanted an industrial-styled home with a special twist? 
If your answer is yes, then don't hesitate any longer; come join us on our reuse-and-repurpose trip!
In this article, we are going to share some tips with you for designing a junkyard-industrial-styled interior where you can think out of the box and make full use of your collections!
1. UPCYCLING
Before designing a junkyard-industrial style home, you need to understand what upcycling is and how it works.
Also known as 'creative reuse', upcycling is a transformation of unwanted or useless materials. After a certain process, those items will be converted into new products which are of better quality, artistically crafted, and environmentally-friendly.
Applied in different sectors including food, music, and design, the upcycling process has shown great growth around the world over the years. It has also increased its popularity amongst vintage lovers and supporters of environmentally-friendly products.
Let your imagination go wild when it comes to upcycling old furniture. You should also invest in good paintbrushes and give the furniture a good clean wipe before the upcycling process. Include tools like cloth, sandpaper, staplers or wax to help you along the way.
In addition, you will need to ensure that your upcycling style suits that of the piece of furniture selected for the process. Use suitable paints and fabrics to make it look 'quaint' rather than 'ancient'.
Image via Freepik
2. REPURPOSING
Repurposing has a long history and most of us are already aware of the importance of reducing waste. This has made repurposing popular, especially in the arts and furniture industries.
Repurposing is a process whereby we transform or convert an object from one method of usage to an alternative method of usage. For example, you can use a ladder as a rack to place your indoor plants.
This is a good and really efficient way to turn unwanted furnishings into brand new pieces by repurposing them. Wood crates are good for increasing storage while big log slices can be used as tabletops.
As a matter of fact, repurposing works with anything - phone covers, old cassettes and discs, old wooden doors, etc. You will not have to throw them away, but rather repurpose them for a no-waste lifestyle.
Image via Freepik
3. GO FOR INDUSTRIAL STYE
Once you are done with repurposing and upcycling your furniture or decorations, you can then match them with an industrial-styled interior design.
The industrial interior design style is one of today's much-loved interior styles as it is a combination of both modern and vintage styles. The traditional industrial style is especially popular with the younger generations who seek individuality and freedom. This style retains the original state of old buildings.
Bold solid swatches of black, white, and grey, coupled with metal pipes, concrete floors, and unpainted brick walls, give people a fashionable visual experience and represent rationality and elegance.
Most of the designing work for the industrial style can be cumbersome if not done carefully. Various industrial elements are used, such as pipes, parts, cement, miner's lamps, and even broken bits of copper and iron.
When designing an industrial space, ensure that the space is comfortable and not too harsh for those who use it. Minimalism and simplicity can thus be applied to this style to make it so.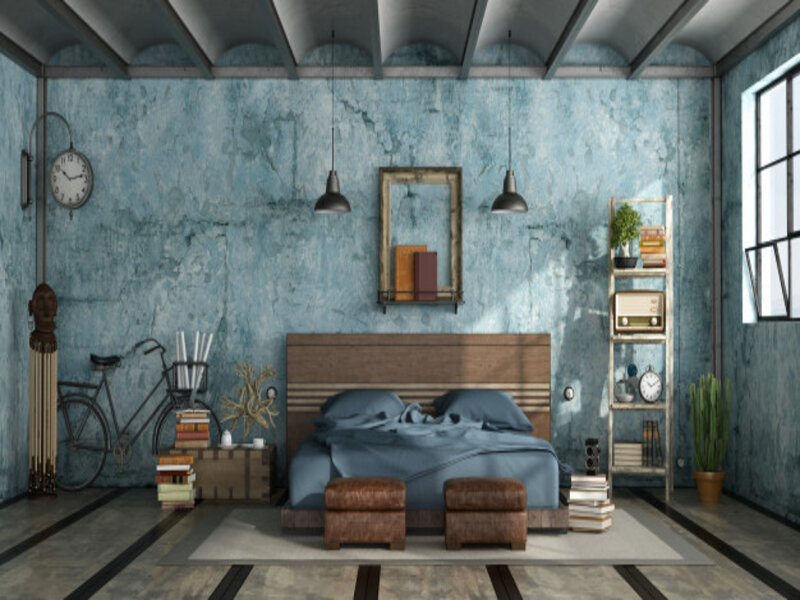 Image via Freepik
In conclusion, the junkyard-industrial style is an interesting way for you to use unwanted furnishings or junk piled up at your home. It helps to reduce waste and also gives your home a brand new look.
If this sounds like your dream interior style, feel free to share this article with your family and friends. You may hire an interior designer to help you bring this interior style into your home.
Request for quotes and we'll match you with a selection of Interior Designers!
Previous
Living in a Safe and Secure Home
Next
NEW CHINESE STYLE: MIX AND MATCH THE CLASSIC AND MODERN CHINESE STYLES