SIDS Symposium - IFI World Interiors Day 2020
Interior Design & Decor
879 views
879 views
2020 has become an interesting year for Singapore's interior design industry. With COVID-19 sweeping the globe, the economy has slowed which led to manpower shortages, postponement or cancelling of renovation projects, and employees adapting to new ways of working and engaging with clients.
However, people stay united in these trying times, and the Society of Interior Designers Singapore (SIDS) proved that when they congregated via teleconferencing (Zoom and Facebook Live) on 23 May 2020 for the SIDS Symposium-IFI World Interiors Day - a celebration of Singapore's interior design arena and its designers.
An Opening Toast
The theme for this year's symposium was Nexus, which means connection - timely for this period when interior designers and homeowners should stand united against a rapidly changing future.
SIDS members Mr Keat Ong (who is also the society president), Mr Chris Cheng, and Mr James Paul Pilande chaired the symposium, with fellow member Mr Rajesh Shah being forum moderator for the panel discussion near the symposium's end.
Mr Cheng gave an opening speech, noting that this was the first time the event was held remotely due to COVID-19 (in 2019, the symposium was held at Oxley Bizhub) yet all the designers stayed strong and stuck together, broadcasting the event via social media and teleconferencing.
Fellow SIDS member Kat Tan mentioned #1SGID, which the society started recently to unite the interior design industry as one design nation amidst the ongoing COVID-19 pandemic, bringing solidarity to Singapore's interior designers.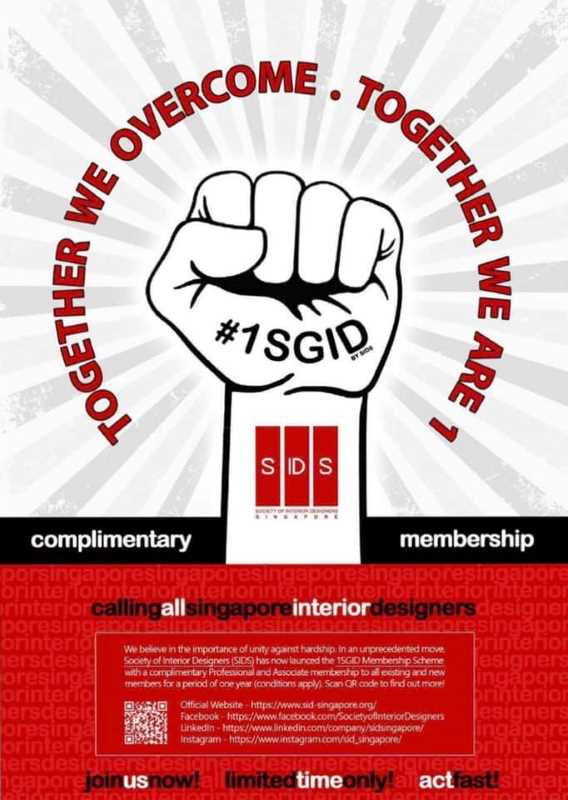 The poster for #1SGID, from the Society of Interior Designers Singapore (SIDS)

One of the initiative's perks is the Complimentary One-year Membership for both new and existing members. Mr Pilande then invited all interior designers present to become SIDS members to enjoy its benefits and network with their peers.
The symposium's prologue ended with Mr Cheng leading all the participants in an encouraging open toast, before starting the event.
Snapshot of SIDS Members gathering via Zoom before the Symposium
Speeches
The symposium comprised four speeches and a forum.
Opening Address
IFI Ambassador Ms Constance Ann gave the opening address, addressing the interior design industry's response to COVID-19; observing the start of a new normal for the interior design industry, how should it respond?
With the call to Work From Home (WFH), Ms Ann pointed out that that interior designers can adopt new working practices such as design software, digital software, and home-based solutions. Already, some interior design firms are looking to virtual reality and augmented reality to engage with their clients.
Ms Ann then asked attendees, particularly those from SIDS, if they can be the Nexus to unite Singapore's interior designers - to keep them linked, connected, and focused. She also challenged the industry to continue to think of new ways to be sustainable, creative, effective, and progressive as the economy slows down.
Ideas proposed during her opening speech included:
Dialogue with government agencies, institutions, and any industry for opportunities to work with interior designers
Skills training and upgrading
Business opportunities

to work together and collaborate on

projects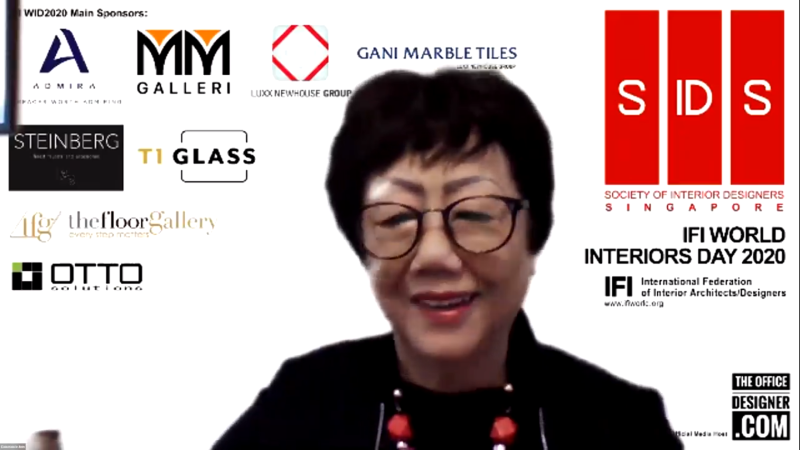 Ms Constance Ann during the Symposium held via the SIDS's Facebook Live

First Speech
SIDS President Mr Keat Ong gave the first keynote speech, focusing on the SIDS's future plans amidst the pandemic and its response to COVID-19.
The pandemic has brought about the challenges of travel restrictions, shortage of manpower, and postponement of renovation plans. In response, as spoken about by Mr Ong, the SIDS started the 1SGID (One Singapore Interior Designers) campaign to unite interior designers, partners, and stakeholders in the face of the pandemic.
Mr Ong also spoke about campaigns and schemes in the works to help interior designers and homeowners, such as the Communal Stress Test (CoST) to help determine the safety of spaces in a dwelling.
Other plans mentioned included:
Professional enrichment programs
Government schemes
Social engagement activities to upgrade skills, raise morale, and keep the SIDS united
Future Interior Designer Accreditation Roundtables to kickstart accreditation programs for the local interior design industry
Mr Keat Ong during the Symposium held via the SIDS's Facebook Live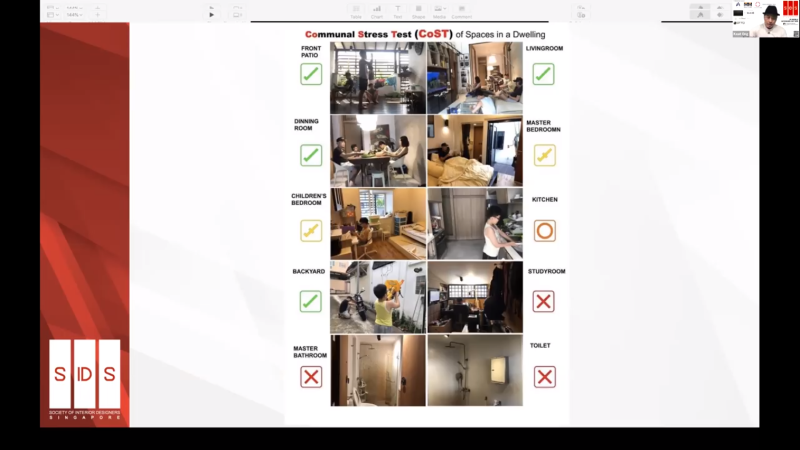 Mr Ong talks about CoST via the SIDS's Facebook Live

Second Speech
Mr Phillips Connor, a consultant from Independent Consultants, was the second keynote speaker, talking about creating 'experiential interior spaces' to have a positive impact on users.
Observing interior design as a Nexus for connecting users, Mr Connor explained that designing a space should engage all five senses for a memorable experience, pointing out that the entire design process should be based on emotional wellness and influence - a human condition he coined as 'environmental persuasion'.
He added that such experiential spaces do not have to be dramatic but can be small and simple, just as long as those spaces give users a positive experience. Interior design is more than just the environment, he emphasised, but also the experience.
Mr Connor also shared the following factors and principles in creating experiential space:
Importance, Experience, Influences - key traits in forming an experiential space
Fundamental Principles, which are important in approaching experiential space to create a holistic, intelligent approach - Serendipitous Surprise, Comfort, Scale, Adaptability To Growth and Change, Practicality, and Durability
Tools and Methods - Benevolent Manipulation and Environmental Persuasion, to create a pleasant positive space for others whether at home or at a corporate setting
With COVID-19 keeping us indoors, Mr Connor encouraged attendees to make use of the spaces we are in now, seeing them as positive experiences rather than confinement.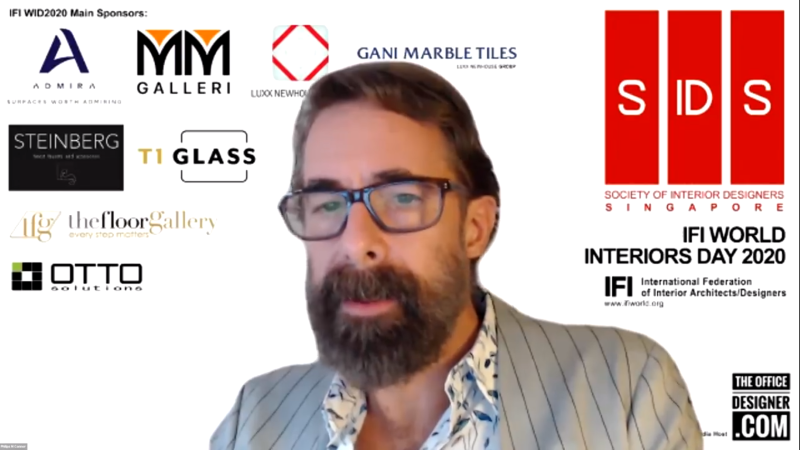 Mr Phillips Connor during the Symposium held via the SIDS's Facebook Live
Mr Connor giving his presentation via the SIDS's Facebook Live

Third Speech
The third and final speech was given by Mr Dennis Cheok, the director of local interior design firm UPSTAIRS_. Mr Cheok recently appeared on RenoTalk's Design Classroom Extreme with host and designer Mr Astley Ng; you can watch the episode here.
Mr Cheok thanked the local design industry for being supportive during this time, and spoke about the journey of UPSTAIRS_, from being a tiny studio to a top-notch design firm that has won a few awards, including two residential project awards from the Singapore Interior Design Awards (SIDA) in 2017 and 2018.
He also shared about the three interior projects UPSTAIRS_ did for SIDA 2017 - The Crate Apartment, The Ply House (which was made with hundred-year-old bricks), and The Seafront Apartment.
Even amidst the pandemic, UPSTAIRS_ is looking to the future as they revealed a few projects they have worked on, all part of their 'Next Wave':
1027 Sticks (an apartment designed via being cobbled together with black metal sticks)
The Loft Box (created with old cinema chairs and a white box loft to house a few rooms)
The Ryokan Modern (a labour of love for the team)
Lattice Wood (a sneak preview for attendees as UPSTAIRS_ had yet to announce it publicly)
Dr KC (a commercial project - a medical clinic which was also a design experiment with layers, cut-out spaces, and lighting)
They had also collaborated with other design studios for artistic furnishings:
Tatler Homes x Arova (The Snowform)
P5 Studio x Montana (Freeplay Gossip - The Gossip Bench, a nostalgic piece in homage to Mr Cheok's mother)
Journey East x Tala (The Bulb, an artistic lighting installation)
MMGalleri (A Thrown Stone - a marbled bench inspired by ripples)
Mr Cheok concluded his sharing with the optimism and encouragement he felt on seeing individuals and firms from the design industry, especially the SIDS, rising up to give support, hope, and inspiration to everyone around them.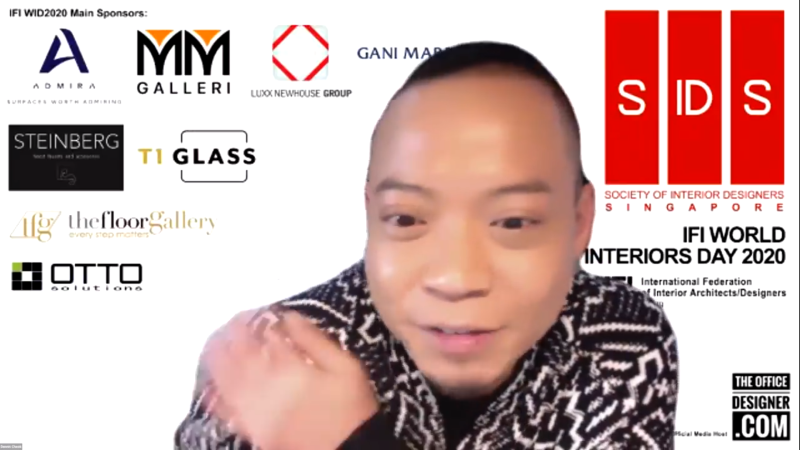 Mr Dennis Cheok during the Symposium held via the SIDS's Facebook Live
Mr Cheok shares a project done by UPSTAIRS_via the SIDS's Facebook Live
The Forum
SIDS member Mr Rajesh Shah was the moderator for the panel discussion after the four speeches, addressing the current situation and the current way of working.
The questions raised during this forum included:
How Do We, As Designers, Adapt? And As We Adapt, How Do We Help Our Clients and The Public Adjust To This New Normal?
Mr Connor advises taking a micro-approach to design and detailing, having looked at his own home decor for inspiration in micro-product design. He also encourages designers to apply problem-solving techniques to macro needs and issues to enhance lifestyles and to turn their work into something satisfying and rewarding.
Mr Rajesh added that designers should take a multi-functional approach for furniture design, making spaces and furnishings multi-functional for convenient use in a post-pandemic future.
Homes May Become the New Workplaces. Should New Homes and New Home Planning Allow For This? It May Involve Future Houses To Be A Little Bigger To Accommodate This.
Mr Cheok pointed out that floorplans form the base to adapting the interior and furnishings to different lifestyles and needs. Flexibility and multi-functionality are key here, creating a dedicated space for a home office within a home may seem idealistic in hindsight due to standard housing sizes in Singapore.
He also shared his observations from personal experience that everyone has different preferences and needs for certain spaces, like how he works from his dining table and sofa sometimes. But he does advise that if space is set aside for working from home, acoustics need to be considered to create a conducive working environment.
Mr Cheng added that to adapt one's home into an office, one has to consider not just the physical layout of the space, but also how to turn it into a holistic working environment to study current business practices, upgrade design and marketing skills, improve one's portfolio, and explore different client-engagement platforms and software.
How do we encourage homeowners to adapt their home to these new working circumstances? Especially with distractions in the house?
Mr Connor advises focusing on coordinating spaces at home, thus creating spaces within spaces to encourage a perception of spaciousness and luxury.
What is to become of the large offices in the downtown area? Is that going to affect the real estate market?
Mr Rajesh said that while there is no concrete solution to this, it would be most agreeable to work with estate developers and authorities on a feasible solution for the times ahead.
Mr Keat Ong shared his observations on the paradigm shift in workspaces, seeing how workspaces and events have already gone online. The interior design and renovation industries have slowly adapted to cyber-workspaces, where project discussions are now being done mostly via phone and video conferencing. He noted that even after COVID-19, working remotely will become the norm for a very long time.
Thus, there is no concrete resolution to the office spaces left behind because, as Mr Ong pointed out, space can never be the same. While we as workers may have adapted to working from home, we may become bored and socially isolated due to the current lack of movement and social interaction. A communal space in the form of an office may thus still be relevant even in the post-pandemic age.
With the post-pandemic era on the way, will hospitals and medical spaces have to adapt?
Fellow forum panellist Nicholas Merrow-Smith predicted that with new ways to work and offices being vacated, the working sphere (healthcare in particular) will reassess the way people work and gage a physical working space as redundant. Already, healthcare is shifting to telehealth for medical appointments.
As he had observed, things have already changed and we must learn to adapt the way we use spaces to these times. But he also warned that there will be implications for everyone as they shift their lifestyles to meet a new future.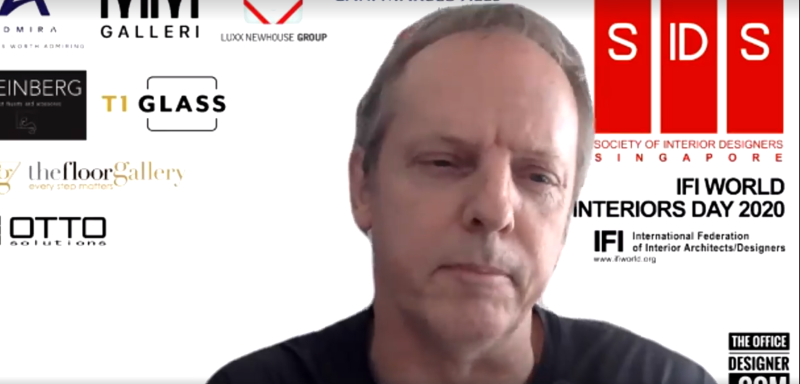 Mr Nicholas Merrow-Smith during the forum held via the SIDS's Facebook Live

Ms Ann put in a concluding word of advice to attendees to have good mental preparation for what is to come and to be prepared wherever they are placed to work, be it their bedroom or balcony or office space in downtown.
She added that while everyone has their own preferences, they will have to adapt and be comfortable with their new working environment to avoid unnecessary stress. Good attitudes and good spirits, she encouraged, are important, especially in this time.
Conclusion
Mr Chris Cheng concluded the symposium by sharing a tip for interior designers engaging with their clients via teleconferencing.
As most renovation discussions with homeowners are currently held via teleconferencing apps such as Zoom and Whatsapp, Mr Cheng suggested changing the virtual background to present important images such as design drafts, 3D drawings, and private portfolios.
Mr Chris Cheng shares a tip for presenting drafts via the SIDS's Facebook Live

Designers can use their index finger as a pointer while presenting these images via their background. If they want to show another image, they can change their virtual background accordingly.
Mr Cheng then led attendees in an ending toast before officially closing the symposium.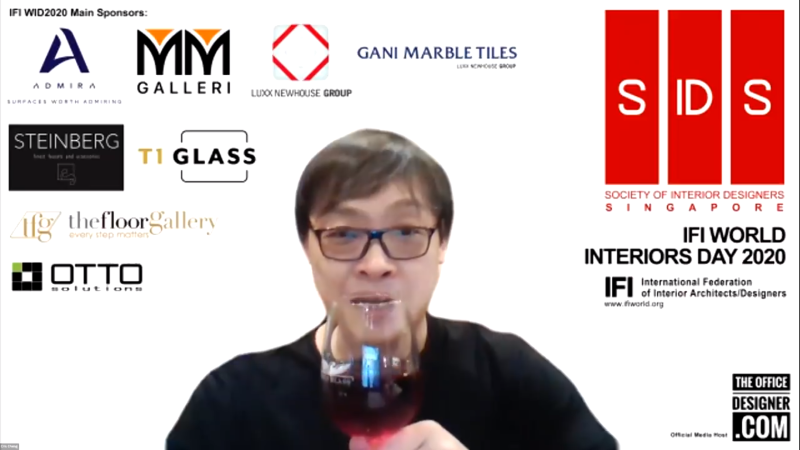 Mr Chris Cheng leading a toast via the SIDS's Facebook Live

As the symposium speakers brought up, 2020 has become a year where it has become critical for the interior design industry to stand united and step up to face the challenges brought about by COVID-19. More than just a formal event, it has become a love letter of encouragement to Singapore's interior designers.
The SIDS Symposium-IFI World Interiors Day 2020 was sponsored by Luxx Newhouse, MMgalleri, Admira, T1glass, Floor Gallery, and Otto Solutions.
Request for quotes and we'll match you with a selection of Interior Designers!
Previous
Housewarming - How to Equip Your First Joint Family Nest
Next
D'SOL Deco – The Heart of Eclecticism