10 Home Upgrades To Help Elderly Parents Living At Home
Living & Lifestyle
2777 views
2777 views
Being Asian, we know how important it is to care for and respect the elderly. All of us have been indoctrinated to care for our elders when the time comes. So, it's not uncommon for us to care for our elderly parents/ relatives at home.

Whether you're a youngster or a married couple with kids. Chances are you probably already care for an elderly. Be it your own parents, grandparents or aunts/ uncles.
The elderly do require a lot of patience and extra care but worry not. It isn't very difficult to care for them properly.
There are a few upgrades you could add to your home to ease this. So, your elderly parents can be self-sufficient while living safe, comfortable, and conveniently. Here are 10 home upgrades you should get to help your elderly living at home.
1. Slip proofing the floor
1 in 4 elderly adults suffers a fall every year. Therefore, you need to protect your elderly from one of the most common everyday dangers - falling. Fall-proofing by slip proofing your home to be elderly-safe is integral.
If slip proofing the whole house is too heavy on your budget do it only in high traffic areas. These are the kitchen, bathroom, and halls. Wood, vinyl, or tile floors with a lot of grout are ideal slip-proof options.
Rejoice! Nowadays the slip-proof flooring market is booming. Mostly due to awareness and demand so it is easier and cheaper to install. If it is too hard to replace your flooring opt for non-slip mats. By the shower, at the toilet, in front of sinks, and on stair steps.
2. Adequate lighting for your elderly
Image via socketstore.co.uk
Most of the elderly have difficulty with sight. Or, have night blindness. So, you need to make sure your home is adequately lit at all times. You want to ensure your elderly experiences no trouble going around.
Emphasize good lighting along the stairways, hallways, and in the bathroom. Apt light also avoids your elderly from tripping on something they didn't see. Nightlights are a good investment.
Make sure you provide your elderly with a lamp on their bedside. So, they don't have to reach too far for a light source. Preferably get one that turns on/ off with touch.
3. Splurge on a back-friendly bed for the elderly
Image via mclearys.com
Most of the elderly have back pains or spinal problems. Therefore, adequate back support is crucial for their sleep. It provides them with apt comfort and avoids exacerbating back pain. Memory foam mattresses and adjustable beds are the best option for the elderly.
If your elderly has mobility issues, the adjustable bed will even aid them to get up from sleep in the morning. Something many elderly find to be a daunting task.
4. Eliminate the dangerous stairs
Image via 3.bp.blogspot.com
Avoid stairs at all costs. Stairs are fall central. If need be though, opt for a ramp. A no-stair entry is ideal to ease the elderly's entry and exit while reducing the risk of falling.
Ideally, have their room on the ground floor so they don't have to go up and down stairs often. The elderly are prone to back/ knee problems and stairs could exacerbate this. So, try to minimize your elderly's contact with stairs within your home.
5. Rails, rails, and rails for your elderly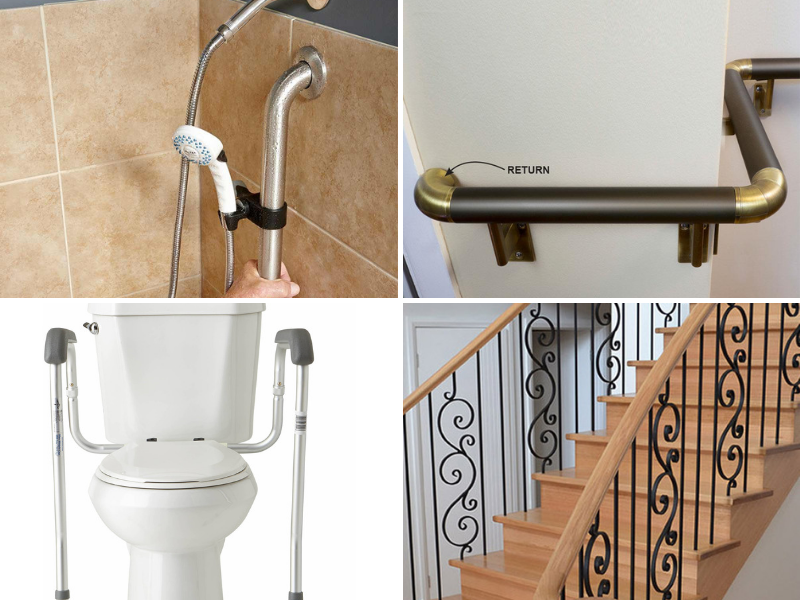 The elderly find it hard to move around because their legs aren't as strong as they used to be. So, if you have an elderly in your home, railings are a necessity.
Ideally have railings for the stairs, hallways, and bathroom. These will ease maneuverability within your home for your elderly. All while providing them with added stability and safety. Railing prevents falls.
Your railing should be strong enough to support a person's weight. Have them on both sides along the stairs and hallways.
They are an absolute necessity in the bathroom. Have railing or bars beside the toilet and in the shower. As we know, water plus slippery surfaces equate to slip central.
6. Konmari your home to help your elderly
Image via homedesignn.com
Firstly, declutter. Clutter is a risk for potential trips/ falls. Secondly, rearrange all household items to be within your elderly's reach. You want your home to be fully accessible for your elderly.
This way you allow your elderly more independence in daily tasks and protect them from potentially hurting themselves.
Best to place things at waist height. Any higher lower results in difficulty reaching. Try to place more frequently used item lower as opposed to higher. It's harder to reach high for the elderly.
7. Wider doorways for more accessibility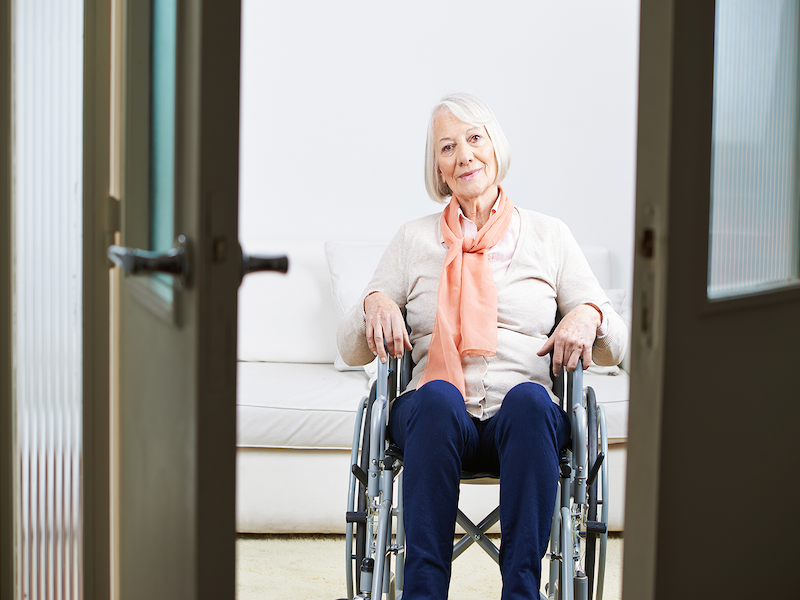 Image via cdn.shopify.com
If your elderly is wheelchair, walker, or scooter-bound, it's a necessity to upgrade your home to have wider doorways. Protip: Your doorways should be at least 36 inches wide.
Even if they can walk without aid, wider doorways will give them the freedom to move around without fear of bumping into the doorway.
Wider doorways will give your elderly better maneuverability within the home. It'll also give them a sense of independence in moving around. Consider getting wider hallways too if your budget allows for it.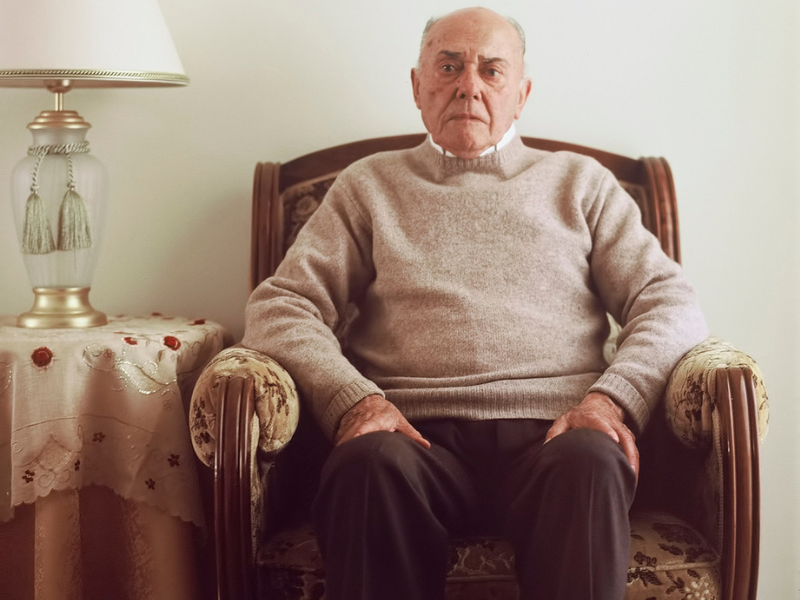 Image via flickr.com
Again, this is with intent to fall-proof your home. Make sure all the seating within your home is sturdy, stable, and of the right height. Too low is bad for knees and too high make it hard for them to get on and off.
Get rid of any wobbly, unstable seating if possible. You definitely don't want your elderly to have their chair break or have them fall off.
9. Get a smoke/ carbon monoxide detector installed
Image via kkomando.com
In case of an accident, you want to be ready. The elderly can tend to be forgetful. There could be an instance where they accidentally forget to switch off the stove or appliance which could lead to a fire. So, a detector would alert you before its too late.
For added safety make sure all your appliances come with a timer and auto-off switch. This can further help to prevent accidents.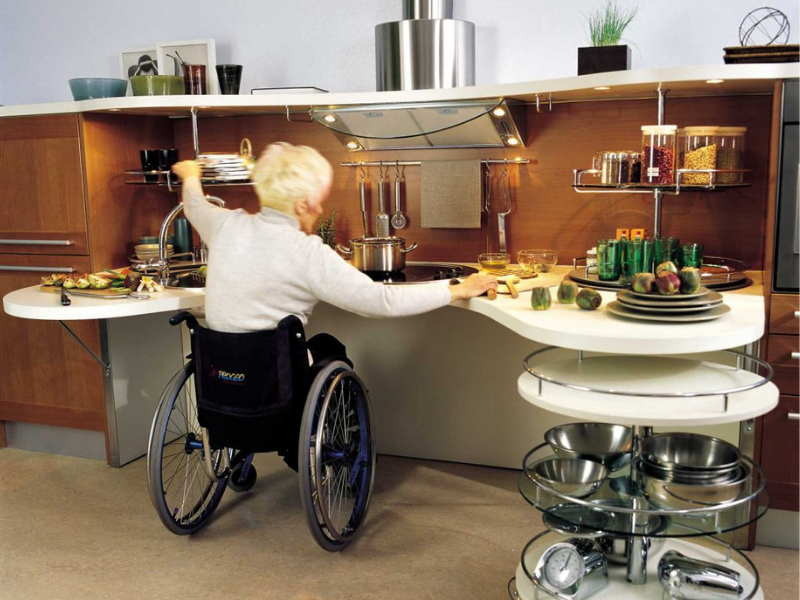 Image via bestonlinecabinets.com
You want to maximize an elderly's mobility and accessibility within your home. So, having your surfaces lowered or made waist height for an elderly will allow them to do more for themselves.
Lower kitchen countertops or tables will allow the elderly to prep their own food despite being wheelchair-bound or sitting down. Even if not, low countertops will make it easier for an elderly to work for those with a slouch.
Take great care of your elderly and all the best!
Caring for the elderly may seem like a daunting obligation but is well worth it. For many of us, caring for your own elderly goes without question.

It doesn't have to be as difficult anymore. Gadgets and home appliances make homes safer and more convenient for all ages. So, caring for the elderly won't seem as tasking.
If you want to help your elderly live easier and make them feel absolute comfort at home get these upgrades. They'll definitely ease yours and your elderly's burden.
Request for quotes and we'll match you with a selection of Interior Designers!
Previous
AURASTONE: Creating Beautiful Countertops, Perfectly
Next
SIDS Annual Dinner: Celebrating the Distinctions and Talents in Interior Design