How to Bring Your Kitchen Into The Future
Interior Design & Decor
1135 views
1135 views
(Guest Writer: Sarah Hollenbeck)
Out of all the rooms in your home, you likely spend the most time in the kitchen. From whipping up dinner for the family to experimenting with a new dessert recipe, there are a lot of reasons to work up a sweat in the kitchen.

And while you may enjoy the occasional night bent over the counter chopping away, there are some days when cooking is the last thing you want to do. On those nights, don't you wish your kitchen could just do the work for you? Well, thanks to the latest technology, kitchens are halfway there.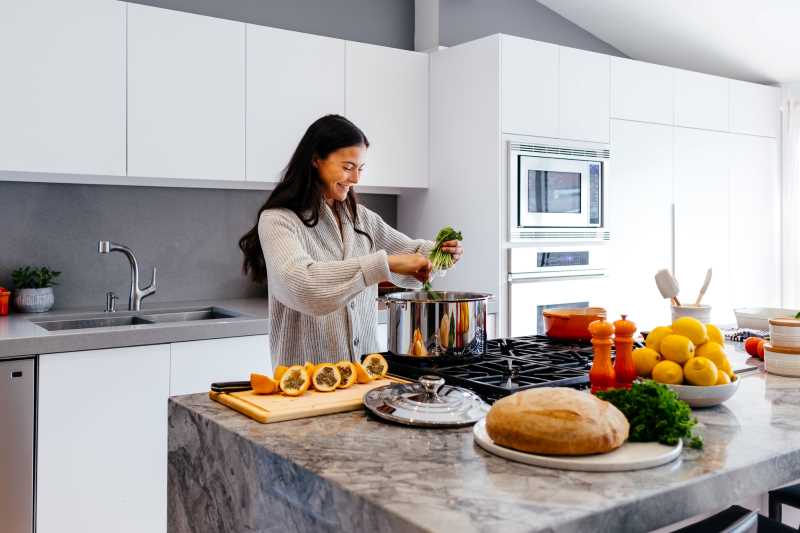 Photo by Jason Briscoe on Unsplash
Kitchen technology has come a long way in the past few years. The newest kitchen appliances are focused on making the cooking process easier for consumers, but they have a few additional benefits as well.
Not only are these newer devices safer, but they typically use less energy and have self-cleaning options too. And outfitting your kitchen with these devices won't cost you an arm and a leg either, as most are priced at their true value (which is pretty high).
Wondering which tech is right for you? Check out the guide below.
A Total Kitchen Remodel
When you think of a kitchen remodel, you may think about newly painted cabinets, granite countertops, total organization, and floors tiled with modern designs.
And while that is often what kitchens undergo when getting a remodel done, that's not the only option. In fact, just by updating a few appliances, you can give your kitchen a total facelift in no time at all. Plus, this "remodel" will be much more useful when you start to cook compared to new tile or countertops.
When deciding what to update in your kitchen, first you need to consider your overall goals. Are you looking for a more integrated kitchen? Or do you want to save money on your utility bills? Or perhaps you want to stock up so that your kitchen can keep you full in the event of a natural disaster. No matter your goals, there are plenty of devices out there to help you reach them with ease.
Image © Siege Media
Goal #1: 
An Automated Kitchen
Having an automated kitchen can be a lifesaver. Not only does it make the cooking and cleaning process much easier, but it also means your devices will communicate with each other to get the job done.
Some examples of this automated technology include an integrated coffee maker so that your morning brew is ready as soon as you wake up, wirelessly connected appliances so that you can turn on your oven or microwave remotely or even a customizable thermostat so that the temperature gets turned down as you stand over the hot stove working up a sweat.
Goal #2: Disaster Prep
No matter where you live, you likely have to deal with some sort of natural disaster from time to time. And while some disasters will require you to leave your home, others will require you to stay in your home for weeks at a time.
This means your kitchen will take on a new importance, and will need to be able to sustain you and your family for an extended period of time.
Long-term food storage, water purification systems, water storage and even backup generators are great high-tech additions to your kitchen to ensure you are prepared for whatever comes your way.
Goal #3: A Cleaner Kitchen
Everyone loves a clean kitchen. And thanks to the COVID-19 pandemic, a clean home is more important than ever before.
The latest technology and appliances cater directly to this need, including touchless appliances that let you turn them on without spreading germs.
Other devices you can purchase to make your kitchen cleaner include self-cleaning appliances, robot vacuums and voice-controlled devices.
Goal #4: Going Eco-Friendly
Another renovation goal is a more eco-friendly kitchen. Not only will this help reduce your home's environmental footprint, but it will also lead to lower utility bills over time.
And going green in the kitchen is pretty simple too. From installing a herb garden on your windowsill that waters itself to buying a heat induction stove or water conservation system, there are plenty of ways to make your life easier while helping the planet.
Technology For Your Dream Kitchen
Once you've determined what your goals are for your high-tech kitchen remodel, it's important to look to the future of what devices are (or will soon be) available to you. Keeping up with the latest trends in this area will not only ensure your kitchen works for you rather than against you, but also means you might be able to snag these devices before anyone else.
And if you are renovating to sell or rent out your home, you should know that having the latest technology is a huge plus to buyers and renters. Many love the idea of a move-in ready kitchen, to save them the time and stress of having to find and purchase the perfect appliances and then get them installed.
Some of the top devices you should consider adding to your kitchen include:
Countertop Projectors
Control appliances, project patterns to make designing a breeze, and even scan the thickness of food to determine how long to cook it and more with a countertop projector.
Smart Refrigerators
With a smart fridge, you can remotely check the contents of your fridge, create virtual grocery lists, keep track of family events and even view recipe instructions on the digital screen.
Steam Ovens
The latest oven tech uses steam to cook your food, leading to a healthier meal. Steam ovens also use less oil, help preserve nutrients, and prevent cross-contamination when cooking.
Smart Scales
Use a smart scale to get the full nutritional ingredient profile of any food item, as well as connect to other apps to track your healthy living lifestyle and track total calories consumed.
Digital Backsplashes
Digital backsplashes allow you to display family photos, recipes, surf the web, and control appliances all with your finger.
Smart Trash And Recycling Bins
These smart bins will scan your items as you drop them in to not only let you know what to pick up at the store but also let you know if something can (or cannot) be recycled. They also reduce odours, making your kitchen a better place to be.
Smart Oven Hoods
While traditional oven hoods only serve a few purposes, oven hoods of the future will have a built-in camera, internet connection and some will even have a water tap attached to the side to make filling up a pot easier.
High-Tech Lighting
High technology lighting includes both lights and blinds, to ensure you have the right amount of light in your kitchen. Whether you want to reduce the sun's glare or set a mood light once you're done cooking, these devices have you covered.
For more information on the benefits of these devices, check out the infographic from Hippo below.

Image © Hippo.com
Request for quotes and we'll match you with a selection of Interior Designers!
Previous
4 Budget-Friendly Home Renovation Ideas
Next
7 Modern Design Ideas For Small Apartments