7 Styling Secrets To Make Your Property Look Amazing
Interior Design & Decor
1752 views
1752 views
(Contributed Post)
If you love design, then you may also want your property to be a beautiful space. This is a great goal to have, but sometimes things can get tricky.
It can be hard to work with awkwardly shaped rooms and at times, you may feel like you are lacking inspiration as well. If you need help with that, then these 7 tips can aid you with that.
1. Colour Blocking
Colour blocking is in trend right now. Creating an entire room that is based on just a single colour may be a little challenging to execute, but at the end of the day, the results can be fantastic.
To start off, pick a room to work with. Then choose your favourite piece of furniture before matching your paint colours to it. The key to making your colour-blocked space work is finding complementary patterns or colours so that you can create a stunning display.
Doing this can give your space an engaging vibe and a modern look. 
What stops the pattern or colour from being overwhelming is the softer tones in the room. This could be the floor or a small pop of colour from a rug. Combining soft and bold colours properly can tie everything together nicely, leading to a perfectly coherent space.
If you are looking for a place with such a lovely style, why not rent an Axis residence?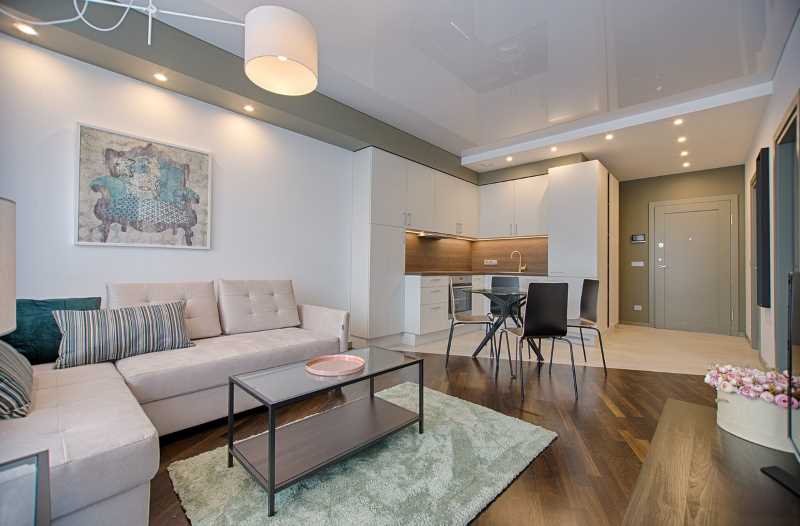 Photo by Vecislavas Popa from Pexels
2. Fresh Flowers
If you look through any interior design magazine, you may have come across beautifully designed spaces accented by fresh flowers. Fresh flowers can easily add that instant finishing touch to a room. It can be easy to overlook home decor of small size, but any experienced interior designer will tell you that it is sometimes the small and simple that can greatly impact a space.
Flowers have a wonderful impact on your space because they add a very natural element. They also make your space look refreshing. They can also add another layer of colour, or a pop that brightens up the room.
You can also use flowers to pull all the elements in your interior together. If you have some bright red cushions, then don't be afraid to have some red tulips in your window.
If you don't want to buy flowers all the time, then it may be wise to invest in some fake flowers or indoor plants instead. Artificial flowers can add just as much to your interior as can fresh flowers.
3. Paint your Door Trims
Giving your space a sophisticated look is all about trying to do the unexpected. Take people by surprise by trying to do patterns or even colours in a very interesting way.
Try and paint the trim of your doorway to give yourself a dynamic entrance. For this, you can use a different colour scheme to accent the room, and this can really bring everything together.
4. Hang your Drapes
Hanging full-length curtains or drapes can give your room a dramatic look. Curtains are versatile so you can use them for any style even if your windows are not very tall. 
Hanging curtains from the highest point can draw some attention to your space and it can also create some instant buzz. If you want your curtains to stand out and be the talk of the town, make your curtains that important focal point of the room by choosing drapes in an eye-catching colour.
Little things like this can make a huge difference to your property and give your home a more modern look.
5. Play Around With Colours
Colour is easily one of the most important elements in a space. You need to try and make your space stand out by simply thinking outside the box. Don't just think about red and blue, instead try and opt for pink and peacock. This will give you a very bright infusion of colour and your home may even look more luxurious as a result.
6. Paint the Ceiling
If you have some very high ceilings, then you need to take the paint all the way up. If you can add colour to your ceiling, then this will really draw the eye up. It will also add interest and extra height.
If you are having a hard time deciding on what colour you should use to paint your ceiling, then try and keep it light if possible. Go for a colour at least a couple of shades lighter than the colour on your walls. This will create a visually coherent interior.
For more tips and references, an interior design magazine is one of the best sources for inspiration. 
7. Get a Statement Light
If your eyes are being drawn up, then it may be handy for you to opt for a statement light. A statement light can bring everything in your room together and make it look coherent.
If you have a country-style home then you could opt for a deer antler light. If you have a modern and grey theme going on, then a large crystal chandelier can work very well. Just be careful about the size of your lighting fixtures; bigger does not always mean better.
If you are undecided on the types of lighting fixtures to go for, research always helps. Looking up different lighting types can help you discover what works for your space and what doesn't. 
Conclusion
Colours, lighting, accents, and details are key ingredients in creating an aesthetically pleasing home. Going simple and small is also a good way to increase the value of your home as it looks clean and uncluttered. Just remember: moderation and balance is essential in interior design. 
Request for quotes and we'll match you with a selection of Interior Designers!
Previous
7 Tips for Organizing Your Remote Working Space at Home
Next
10 Interesting Solutions to Store Books in Small Apartments