10 Incredible Disney Hotel Rooms
Interior Design & Decor
4469 views
4469 views
Disney-inspired Hotel Rooms - The Most Magical Place On Earth (That You Can Stay For A Night!)
The word "Disney" evokes a sense of magic and whimsical fancy. It is a word that you will immediately associate with nostalgic movies or theme parks. In particular, Disneyland comes to mind.
But Disneyland is more than a theme park, you don't go to the "Happiest Place On Earth" solely for the rides. You stay for the hotels, quite literally. Disney's hotels are more than just a place to sleep after a day out in the sun, they are an expansion of the theme park experience. Immersion being the operative word when you stay at one of the myriads of Disney-themed hotels around the globe.
Though, staying at a Disney hotel is going to cost you a lot more than staying at a non-Disney hotel. After all, magic doesn't come cheap. But, we'd also argue that the price is well worth the experience you garner from spending a weekend in the cosy bubble known as Disneyland.
Images via travelandleisure.com, disneyhotels.jp
Like the parks, Disney hotel rooms are all about theming and the charming details. And while each hotel has its own theme, most of the rooms do come in a design that will surely delight your childhood fancy.
With that said, here are some of the best and most incredible Disney hotel rooms.
1. Adventureland Suite @ Disneyland Hotel, Disneyland Resort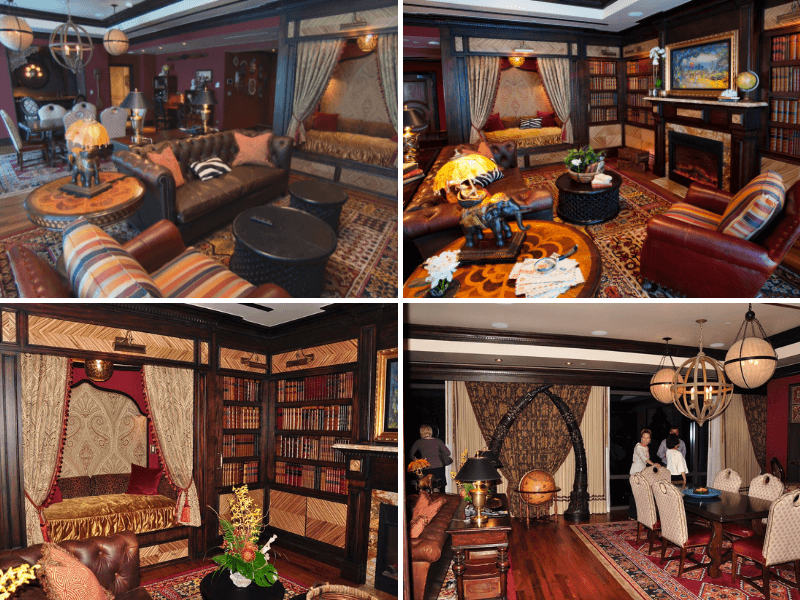 Images via lamag.com, mouseinfo.com, Flickr
The Disneyland Hotel is one of the oldest under the Disney banner. It opened in October 1955 (then under different ownership), and not long after Disneyland itself.
The hotel has seen its fair share of remodelling done over the years and it doesn't show its age in the least. In particular, the Adventureland Suite at the Disneyland Hotel is one not to be missed.
What makes this suite special? Once you've entered the room, you'll get the vibe of an explorer's camp from the 1930s mixed with a swanky Adventurer's club. The suite sleeps up to six adults in the most luxurious safari camp you have ever seen.
Aesthetics-wise, the master bedroom is fashioned to look like a classic safari lodge. And it even comes with an old-school claw-foot bathtub right in the room!
But if you're not feeling it, we urge you to try the cave-like rain shower that features a jungle-like ambience. For instance, there's lighting and even an Adventureland-inspired soundtrack. You'll definitely feel like you're in the middle of the rainforest in this one.
Last but not least, there is also a second bedroom designed for kids in mind and it takes on the appearance of a safari tent. Also, you'll find nods to the Jungle Cruise and art of Adventureland throughout this suite.
2. Fairy Tale Suite @ Disneyland Hotel, Disneyland Resort
Images via disneyparks.disney.go.com, thisfairytalelife.com,
Next on this list, we have the Fairy Tale Suite also found in the Disneyland Hotel. The Fairy Tale Suite is a lavish and highly themed suite that will satisfy any Disney princess (or prince, everyone deserves to be pampered once in a while).
The suite is one of the smallest of the hotel's themed suites, featuring only a single bedroom. Though, don't underestimate the luxury you can squeeze into a small space. The Fairy Tale Suite will be able to satiate anyone hungry for the high-life.
The theme of the suite is, of course, a given. Other than that, the suite comes with a four-poster canopy bed and even a special greeting from Tinkerbell when you enter. But the pièce de résistance of the Fairy Tale Suite is definitely the massive bathroom! Just look at that tub!
3. Dream Suite @ Disneyland Hotel, Disneyland Resort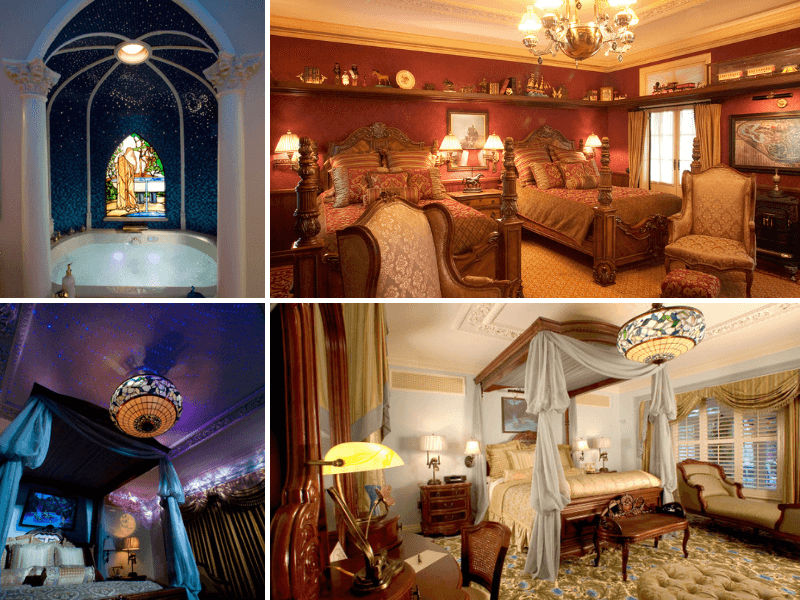 Images via disneyparks.disney.go.com, usmagazine.com

Where do we start with this one? The fact that the suite is located right in the middle of the park? Or the fact that this ultra-elite lodging is only reserved for high society? Well, to be fair, the suite is available only for dignitaries, celebs, and various promotions or charities.
This uber fancy room is located above Pirates of the Caribbean and features details you'd expect from a fancy-schmancy room. For instance, there is a train that goes around the picture moulding in the kid's room. There are also paintings in the suite that can become animated. And the master bedroom even turns tropical, complete with music from the Jungle Book!
4. Royal Guest Room @ Port Orleans Riverside, Walt Disney World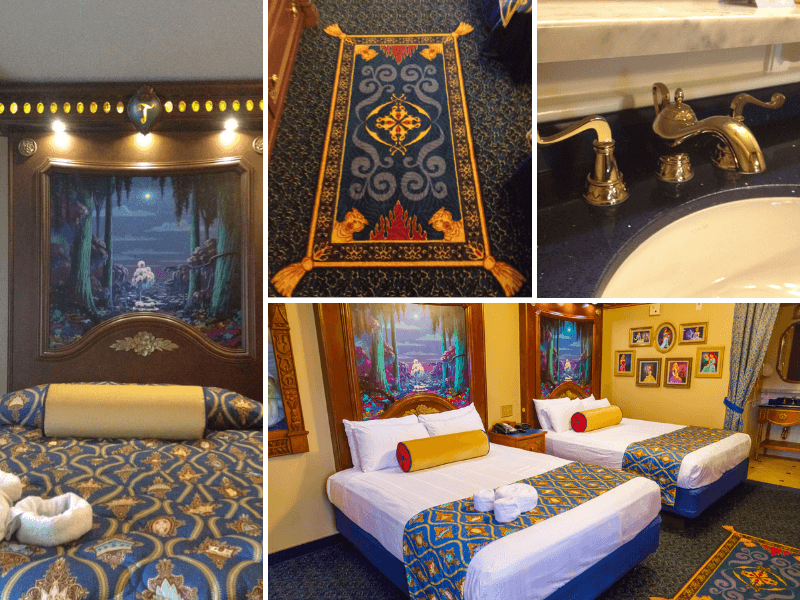 Images via portorleans.org
If you're more of a penny pincher, then perhaps you might want to check out the Royal Guest Rooms at Port Orleans, Walt Disney World.
These rooms are less extravagantly themed as compared to their Disneyland Hotel counterparts. But they're overall more affordable, depending on the season.
Make no mistake about it though, a Disney hotel is still A Disney hotel. Here, you'll find that the rooms are fairly standard hotel rooms that can sleep up to four adults with two queen-sized beds. Of course, you can't call yourself a Disney hotel room without the theme.
You'll be greeted with a letter from The Princess and the Frog's Princess Tiana once you arrive. And the room is decked out with subtle references to many of Disney's fairy tales. From Aladdin's lamp as a sink faucet to the artwork of Disney characters adorning the walls, your stay is guaranteed to be a special one.
5. Pirate Rooms @ Caribbean Beach Resort, Walt Disney World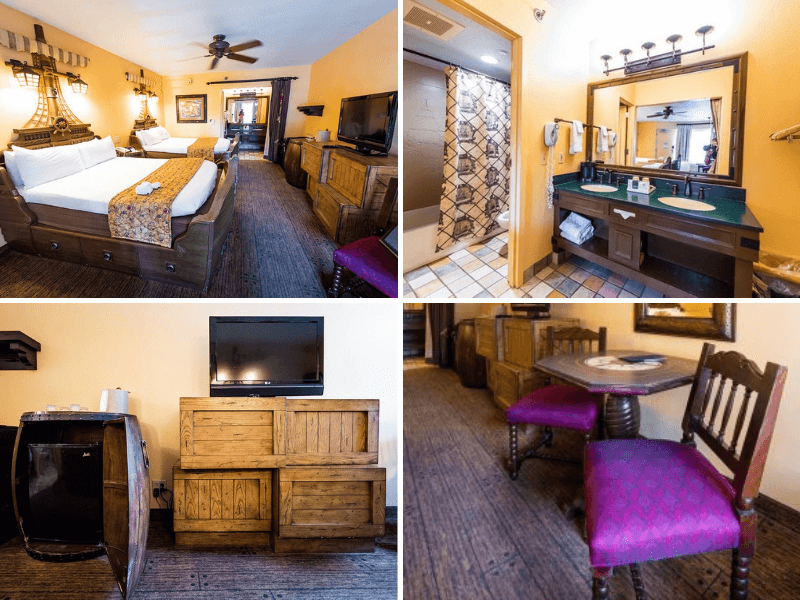 Images via disneytouristblog.com
If the princess theme isn't your cup of tea, then maybe the Caribbean Beach Resort's Pirate Rooms will strike your fancy.
SImilar to the Royal Guest Rooms, these pirate-themed rooms are standard hotel rooms. The only difference being the not-so-subtle Pirates of the Caribbean references splattered all across the room.
The bed frames in the rooms resemble pirate ships and the bedspreads display piles of gold coins and jewels. Also, you'll find your bedside tables and dressers have been styled to look like barrels and crates. Together, they add to the themed experience of the seven seas!
6. Family Suite @ Art of Animation Resort, Walt Disney World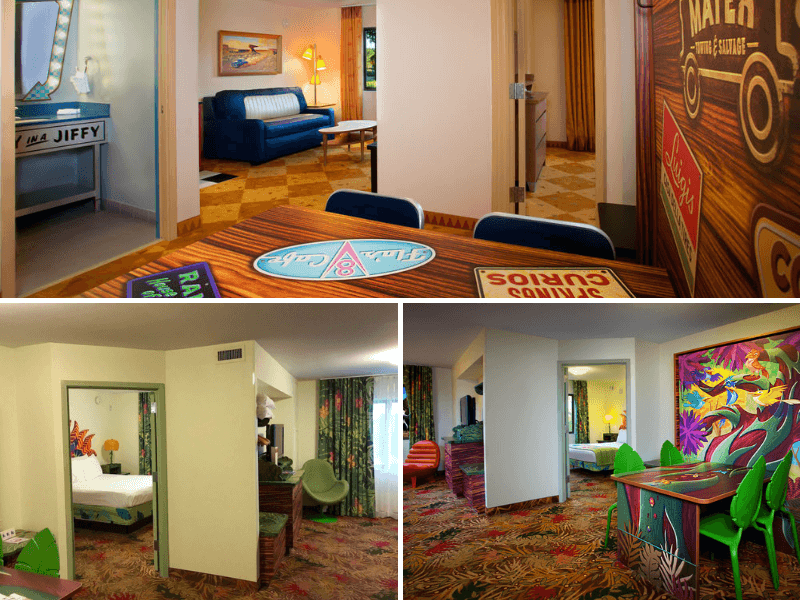 Images via cheaphotels.com, thepointsguy.com, bringfido.com
Moving on, another awesome option for you and your family is the Family Suites at the Art of Animation Resort. These rooms, though considered "affordable" do come with some truly great theming (the rooms look like they've popped right out of an animated page!)
Image via disneyparks.disney.go.com
The hotel's family suite, which sleeps up to six, has a kitchenette, living, and dining area with elaborate theming throughout. Of note, keep an eye out for the aquatic Finding Nemo suite. It'll surely keep you happily swimming (no pun intended) along throughout your entire vacay!
7. Disney's Polynesian Village Resort Villas, Walt Disney World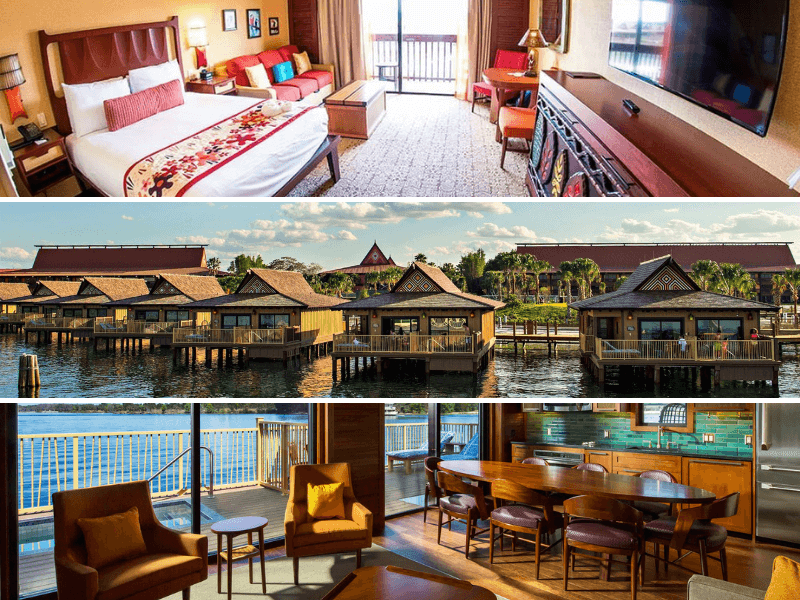 Images via laughingplace.com, wdwnews.com, disneytouristblog.com
This next selection might not fit the typical mould of Disney-themed hotels, but they're great nonetheless.
At a glance, you might mistake these lovely rows of over-the-water chalets as something that came out of Bora Bora. Make no mistake about it though, Walt Disney World's Polynesian Village Resort is a stunning sight on its own.
The deluxe water bungalows are part of the unique offerings of the Disney Vacation Club. Each villa comes with two bedrooms, two bathrooms, a living room, kitchen, and dining area. And you even get an unobstructed view of Cinderella's Castle!
Oh, and have we mentioned that each one has its own private plunge pool out back?
8. Kilimanjaro Club Level Room @ Animal Kingdom Lodge, Walt Disney World
Images via rollingwiththemagicblog.com, disneyvacationclub.disney.go.com
All of the rooms at the Animal Kingdom Lodge feature a similar and spectacular African theme in their designs. Out of all of them, the Kilimanjaro Club Level rooms are the ones not to be missed.
With balconies and savannah views, you don't even have to leave your room to take in the wildlife of Animal Kingdom. Just imagine. You get to see the giraffes, gazelles, and zebras that reside in the lush savannah right outside your window!
As an added perk, you also get access to the Sunrise Safari tour only available to Kilimanjaro Club guests. These early morning tours are a great way to spot animals without the hassle of park crowds. But, if you are not an early bird, you also have the option to embark on a Night Safari which is open to all Animal Kingdom Lodge guests.
Furthermore, Kilimanjaro Club rooms also have access to the club lounge where you can get Jungle Juice (and other goodies) all day long!
9. Cinderella Castle Suite @ Magic Kingdom,
Images via disneytouristblog.com
Similar to the Dream Suite in Disneyland, the over-the-top Cinderella Castle Suite is not an experience you can simply buy with money.
The suite is reserved for extra special VIPs, charities/promotions, and lucky families/contest winners. The lavish suite includes bedchambers, a living room, and an opulent bathroom with a ceiling that mimics the night's sky.
10. Donald Duck Room @ Ambassador Hotel, Tokyo Disneyland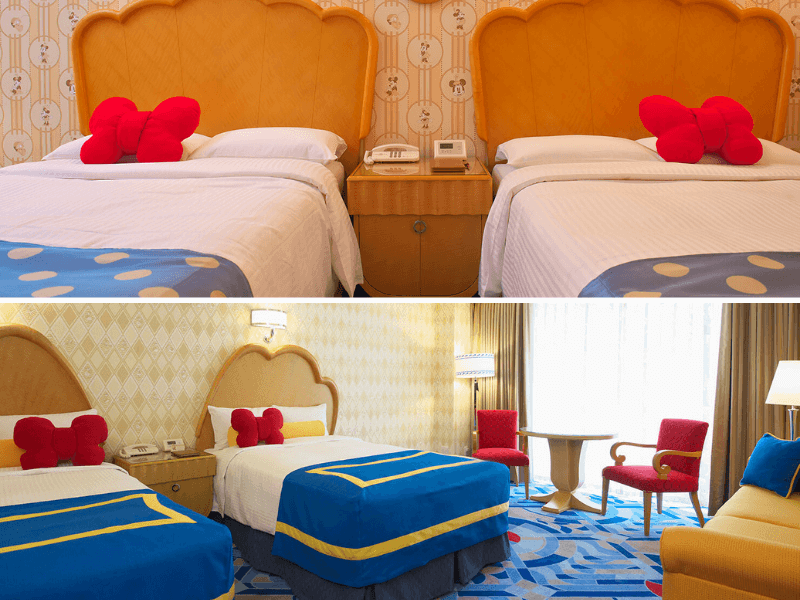 Images via disneyhotels.jp
This next entry has an art deco theme that feels like it came out from a 1930s Hollywood setting. It's a look that isn't quite replicated by any other Disney property. Which of course means that it's a great choice if you're taking the plunge to Tokyo Disneyland.
Still, the best part of this hotel is the character themed rooms. These rooms keep the hotel's art deco style but add character-specific touches throughout. For example, there are rooms prominently featuring Donald Duck, Mickey, and Minnie Mouse.
Feature Image Credit: travelandleisure.com
Request for quotes and we'll match you with a selection of Interior Designers!
Previous
Man Smashes Luxury Condominium Due to Defects
Next
5 Mickey-Mouse-Themed Furniture You Can Fit In A Small Space