How to Have A Sports-Themed Room
Interior Design & Decor
2067 views
2067 views
Last week, I was invited to my uncle's grandson's baby shower. He is my wife's uncle, whose daughter had just given birth to a healthy cuddly-bubbly boy name, Joshua.
The small ceremony took place in a booked hall situated in a park which is surrounded by blocks of flats. It was at Punggol.
Food was catered for the event and guests served themselves an extra serving while their leashed dogs stared at the displayed food with a mischievous-doggy look.
It was in between mouthfuls of fried rice and curry chicken that the topic of the sports-themed room came about.
"So Zee," asked Jason (Joshua's Dad), "How do you design a sports-themed room?"
Read on to know what transpired.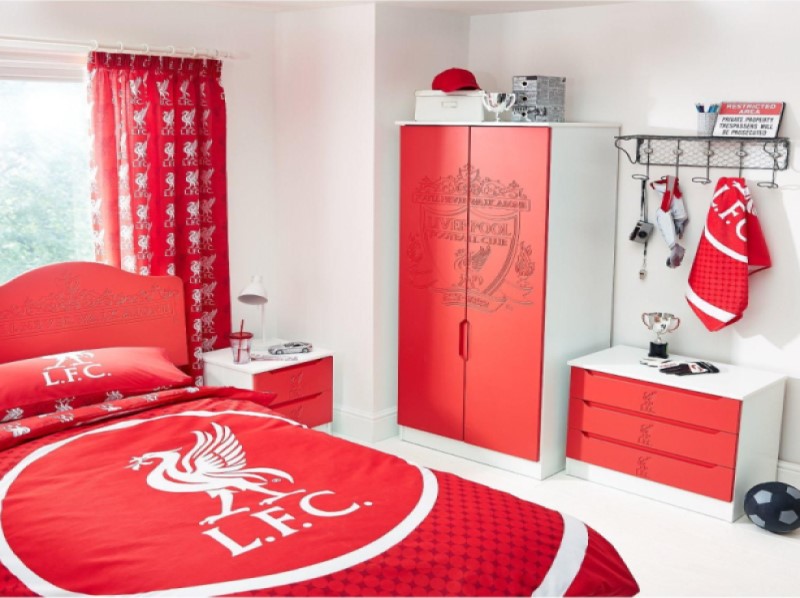 Image via: Pinterest  
Sports-Themed? Really?


Yup really. Having a
chic sports-themed room
in your room is no rocket science. It is doable.
Have you accidentally stepped into your friend's room only to see his drool-stained bolster resting at the side of his dressing table that has a mini Manchester United lamp at the top of it? Or maybe, a similar experience?
Well, that is not a sports theme. Sports-themed rooms are decorated more appealingly.
Before you ponder as to why he needs a dressing table and a mini-lamp, let this article give you some tips on going about decorating your sports-themed room.
And we meant all Olympic-recognised sports, including synchronized swimming.  


The Decorations Tips Are As Follows;
Just One Sport Only


First, pick a sport that you like. Just one.
Synchronized swimming might be a recognized Olympics sports, but for the sake of the inhabitants in the sunny state of Singapore, let's choose soccer.
Everyone likes winning, and it is tempting to fill your space with posters and jerseys of successful teams and famous players.
However, with so many successful teams in the world of sports out there, pick out one that you genuinely like.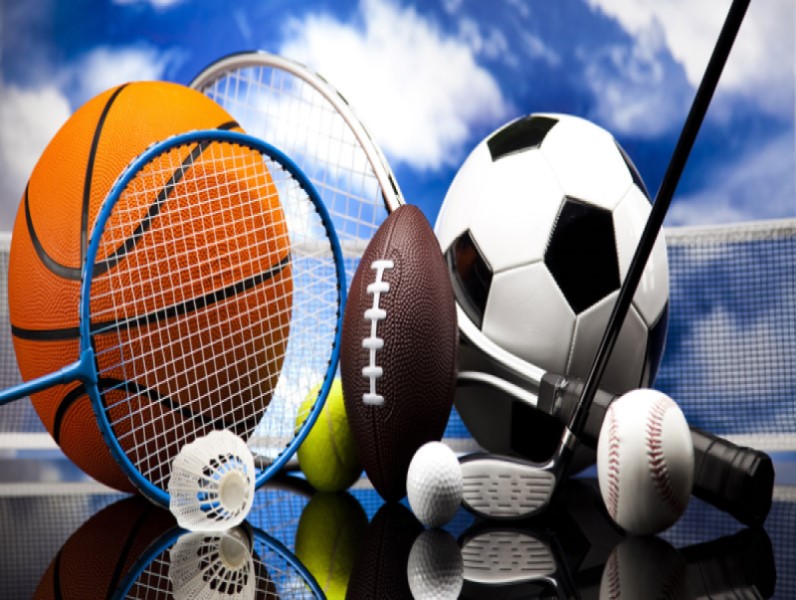 Image via: think WY  
Pick Your Team


Okay, so after choosing a sport of your liking, proceed on to determine just
one team
from that sport. In this example, we have chosen soccer, and we have decided to pick the team that hails from Spain;
Real Madrid
.
This team has amassed a staggering 201.9 million social media followers in 2018.
In any case, if there is no team that you particularly like, then choose the team that dons your favorite color.  
Image via: Business Insider Singapore       
Use Team Colors



Keep the colors of your area suited to the trademark colors of your team. Paint your walls with the color of your team's primary jersey.
Select solid fabrics for your area with different hues from the primary color and slowly pick around varying tones and types.
Instead of covering your bed with upholstery printed with the team logo, choose inexpensive coverings with the teams' color.  


Display Memorabilia and Paraphernalia


No sports-themed room is complete without the displaying of your team's memorabilia and paraphernalia. We are talking about a massive collection to choose from.  
Image via: Home Designing  

Showcase your favorite memorabilia and team's collectibles around the area.
Hang a string of maflas from one end of the wall to the other or use it as a makeshift curtain or even as valances.
Next, hang framed jerseys, autographed photographs of your favorite player and your one-of-a-kind pieces on the walls.
If you have items which are too big or heavy for the walls or those that cannot fit in a frame, secure them in a case and display them on wall-mounted shelves.
Be selective, lest your decorated space can take on the look of a sporting goods store. And if you happen to have other unique paraphernalia, such as a mini-lamp, splash it across the area, ensure to keep it subtle and not too gaudy.  


Go For The Jugular


You can go one step further without overstepping the border. Here is how.
If you want a genuinely scoring sports-themed room, bring your favorite sport to life! For soccer, you can design the floor of your room into one that mimics a real soccer field.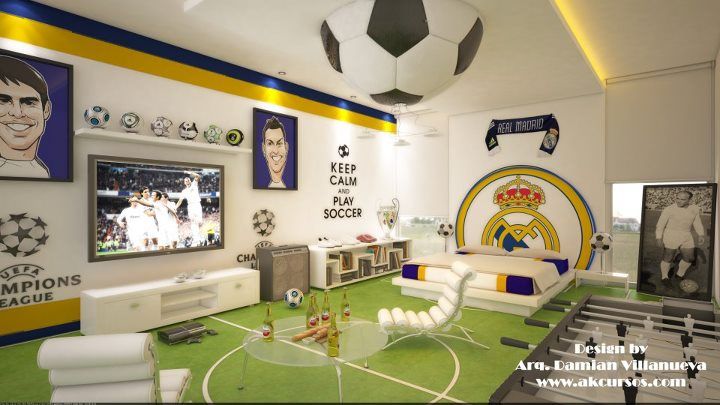 Image via: Pinterest  

Use artificial grass or carpet, with authentic field markings like the center circle and the penalty box.
Other than the team colors, search for inventive ways to use your sport's equipment as décor. Soccer boots as table legs or football as room lights.
Graffiti art and mural is another way you can enhance the sports-themed room of yours. The potential to create everything that has to do with your chosen sport is endless.
So prepare your tactics, and go for the winning sports-themed look – in your personal ways of course.  


Final Whistle


You may feel driven to get your hands on your team's merchandise and treat it as
home décor
. However, blindly decorating your sports-themed room with your team's memorabilia is expensive and it might result in
cluttering
.
Even if your favorite sport is out of season, keep your spirits high by decorating your room with a winning sports theme.
Now, let's go back to the baby shower.
"So J, decorating Joshua's room with a sports theme can be lots of fun! There are so many ways you can carry this out".
"He will learn all the positive attributes in sports too. Like, working together as a team to achieve success," I continued.
"But, isn't it a bit too early to think about all this?" I asked.
"No bro" Jason replied. "It is never too early to introduce him to Manchester United!"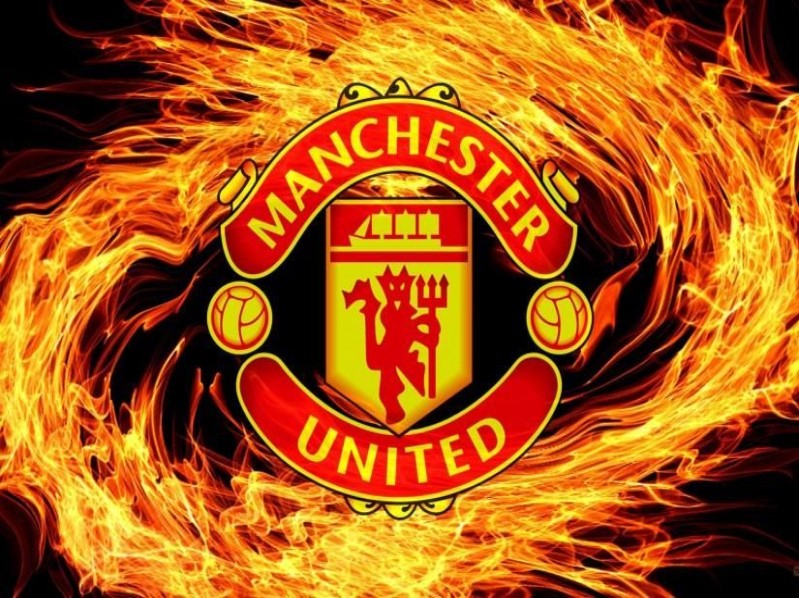 Image via: Pinterest  
Disclaimer: The RenoTalk Editor is not a fan of any of the soccer/football clubs mentioned here.
Request for quotes and we'll match you with a selection of Interior Designers!
Previous
The 7 Best Hotels That Cater To Sports Lovers
Next
5 Sports To Inspire Your Living Room Makeover