5 Mickey-Mouse-Themed Furniture You Can Fit In A Small Space
Interior Design & Decor
2068 views
2068 views
The world of Mickey Mouse has filled us up with its timeless magic, unforgettable characters, and exceptional story-telling. It fills up our childhoods, lives, our dreams, and our memories, whether good or bad.
It may even fill up our homes...to the extent that we have so much bulky fan merchandise in our living space that there may be hardly any space to put down or keep our other stuff.
Themed furniture is a delight to look at with their whimsical, memorable designs, but their over-the-top workmanship may take up a little bit too much breathing space. Can Mickey-Mouse-themed furniture be designed to fit in a small space without losing its magic?
We scoured cyberspace to seek out six Mickey Mouse pieces that could fit in a pint-sized place, especially in Singapore where space-saving HDB flats are the norm. Each piece would take up just a small part of the room while retaining its classic magical-mouse charm.
There's a downside to this though; most of the furniture featured in this article are available only in the United States. Sorry!
1. ETHAN ALLEN-DISNEY CHARACTER CHEST
US$1,399.00
This minimalistic monotone chest of drawers will bring character to your living room, with its adorably quaint sketch of Mickey and Pluto taking a selfie the old-fashioned way printed across its front panels.
Made from wood and propped on a slick stainless steel base, this character chest comes with three spacious, soft-close drawers so that you have ample storage to keep clutter out of your living room and out of view. Your guests would be too captivated by Mickey and Pluto to notice the mess, anyway.
Measuring at 102cm wide, 48cm deep, and 86cm tall, this roomy chest can fit in either your bedroom or living room. You can park it at a corner, flat against a wall, or on its own in the middle of the room. A tip-restraint kit is included so that you can fix this chest to the wall without any fear of it falling over.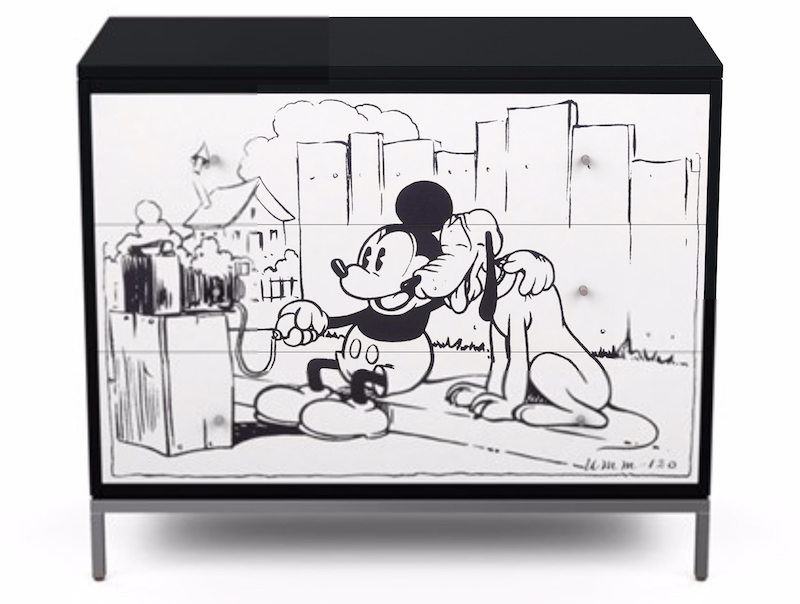 Image © Ethan Allen
2. ETHAN ALLEN-DISNEY IT ALL STARTED WITH A MOUSE TABLE
US$1,199.00
It's not just one table, but three tables in one piece! This warm wooden nesting table set is a callback to the popular 'Hidden Mickey' silhouettes that could be found in numerous nooks and crannies in Disney theme parks. Now, you have that famous shape in your own living room!
The 'head' table measures 102cm wide by 48cm tall, while the two 'ear' tables measure 56cm wide by 41cm tall. The two smaller tables are not attached to the 'head' table, so they can be tucked underneath when not in use, and spread out if you want the full Mickey-Mouse shape.
Like any good table, this set is both form and function; you can use it as a reading coffee table where you can put your drinks and snacks on the smaller tables while reading your favourite novels. Or use it as a compact working space for yourself and your children.
No matter the design of your living room, the 'It All Started With A Mouse' tables' simplistic design will be that eye-catching piece that you can put right in the centre of the space for a conversation-starter.
Image © Ethan Allen

3. ETHAN ALLEN-DISNEY SMALL FANTASTIC FELT SQUARE BASKET
US$19.00
At first glance, this humble rectangular box may look like something right out of an IKEA catalogue, until you spot the Mickey-Mouse cut-outs in the panels (a nifty alternative to handles). Why not let your storage solutions show off your love for this magical mouse?
These storage baskets from the Ethan Allen-Disney line are not just good for keeping stuff safe, they are also soft and strong to the touch as they are made out of felted polyester; this makes them sturdy and durable.
While these felt baskets were made in mind for the Ethan Allen-Disney storage collections, they can easily fit in any cabinet or shelf — this small basket measures 33cm long, 33cm wide, and 17cm tall. The baskets are also zippered along their sides, so that you can zip them down and fold them flat for easy storage (storing the storage, hey!).
These felt baskets also come in two other sizes in case you need more storage space: Big (US$24) and Large (US$84). They are also available in Midnight Blue, Steel, and Minnie Pink.
Image © Ethan Allen

4. ETHAN ALLEN-DISNEY BRAVO CHAIR MR MOUSE
US$1,749.00
Even if you are not a Mickey Mouse fan, this chair is a majestic work of art worth having in your living room. Comprising of strong monotones and the trademark Mickey Mouse silhouettes, this chair's sleek design will make you feel like royalty and turn your living room into a castle.
Other than fitting right in a modern setting with its elegant combination of cowhide, steel and hardwood, the 'Mr Mouse' Bravo chair is as comfortable as it is chic. It is a stain-resistant armchair with a tight backrest and a softness that will rest your tired joints after a long day.
Plus, this single seater is 91cm wide and 112cm tall, so you can make it your personal throne parked against a wall or out in the open even if your living room is small.
Pair this chair with the Character Chest mentioned above, and your living room will literally spell out your love for Mickey Mouse in black and white without being overwhelmingly childish.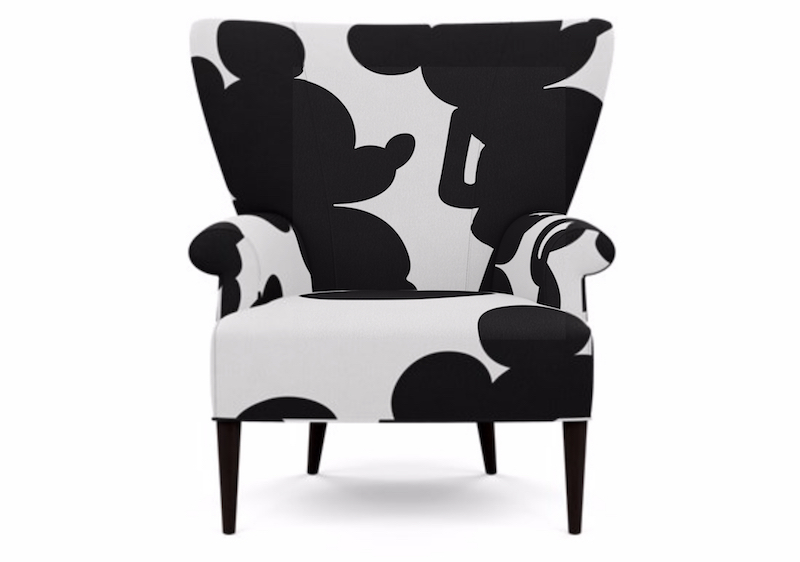 Image © Ethan Allen

5. ETHAN ALLEN-DISNEY MINNIE MOUSE BEADED WALL SCONCE
USD$94.00
Another beautiful 'Hidden Mickey' item, hidden in plain sight! This time, it is the equally beloved Minnie Mouse's turn to shine and sparkle, especially with this handy beaded wall sconce.
If you love pretty lights and shiny beads, this beaded wall sconce will spruce up any space with its soft, angelic design and the power of a 40-watt candle-shaped bulb. Translucent beads line the sleek nickel half-silhouettes of Minnie's head, reflecting the bulb's light to give that sparkly princessy effect.
This wall sconce is slightly larger than your hand, measuring 25cm long and 25cm wide, so you can put it anywhere on your walls without worrying about it taking up too much space. Display one or two of them in your living room to give it that magical sparkle and leave your guests in awe.
The Minnie Mouse Beaded Wall Sconce comes in Beaded Petal Pink and Beaded Steel, so it can accompany both feminine and masculine design themes.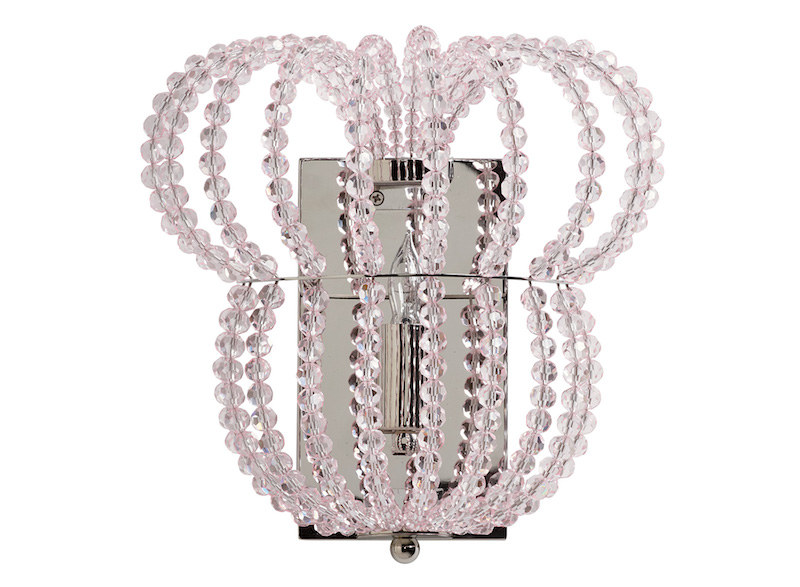 Image © Ethan Allen

6. ILOOM DISNEY MICKEY ACO
SGD$169.00
Mickey Mouse was created to touch the hearts of the young and the young-at-heart, so why leave our little ones out of this list? Let this adorable Mickey Mouse seat from iloom be your child's first chair!
The Disney Mickey Aco from Korean brand iloom is specially designed to train your toddler to have good sitting posture; it is suitable for children aged zero to four years old, and comes with a wide base to promote balance and prevent your child from falling over.
The Aco is made from artificial leather (yay for animal lovers!) and is water-resistant, so you need not worry about having to clean up if your toddler makes a huge mess. Its small size allows you to easily place it in any spot of the house without being too concerned with space.
Even if you do not have children, you can turn this tiny seat into a little bookshelf for a few of your books; prop in one to three tomes and then place the ACO on a surface of your choice, be it a table or a cabinet.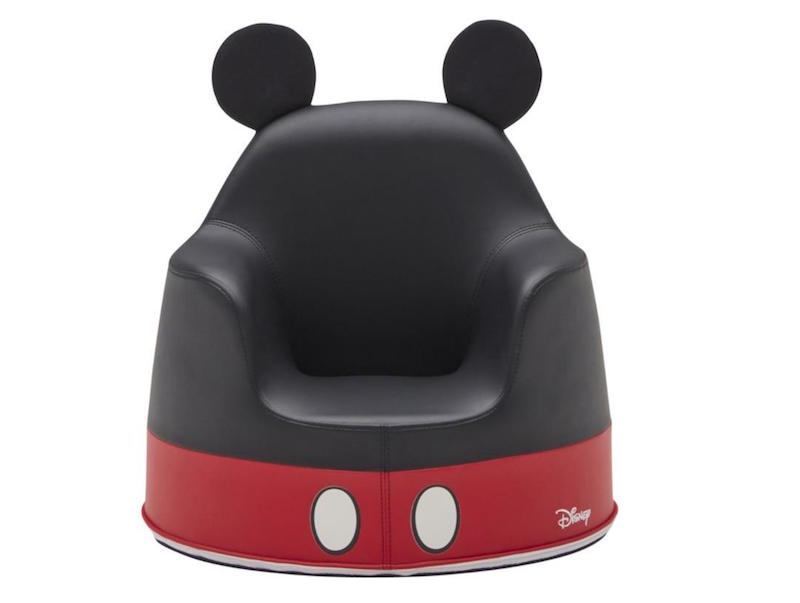 Image © iloom / Metro Singapore

Would you like Mickey Mouse, Minnie Mouse, and their timeless magic grace your living room? Which Disney characters would you like to see as your personal home decor? Let us know!
Request for quotes and we'll match you with a selection of Interior Designers!
Previous
10 Incredible Disney Hotel Rooms
Next
Outstanding Interior Design Talents to be Recognized at JIDA Design Awards (JDA) 2019 - Media...