10 Disney Room Ideas For 2019
Interior Design & Decor
2358 views
2358 views
Ever dreamed of having a disney-themed bedroom? We were all having that fantasy during our childhood. It's not unusual to see kids today indulging in that fantasy because Disney, being a definitive theme since the 80's, is simply too striking and hardly forgettable by everyone else.
Having said that, if you are struggling to come up with kid's bedroom ideas, consider a Disney room design! Don't know a thing about kids' room decor? Fret not, as Disney has something for everyone.
From the classic Mickey's to the more recent Frozen, it's just a matter of how you will incorporate your favorites into your own home. You may not find exactly what you are looking for, but we are sure you can find a lot of inspiration after reading this article.
1. Mickey's Clean and Crisp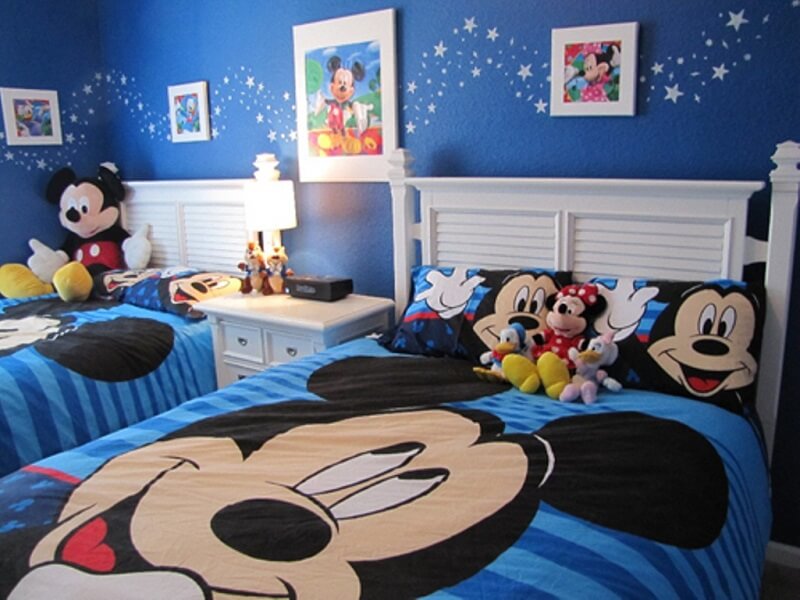 Image via james-macmillan.com
Children's room design does not have to be complicated, as evidenced by this space with exceptional blue and white colors and clean lines. The white furniture is a sharp contrast to the dark blue. To make the room more eye-catching, a trail of white stars is painted connecting the Disney's character portraits on the wall. The simple bedside lamp lends an air of warmth to the cool blue atmosphere.
2. Breathtaking Landscape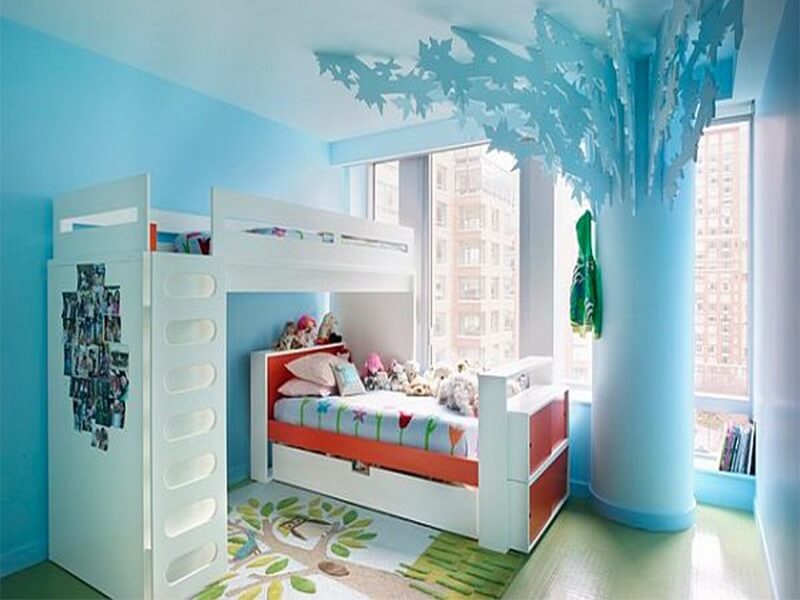 Image via vanelibg.com
Disney themed rooms do not have to be all about the characters. Look deeper into the films for inspiration. Maybe you love the forest that Bambi frolicks through, the red and vibrant apple of Snow White's demise, or a frozen tree from Elsa's curse. What is your favourite part of your favorite movie? Perhaps the landscape spoke to you more than the story or personalities!
3. Shoestring Budget Perfection
Image via cheapskateprincess.com
Disney room ideas often come with the anxiety of having to burn a hole in the pocket. However, a little imagination can make up for a lack of money. This design is just one really cool way to make a super-funky Disney kids room that doesn't come with high costs. A large piece of cut and painted plywood backed by a yellow light glowing behind is all it took to make this look.
4. The Frozen Forest
Image via lojapersonalize.com.br
The movie Frozen makes it easy to decorate girls' bedrooms. After all, which girl doesn't fancy the icy blue hue of Elsa's dress? The bedding matches the room's theme color perfectly. The mural depicts the Snow Queen and Anna in the winter wonderland that surrounds her icy castle. Plus, the room comes alive with a 3D castle that surrounds the bed from wall to wall.
5. A Space Transformed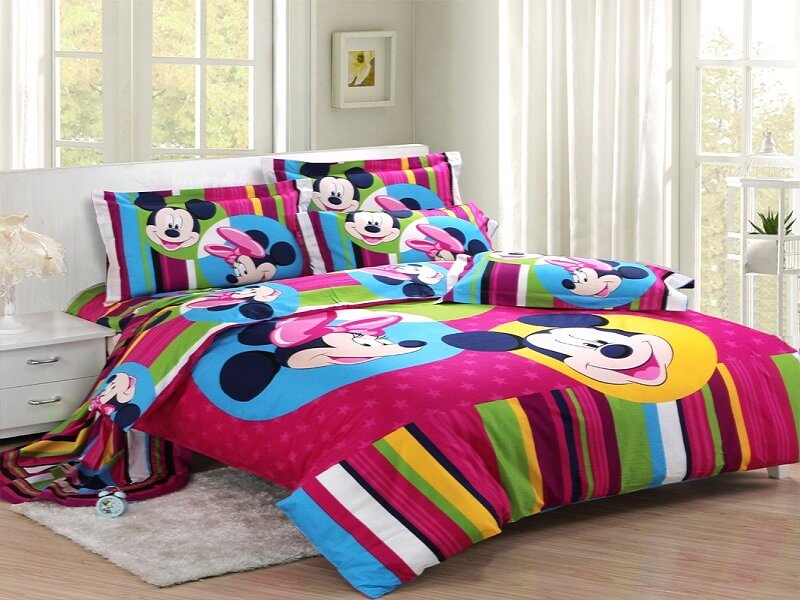 Image via pinterest.com
This design shows that a Disney-themed bedroom can be relatively simple. The clean white of every part of the room, from the walls and window treatments to the rug, do not portray anything but crisp. However, the room comes alive with the addition of the bright and cheerful bedding. This simple addition energizes the entire space.

6. Fun With Foam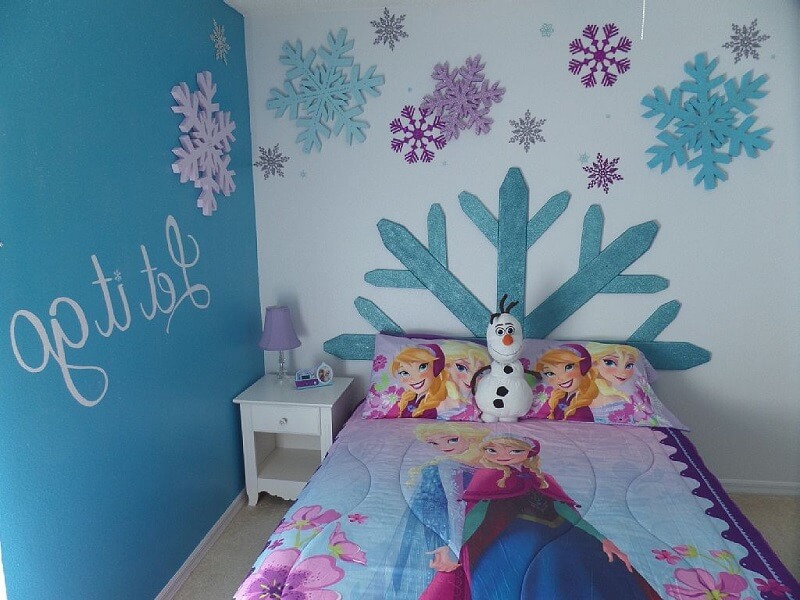 Image via homedesigndecorationideas.com
We all know the difference that paint can make. For kids' bedroom ideas, never neglect texture because it can make Disney room designs really spectacular. In this Frozen-inspired room, the wall is painted ice blue, and a focal wall is painted in a deeper hue, but it is the foam snowflakes of varying colors that stand out.
7. Bring The Outside In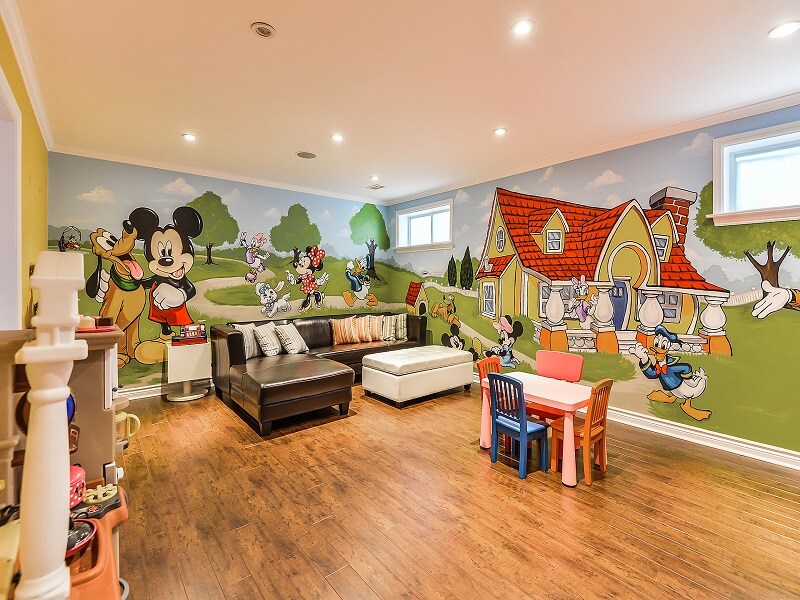 Image via muralsbymarg.ca
In this Disney-themed room, your children will feel as though they are frolicking outside on even the coldest and wettest days! The bright and cheerful mural is sure to spark the imagination, and many adventures will be enjoyed with Mickey, Minnie, Donald and the gang. The minimalist furniture offers a comfortable spot for adults to watch the fun take place.
8. Play on Colors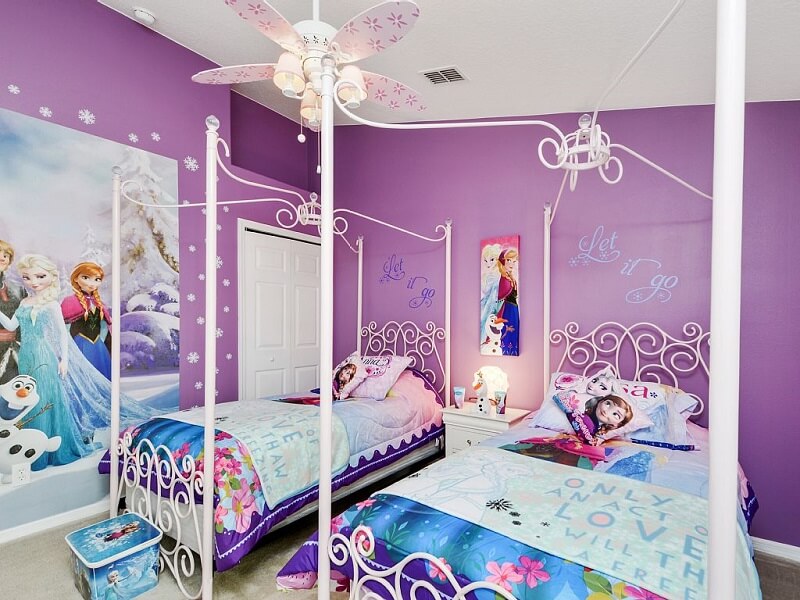 Image via homeaway.co.uk
This design is really superb for its main color as it utilizes purple instead of the icy blue that is commonly used in Frozen-themed designs. This shows that there really are no rules to creating the perfect Disney room. As you can see, going against the norm works out quite well, so you should always use whatever that speaks to your heart.
9. Filmstrip Fascination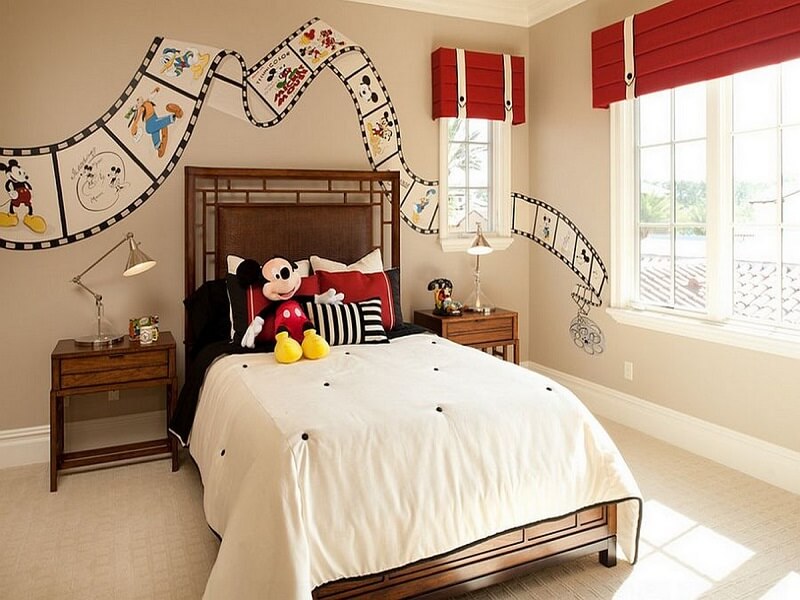 Image via bestofinteriors.com
This just proves that Disney rooms can be made to look amazing without a large budget. Incorporating a film strip mural or border along with a few accents can turn the boring and mundane into something remarkable. The red window valances and throw pillows here provide tie-in color to parts of the strip and Mickey's overalls.
10. Honey Obsession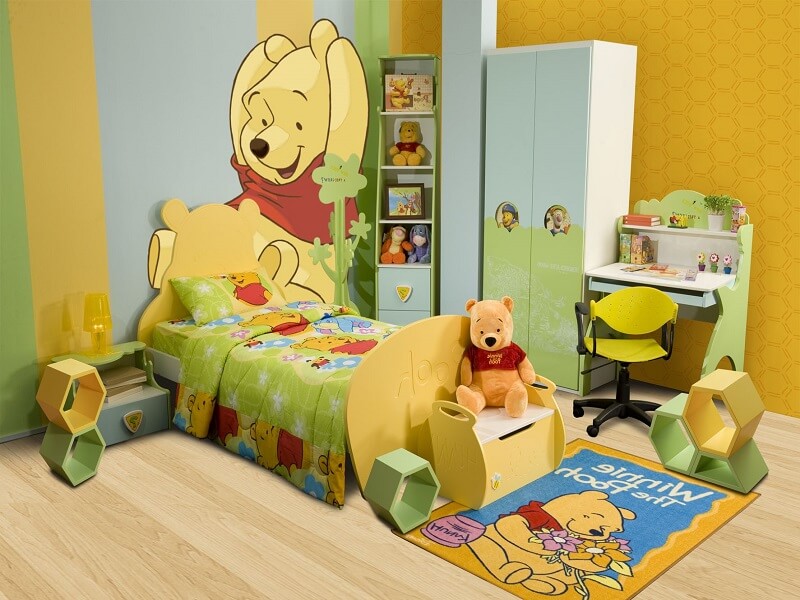 Image via advenaes.org
For a bright and airy Disney-themed room, you can't go wrong with Winnie the Pooh. His love of honey shines through in the yellow hues of the honeycomb-painted wall and is accented not only on the other walls but in pops of colour throughout the space. He is always found frolicking in the forest with friends Eeyore, Tigger and Piglet, so green was another natural choice to add.
Conclusion
In a nutshell, we hope this article helps you come up with your own kids' room ideas. One of the things that make Disney-themed rooms so intriguing is that there is so much you can do and so much to pick from. Adding décors related to Disney around your house can offer so much more that they can help make it a home.
Nevertheless, always make sure to include your child in the decision-making process when you're decorating his or her room. Kids' minds are full of imagination we don't know about, and they can probably come up with some really cool ideas that you haven't thought about.
In addition, this provides an opportunity to bring you closer with your children, and you never know what you might learn from them down this amazing journey. Let them help, and create some magical memories together. Have fun decorating!
Request for quotes and we'll match you with a selection of Interior Designers!
Previous
8 Fun Sports-Themed Bedroom Ideas
Next
Man Smashes Luxury Condominium Due to Defects