8 Decorating Ideas To Steal From Holiday Homes
Interior Design & Decor
2798 views
2798 views
Whether you are part of the affluent or merely fortunate enough to be the owner of a lovely shack by the beach, holiday homes are a fantastic way to spend your hard-earned time off. And if that wasn't reason enough, holiday homes are also an excellent source of design and decorating ideas for your home.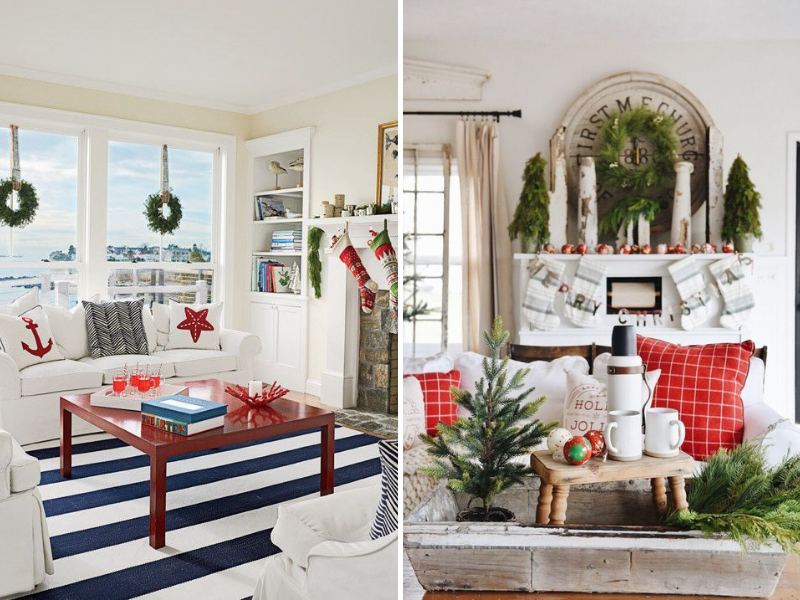 Images via Pinterest
From coastal-style hideaways to a rustic country retreat, you won't find a lack of inspiration for your very own home. Holiday homes evoke a sense of calm, serenity, and a spot of escapism. Because let's be real, the only time you'll be at your holiday home is when you are in fact, on holiday.
This association of holiday home decor and positive juju is what makes it an ideal choice for your own home. Just imagine: sitting in an idyllic holiday cottage space right in your living room after a day's work. Sounds lovely, eh?  
Here are some ways of incorporating stunning holiday style designs and decorating features into your own home.
1. Woven Furniture
Image via decorpad.com
When you think of woven furniture and appliances, an image of a soft and breezy tropical paradise comes to mind.
More particularly, rattan or cane furniture is commonplace in beach and coastal style holiday abodes. And the best thing is that these natural materials are durable and can be bought cheaply!
Moreover, the material in addition to ancient wicker techniques adds texture to a room. Plus, it also makes a room look tropical, in a beach resort style kind of way.
2. Floor-to-Ceiling Blinds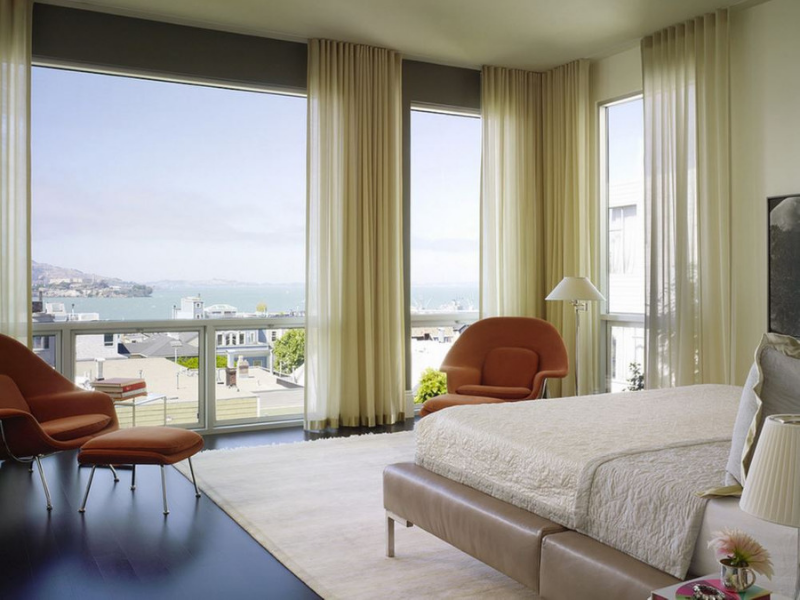 Image via Decoist
When it comes to ambience, floor-to-ceiling drapes are one of the OGs in this department. These drapes rouse romantic ideas of weekends away in a bustling city, which comes with a view of course.
Whether you're thinking of a loft that gazes over the city or open plan homes that peer out across natural wonders, this style of window furnishing is ideal for you! Not only do floor-to-ceiling blinds help in creating a private space but it also adds a touch luxe in homes that feature expansive windows or glass walls.
3. Go Dark
Image via realhomes.com
Increase the cosiness of your rooms by using darker hues such as black feature walls and inky floorboards. They shrink the space (in a good way) making it feel super-snug and more welcoming.
These dark features will also give the space a contemporary spike, which can be enhanced by adding appropriate artwork and fashionable rugs. The result: a glamorous and modern finish that makes you feel like you've stepped into a villa in Bali.
4. Worn and Distressed Textures
Image via valuecitynj.com
A concept that isn't foreign to the design world, worn and distressed textures in holiday homes create familiarity and comfort. Embrace the imperfection with worn leathers, sanded back furniture, and rustic decor pieces.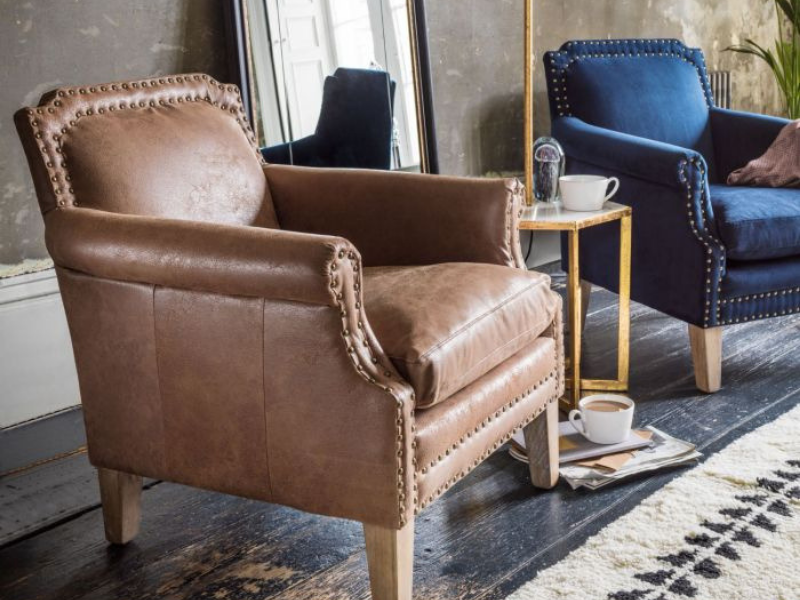 Image via grahamandgreen.co.uk
For example, place a pair of battered leather armchairs in your living room and watch the place come to life! Your newly furnished living room will give off an airy seaside feel that will definitely boost its relaxed, informal feel.
For a slightly nautical nod, you could even use blue and white striped ticking for your cushion covers. Also, ensure that you choose the squishiest cushion fillers. You wouldn't want to sit on an overly stiff or overstuffed cushion, would you?
5. Natural, Rough, and Sustainable Materials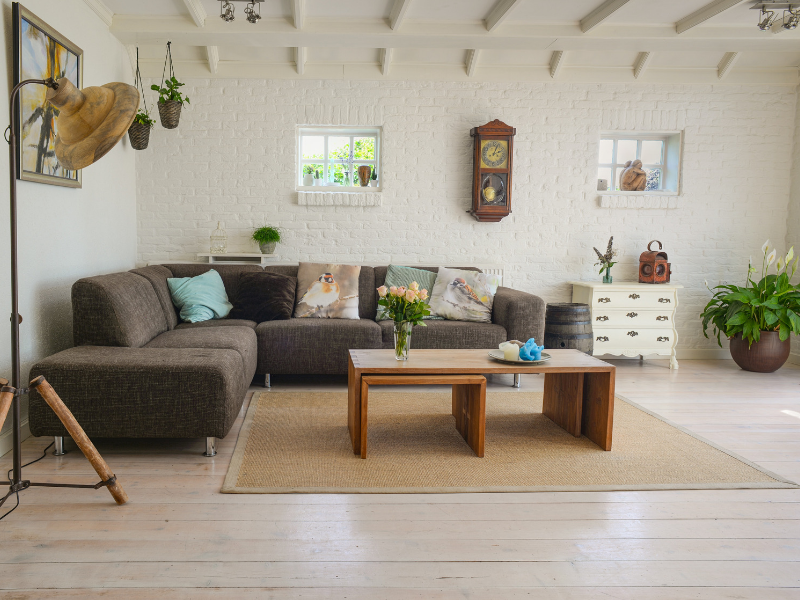 Image via Pexels
Sustainability is an important issue for consumers, especially when it comes to furniture. Using sustainable materials such as wood is great for bringing an element of nature into your living room. Additionally,  using natural materials is great for the environment. Plus, the calming qualities of natural materials will help you feel like you are on holiday every day!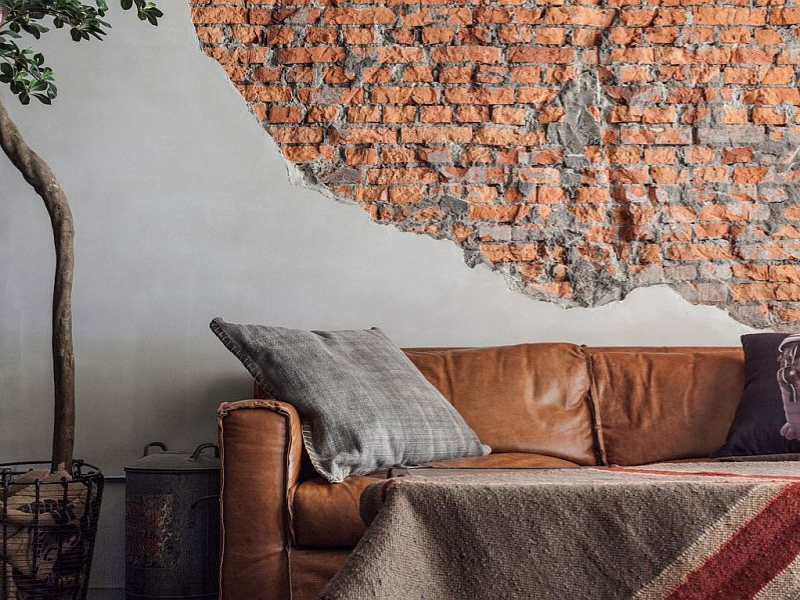 Image via Decoist
Need some ideas? Ancient rural or coastal homes have unfinished stone walls on their insides as well as their exteriors. Rather than tidily plastering over such a unique feature, celebrate it and keep any paintwork equally basic.
For already smooth walls, you can achieve a comparable feel by leaving plasterwork exposed. You could also use reclaimed wood as wall cladding as a feature wall, for a start.
6. Get Rid of Your TV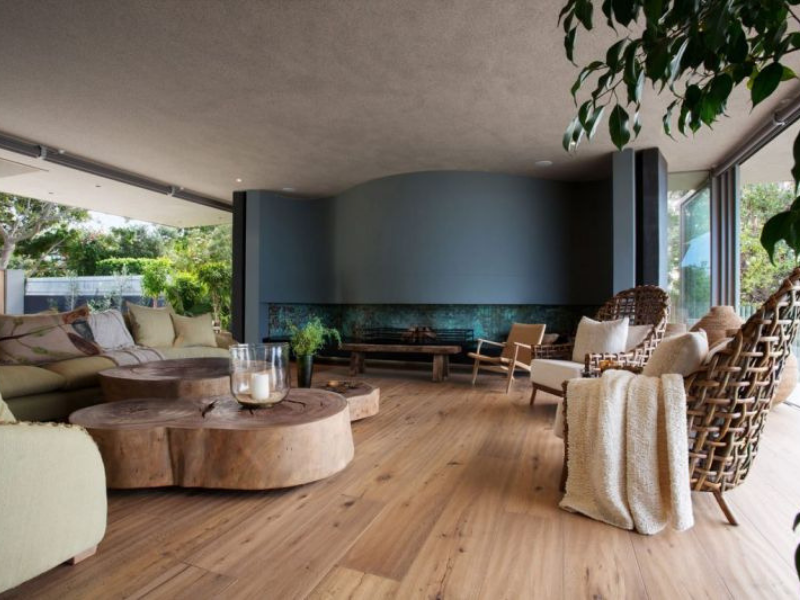 Image via Homedit
A holiday entails one of two things - to relax and to get away from it all.
To do this, getting rid of your electronics may seem like an ideal way to go. But it's also impractical, to be frank. Instead, start small by getting rid of the non-essentials i.e. your TV.
Let's be honest, if this is a place you want to go to get away from it all, a good conversation partner or a good book, and even an odd board game should suffice for in-house entertainment.
Alternatively, if you are not in the position to get rid of your TV, then at least consider housing it somewhere more hidden. This will ensure that you're less likely to give in on the temptation to turn it on.
7. Go Vintage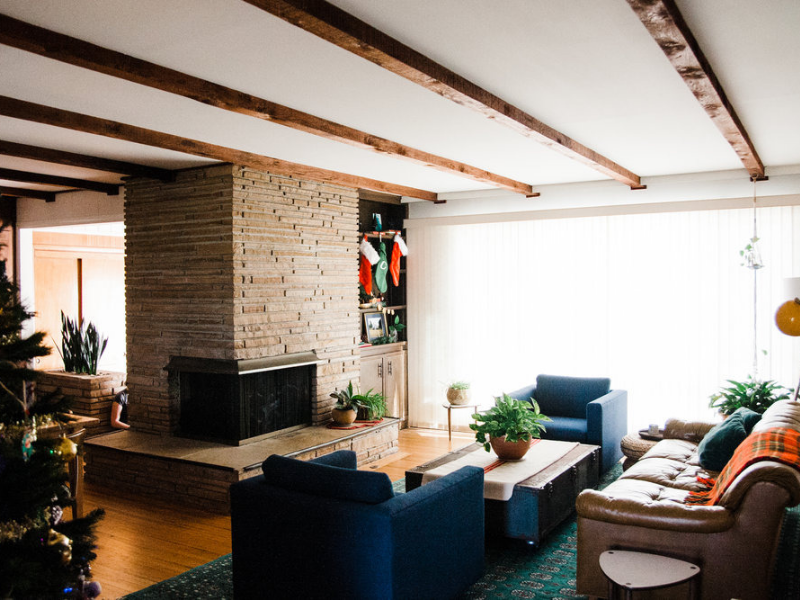 Image via retroden.com
Moving on, going old-school will also help in creating an ideal holiday-esque environment. In particular, having some vintage furniture scattered throughout your home will add to the living lifestyle of yesteryear.
Image via recordplayerpros.com
For example, consider bagging an old-fashioned record player to fulfil your cottage fantasy. What we mean is, go vinyl. Yes, there are speakers for your electronic devices, but nothing beats the simple pleasure a record player brings. Think about the process of selecting a record, carefully lowering the needle, and waiting for that comforting crackle. Rather than just scrolling and hitting play, putting on music becomes an immersive experience on its own.
And if you're in the dark about record players, there are modern versions of vintage-style players with built-in speakers. These players don't cost that much and they're beautiful to look at. Also, stock up on interesting-looking discs and start building your collection!
8. Choose Interesting and Appropriate Artwork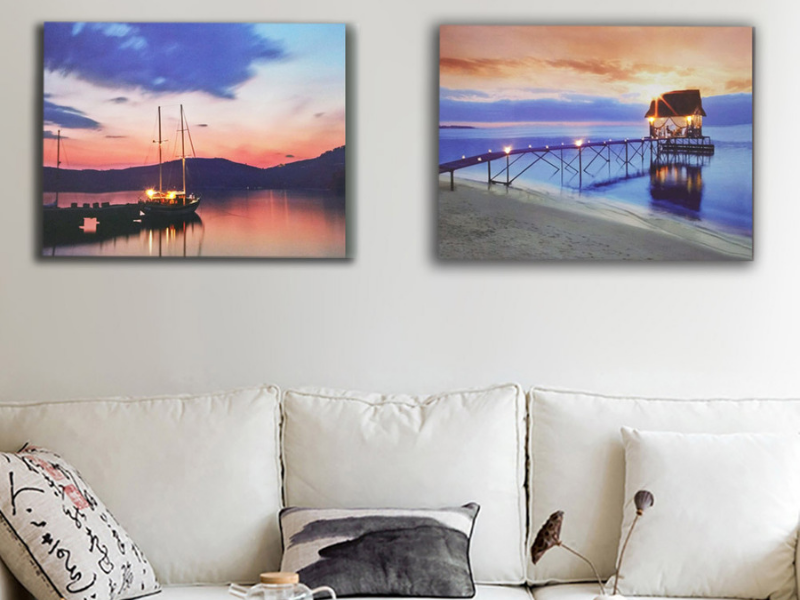 Image via loganshomedecor.com
A painting or large-format photograph that connects a house to its surroundings is a great addition to a home-away-from-home's living room.
And the best part is, you don't need to be an art expert to pick the perfect piece. Staying local is a good start. Look for small galleries selling work by artists from the area. Who knows? You might find something suitable second-hand too.
What entails an appropriate artwork? For a start, an atmospheric portrait of a gnarly old fisherman or a forest scene are great additions to any living space.
But bear in mind, you'd ideally want a focal-point artwork to reflect your decor's colour palette. An ideal way to do this, for example, is to start with a cherished piece and furnish around it.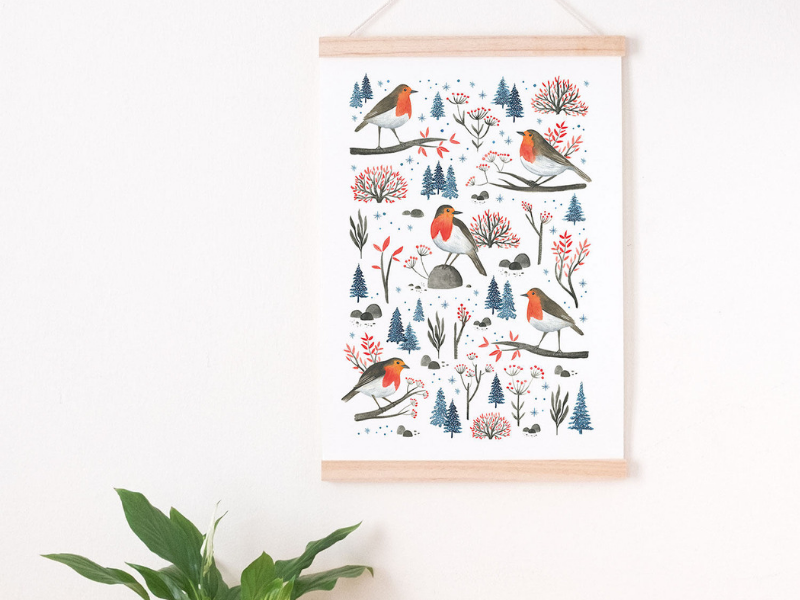 Image via Etsy
Otherwise, you could also look into more unconventional artwork to decorate your holiday style living room. For instance, colourful animal and wildlife prints add personality to your walls and help to create that holiday sense of adventure.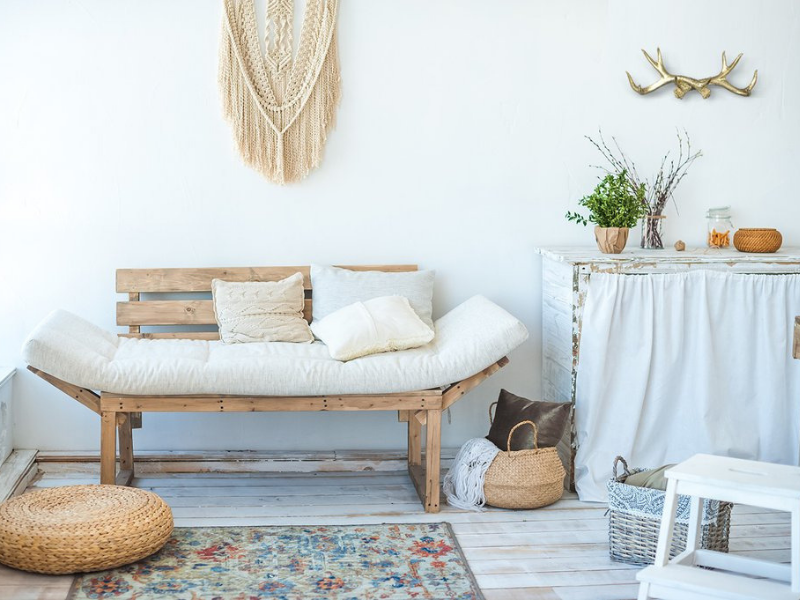 Image via wallcharmers.com
And if that wasn't enough, you could look into adding faux animal skulls as artwork for your home. Coupled with indulgent textures like velvet and grounded with hard wooden furniture, these unique wall hangings are a great way to add some country vibes to your home.
Final Word
There you have it, eight decorating ideas to steal from your typical holiday homes. Whether you're looking for new ideas or just browsing around, one thing is for certain, holiday homes are choked full with design ideas that will help in creating the ideal "holiday" environment for your home.
So what are you waiting for? Get out there and bring the holiday into your home today!
Feature Image Credit: Square Yards
Request for quotes and we'll match you with a selection of Interior Designers!
Previous
6 Ways To Transform Your HDB Into A Perfect Holiday Home
Next
12 Life Lessons from Malaysia "Design King" - Dr. Eric Leong